Apple Dump Cake is a true marvel in the world of easy desserts. With just six ingredients and a few simple steps, you can have a delightful treat ready to be enjoyed! Whoever came up with the idea of combining dessert staples in a pan and seeing the magic unfold deserves an award. They are a hero to busy moms and dads everywhere. Even on the busiest of days, when time is scarce, you can still impress your family with a delicious dessert that requires minimal effort. The preparation for this delightful recipe? A mere five minutes. Yes, you heard it right, FIVE MINUTES. No mess, no fuss, just dump it in the pan and you're good to go.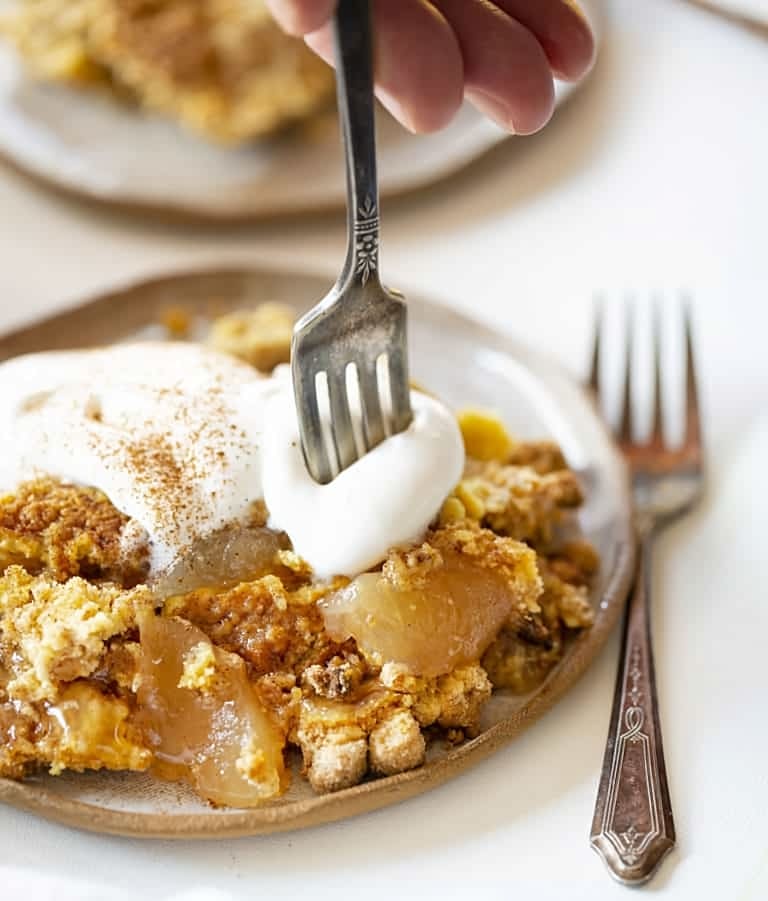 How to Make Apple Dump Cake
While I often emphasize the importance of using quality ingredients in your recipes, this particular dessert is all about simplicity. So, in this case, I won't harp on that rule. For this Apple Dump Cake, all you need is a box of yellow cake mix, your favorite can of apple pie filling, and a few common spices. Sure, there are ways to make this cake fancy, but with a name like Apple Dump Cake, it's best to keep it simple. However, if you're seeking a more elevated apple dessert with real apples and a similar flavor and texture, you might want to check out my Apple Crisp recipe.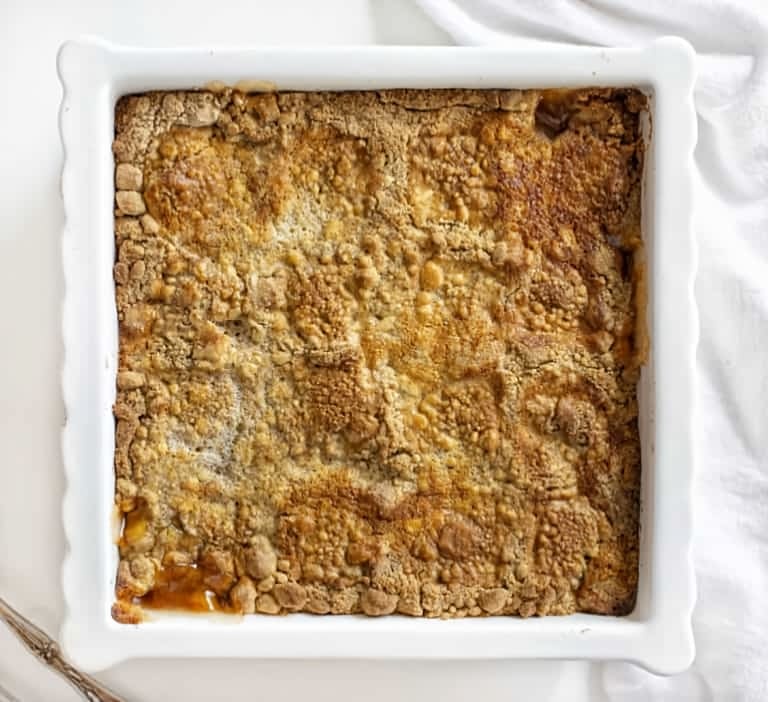 Can You Make Crockpot Apple Dump Cake?
Absolutely! You definitely should give it a try. The recipe and instructions remain the same, except you'll be using a crockpot instead of a skillet and oven. For this method, simply place the apple pie filling in the greased crockpot, top it with the cake mixture, add butter on top, cover, and cook on high for 2 hours.
Topping Ideas for Apple Dump Cake
When it comes to toppings for your Apple Dump Cake, whipped cream or ice cream are the classic choices. However, there are variations within those categories that can take this dump cake to a whole new level. We usually have vanilla or vanilla bean ice cream as a staple in our freezer, but to make this apple dump cake even sweeter, we mix it up with some cinnamon ice cream or caramel ice cream. For a delightful twist, drizzle some caramel sauce over the top for a Caramel Apple Dump Cake. The kids will absolutely love this special touch (and probably the extra sugar too).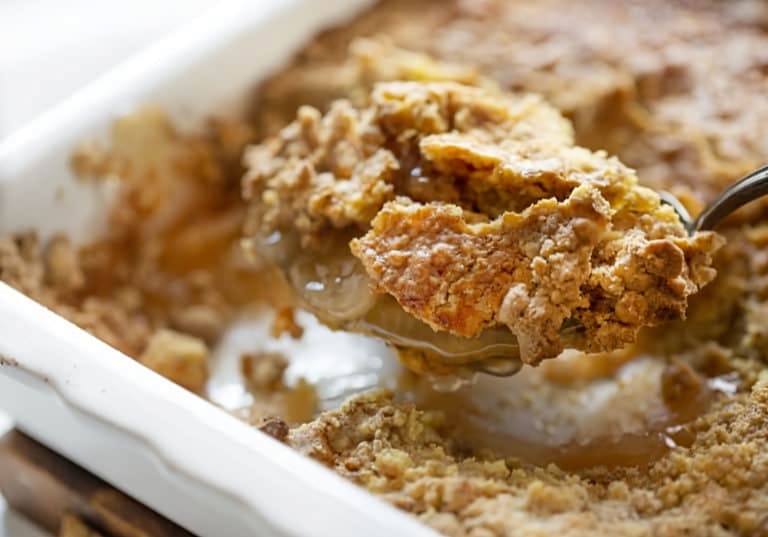 Homemade Whipped Cream
Allow me to share one of my top recommendations for homemade desserts — making your own whipped cream. To do so, you'll need heavy whipping cream and confectioners sugar. Simply pour the whipping cream into a bowl and whip until peaks start to form. I'd recommend using a hand mixer or a stand mixer unless you're looking to build those arm muscles. Slowly add in the sugar and serve. It's super simple. If you want to add some flair, you can incorporate cinnamon or apple pie spice into the whipped cream for an extra burst of flavor.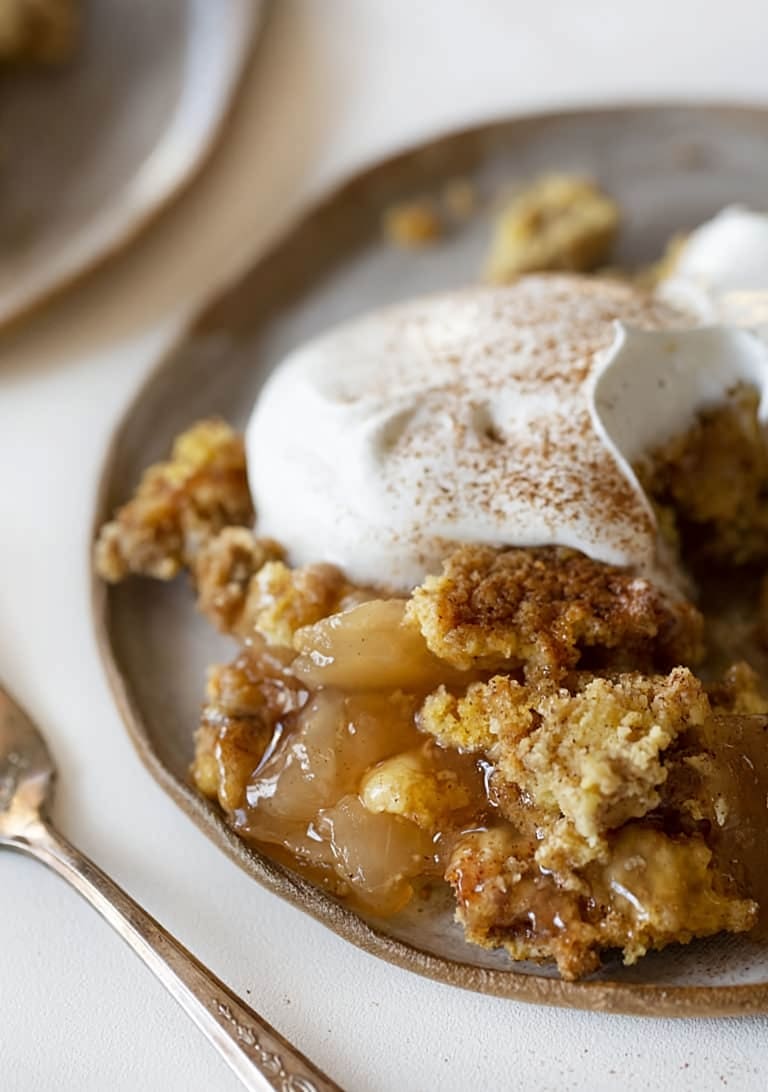 Now, let's get to the recipe itself:
Ingredients:
1 box (15.25 ounces) yellow cake mix
1 teaspoon apple pie spice
1 teaspoon cinnamon
1/4 teaspoon nutmeg
1 can (21 oz) apple pie filling
1/2 cup cold butter
Instructions:
Preheat the oven to 350°F.
In a large mixing bowl, combine the yellow cake mix, apple pie spice, cinnamon, and nutmeg. Mix well.
In an oven-safe 12-inch skillet (or a 9×13 or 9×9-inch pan), spread the apple pie filling evenly over the bottom.
Sprinkle the cake mixture over the top, ensuring that all of the pie filling is covered.
Slice the cold butter into small pads and distribute them evenly over the cake mixture.
Bake in the preheated oven for approximately 1 hour or until the topping turns golden brown and the pie filling starts to bubble.
Once done, remove the cake from the oven and allow it to cool slightly.
Serve the warm Apple Dump Cake as is or with your choice of toppings such as whipped cream or ice cream.
If desired, you can also garnish with a drizzle of caramel sauce or sprinkle some additional cinnamon on top.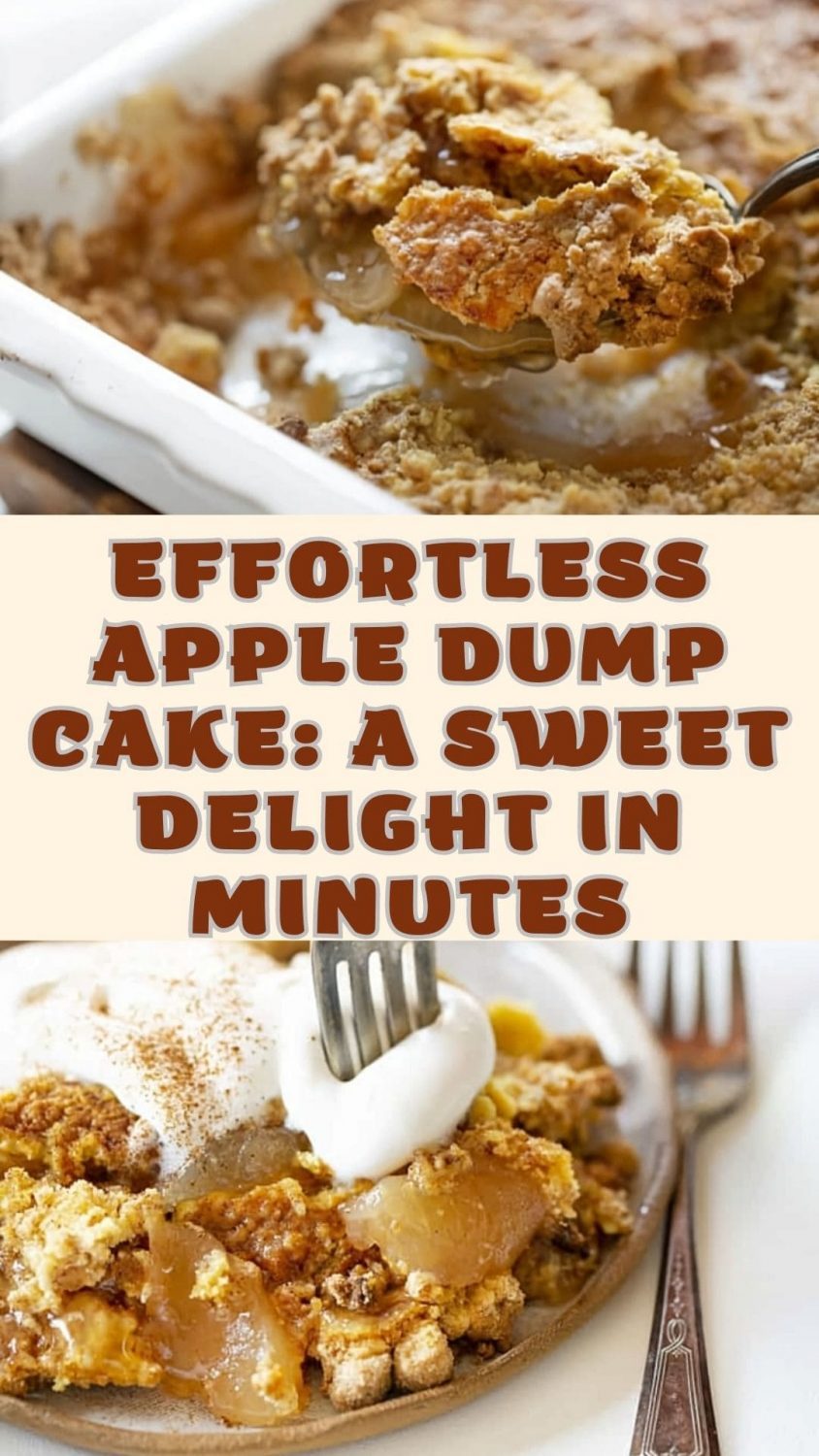 Indulge in the delightful simplicity of this Apple Dump Cake and savor the warm, comforting flavors. Its effortless preparation and delicious outcome make it a go-to dessert for any occasion. Whether you're in need of a quick treat for your family or want to impress guests with minimal effort, this recipe is sure to satisfy. Enjoy the magic of a dessert that is as easy as it is scrumptious.