This recipe takes the classic dessert to a whole new level with its double layer of crisp and perfectly spiced apples. Get ready to impress your family and friends with this delectable treat that will have everyone asking for the recipe. And if you're short on time, don't worry – we've got you covered with an alternative Apple Dump Cake recipe. Let's dive into the world of apple goodness!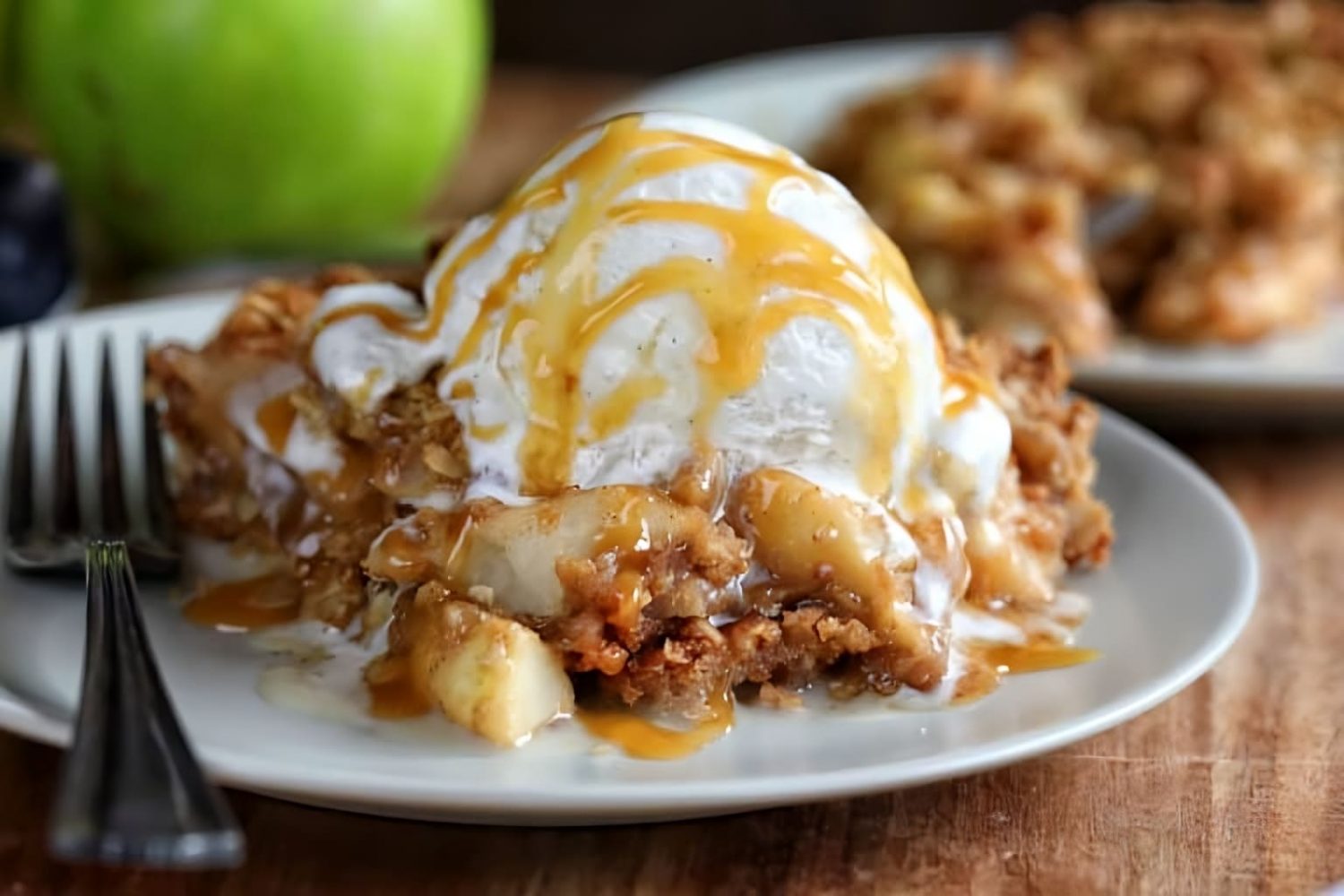 Why This Apple Crisp Recipe is the Best
If you're on the hunt for the ultimate apple crisp recipe, your search ends here. What sets this recipe apart is its foolproof nature and the secret to its success – double the crisp! As a passionate cook, I always believed my apple crisp couldn't be beaten. But when I discovered this recipe last fall, I was proven wrong. Since then, I've made it at least 15 times, and it has never failed to deliver perfection.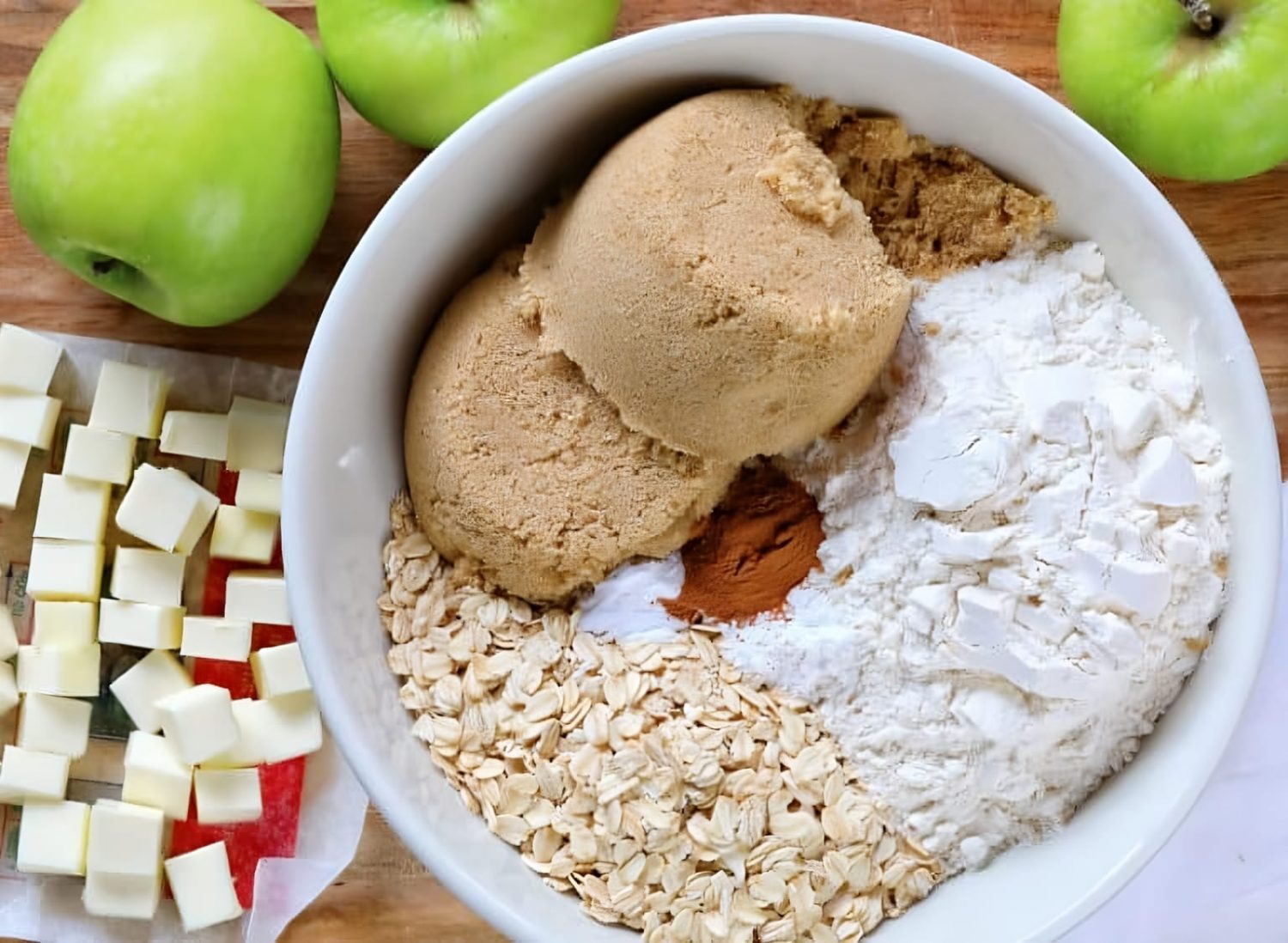 Ingredients
For the Apple Mixture:
10 medium Granny Smith apples, peeled, cored, and sliced (about 10 cups)
1 cup (200 g) light brown sugar, packed
1 tablespoon all-purpose flour
1 teaspoon ground cinnamon
For the Crisp Mixture:
2 cups (180 g) quick oats
2 cups (250 g) all-purpose flour
2 cups (400 g) light brown sugar, packed
½ teaspoon baking powder
½ teaspoon baking soda
2 teaspoons ground cinnamon
1 cup (2 sticks / 227 g) Challenge® butter, cold, cubed
Instructions
Preheat your oven to 375°F and prepare a 9×13-inch baking dish by coating it with nonstick cooking spray or butter.
In a bowl, combine the sliced apples, brown sugar, flour, and cinnamon. Gently stir until every piece of apple is coated with the sugar mixture. Set aside.
In a separate medium bowl, combine the oats, flour, brown sugar, baking powder, baking soda, and cinnamon to make the crisp mixture.
Add the cubed butter to the crisp mixture. Use your hands or a fork to mix the butter into the flour mixture until the butter pieces are pea-sized or smaller.
Spread 3 cups of the crisp mixture evenly over the bottom of the prepared pan, pressing it down to form a solid layer. Pour the apple mixture over the crisp layer and press it down gently with a rubber spatula. Finally, sprinkle the remaining crisp mixture over the top of the apples.
Place the baking dish in the preheated oven and bake for 35-45 minutes. The apple crisp is done when the fruit is bubbling and the top is golden brown.
Remove from the oven and serve warm. The aroma of the spiced apples and the delightful crunch of the double crisp will have everyone eagerly reaching for seconds.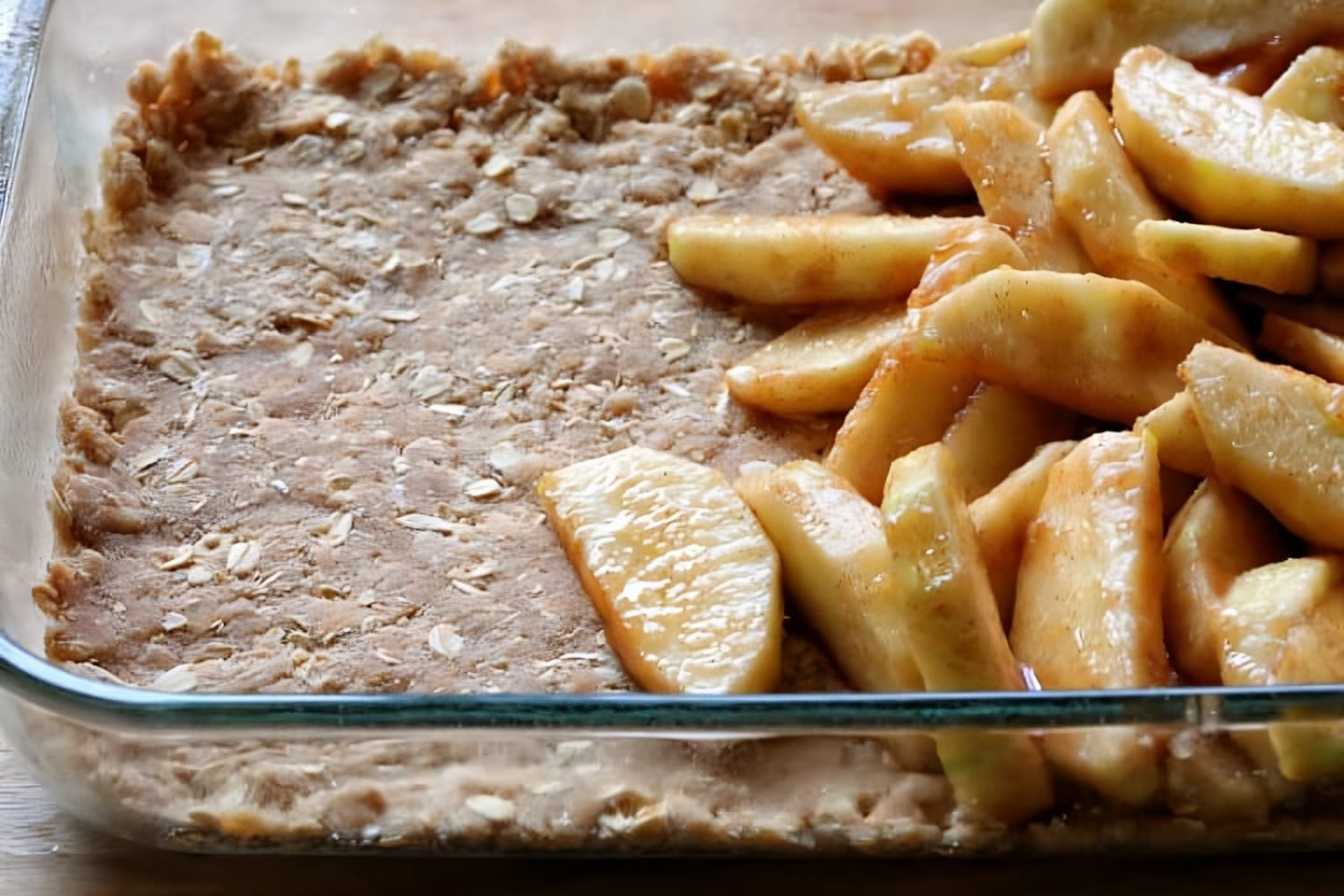 Tips and Variations
Choose tart apples like Granny Smith, Braeburn, or Honeycrisp for the best flavor and texture in your apple crisp.
Challenge Butter is recommended for its rich taste and quality. However, feel free to use any butter you have on hand.
To make your own brown sugar, add 1-2 tablespoons of molasses to 1 cup of granulated sugar for light brown sugar, or 3-4 tablespoons for dark brown sugar.
If you prefer a softer bottom layer, bake the crisp for 35 minutes. For a crispier bottom layer, extend the baking time to 45 minutes.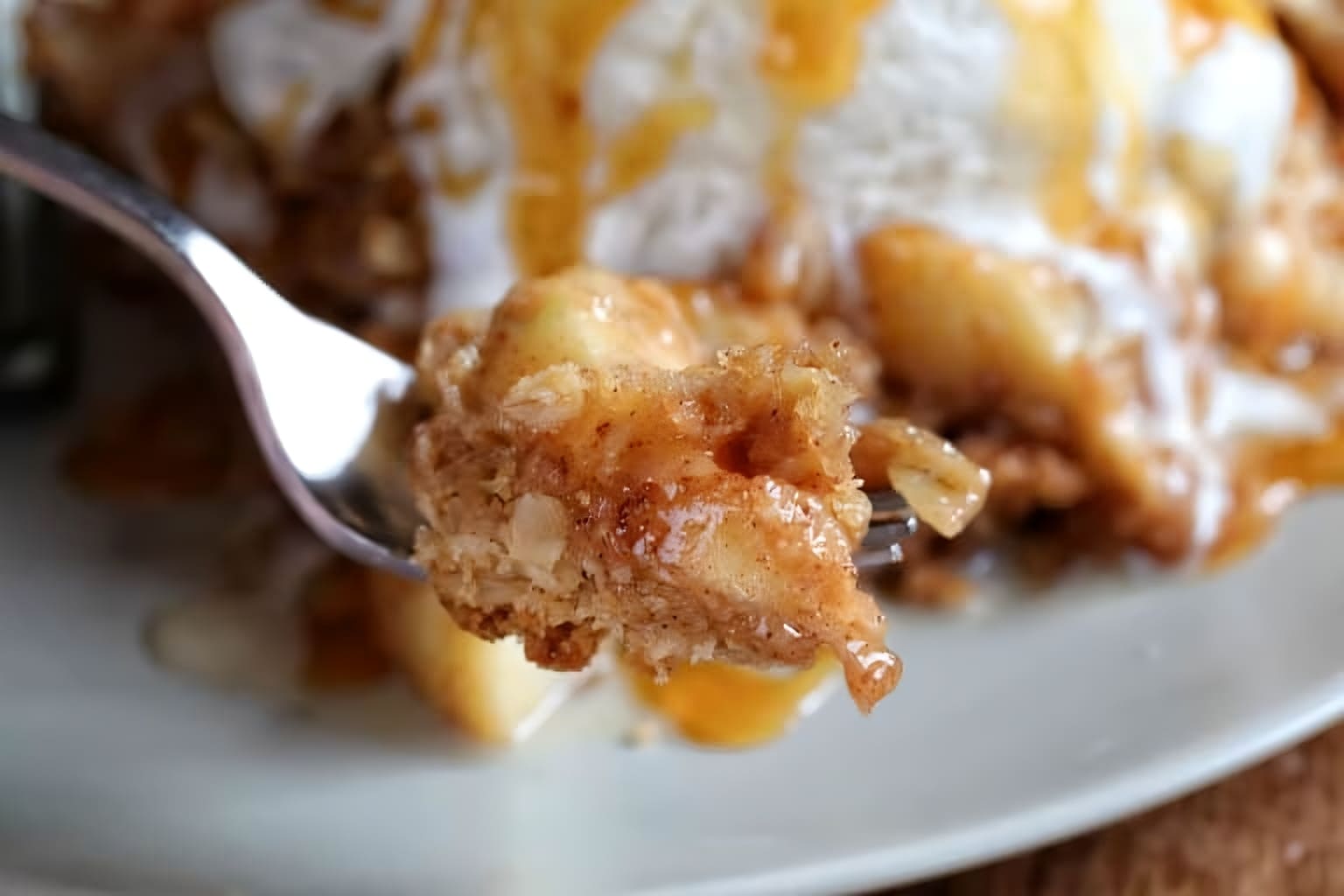 Storage
To store any leftovers, cover the apple crisp with plastic wrap or aluminum foil and place it in the refrigerator for up to 5 days. When reheating, to maintain the crispiness of the topping, consider using an air fryer or oven. Simply heat individual-sized portions for about 10 minutes until warmed through and crispy.
Can I Use a Different Size Pan?
Absolutely! If you need to adjust the recipe quantity, you can easily halve the ingredients and use either a 9×9-inch or 8×8-inch baking dish. The result will still be a scrumptious apple crisp.
Transforming it into an Apple Crumble
If you prefer an apple crumble, you can easily adapt this recipe by incorporating nuts. In the past, the terms "crisps" and "crumbles" had distinct differences, with crumbles omitting oats and often featuring a mixture of flour, sugar, butter, and nuts like walnuts or pecans. Nowadays, the lines have blurred, and the names are used interchangeably. So feel free to add your favorite nuts to this recipe and call it the Best Apple Crumble!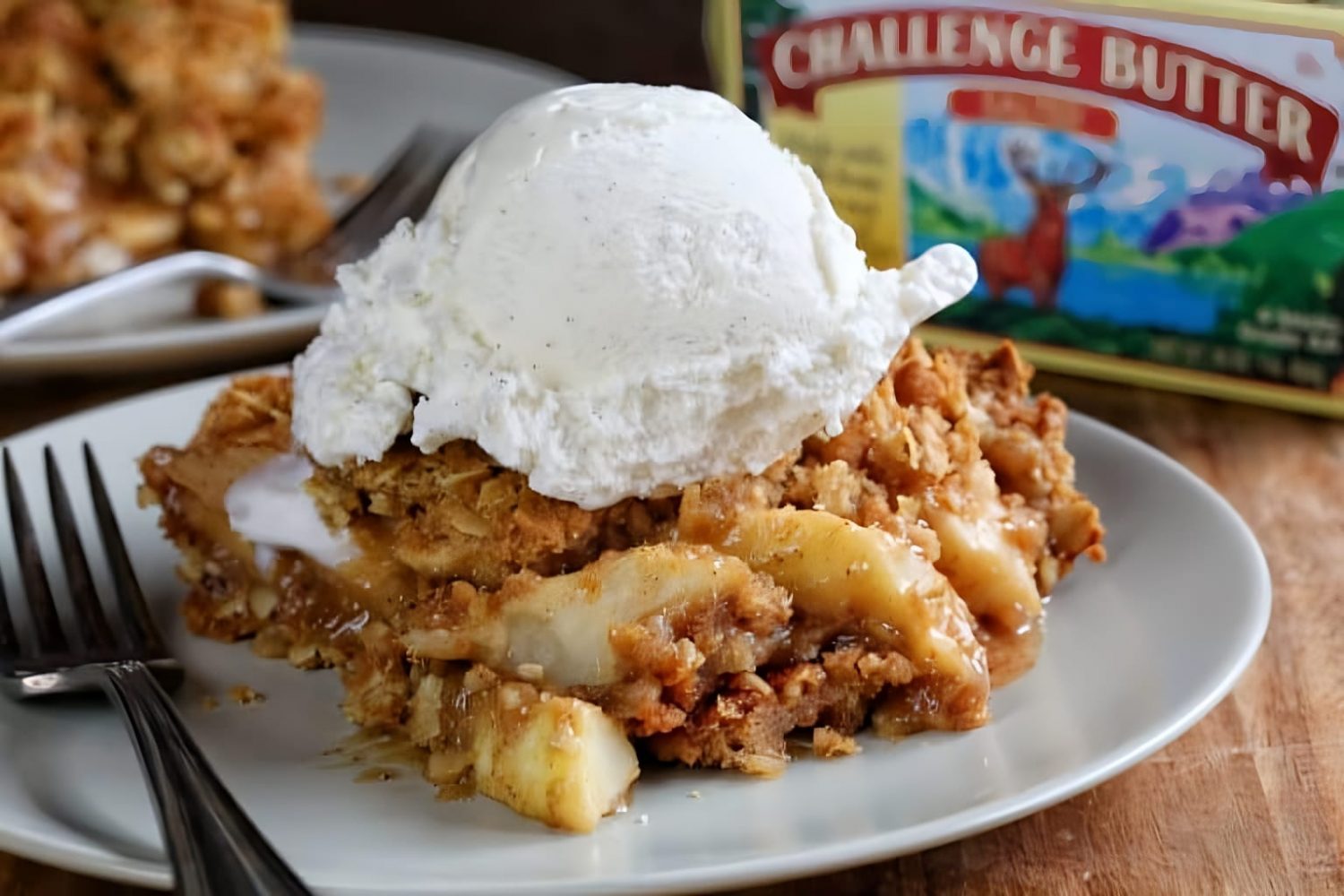 Enjoying the Ultimate Apple Crisp
The Best Apple Crisp is best served warm, allowing you to savor the delightful contrast between the warm, spiced apples and the crisp topping. However, it can also be enjoyed at room temperature after cooling. To maintain its freshness, cover any remaining portions with plastic wrap or aluminum foil and store them in the refrigerator for up to 5 days.
Now that you have the recipe for The Ultimate Apple Crisp, get ready to wow your taste buds and those of your loved ones. Whether you're celebrating fall, a holiday, or simply satisfying a sweet craving, this dessert will become a favorite in no time. Prepare to delight in the comforting aroma and heavenly taste of this irresistible apple treat.