The secret to these spicy tomatoes in a marinade is in this recipe. One of the main ingredients in the marinade will be honey.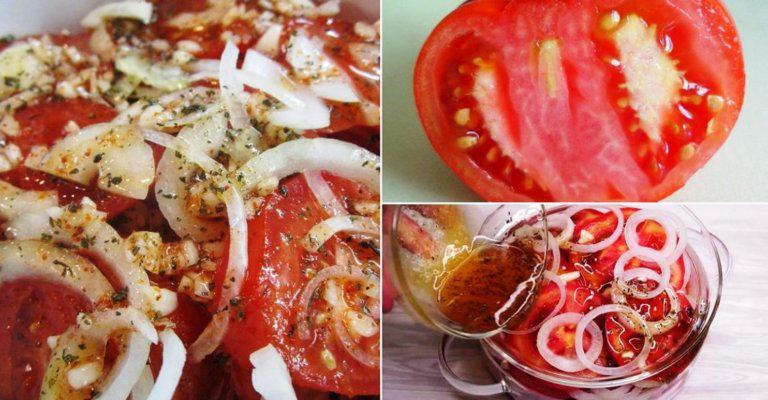 Ingredients:
tomatoes, 5 pcs;
onion, 3 pcs;
garlic, 5 cloves;
honey, 1.5 tbsp;
lemon juice, 2 tablespoons
salt and pepper to taste;
A pinch of red pepper;
basil, 1 tsp;
Vegetable oil, 4 tbsp.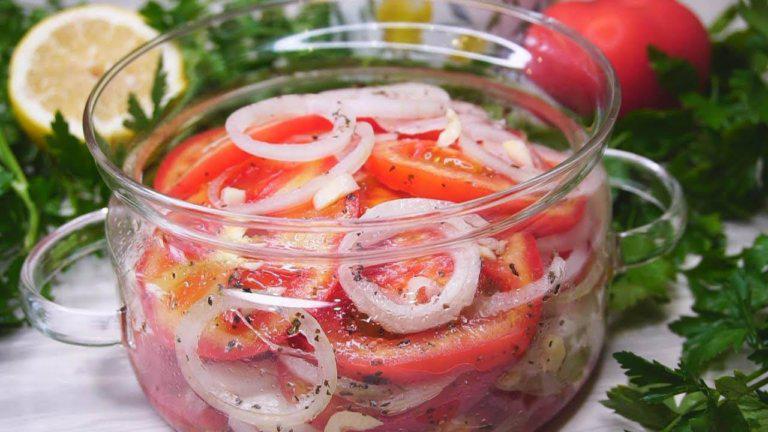 Instructions
Cut tomatoes and onions into circles about 5 mm thick.
Chop the garlic with a knife.
For the dressing mix honey and vegetable oil, lemon juice, add red pepper, basil, salt and pepper. Stir the marinade until it is completely homogeneous.
Use a container with a lid or a glass jar for the marinade.
Put a layer of tomatoes, a layer of onions and garlic on top, tomatoes, onions and garlic again. Alternate all the layers and put all the foodstuffs in this way.
Pour the marinade, shake the container and leave in the refrigerator for 30 minutes. If you leave it longer, the tomatoes will taste even better.