Passed down by an Aunt who lived among a local Native American tribe for many years, this recipe is simple yet incredibly delicious. The dough is crispy on the outside and soft and fluffy on the inside, making it perfect for both savory Navajo Tacos or sweet dessert topped with honey butter and powdered sugar. Learn how to make this beloved Native American delicacy and create fond memories with your loved ones.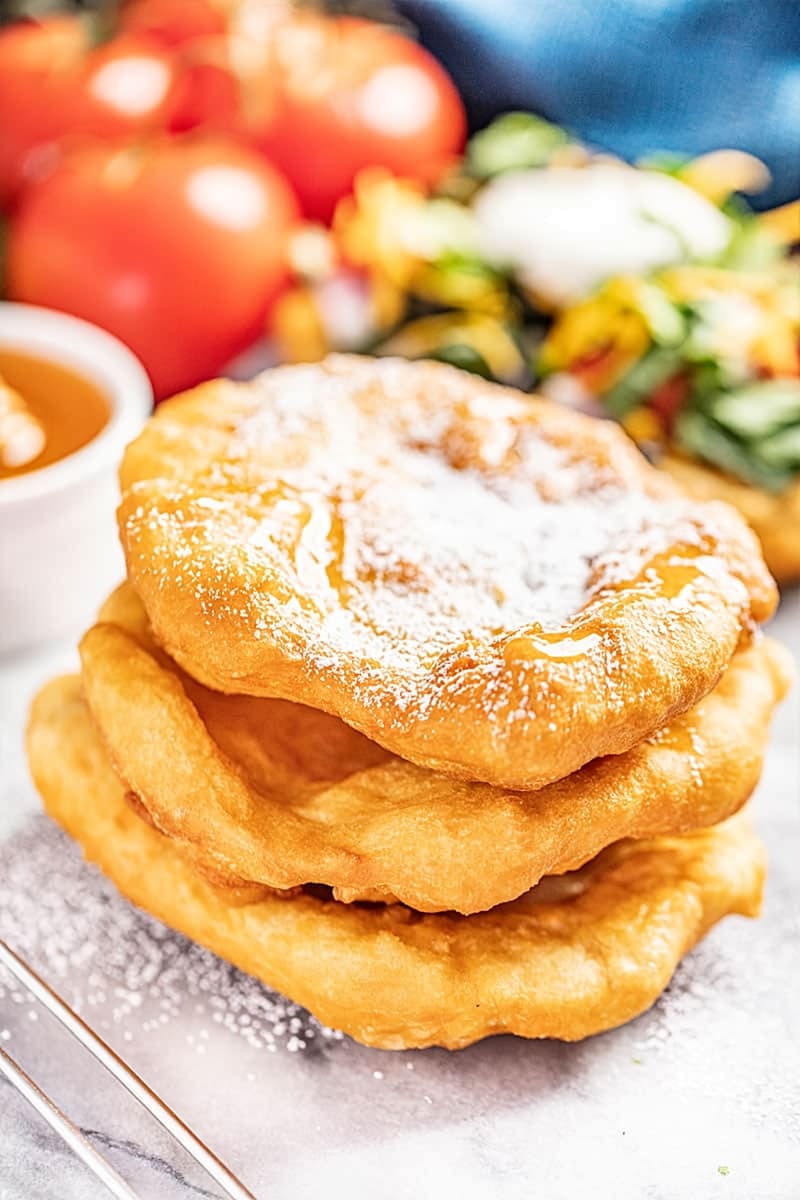 Fry Bread, also known as Navajo Fry Bread, Navajo Tacos, or Scones, is a beloved tradition in the United States, especially among Native American tribes. This recipe comes from an Aunt who lived among a local tribe for many years, learning the art of making Fry Bread from her friends in the community. The dough is made with simple ingredients, but the result is a deliciously crispy and fluffy bread that can be enjoyed in a variety of ways. Serve it up as Navajo Tacos with your favorite taco ingredients or as a sweet dessert with honey butter and powdered sugar. Whether you're new to Native American cuisine or looking to recreate childhood memories, this Authentic Native American Fry Bread recipe is a must-try.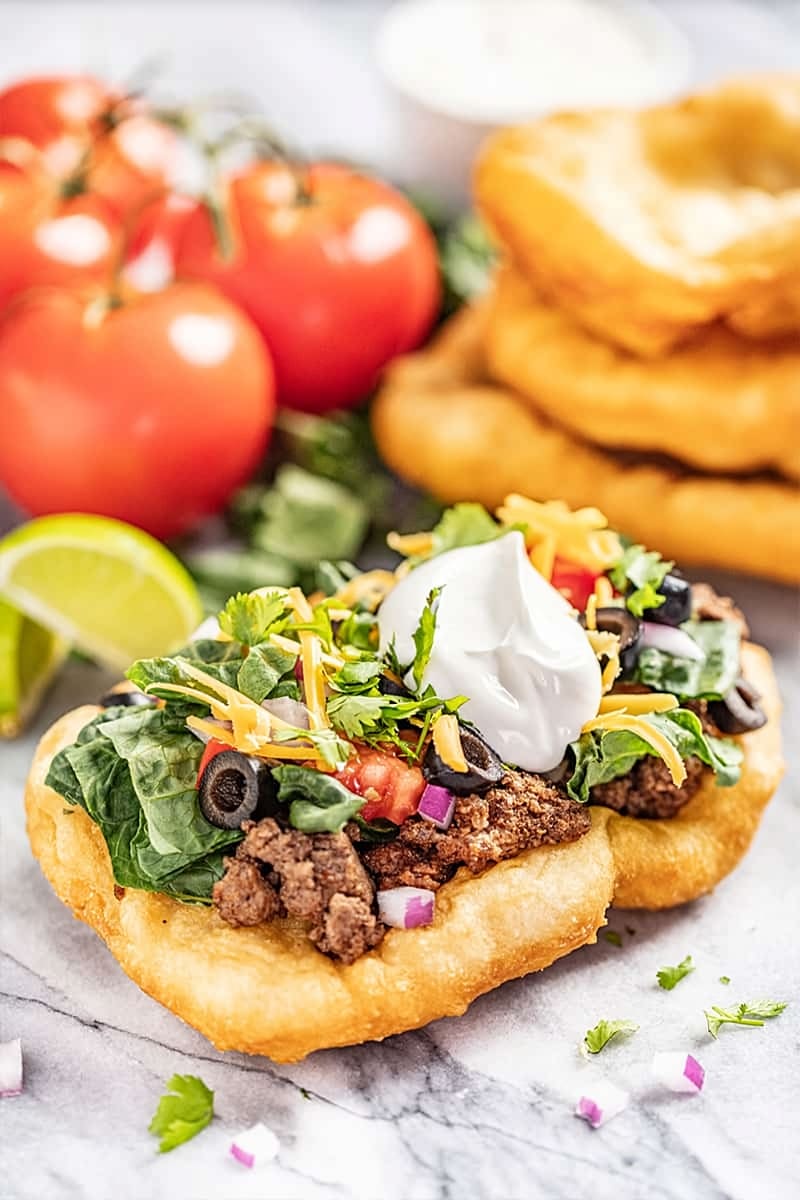 List of Ingredients:
4 cups flour
1 teaspoon salt
1 ½ tablespoons baking powder
1 ½ or more cups hot water
2-3 tablespoons vegetable oil
1 quart vegetable oil for frying
Instructions:
In a large mixing bowl, stir together the flour, salt, and baking powder.
Gradually add in the hot water, mixing with a spoon or your hands until the dough is combined. It will be sticky.
Drizzle 2-3 tablespoons of vegetable oil over the dough to keep it from drying out. Cover and let the dough rest for 2 hours. Note: The dough will not rise, but it needs to rest.
Pull off golf ball-sized pieces of dough and stretch or roll out until very thin, without ripping it. The thinner the better.
Pour enough vegetable oil into a pot to cover it with 2 inches of oil. Heat the oil to 350 degrees F.
Working one at a time, fry the dough in the hot oil until golden brown, flipping halfway through.
Transfer the fried bread to a paper towel-lined plate to drain excess oil.
Fried bread can be kept warm in the oven until there is enough to serve.
Storage Instructions:
Indian Fry Bread can be stored in an airtight container for up to 3 days.
Note:
Fry Bread is best served hot and fresh out of the fryer. While you can make the dough ahead of time and let it rest in the fridge overnight, it's recommended to fry it up just before serving for the best results.
Enjoy the rich cultural flavors of Authentic Native American Fry Bread with your favorite toppings or as a sweet treat. This simple yet delicious recipe is a cherished tradition that will surely become a favorite in your household.