Whip Up a Quick and Creamy Chicken Casserole with Succulent Chicken, Onions, Bell Peppers, and a Flavourful Sauce, Topped with Crackers and Cheese, in Just 45 Minutes!
Discover the Ease of Crafting an Irresistible Chicken Casserole – a Perfect Solution for Busy Weeknight Dinners. Whether Prepared Ahead or Assembled On-the-Spot, This Dish Is a Breeze to Create, Ensuring a Kid-Friendly, Speedy, and Delectable Culinary Experience, All Wrapped Up in a Wholesome 45 Minutes!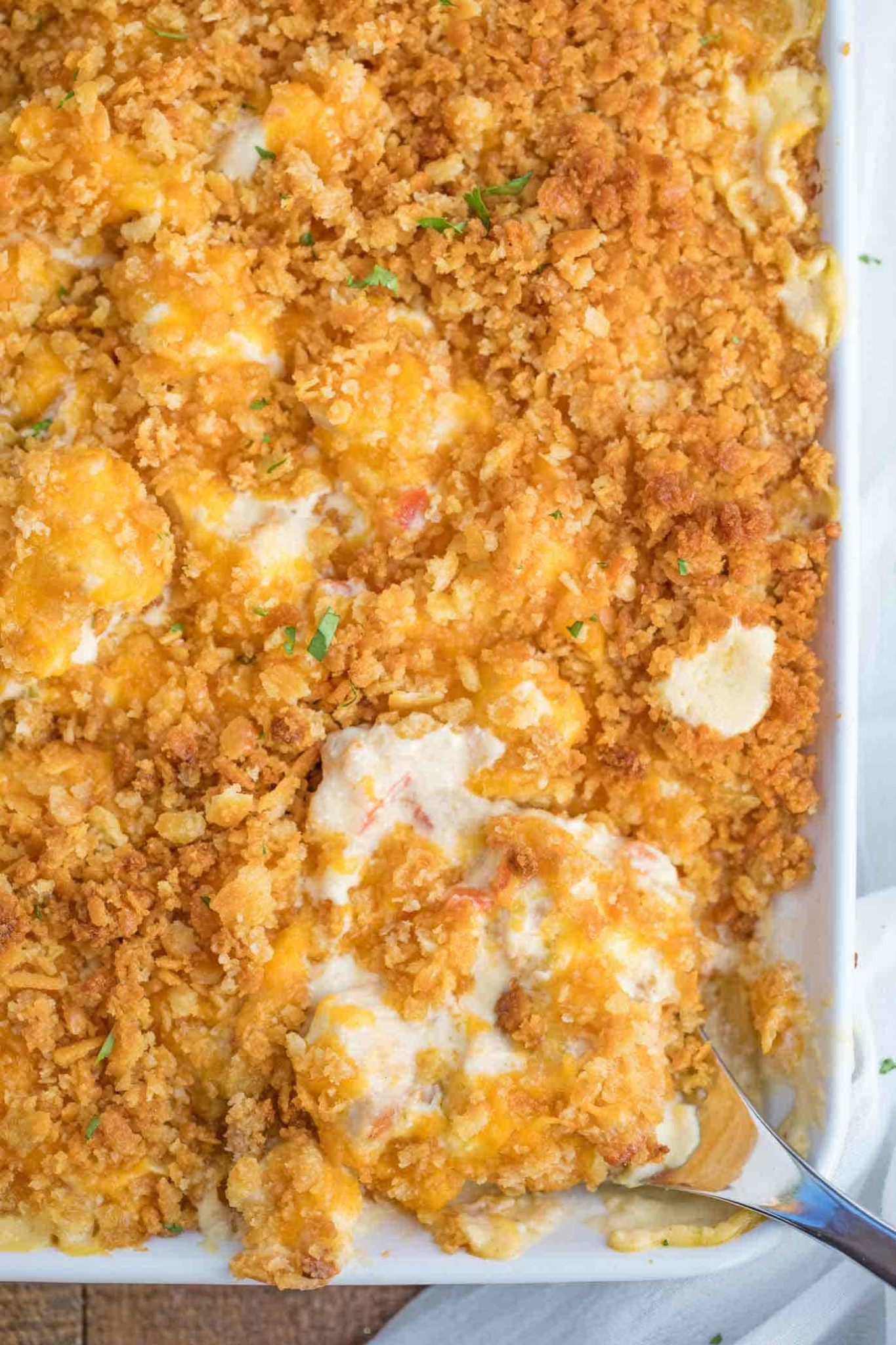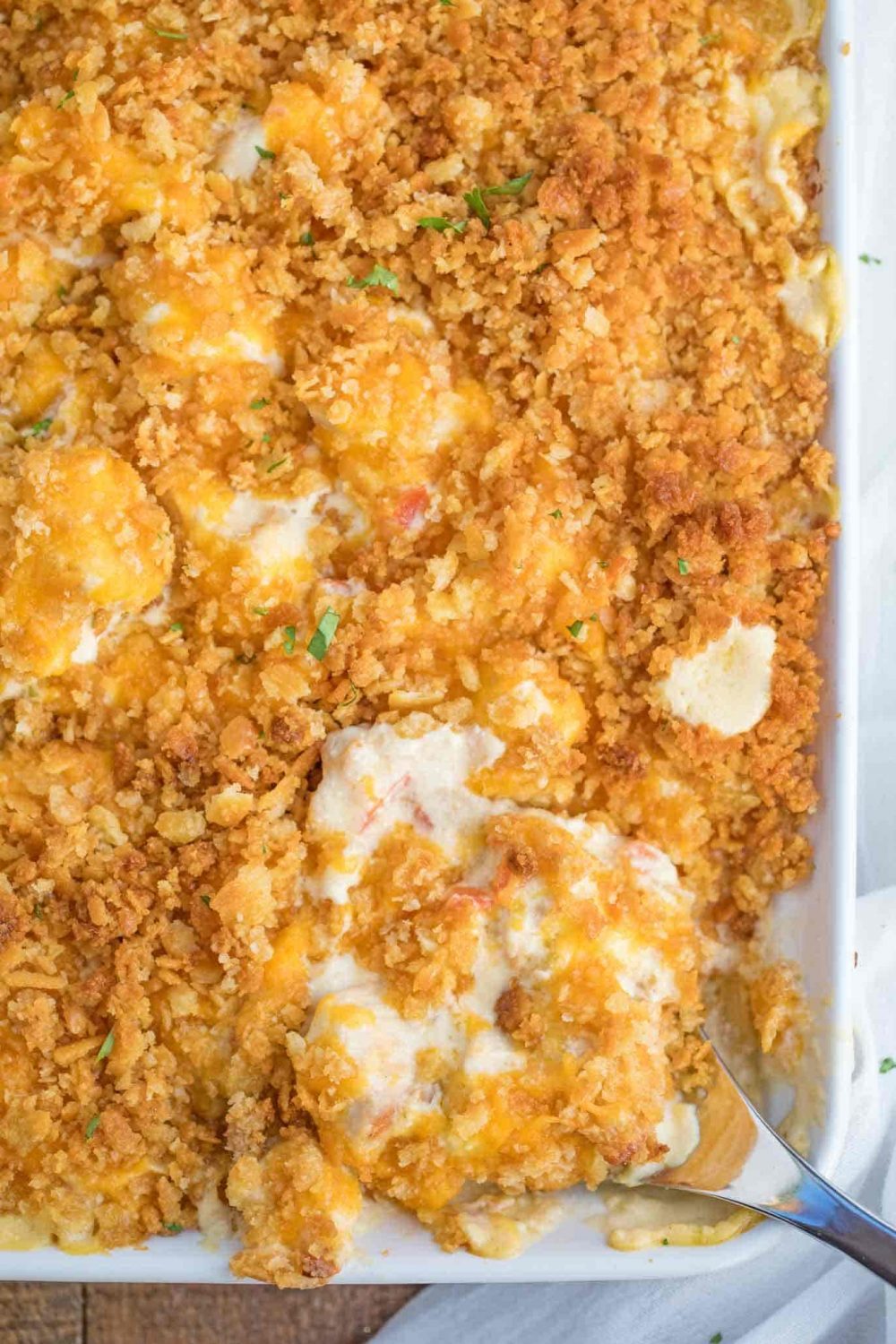 A Versatile Dish for Every Occasion
The Easy Chicken Casserole recipe doesn't just cater to your dinner cravings, it also extends a hand for smart meal prepping. By doubling the batch, you can store portions in catering dishes, ready to pop into the oven whenever you're in need. This casserole is a shining star at potlucks and a splendid choice for hosting guests.
Mastering the Art of Chicken Casserole in Your Slow Cooker
Begin by browning chicken breasts in a generous pat of butter in a large skillet, ensuring all sides are beautifully golden.
Combine all the ingredients except the topping in your slow cooker, giving them a gentle stir to blend.
Seal the slow cooker and set it to high for 4 hours or low for 8 hours, letting the magic of slow cooking unfold.
Once the timer's up, retrieve the chicken and use two forks to shred it into succulent pieces. Return the shredded chicken to the slow cooker and give it a good mix.
Introduce the topping, and for that perfect crunch, slightly crack open the lid of the slow cooker, leaving it on high for 30 minutes. This mimics the oven baking process, yielding a delightfully crispy topping.
Queries Addressed
Diverse Vegetable Additions: Elevate your casserole with mushrooms, asparagus, green beans, carrots, mixed veggies, or broccoli to introduce fresh flavors.
Extra Cheesy Twist: Infuse an extra layer of cheesiness by incorporating an additional cup of shredded cheddar cheese into the chicken mixture.
Rotisserie Chicken Shortcut: Opt for pre-cooked rotisserie chicken. After removing the skin and bones, shred the chicken and blend it with the sauce.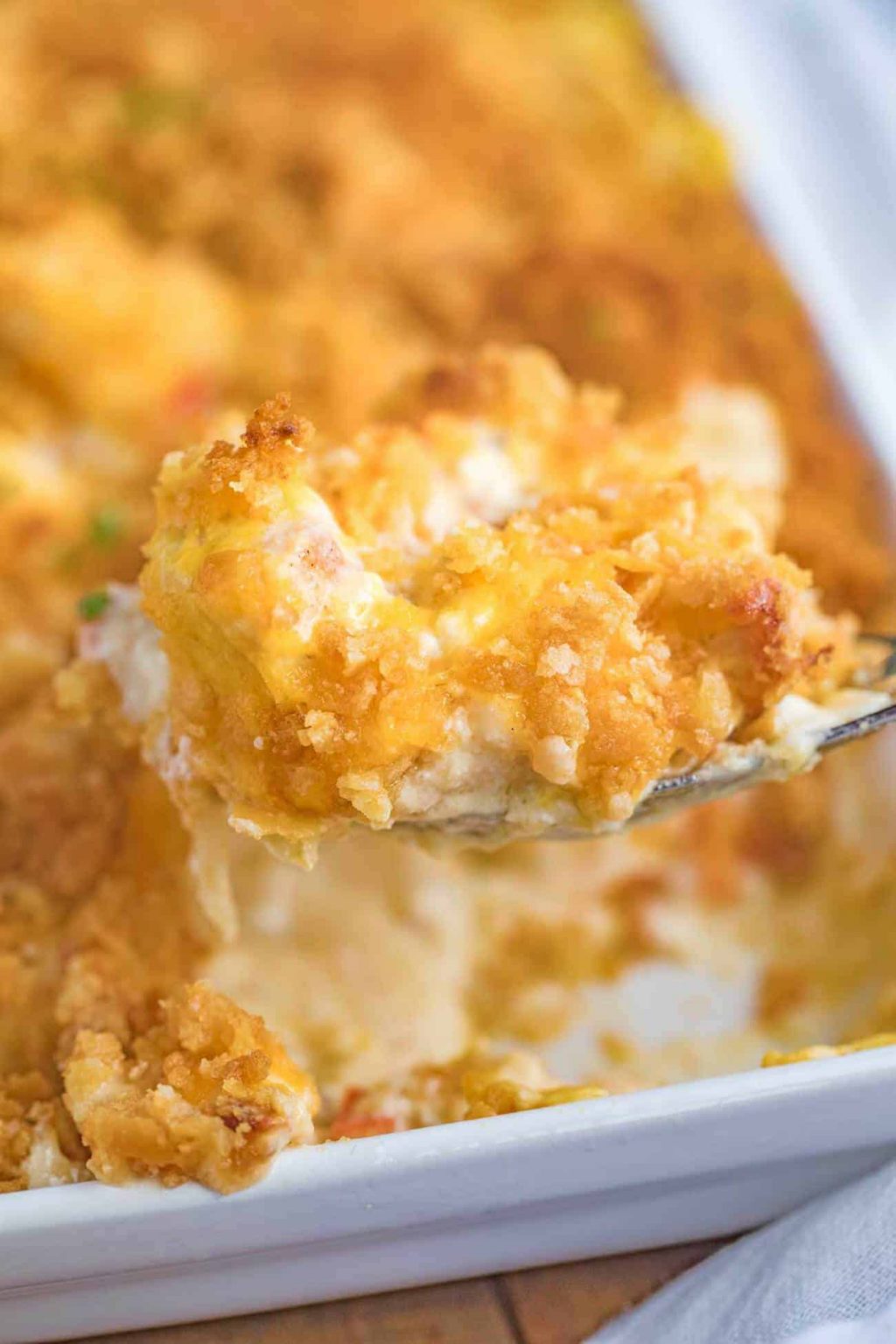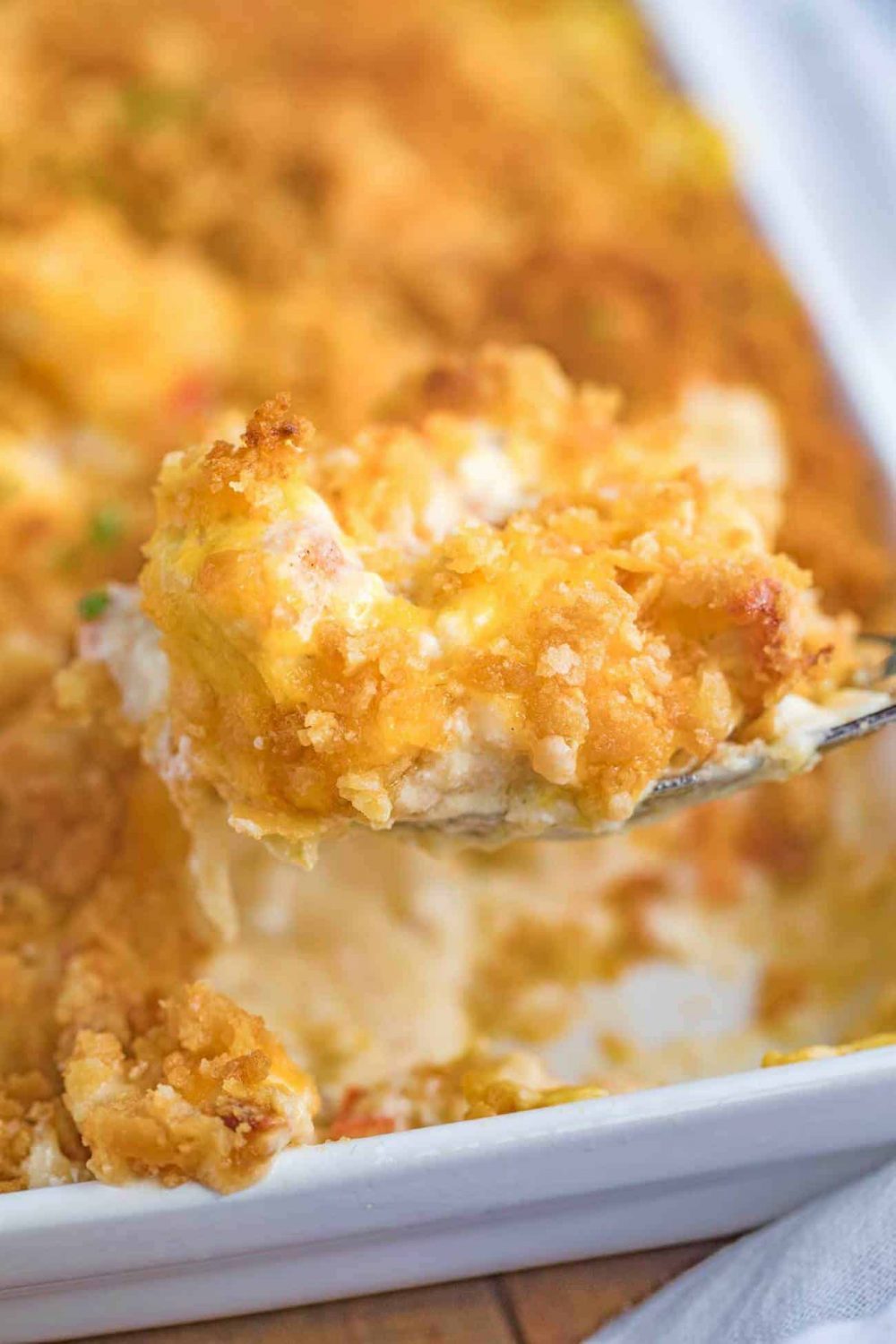 Innovative Toppings and Customizations
Crunchy Variations: Experiment with Ritz crackers, potato chips, or regular breadcrumbs to tailor the topping to your liking.
Temperature Precision: Verify that chicken breasts reach an internal temperature of 165°F for perfect doneness.
Accompaniments: Elevate your experience by serving this casserole over rice or pasta to complement the dish.
Chicken Cut Variability: Substitute chicken thighs for a twist on the recipe without compromising flavor.
Rice Addition: If desired, incorporate a cup of instant long-grain rice into the casserole for an all-in-one dish.
Creative Flairs and International Touches
Mexican Infusion: Infuse Tex-Mex flavors by adding black beans, pepper jack cheese, or salsa. Consider melting a package of cream cheese for a richer sauce.
Protein Substitutes: Explore beef, lamb, or turkey as protein alternatives to suit your culinary preferences.
Storing Your Culinary Creation
Serving Time Limit: Avoid leaving cooked meat unattended at room temperature for over 2 hours.
Short-Term Storage: Once cooled, store the Chicken Casserole in an airtight container in the refrigerator for up to 4 days.
Freezing Option: Freeze the casserole before or after baking, ensuring an airtight container for up to 4-5 months. Defrost in the refrigerator before reheating.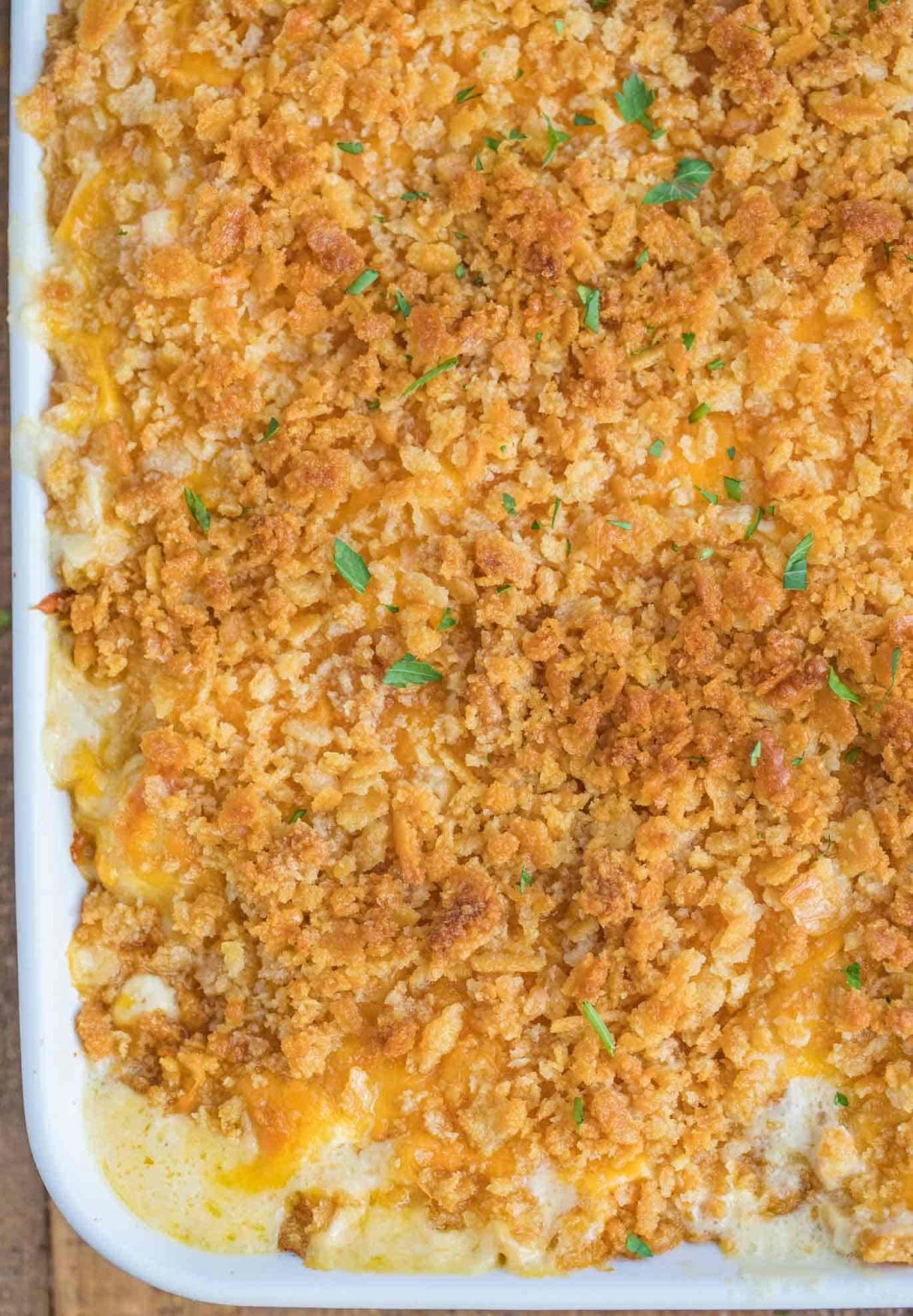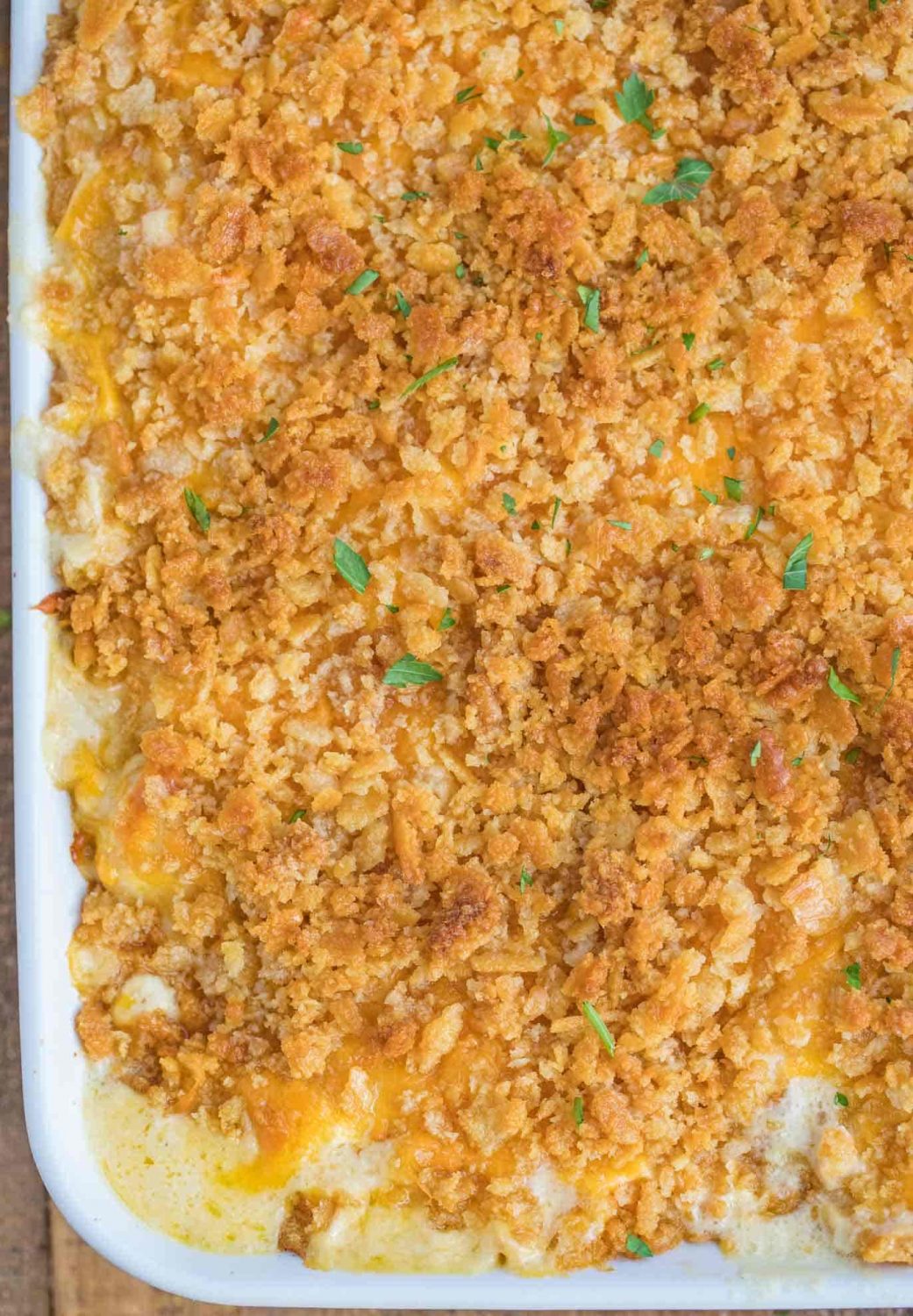 Original Recipe – Easy Chicken Casserole
Ingredients:
8 tablespoons unsalted butter, divided
4 chicken breasts, boneless skinless
1/2 yellow onion, chopped
1 red bell pepper, chopped
2 cloves garlic, minced
1/2 teaspoon coarse ground black pepper
10.75 ounces condensed cream of chicken soup
1 cup sour cream
1/2 cup whole milk
28 Ritz crackers, crumbled
1 cup cheddar cheese, shredded
Instructions:
Preheat your oven to 350°F.
Brown the chicken breasts with 2 tablespoons of butter in a large skillet over medium heat for about 4-5 minutes per side. Remove the chicken, roughly chop it, and set it aside.
In the same skillet, add another 2 tablespoons of butter along with the onion, bell pepper, garlic, and black pepper. Cook for 4-5 minutes until the onions turn translucent.
Mix in the condensed cream of chicken soup, sour cream, and milk until well combined. Pour the mixture into a baking dish.
Melt the remaining 4 tablespoons of butter and combine it with the crumbled Ritz crackers and shredded cheddar cheese. Sprinkle this mixture over the chicken.
Bake in the preheated oven for 30-35 minutes, until the casserole is heated through and the topping is golden and crispy.