Experience the Fusion of Flavors in French Onion Pot Roast – Where Succulent Beef Meets Rich Onion Broth, Topped with Irresistible Cheese and Crispy Baguettes!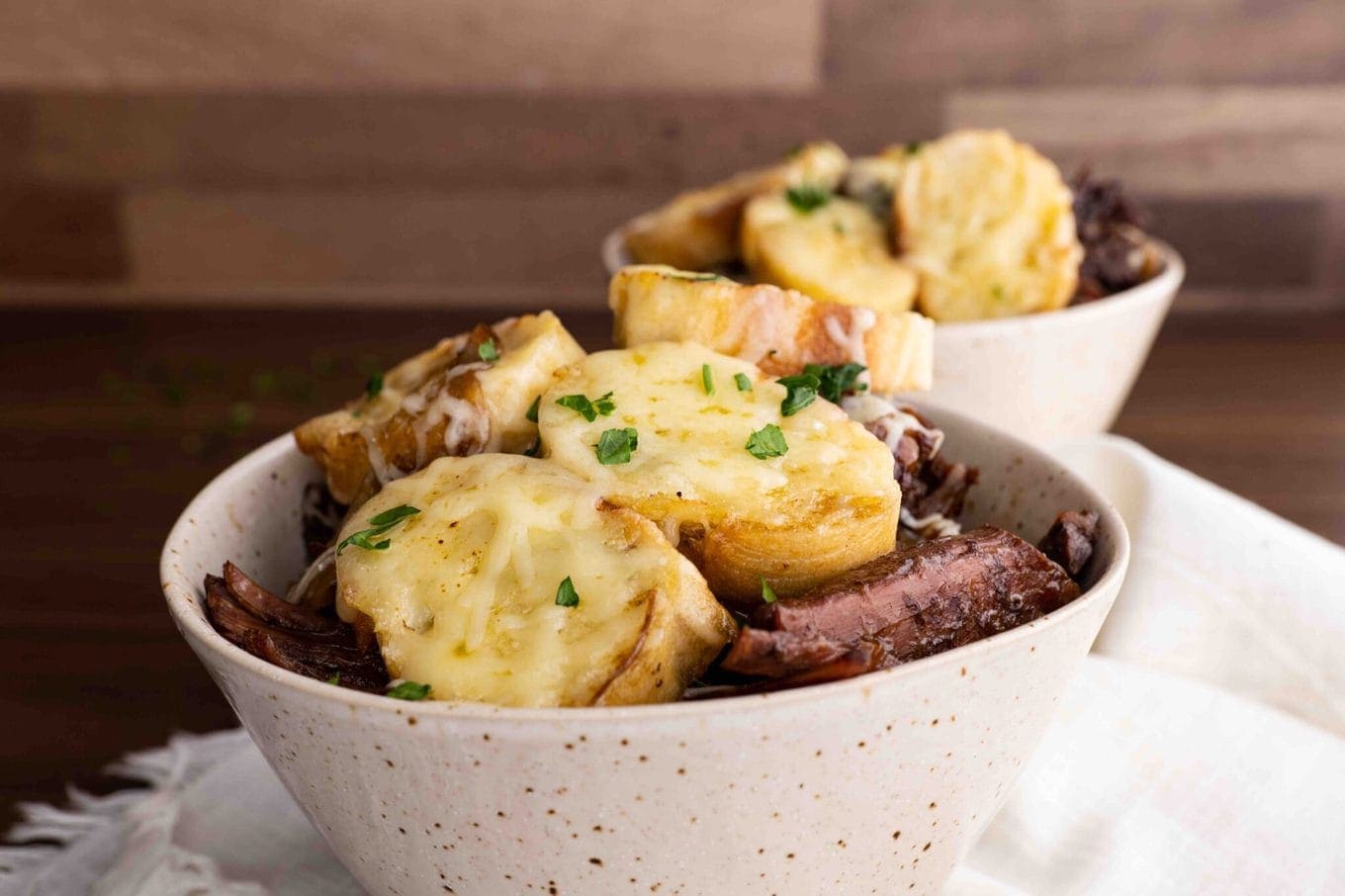 The Perfect Blend: Pot Roast Meets Cozy Stew:
Discover the Ultimate Marriage of Pot Roast Comfort and Stew Coziness with French Onion Pot Roast. An Ideal Dish for Chilly Evenings and Memorable Gatherings!
A Gastronomic Journey:
Embark on a Journey of Culinary Delight with French Onion Pot Roast. A Masterful Combination of Hearty Ingredients, Crafted to Elevate Your Taste Buds.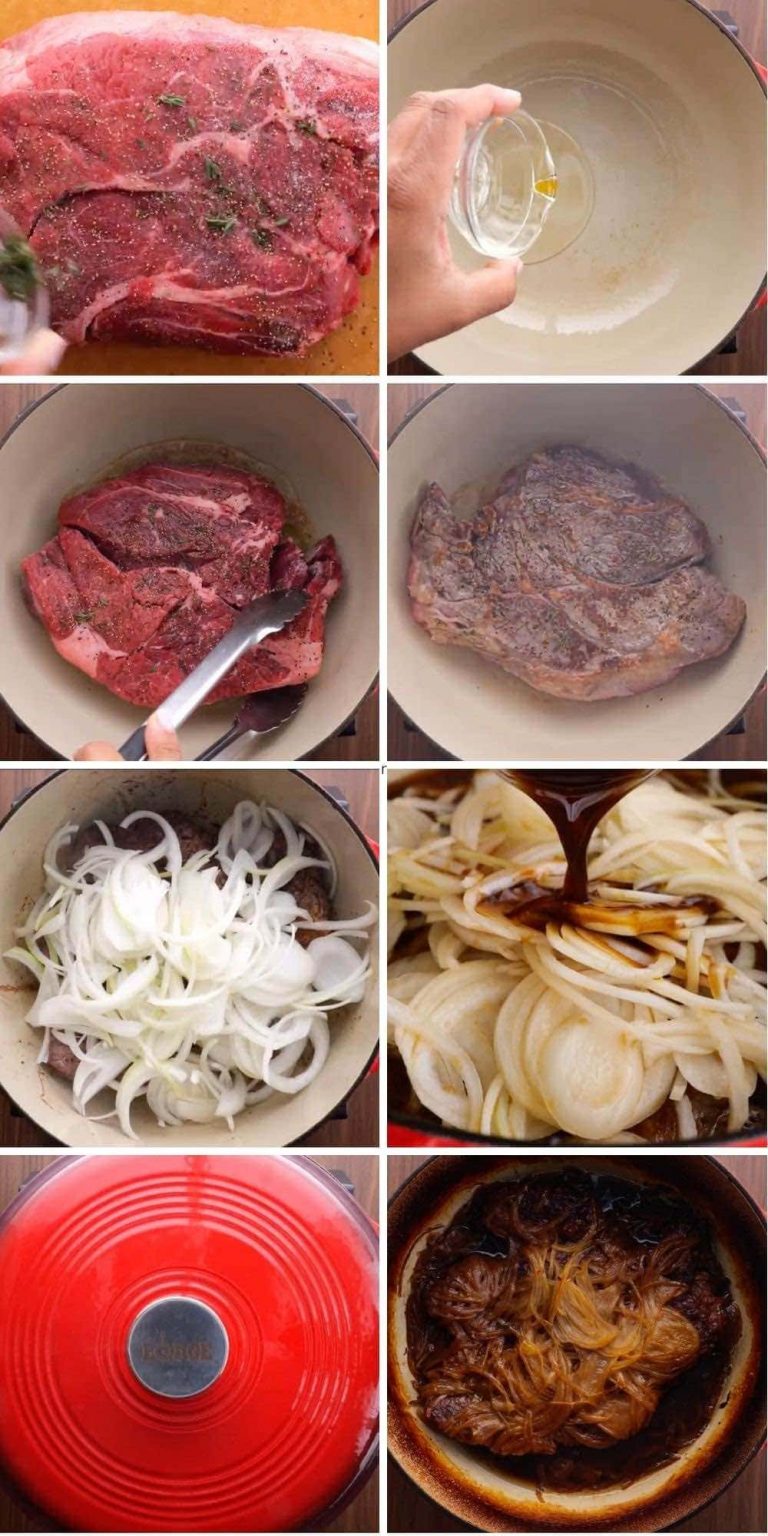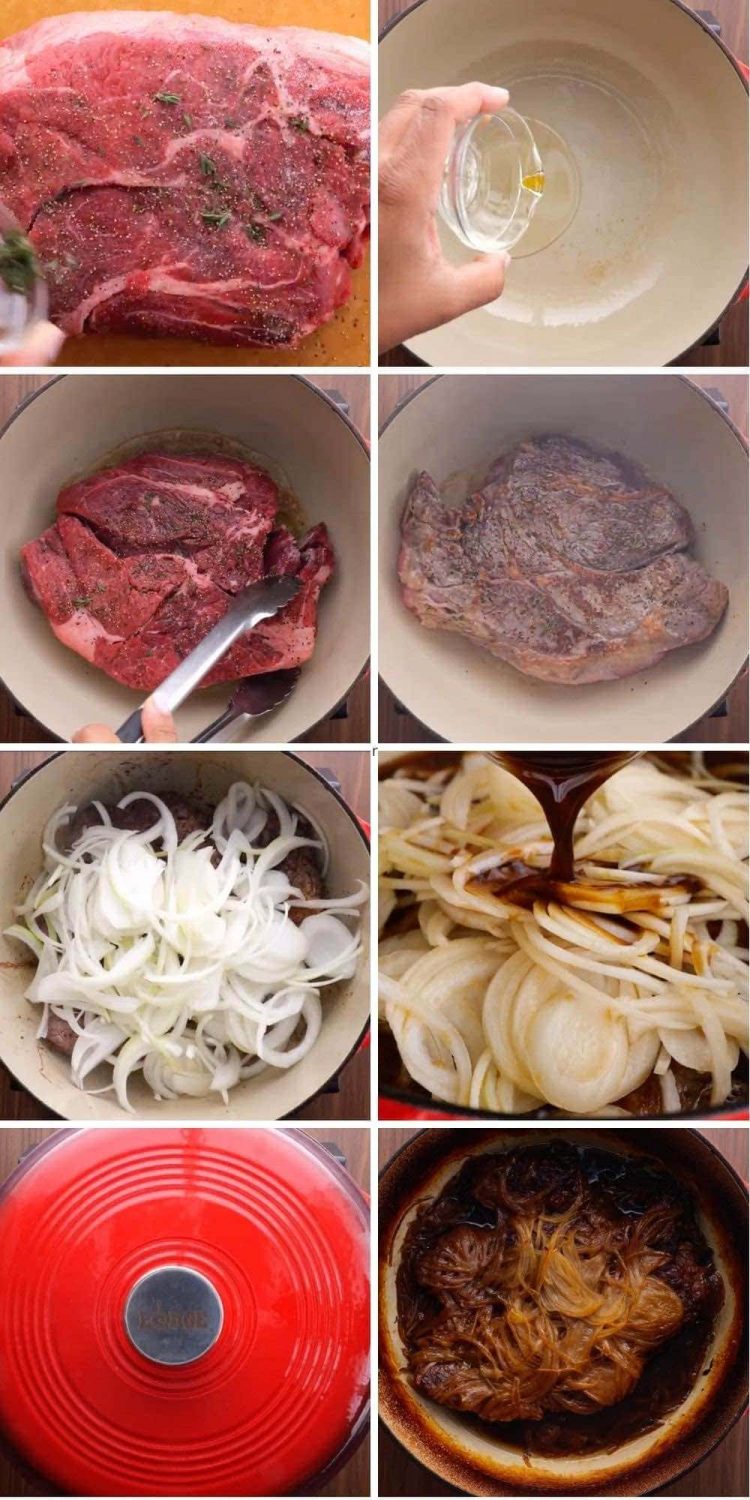 The Affordable Luxury:
Unveil the Secret to Gourmet Flavor on a Budget – French Onion Pot Roast Utilizes Budget-Friendly Chuck Roast for a Five-Star Experience Without the Price Tag.
A Symphony of Flavors:
Delight in the Symphony of Beefy Goodness and Melted Gruyere – A Marriage of Savory Broth, Caramelized Onions, and Cheesy Toast that Creates Culinary Harmony.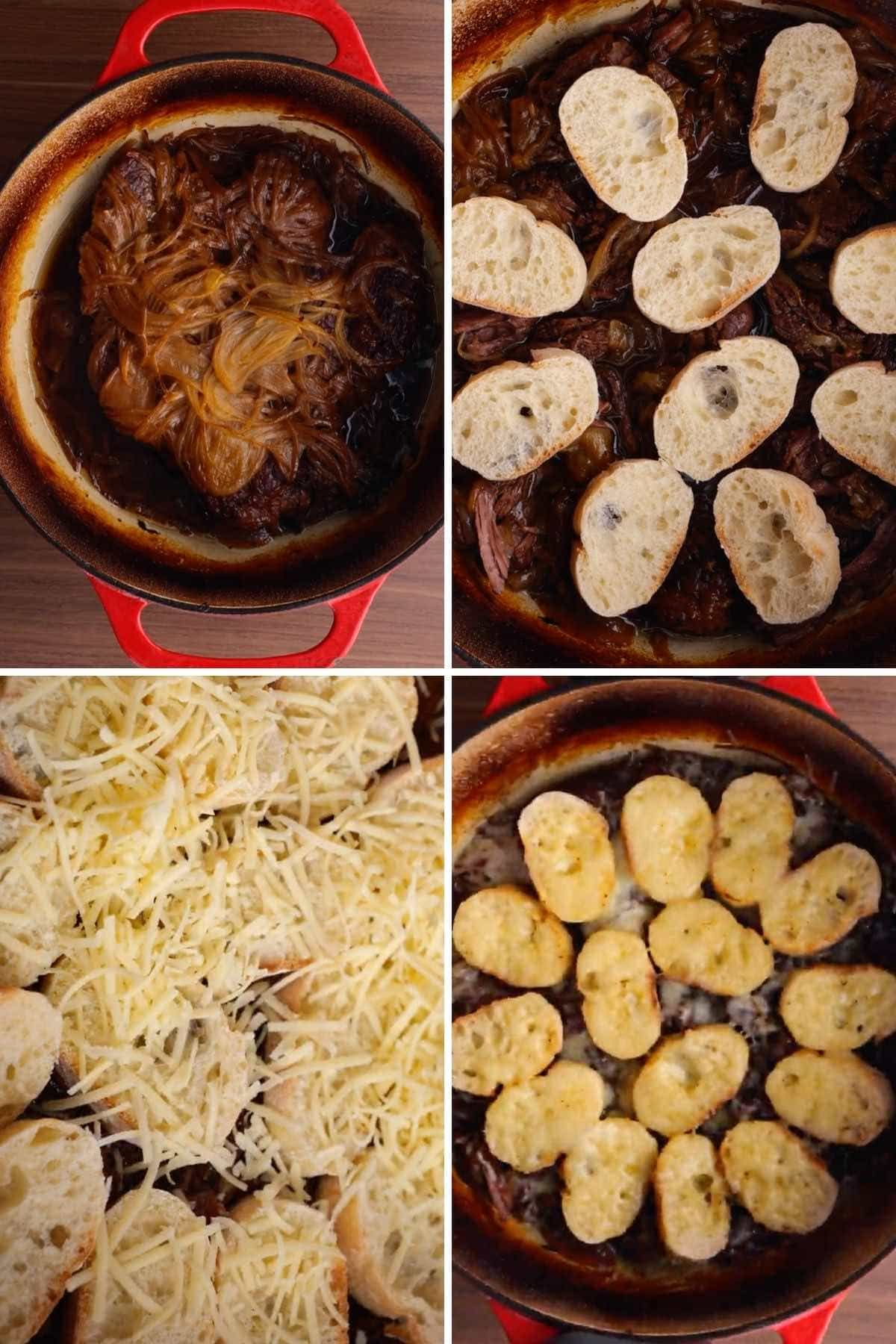 Exploring Cheese Possibilities:
Dive into Cheese Exploration – Opt for Gruyere, Swiss, or Provolone to Tailor Your French Onion Pot Roast. Discover Hidden Cheese Gems at the Deli Counter for a Cost-Conscious Twist.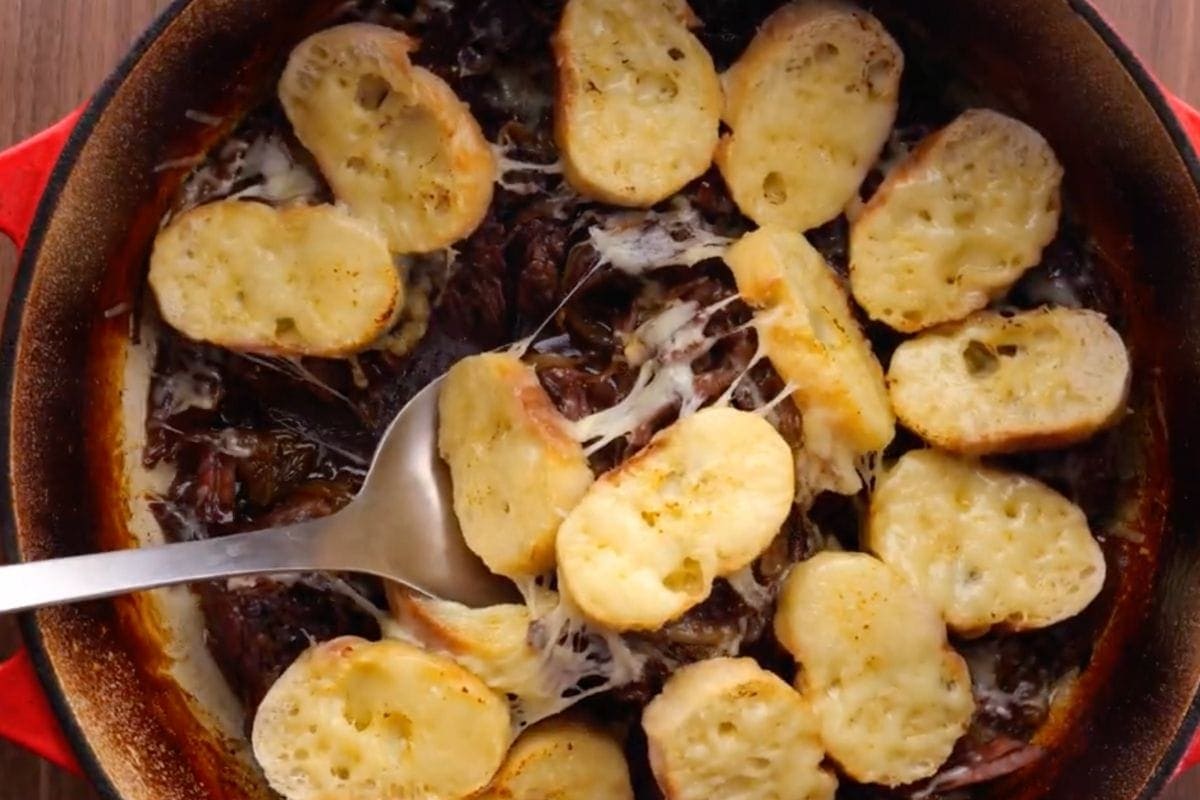 Savoring the Stew-Like Bliss:
Experience the Luscious Stew-Like Texture of French Onion Pot Roast. Let the Beef Melt in Your Mouth as You Savor the Creamy Onions and Luscious Broth.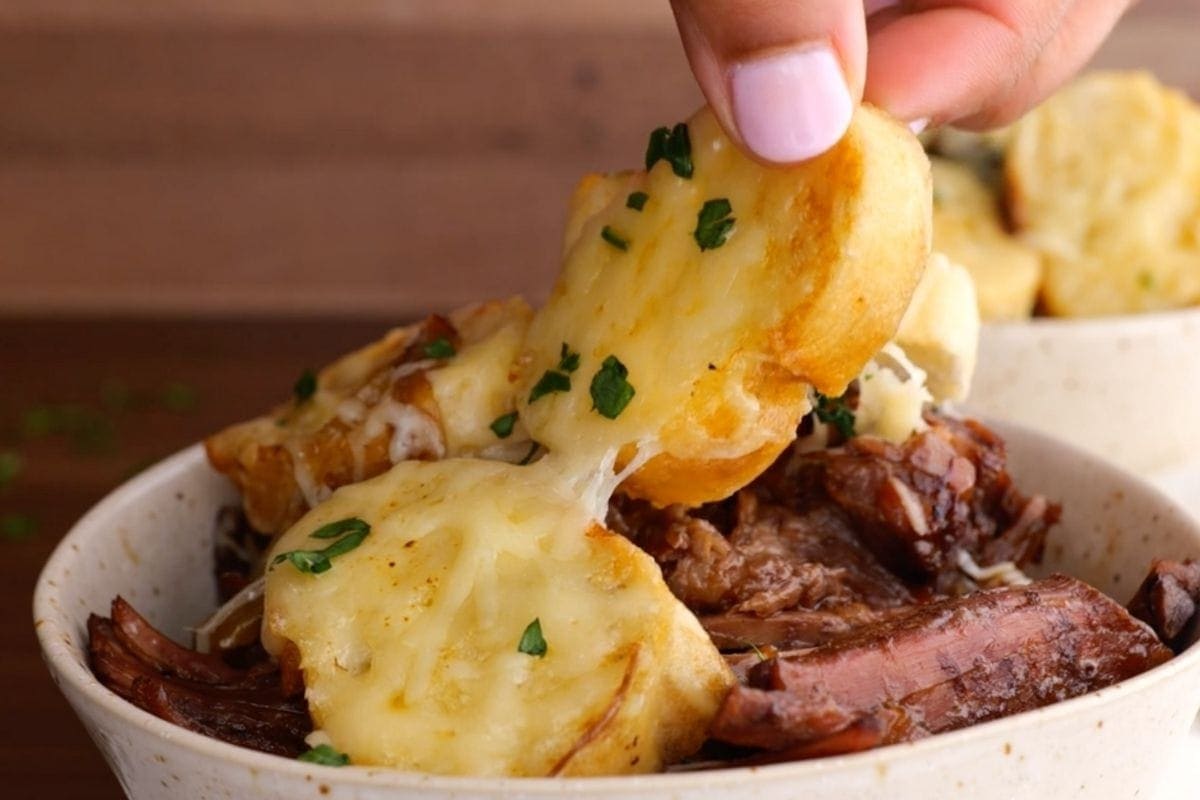 Recipes for Every Chef:
Explore Two Cooking Methods to Suit Your Culinary Style – Slow Cooker and Instant Pot. Uncover the Steps to Crafting Your Perfect French Onion Pot Roast.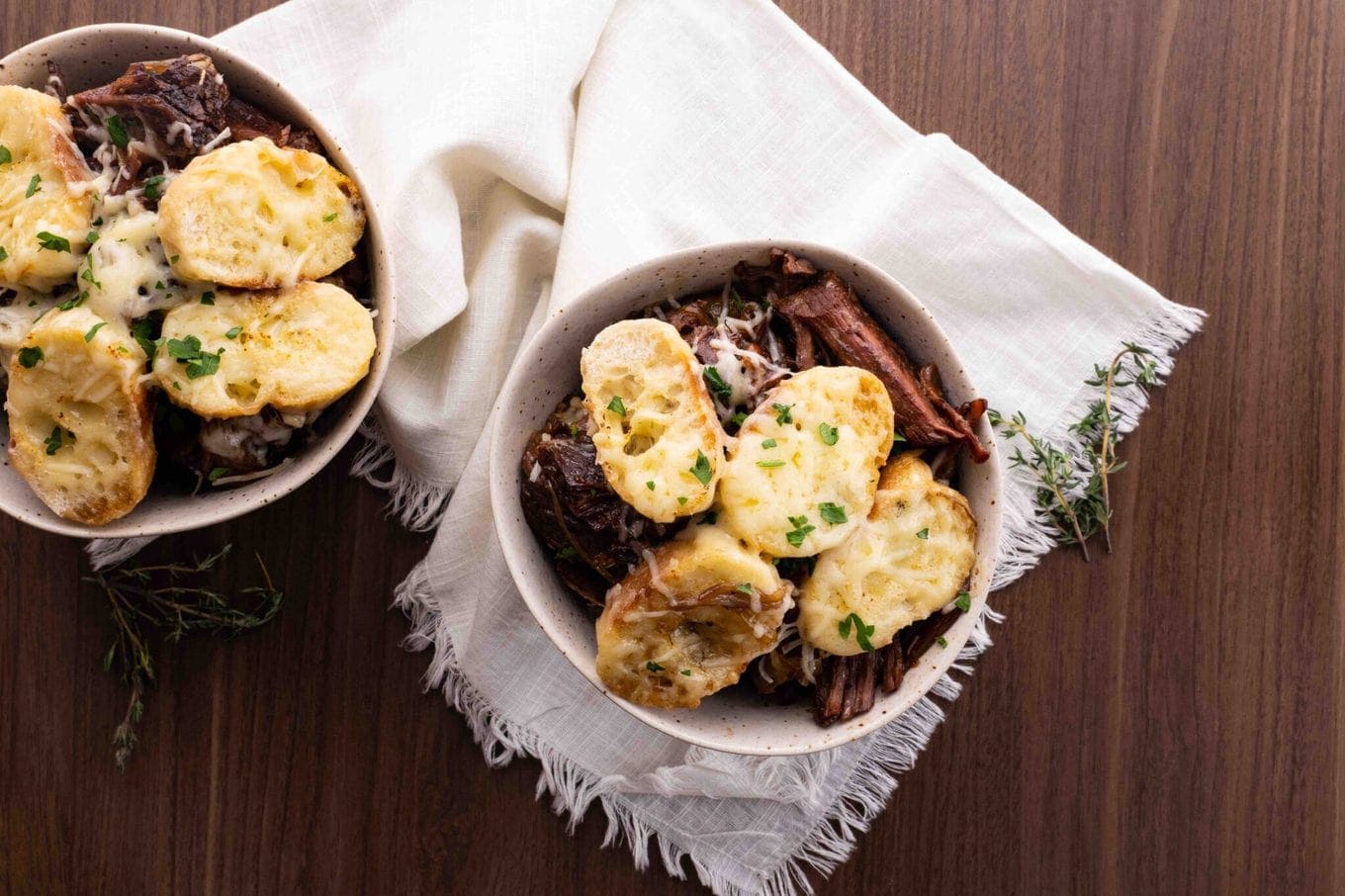 Slow Cooker Elegance:
Begin with Seasoned Beef Resting While You Prepare.
Achieve Deep Browning on Both Sides in a Skillet.
Combine Ingredients in the Slow Cooker for Hours of Flavor Fusion.
Unveil Tender Perfection with Fork-Tender Meat.
Instant Pot Magic:
Season and Rest the Beef for Optimal Flavor.
Brown to Excellence in the Instant Pot.
Create a Flavorful Base by Deglazing with Broth.
Witness the Art of Pressure Cooking Unfold for Melt-in-Your-Mouth Meat.
A Taste of Warmth: Serving and Storage:
Indulge Right Away for Maximum Flavor and Textural Delight. Discover Storage Tips to Preserve the Essence of French Onion Pot Roast.
Serve: Relish the Moment as You Savor Every Bite of Toasted Goodness.
Store: Keep Pot Roast and Cheese Toast Separate for Extended Freshness.
Freeze: Store for Months and Relive the Culinary Journey – Reheat and Broil to Perfection.
Ingredients:
Gather Your Essentials for the Ultimate French Onion Pot Roast:
3-4 pound chuck roast
2 tablespoons vegetable oil
1 teaspoon kosher salt
1/2 teaspoon coarse ground black pepper
4 yellow onions, halved and thinly sliced
4 cups beef broth
2 tablespoons Worcestershire sauce
6 sprigs fresh thyme
1 French baguette, cut into ½ inch slices
1 cup gruyere cheese, shredded
Step-by-Step Instructions:
Crafting Your French Onion Pot Roast Masterpiece:
Preheat your oven to 325 degrees F.
Season the chuck roast with Kosher salt, pepper, and thyme.
Heat vegetable oil in a pan, then deeply brown the roast on both sides.
Introduce onions, beef broth, Worcestershire sauce, and thyme. Cook, covered, for a Flavorful Infusion.
Transition to Hi-Broil, Shred the Beef into Luxurious Chunks.
Crown Your Creation with Baguette Slices and Gruyere Cheese.
Witness the Cheese Bubbling and Browning in the Oven.
Serve the Culinary Masterpiece – A Symphony of Flavors Awaits.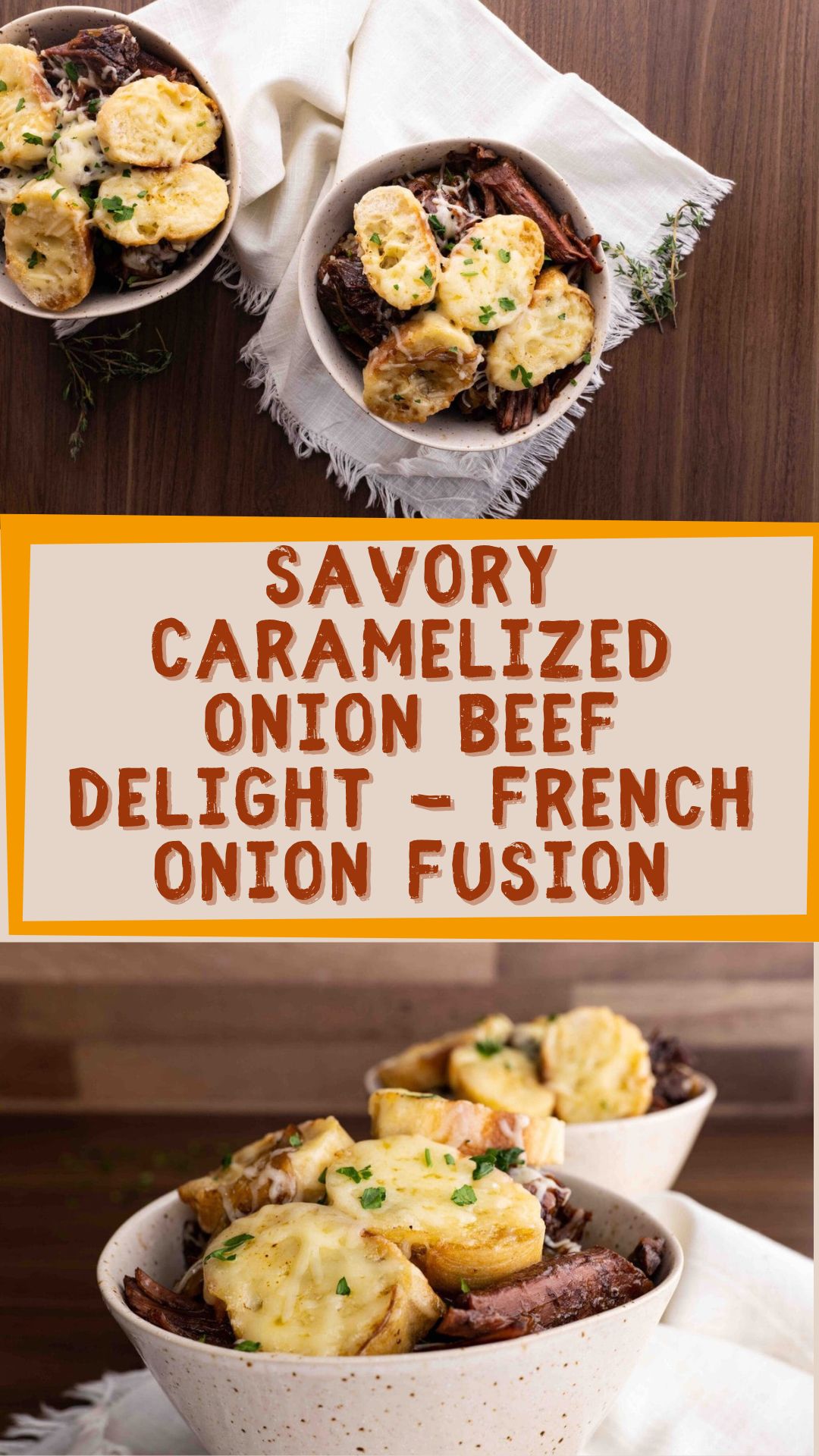 Elevate Your Culinary Repertoire with French Onion Pot Roast – A Fusion of Comfort and Luxury. Succulent Beef, Caramelized Onions, and Gooey Cheese Await Your Palate. Delight in Every Bite and Create Unforgettable Moments Around the Table.