Macaroni salad is a popular side dish that's perfect for picnics, barbecues, and cookouts. This recipe is easy to prepare and even easier to enjoy. The tender pasta, crunchy veggies, and creamy mayonnaise-based dressing are a winning combination that everyone loves.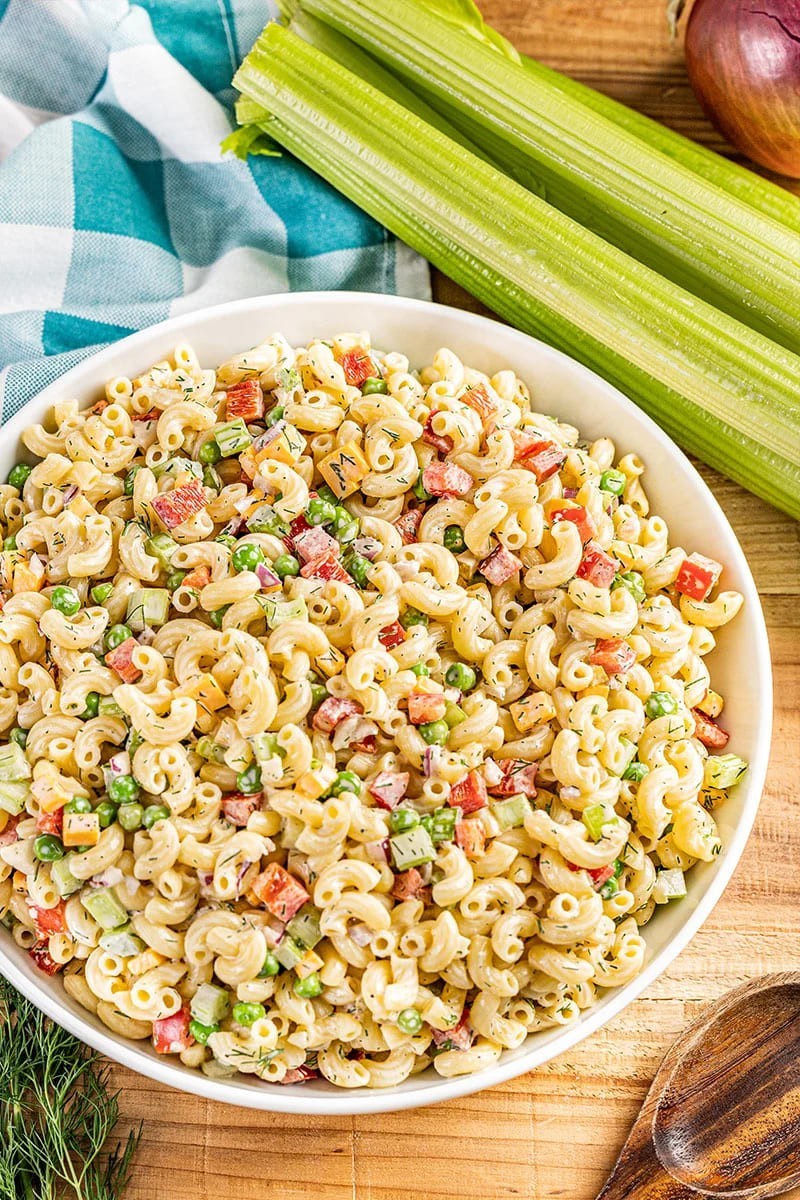 To make this easy macaroni salad recipe, all you need to do is cook some macaroni and add in all the other yummy ingredients once the pasta has cooled. Our version features crunchy celery and onion, crisp bell peppers, sweet peas, and cheddar cheese. We find that the addition of cheese makes this salad even better, but you can omit it if you prefer. The mayonnaise dressing comes together quickly, and the pickle relish adds a bit of sweetness that we can't get enough of.
If you're wondering whether you should rinse the pasta for a cold pasta salad, the answer is yes. Rinsing the pasta cools it down and washes away any extra starch that would cause the noodles to stick together. This is the best way to avoid a clumpy cold pasta dish.
To keep your macaroni salad from drying out, make sure to cook the noodles perfectly. Overcooked pasta will absorb the dressing too quickly, while undercooked pasta won't hold onto the dressing and other add-ons. Another trick is to toss the noodles in a bit of olive oil before adding the rest of the ingredients. This will prevent the macaroni from soaking up too much of the dressing and keep your salad moist.
You can use this easy macaroni salad recipe as a base for your noodle salad creations. Additional ingredients can vary based on your personal preferences. The sauce is usually mayonnaise-based, but you can replace it with a low-fat or egg-free option if needed. Mustard, herbs, and pickle juice or relish are all common ingredients to add to the sauce. In addition to the macaroni and the ingredients in our recipe, you can add even more fresh vegetables, or use a different type of cheese.
If you want to prepare this dish ahead of time, cook the pasta and let it cool completely before placing it in an airtight container. You can store it in the fridge overnight. You can even chop up the other ingredients and store them separately in the fridge. If you're feeling ambitious, make the dressing in advance too. Then, a few hours before you plan on eating, you can toss everything together in a large bowl.
Our easy macaroni salad can sit out for up to 2 hours at room temperature before it should be discarded. If you serve yours at an outdoor function, make sure to keep it chilled before serving and opt to put it in a shady spot once you're ready to dig in. As the dressing is made with mayonnaise, this dish can spoil in the sun.
If you have any leftovers, they will keep in the fridge for 3 to 5 days. Cover the bowl with plastic wrap or store it in an airtight container to maximize freshness.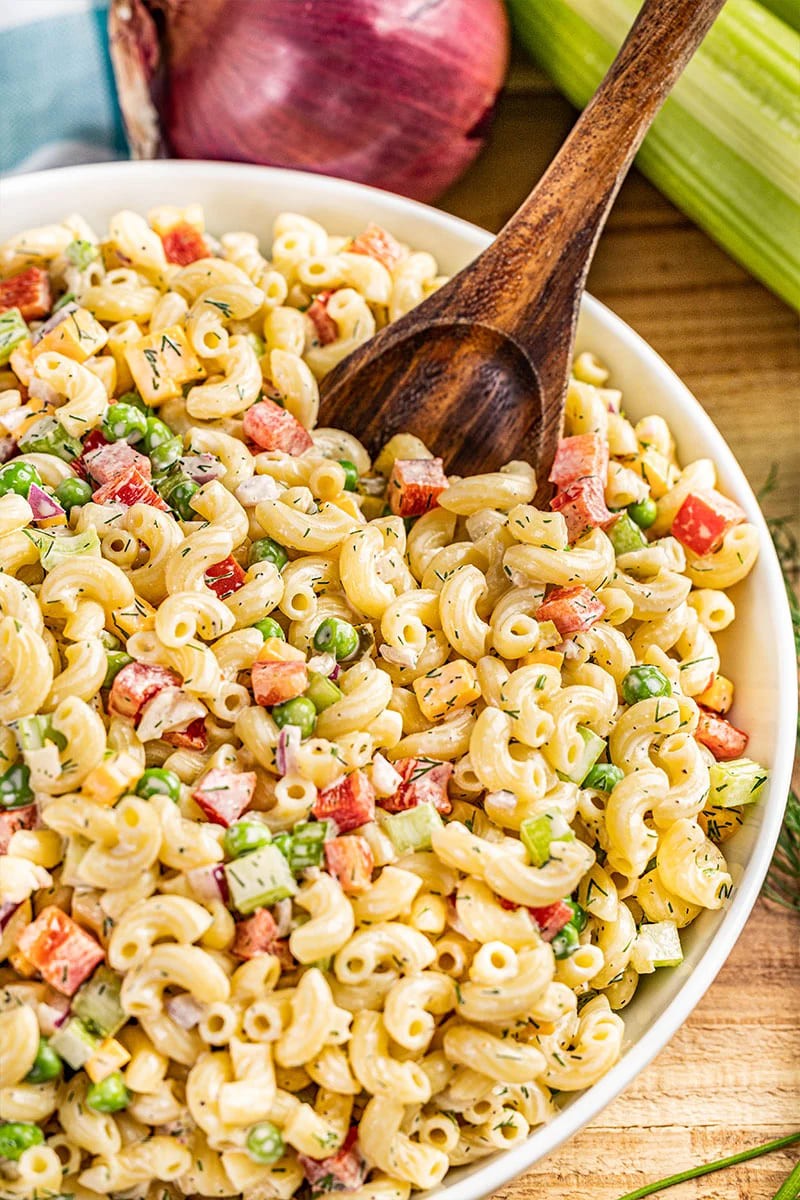 Here's what you'll need to make this easy macaroni salad recipe:
INGREDIENTS
1 lb elbow noodles
4 oz cheddar cheese, shredded or cubed
1/2 red onion, finely minced
4 stalks of celery, diced
1 red bell pepper, finely minced
1 cup frozen peas, thawed
1/2 cup mayonnaise
1/4 cup cider vinegar
1/4 cup fresh dill, finely minced
2 tbsp granulated sugar
2 tbsp sweet pickle relish
1 tbsp dijon mustard
1 tsp salt
1/2 tsp black pepper
INSTRUCTIONS
Fill a large pot with salted water and bring it to a boil. Cook elbow noodles according to package instructions. Drain and rinse the noodles with cold water until they are cool. Drain the noodles well.
In a large mixing bowl, combine the cooked noodles with the shredded or cubed cheese, minced red onion, diced celery, finely minced red bell pepper, and thawed peas.
In a separate small mixing bowl, whisk together the mayonnaise, cider vinegar, finely minced fresh dill, granulated sugar, sweet pickle relish, dijon mustard, salt, and black pepper.
Pour the dressing over the pasta and toss until everything is well coated. Cover the bowl with plastic wrap and chill in the refrigerator for at least 1 hour before serving.