Steak Fajita Roll Ups bring a new dimension to your dinner table. These delightful rolls feature tender marinated steak, grilled veggies, and gooey melted cheese. Indulge in the irresistible combination of flavors with every bite of these delectable steak fajita roll ups.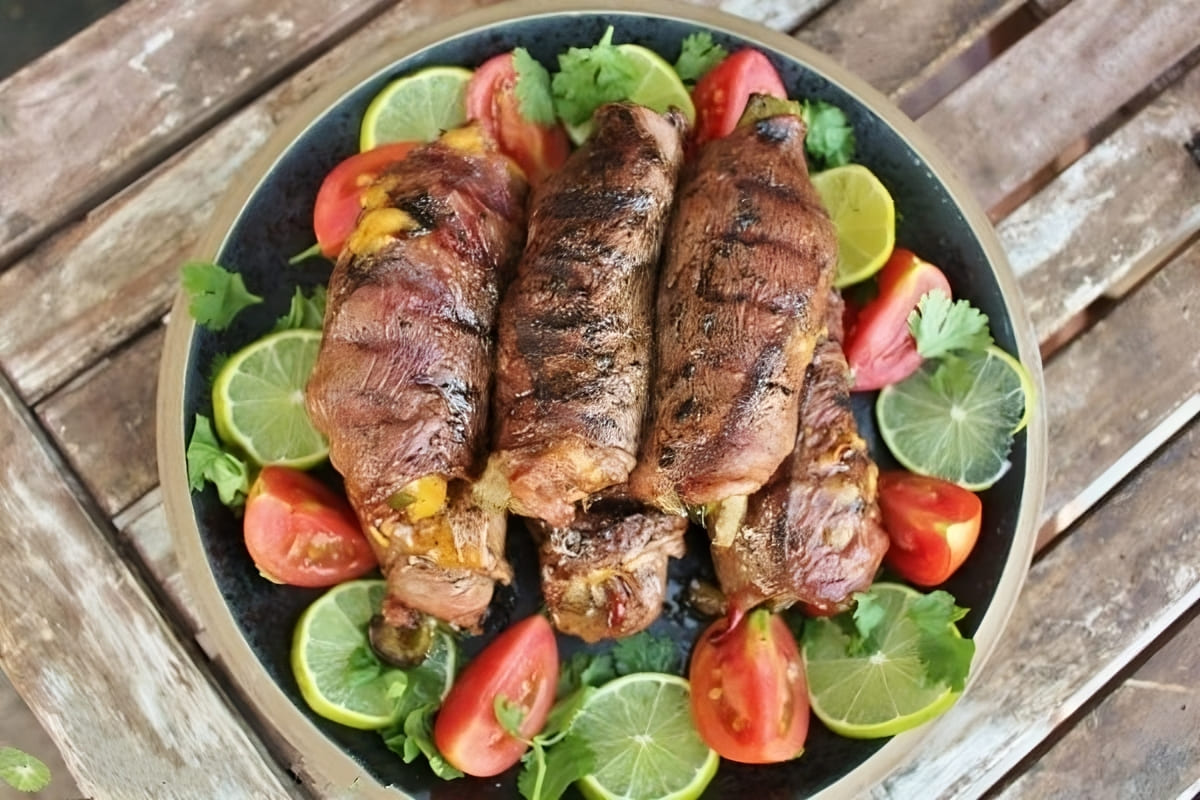 The Magic of Wrapped Food
There's something special about food that's wrapped up in other food. It's like a cozy embrace for your taste buds. Maybe it's the care and attention that goes into creating these flavor-packed bundles. Imagine being tucked into a bed of deliciousness!
But it's not just about comfort. Wrapped food simply tastes incredible. Each layer contributes to a symphony of flavors. Take these Steak Fajita Roll Ups as an example. Thinly sliced marinated sirloin steak encases seasoned grilled veggies and oozing melted cheese. A squeeze of fresh lime adds a zesty touch. Serve them over a bed of rice and beans for a meal that exudes love and flavor. Love and Flavor should be the motto of rolled foods!
Grilling Veggies with Ease
To ensure your perfectly sliced peppers and onions don't slip through the grill grates, I recommend using a grill basket. It's a wise investment that comes in handy for grilling veggies, shrimp, and anything that might otherwise meet a fiery fate. Enjoy all the grilled flavors without sacrificing any precious morsels.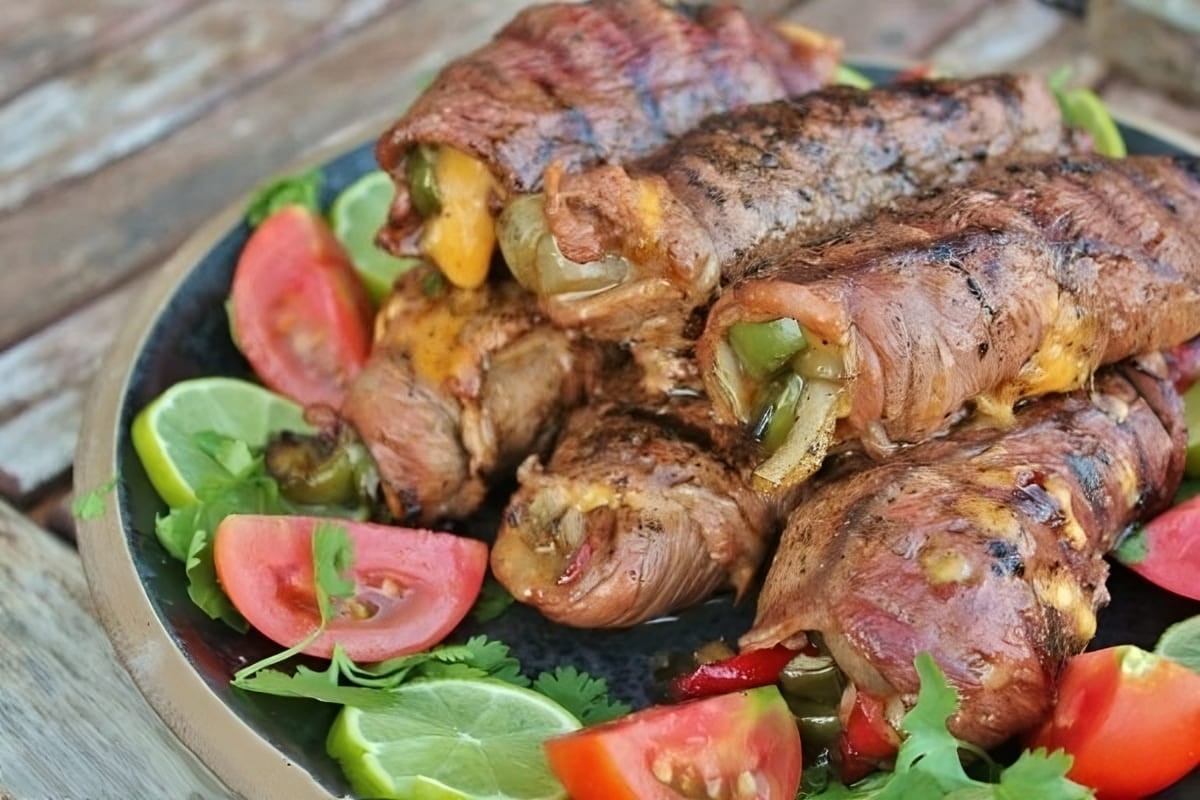 The Step-by-Step Guide to Steak Fajita Roll Ups
Let's break down the process of making these tantalizing roll ups:
Marinate the steak: Allow the thinly sliced steak to soak up the flavorful marinade for at least 2 hours.
Grill the vegetables: Achieve the ideal tender-crisp texture for the veggies by grilling them for about 5-6 minutes until the onions are lightly browned and the peppers begin to soften.
Assemble the roll ups: Lay the marinated steak slices flat and top each with shredded cheese. Add the grilled vegetables and roll up each steak around the filling. Secure each roll with a toothpick.
Grill the roll ups: Place the steak roll ups on the grill, seam side down, and cook for about 3-4 minutes per side, totaling approximately 12-15 minutes of grilling time.
Rest and serve: Allow the steak roll ups to rest for 4-5 minutes before serving. Accompany them with your favorite fajita toppings and sides.
An Unforgettable Dining Experience
When dinnertime arrives, these steak fajita rolls will steal the show. They take taco night to a whole new level of deliciousness. Each person can enjoy them in their preferred way. Some may choose to roll them up in a tortilla for the ultimate steak burrito experience. The perfect combination of steak, onions, peppers, and cheese awaits in every bite.
Ingredients:
2 pounds thinly sliced sirloin tip steaks
1 yellow onion, sliced into strips
1 green bell pepper, sliced into strips
1 red bell pepper, sliced into strips
2 cups shredded colby jack cheese
For the Marinade:
½ cup fresh lime juice (approximately 4 limes)
¼ cup olive oil
6 cloves garlic, finely diced
2 teaspoons salt
2 teaspoons chili powder
1 teaspoon cumin
1 teaspoon black pepper
½ teaspoon cayenne pepper
Instructions:
In a large zip-top bag or container, combine all the ingredients for the marinade. Add the thinly sliced steak to the marinade and ensure each slice is well coated. Refrigerate the steak and marinade for a minimum of 2 hours, or up to 4 hours.
Preheat your grill to medium-high heat, around 400 degrees Fahrenheit. Place the sliced onions and bell peppers in a grill basket and grill for approximately 5-6 minutes. Keep an eye on them until the onions start to brown at the edges and the peppers soften slightly.
While the vegetables are grilling, remove the steak from the marinade, shaking off any excess liquid. Lay the steak slices flat on a large work surface. Sprinkle each slice with approximately 1/3 cup of shredded cheese. Take the grilled vegetables out of the grill basket and distribute them evenly among the steak slices.
Roll up each steak slice, enclosing the cheese and vegetables inside. Secure each roll with a toothpick to keep everything in place.
Place the steak fajita roll ups on the preheated grill, seam side down. Grill for about 3-4 minutes per side, totaling approximately 12-15 minutes of cooking time. Ensure the steak is cooked to your desired level of doneness.
Once cooked, remove the steak fajita roll ups from the grill and let them rest for 4-5 minutes before serving. This allows the juices to redistribute and the flavors to settle.
Serve the steak fajita roll ups hot, accompanied by tortillas, rice, beans, and your favorite fajita fixings. Customize your roll ups with additional toppings like salsa, guacamole, or sour cream for an extra burst of flavor.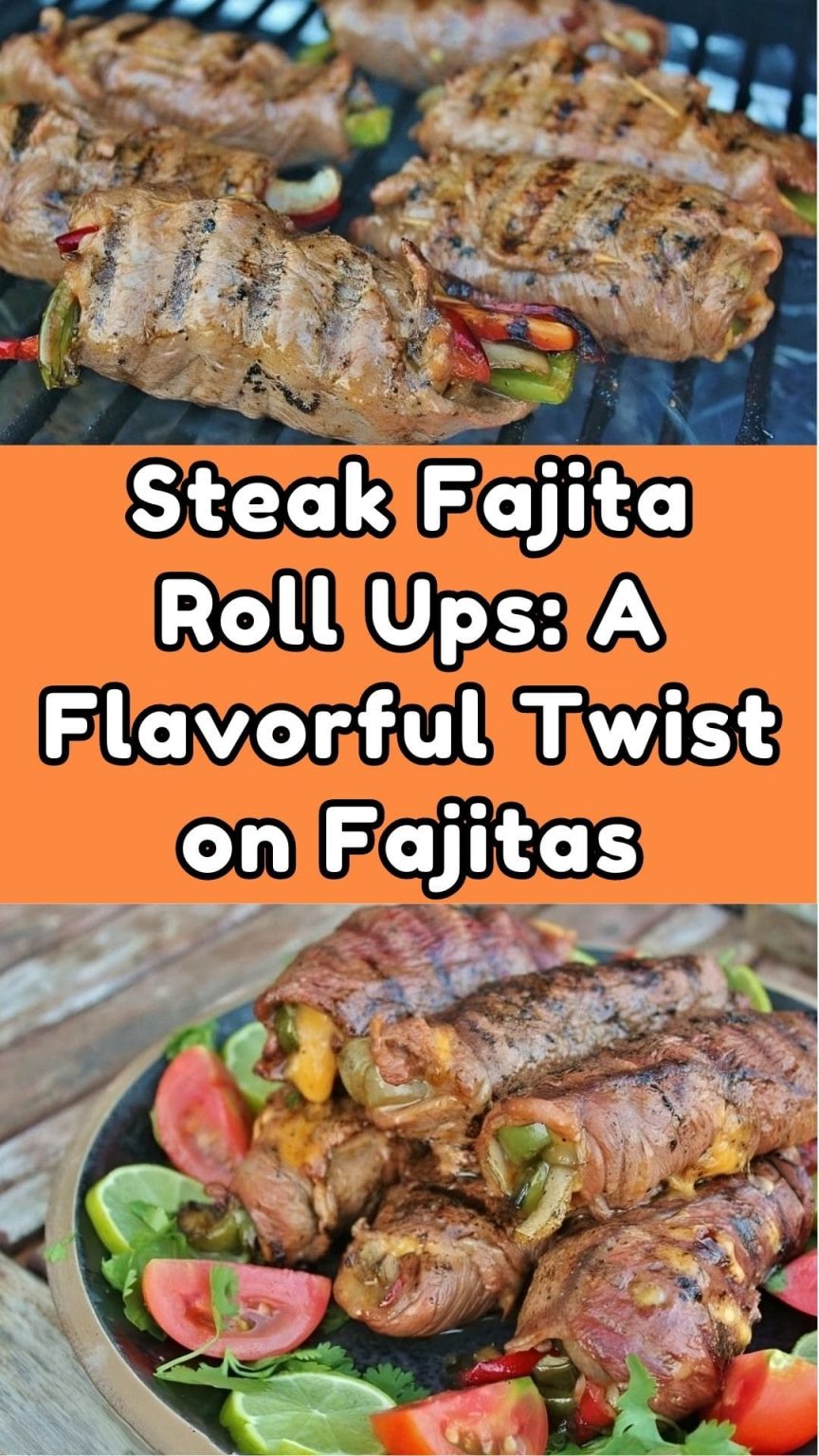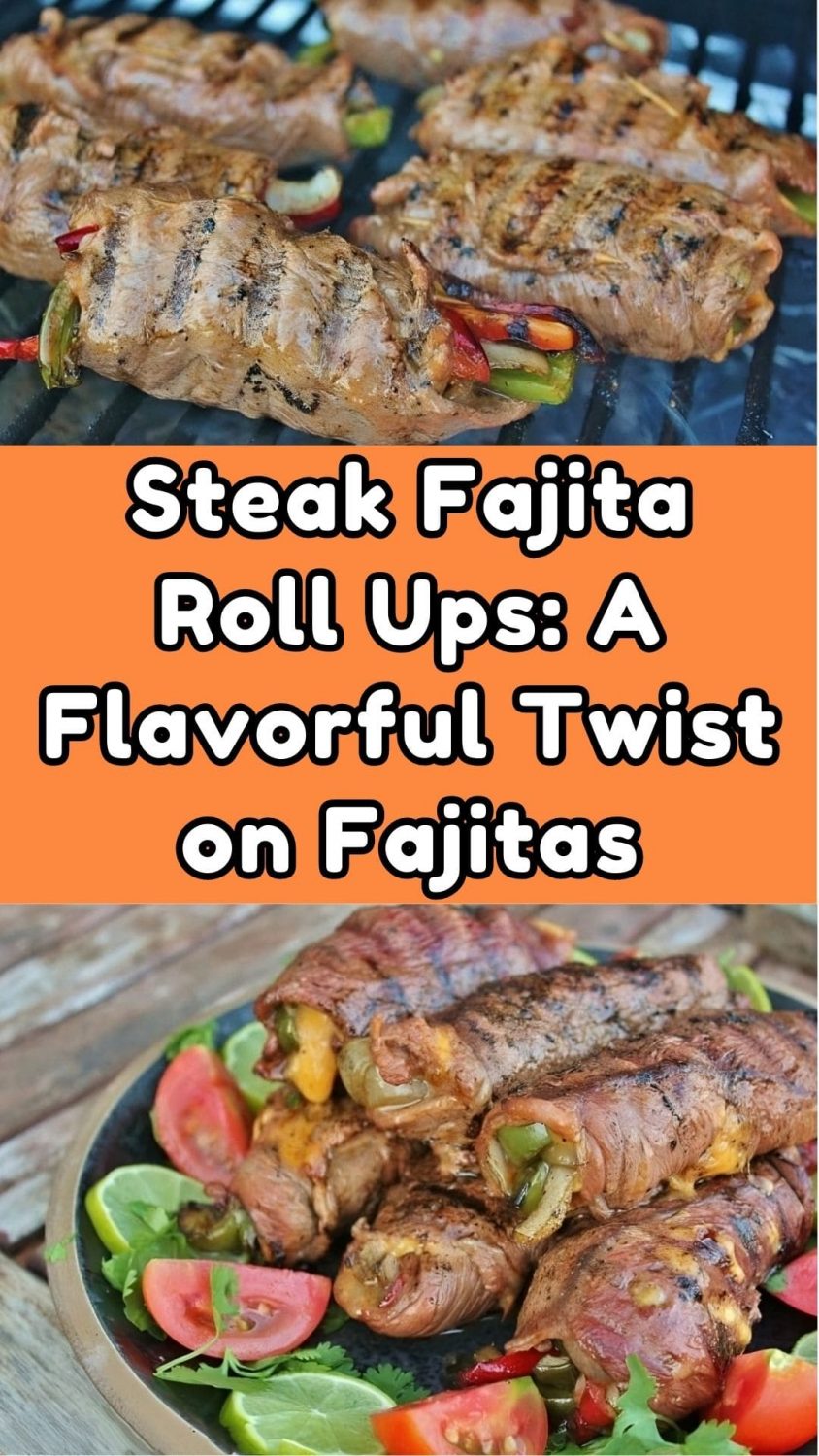 Enjoy the mouthwatering Steak Fajita Roll Ups and relish the combination of tender steak, grilled vegetables, and melted cheese. Whether rolled up in a tortilla or savored on their own, these roll ups are sure to be a hit at your dinner table.