This Smoky Pulled Pork Hash is a delightful and flavorful breakfast dish that is perfect for using up leftover pulled pork. Packed with smoky flavors and a medley of veggies, this hash is easy to make and sure to please everyone. With crispy potatoes, gooey cheese, and perfectly baked eggs, this dish is a showstopper for any mealtime.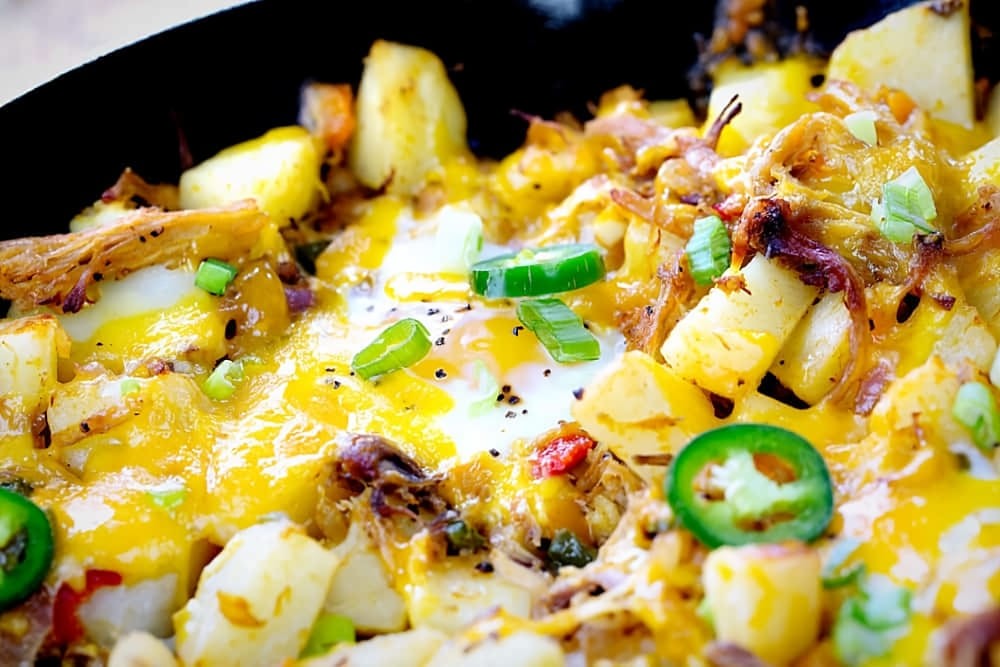 If you've got leftover pulled pork from a barbecue or a party, this recipe is a fantastic way to repurpose it into a delicious breakfast dish. The combination of smoky pulled pork, sautéed onions, peppers, and garlic, crispy potatoes, melted cheddar cheese, and baked eggs creates a mouthwatering medley of flavors and textures that will tantalize your taste buds.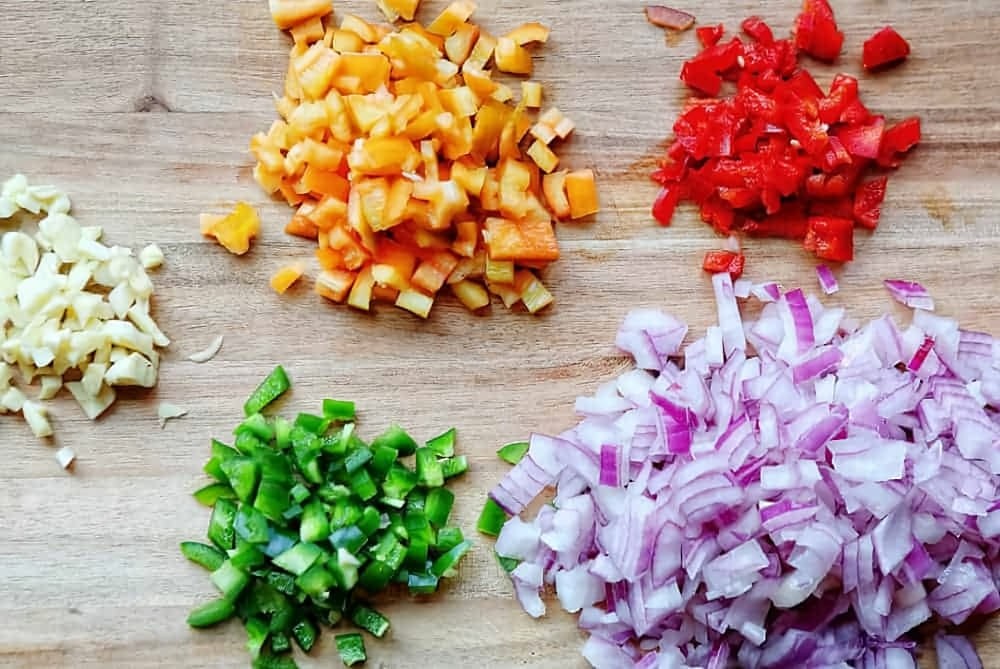 This hash is versatile, easy to make, and perfect for breakfast or brunch, but can be enjoyed any time of the day. It's a comforting and satisfying dish that will quickly become a family favorite!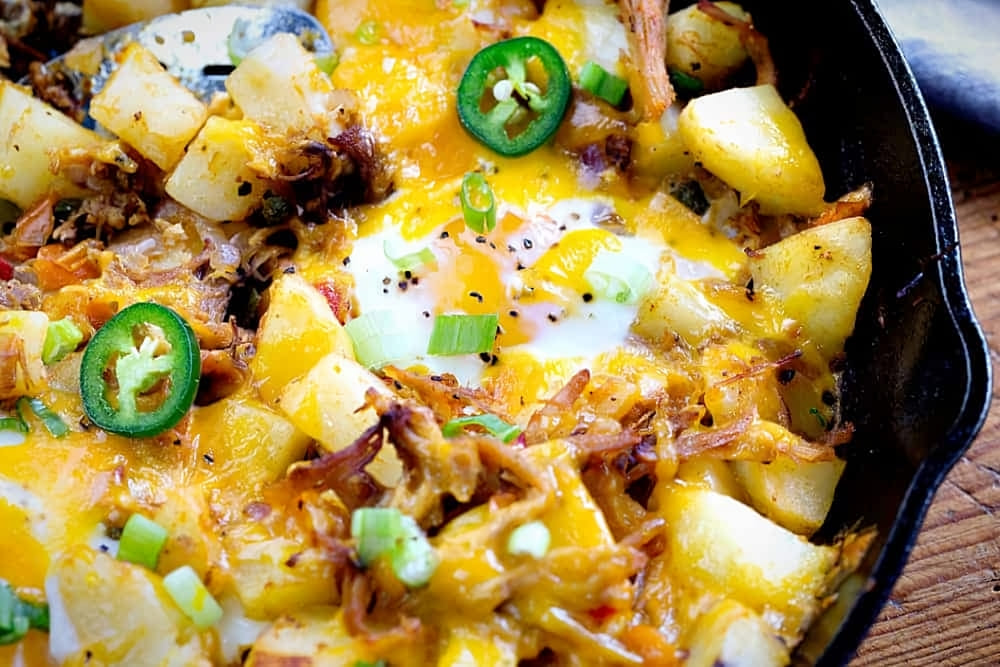 List of Ingredients:
1 tablespoon vegetable oil
1 red onion, diced
1 orange pepper, diced
¼ cup red pepper, diced
2 cloves garlic, minced
1 cup pulled pork
5 large potatoes, boiled and then diced into cubes (peeling optional)
2 teaspoons paprika
1 teaspoon kosher salt
1 teaspoon pepper
1 cup cheddar cheese
3 large eggs
Scallions and jalapeno for garnish (optional)
Instructions:
Preheat your oven to 375°F.
Heat a 12-inch skillet over medium heat and add the vegetable oil.
Add the diced red onion and peppers to the skillet and cook for about 3-5 minutes until they start to soften.
Add the minced garlic to the skillet and cook for an additional 3-5 minutes.
Stir in the pulled pork and make sure everything is fully incorporated.
Add the paprika, kosher salt, and pepper to the skillet and stir to combine.
Add the boiled and diced potatoes to the skillet and stir. Try to make sure that some potatoes are touching the bottom of the pan to allow them to crisp up.
Let the potatoes crisp for at least 5-10 minutes, depending on how crispy you like them.
Create 3 wells in the hash using a soup ladle or the back of a spoon, and then sprinkle half of the cheddar cheese (½ cup) over the hash.
Crack the 3 large eggs into the wells and season with additional salt and pepper if desired.
Carefully transfer the skillet to the preheated oven and bake for up to 10 minutes. At 5 minutes, the egg whites should be cooked, but the yolks will be runny. At 10 minutes, the yolks will be slightly runny. Adjust the baking time to your preference.
Carefully remove the skillet from the oven and sprinkle with the remaining cheddar cheese. Garnish with scallions and jalapeno if desired.
Serve the Smoky Pulled Pork Hash immediately and enjoy the delicious flavors and textures!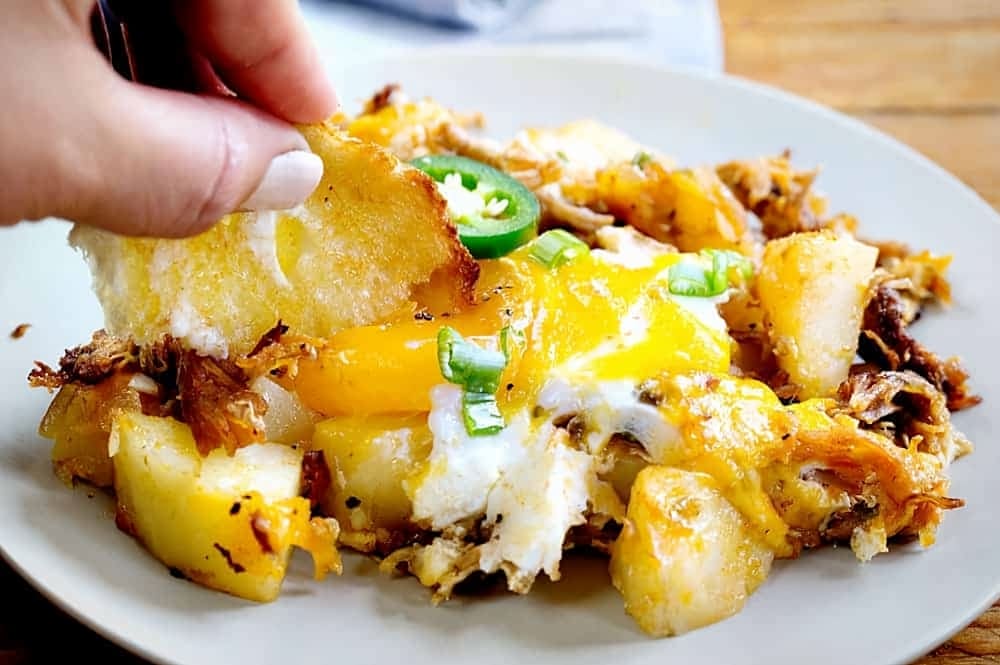 Note:
You can customize this recipe by using different types of cheese, such as gruyere, muenster, jack, or pepper jack, based on your preferences. You can also add or swap out veggies, such as mushrooms, corn, spinach, Brussels sprouts, carrots, or apples, to make it your own unique creation!