If you like baked goods that have little dough but a lot of juicy filling, this recipe is for you. The crunchy shortbread base, sweet and sour apples, flavorful walnuts, and cinnamon honey sauce combine to produce an amazing flavor. Despite the simplicity and accessibility of the ingredients, the pie is delicious. It can be served in the morning with a cup of coffee or for dessert with an ice cream scoop. For the recipe, it is best to use sour apples.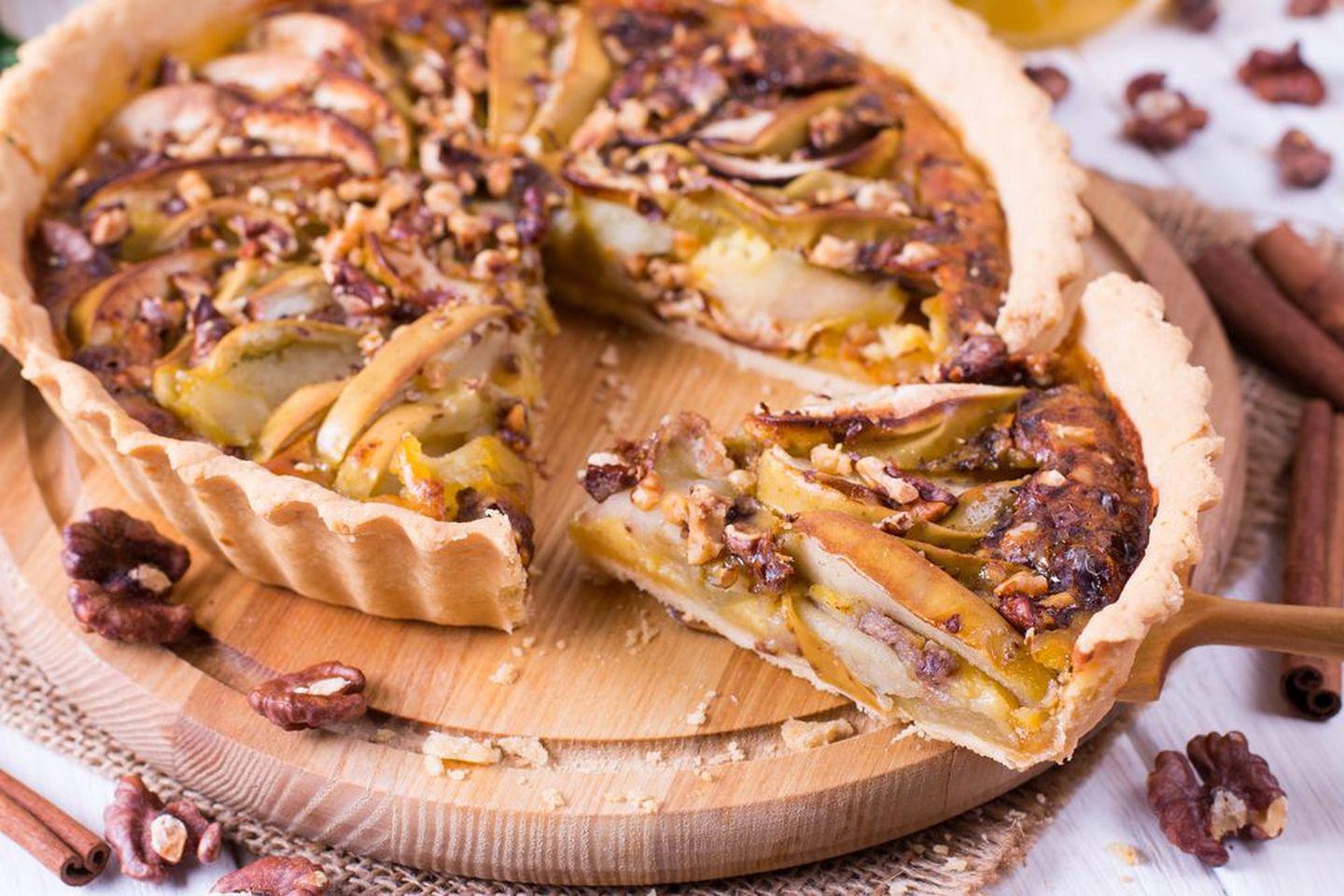 Ingredients (6 servings)
Butter 100g
Egg 2 pcs.
Cinnamon 1 tsp.
Juice of half lemon
Sweet and sour apples 3 pcs.
Flour 200g
Ice water 2 tbsp.
Walnuts 3 tbsp.
Liquid honey 200g
Instructions
Combine flour, chilled butter, diced butter, and ice water in a blender.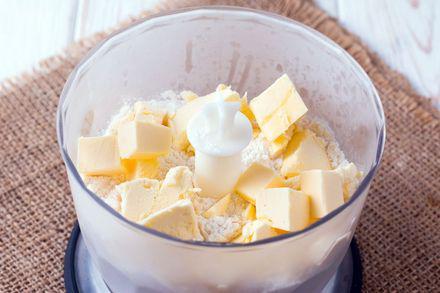 Grind everything to a coarse crumb.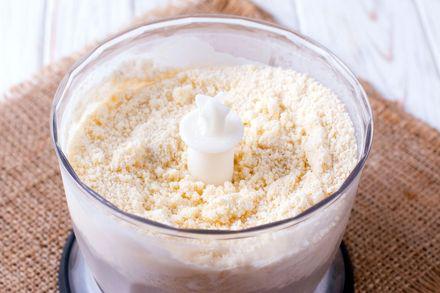 From the resulting mass knead elastic dough.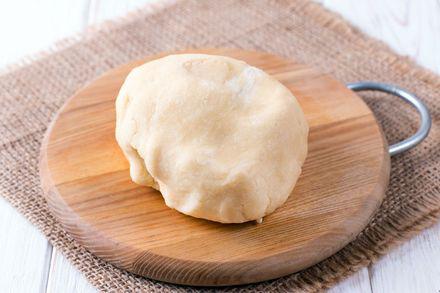 Roll out the dough into a 4-5 mm circle about the diameter of the baking tin. Place the dough in the mold, form rims, cut off the excess dough and prick the entire mold with a fork. Place the base in the refrigerator for 20-30 minutes.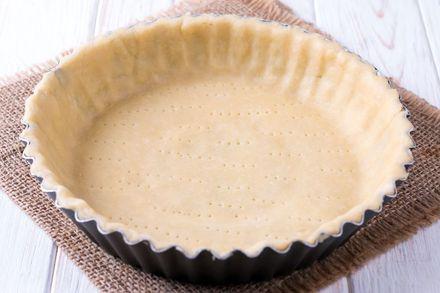 Peel the apples from the core and seeds. If desired, peel the skins. Slice the apples into thin slices. When the dough has cooled, place the apple slices in the mold.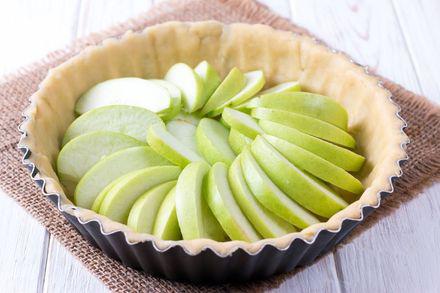 Send the form with the dough and apples in a preheated 180 degrees oven for 12-15 minutes.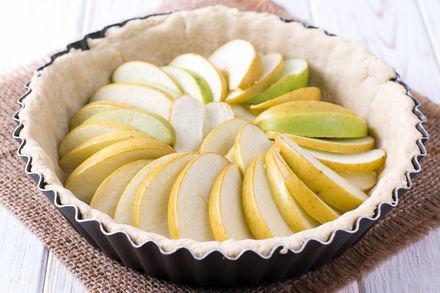 While the pie base is baking in the oven, prepare the filling: combine 2 eggs, liquid honey, lemon juice, cinnamon and 1 tsp flour in a bowl. Beat everything with a mixer until smooth.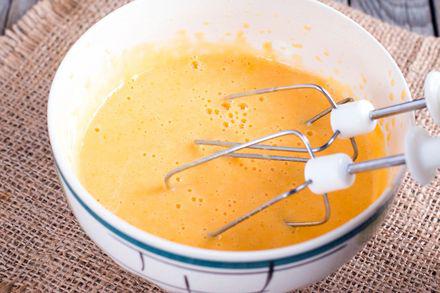 Take out the mold with the dough and apples and pour the filling over the contents.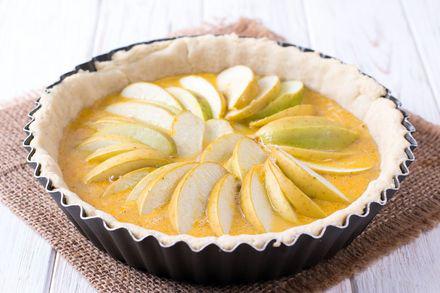 Immediately sprinkle with chopped walnuts. Instead of walnuts you can use chopped peanuts, hazelnuts or almonds or a mixture of several types of nuts. It is also delicious with raisins or pieces of dried apricots. Return the mold to the oven and bake for another 30-35 minutes, until the sides of the pie are browned and the filling is a delicious ruddy color.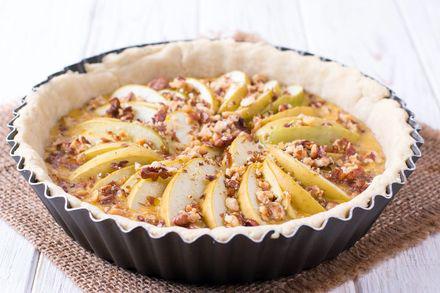 Serve the cake with tea or coffee or with a scoop of creamy ice cream. Bon appetit!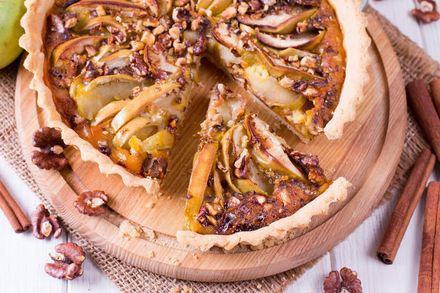 Be sure to try this pie recipe and don't forget to share your impressions of the result in the comments!