Chicken Shawarma is a tantalizing delight, perfectly accompanied by pita bread, lettuce, and a delectable sauce. It boasts tender chicken infused with sumac, turmeric, cinnamon, cumin, and an array of delightful spices.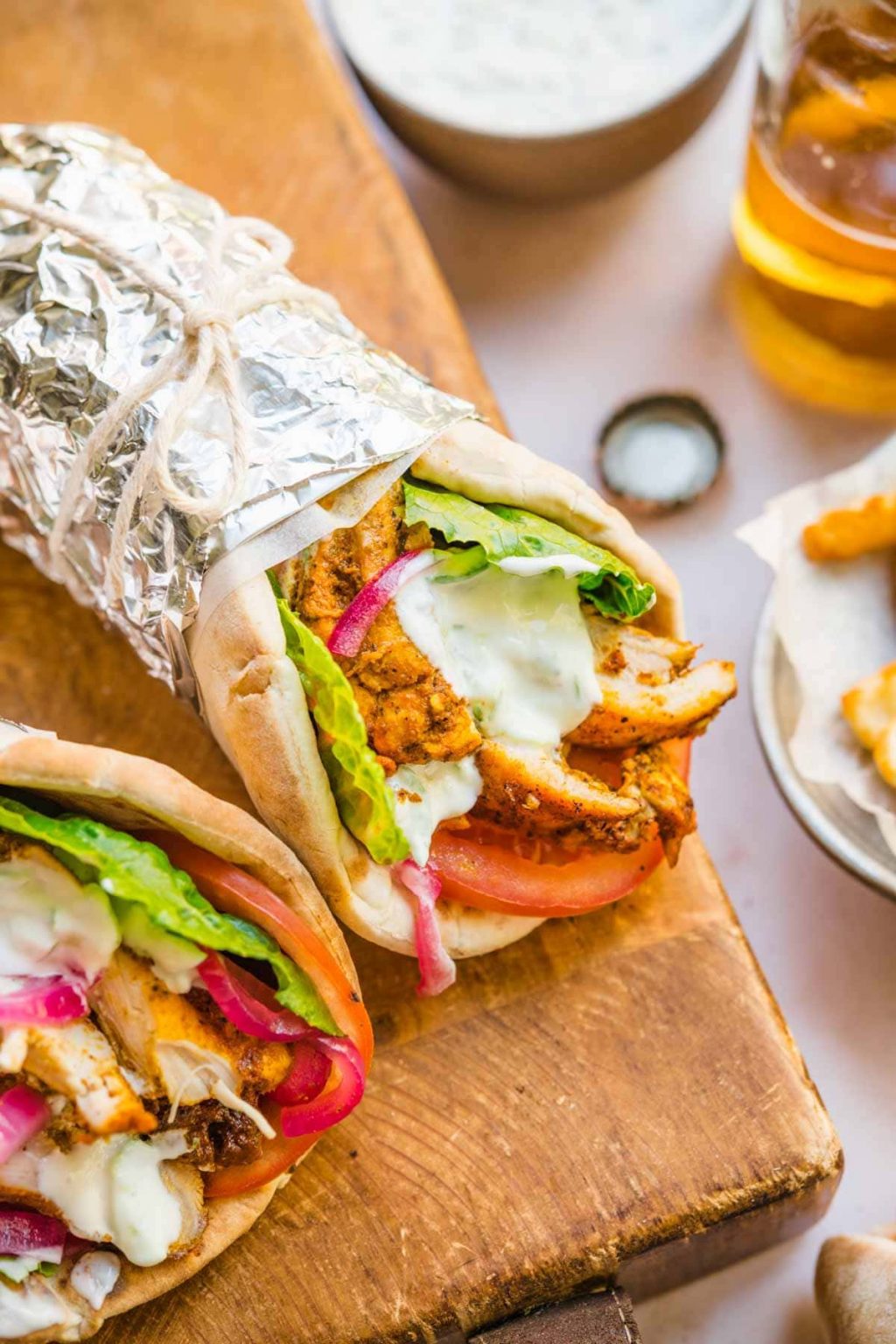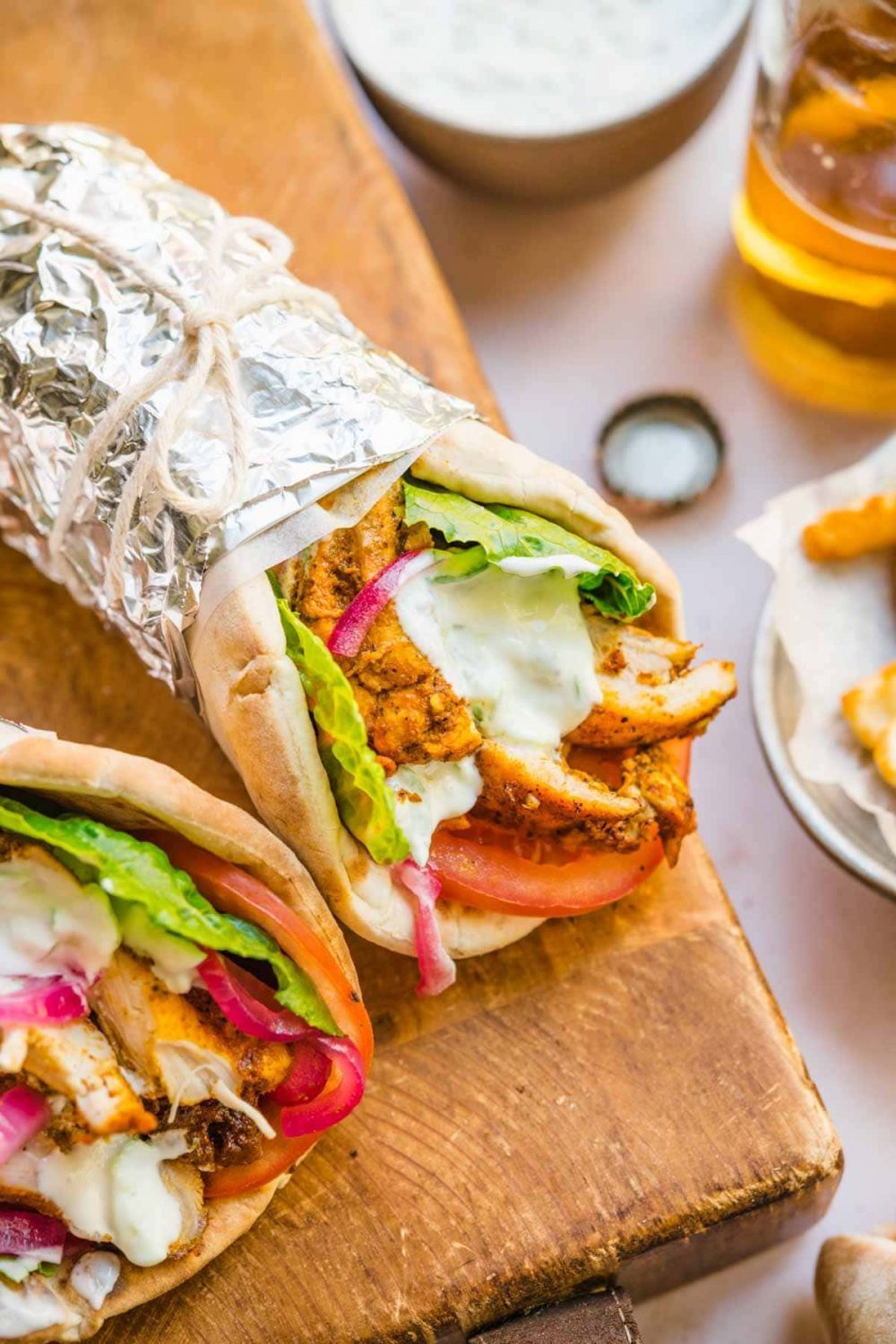 While the traditional Middle Eastern Shawarma involves stacking meat pieces and roasting them on a spit, this recipe offers a convenient twist with oven-baked chicken thighs. The result is equally mouthwatering, with the chicken marinating in classic Middle Eastern seasonings, including sumac, turmeric, cinnamon, and cumin, rendering it exquisitely flavorful.
Once the chicken is seasoned, marinated, and cooked to perfection, simply slice it into thin pieces. Pair it with pita bread, your preferred selection of vegetables, and a sauce of your choice. Whether you opt for Tahini Sauce, yogurt sauce, or even some Hummus, the combination promises an explosion of flavors.
A Family Favorite with a Versatile Twist
This easy-to-make Chicken Shawarma is bound to captivate your entire family. Moreover, any leftovers can be conveniently stored in the fridge for a hassle-free lunch. As long as you have chicken, pita bread, and some sauce on hand, assembling Shawarma Wraps is a breeze, ensuring that leftovers disappear in no time.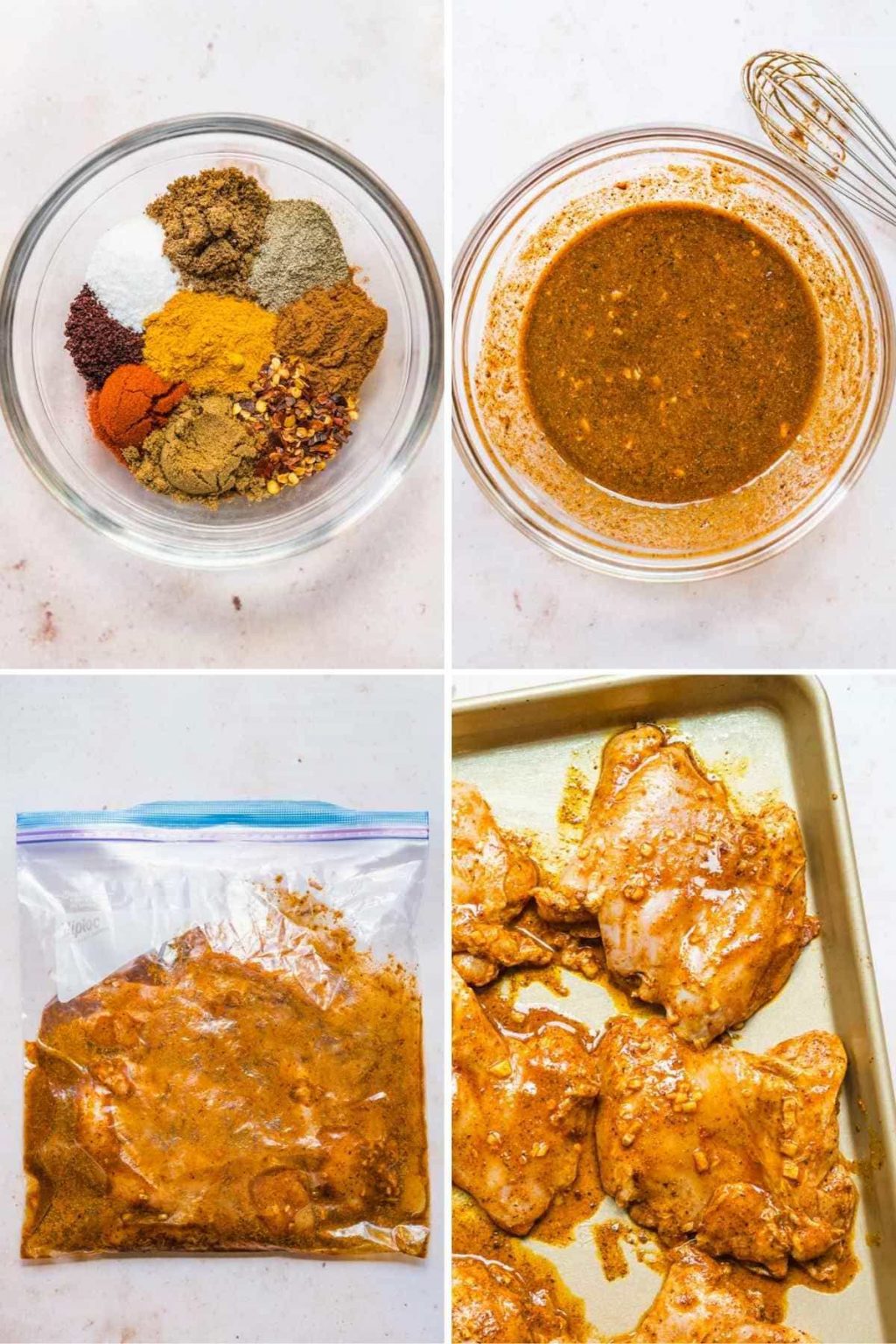 Pro Tips for Crafting Perfect Chicken Shawarma
Prep Time: To commence your Shawarma journey, preheat the oven to 400°F. Line a rimmed baking sheet with aluminum foil to prevent the chicken from sticking and to facilitate easy cleanup.
Marination Magic: In a large bowl, combine ¼ cup extra virgin olive oil, minced garlic, lemon juice, lemon zest, sumac, Aleppo pepper, allspice, cumin, paprika, turmeric, cinnamon, and salt. Toss the chicken in this flavorful blend, cover the bowl, and let it marinate for at least 20 minutes. For enhanced flavor and tenderness, consider marinating for up to an hour.
Baking Brilliance: Transfer the marinated chicken to the prepared baking sheet, ensuring the remaining marinade is poured over the chicken. Bake for 30-35 minutes until the chicken is cooked through and exhibits a delightful crispiness. If you desire even crispier edges, increase the temperature to 425°F and bake for an additional 8-10 minutes.
Shawarma Wraps: Once your oven-roasted Chicken Shawarma is ready, let it rest for 5 minutes. Then, slice it into thin pieces, and assemble your Chicken Shawarma Wraps with pita bread, yogurt sauce, shredded lettuce, fresh herbs, and a squeeze of lemon juice.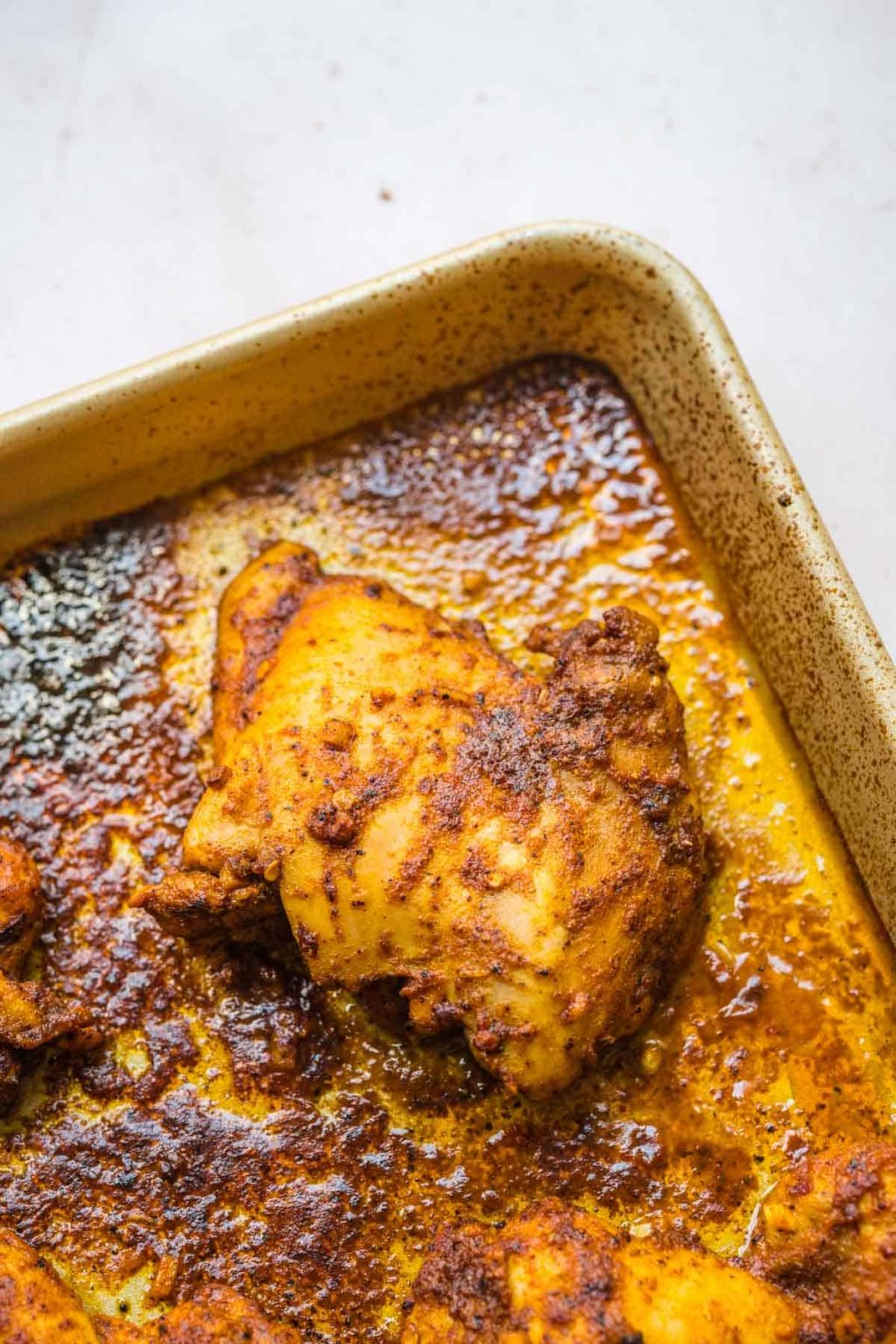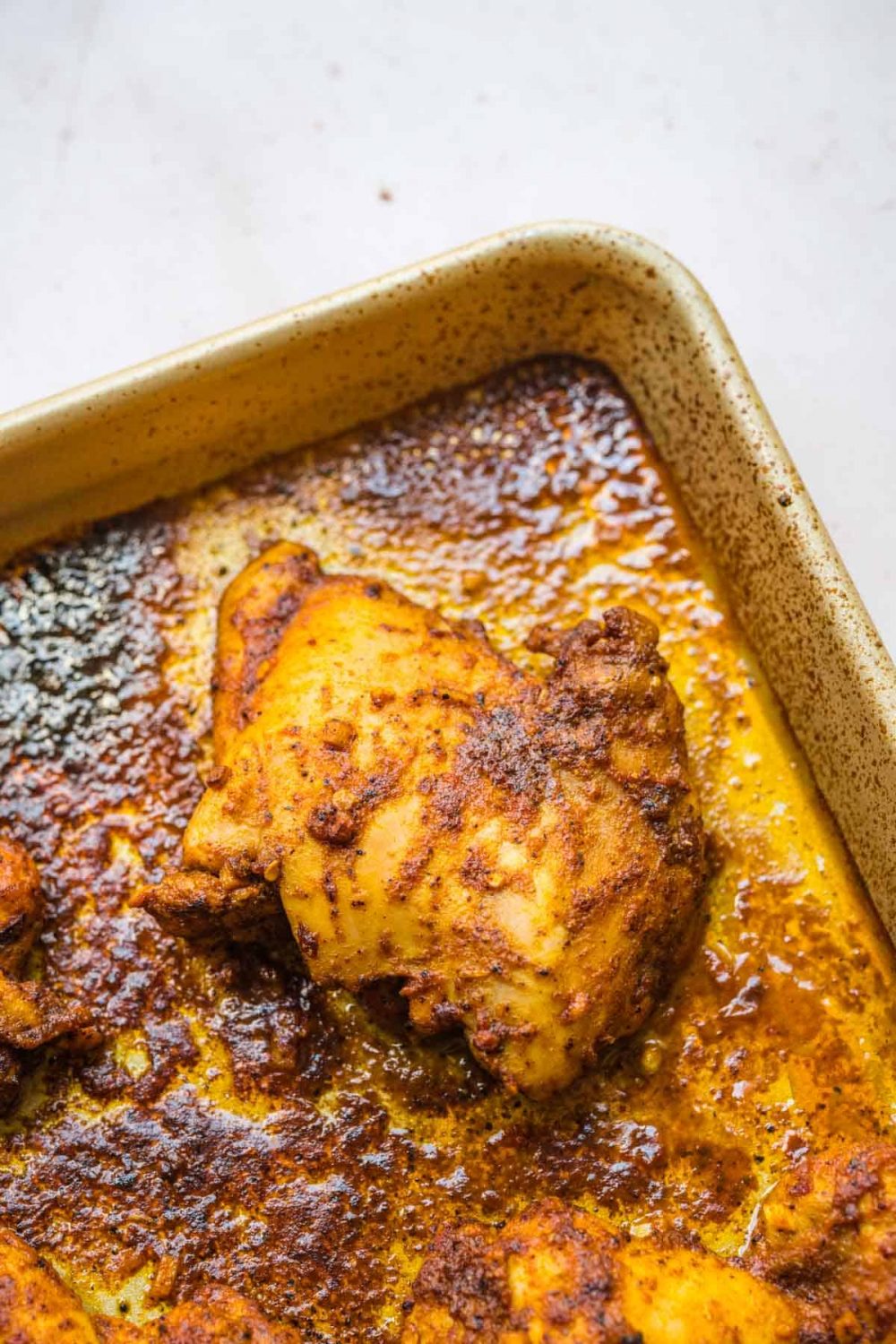 Variations to Elevate Your Chicken Shawarma
Chicken Breast: If chicken thighs aren't on hand, experiment with chicken breasts. Keep in mind that chicken breasts cook faster than thighs, so adjust the cooking time accordingly.
Seasoning Adventures: Embrace the art of flavor experimentation by adding various spices. Consider ground coriander, sweet paprika, onion powder, red pepper flakes, ginger, or cayenne powder to infuse distinct notes.
Garlic Yogurt Sauce: Shawarma pairs brilliantly with a creamy yogurt sauce. Whip up a flavorful garlic sauce by combining plain Greek yogurt, minced garlic cloves, lemon juice, and a pinch of salt. Serve it in pita bread with the chicken for an exquisite touch.
Veggie Accompaniments: Explore a world of vegetables to accompany your chicken and pita bread. Sliced cucumbers, bell peppers, turnips, carrots, red onions, or zucchini can complement your Shawarma feast beautifully.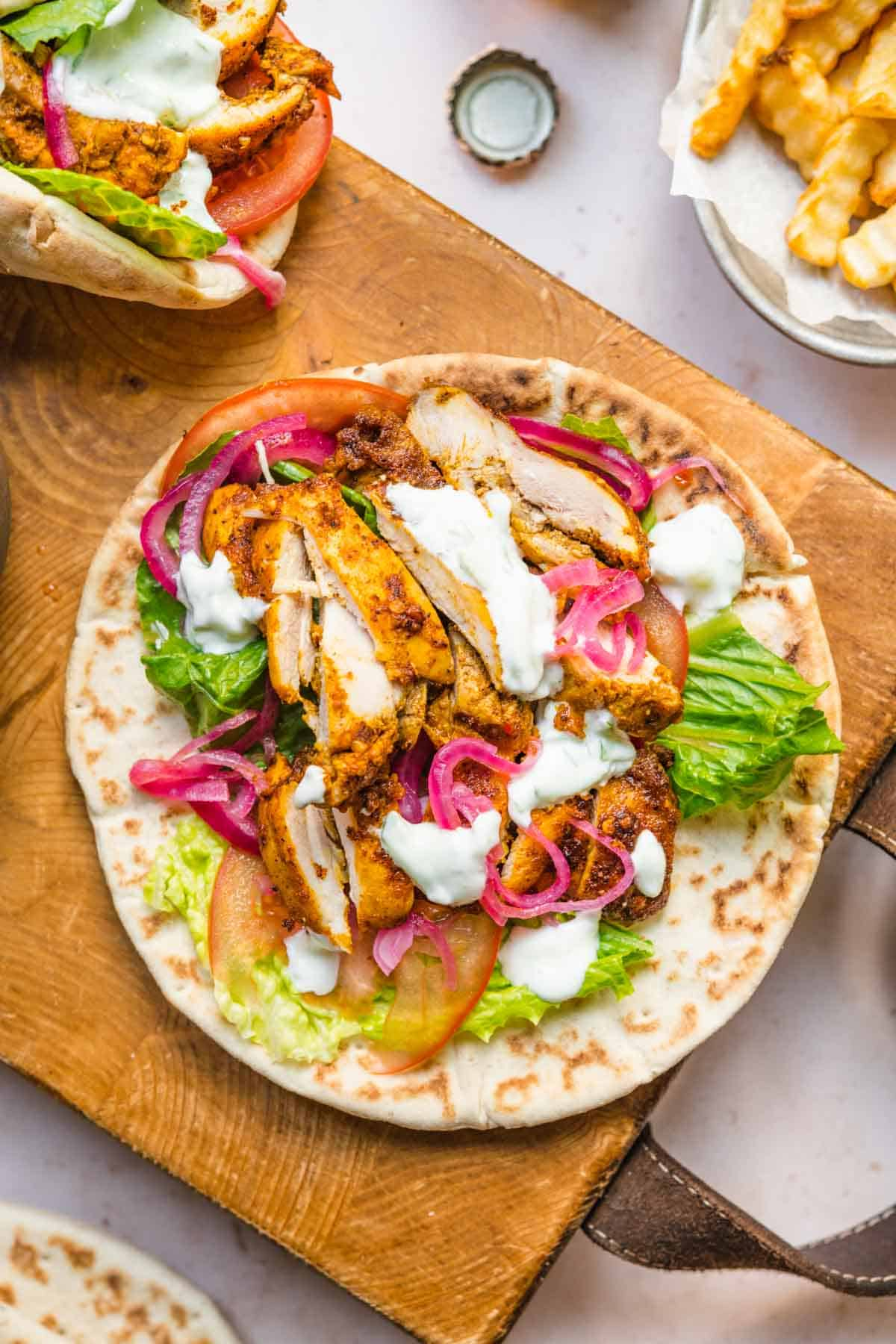 Storing Your Chicken Shawarma for Future Delights
Serve: Avoid leaving your Chicken Shawarma at room temperature for more than 2 hours.
Store: To preserve leftovers, separate the chicken from the pita bread and fillings. Store the chicken in an airtight container in the refrigerator for up to 4 days.
Freeze: Alternatively, seal and freeze the chicken for up to 4 months, ensuring it remains at its flavorful best for future culinary escapades.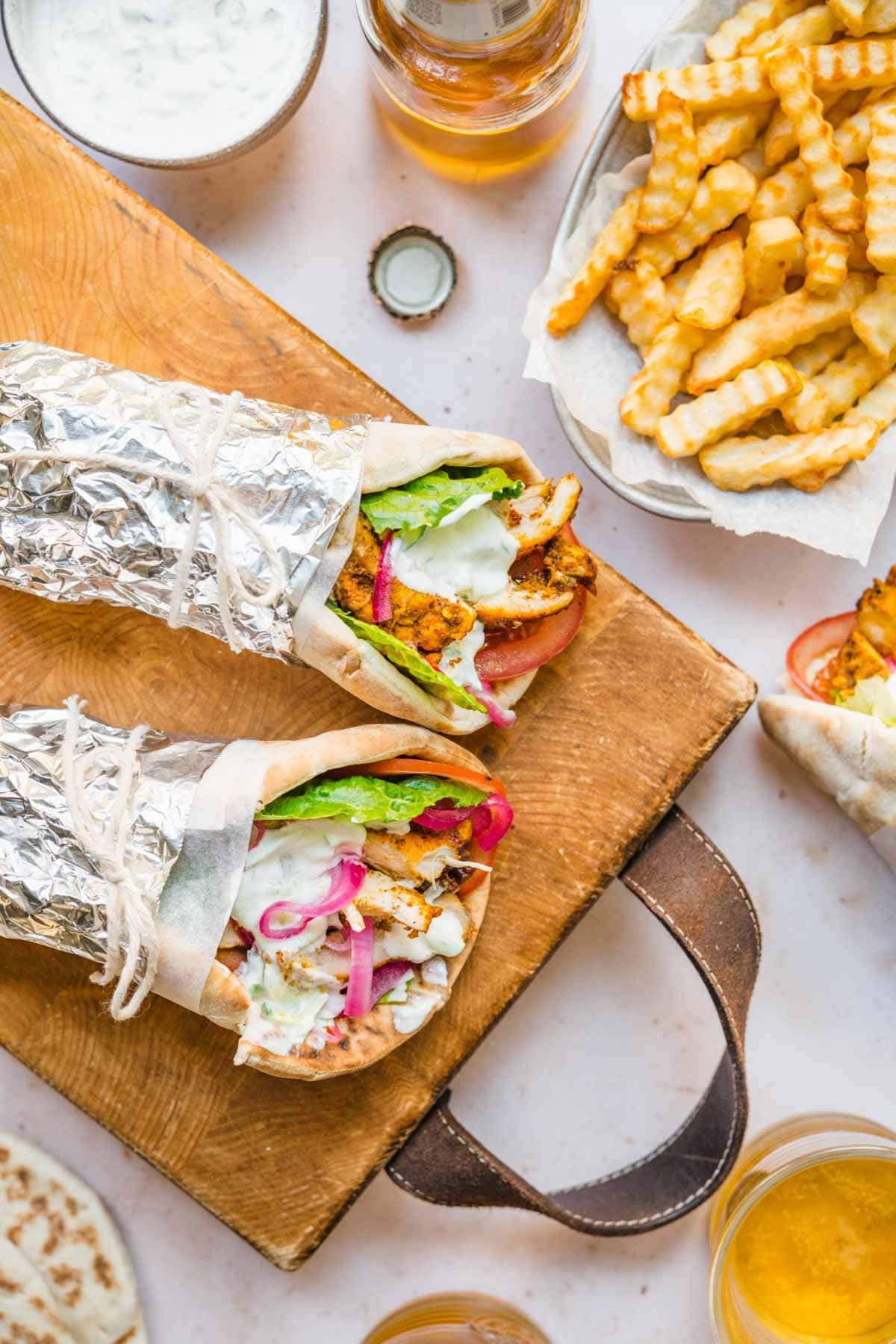 Ingredients
1/4 cup olive oil
5 cloves garlic, minced
1/4 cup lemon juice
2 teaspoons sumac
2 teaspoons paprika
2 teaspoons cumin
1 1/2 teaspoons kosher salt
1 teaspoon turmeric
1 teaspoon coriander
1/2 teaspoon coarse ground black pepper
1/2 teaspoon crushed red pepper flakes
1/2 teaspoon cinnamon
6 boneless, skinless chicken thighs
Instructions
In a spacious bowl or ziplock bag, combine olive oil, minced garlic, lemon juice, sumac, paprika, cumin, salt, turmeric, coriander, black pepper, crushed red pepper flakes, and cinnamon. Whisk the mixture thoroughly.
Add the chicken to the bowl or bag, ensuring it's well-coated with the marinade. Cover the container and allow the chicken to marinate for at least 30 minutes to an hour. Be cautious not to over-marinate, as the lemon juice may excessively tenderize the chicken.
Preheat your oven to 400 degrees and prepare a baking sheet with vegetable oil spray.
Place the chicken (leaving behind the marinade) on the baking sheet and bake for 35-40 minutes until the chicken is fully cooked and exhibits a delightful browned exterior.
Slice the chicken into 1/2″ thick pieces. Serve with pita bread, tzatziki, tomatoes, lettuce, and the delectable pickled vegetables like Pickled Turnips to savor an unforgettable Shawarma experience.