Made with homemade egg noodles, this soup is over-the-top amazing and perfect for those cold winter months. With a delicious blend of fresh vegetables, tender chicken, and flavorful broth, this recipe will warm your heart and nourish your soul.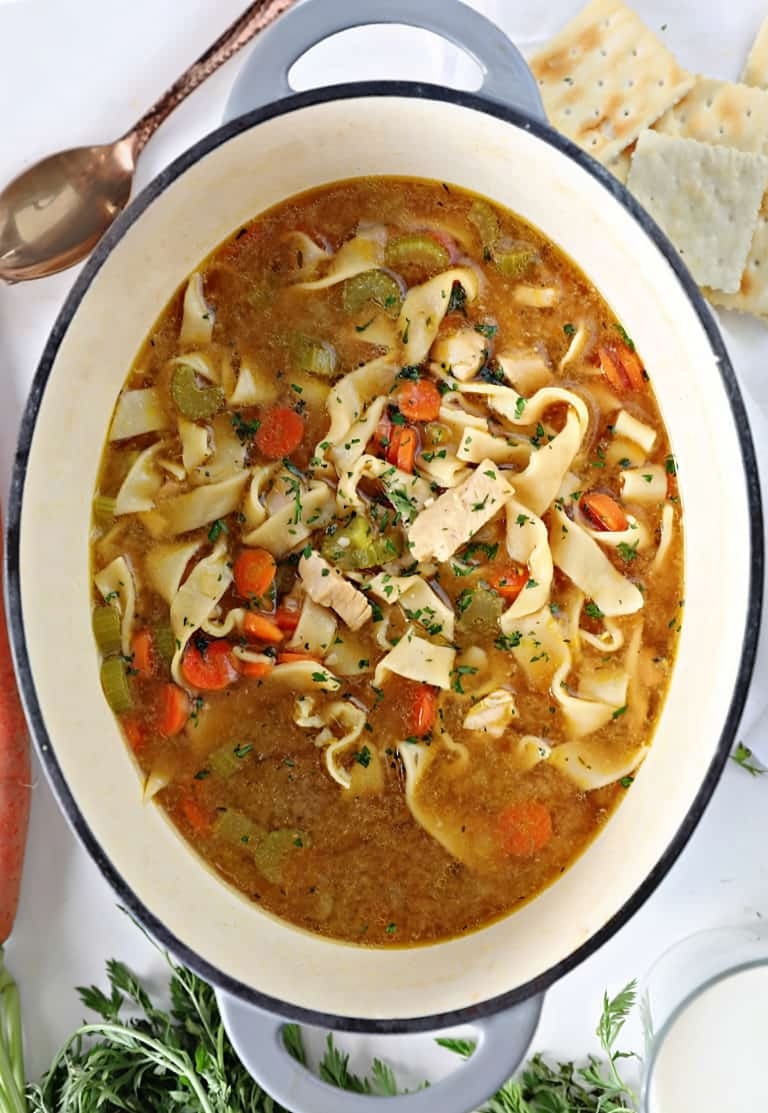 As a homesteading family, we love incorporating ingredients from our land into our meals, and this chicken noodle soup is no exception. It's not just about the taste, but also the satisfaction of knowing that we're feeding our kids real, good food.
This recipe has been passed down from my Great-Grandma, but we've made some changes over the years to suit our family's needs. It's now our go-to recipe for a comforting and nourishing meal that we come back to again and again.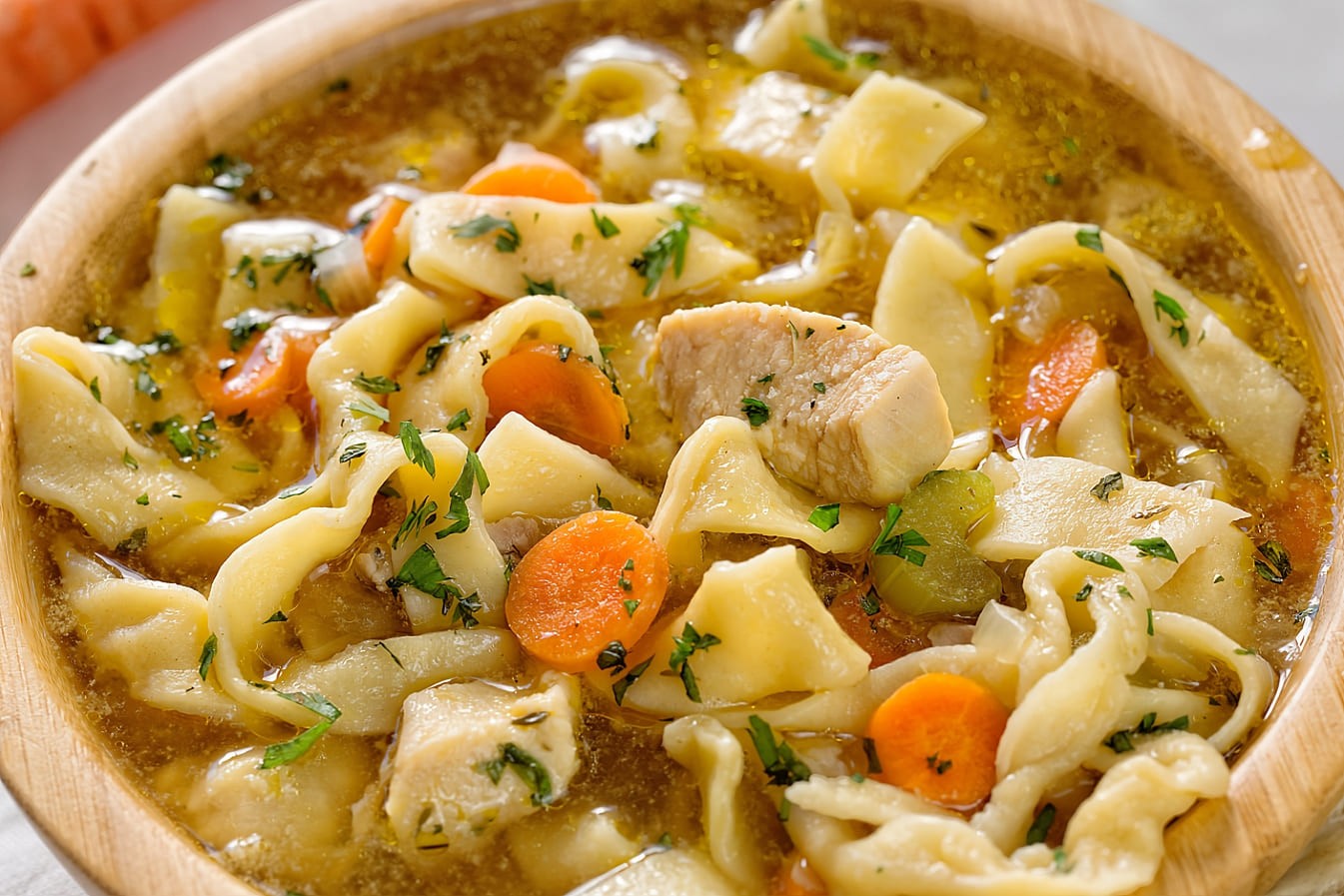 Ingredients:
1 tablespoon salted butter
½ cup chopped yellow onion
½ cup chopped celery
1 cup sliced carrots, about 2 medium carrots
2 teaspoons chopped garlic
4 cans (14.5 ounces) chicken broth, or use homemade
½ pound chopped raw chicken breast and/or thighs
1 ½ cups egg noodles
1 teaspoon dried thyme
salt and pepper, to taste
Instructions:
In a large pot over medium heat, melt the butter.
Cook the onion, celery, and carrots in the butter until just tender, about 5 minutes.
Add in the dried thyme, salt, and pepper. Start with 1 teaspoon of each and adjust to taste.
Add in the garlic and cook for about 1 minute.
Make a well in the center of the vegetables and add in the chopped chicken. Toss to brown the outside of the chicken, no need to cook it through, for about 3-4 minutes.
Pour in the chicken broth and bring it to a boil, then reduce the heat and simmer for about 20 minutes before serving.
If you are using homemade egg noodles, add them in 3 minutes before serving. If using store-bought noodles, add them in 8 minutes before serving.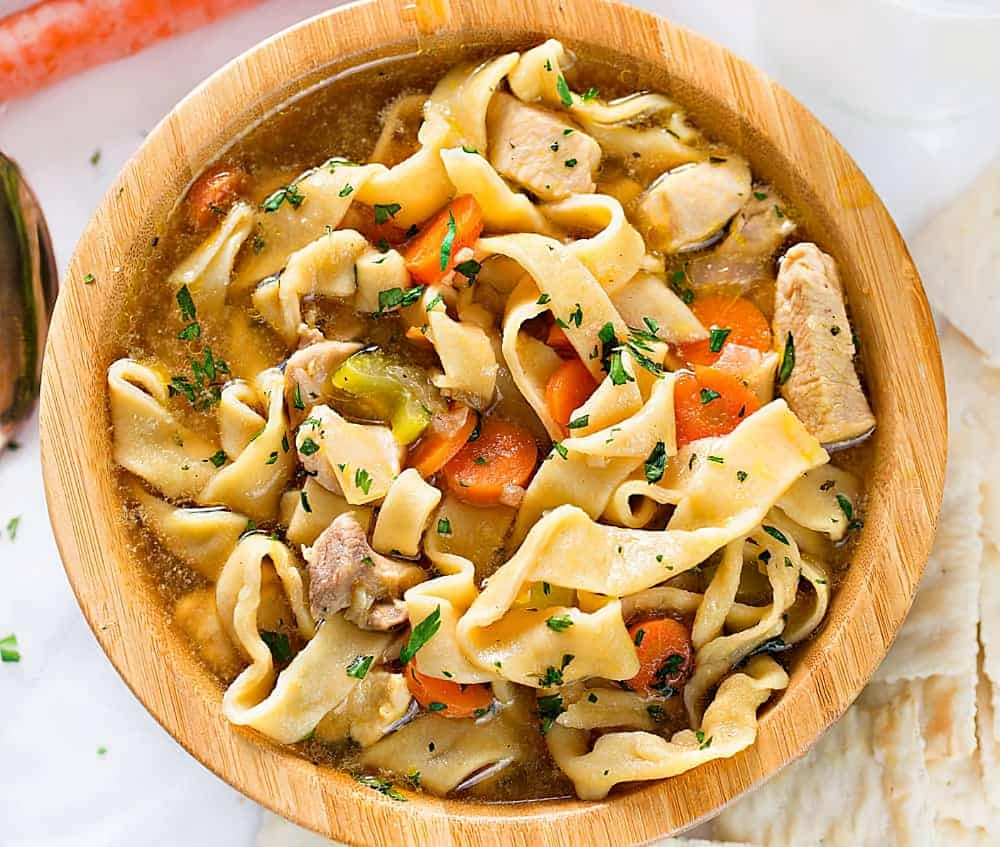 Recipe Notes:
You can customize this recipe to suit your tastes. Feel free to adjust the amount of thyme, salt, and pepper to your preference.
If you prefer a lighter broth, you can use chicken stock instead of chicken broth.
You can use a combination of chicken thighs and breasts or just one type of chicken meat according to your preference.
Homemade egg noodles add an extra special touch to this soup, but store-bought noodles work well too. Just adjust the cooking time accordingly.
This soup is perfect for a cold Sunday afternoon when you have some time to cook in the kitchen and want to involve the kids in the process.
Enjoy the comfort and deliciousness of Homestead Chicken Noodle Soup, a recipe that brings warmth and nourishment to your table!