Hungarian Beef Stew, known as Goulash, is a culinary masterpiece that amalgamates succulent beef, carrots, and potatoes within a spiced tomato broth infused with the distinctive flavor of Hungarian paprika. With its deep flavors and melt-in-the-mouth texture, this stew imparts a sense of slow-cooked comfort even though it's prepared in a fraction of the time.
While the pace of modern life might not accommodate daily indulgence in such intricate cooking, the Hungarian Goulash recipe grants the luxury of flavorful leftovers that can be savored during later meals. A single cooking session yields a bountiful stew, allowing you to immerse yourself in its savory embrace while the dish simmers away unattended.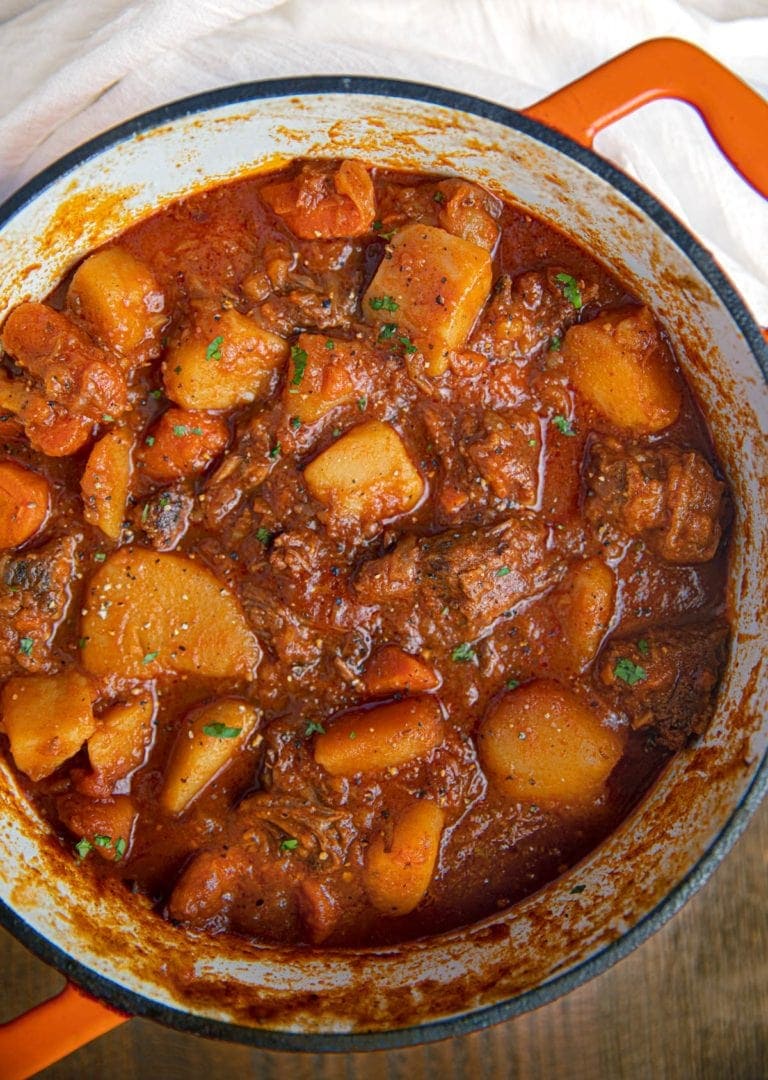 Distinguishing Hungarian Goulash from its American Counterpart
It's imperative to note the contrast between Hungarian Goulash and the American iteration that shares its name. While both variants possess their own merits, they stand as distinct entities in the culinary realm. The traditional Hungarian Goulash embraces a leisurely cooking process, transforming beef chunks and potatoes into tender morsels through slow simmering. On the contrary, American Goulash leans more toward a saucy pasta embellished with ground beef, creating a distinctive contrast in flavors and textures.
Creating Hungarian Goulash: A Step-by-Step Guide
Begin by cutting the chuck roast into bite-sized pieces of approximately 1 inch.
Warm up your Dutch oven over medium-high heat and pour in the vegetable oil.
Once the oil reaches an optimum temperature, sauté the chopped onions until they turn soft.
After the onions are cooked to perfection, transfer them to a small bowl for later use.
Coat the beef cubes evenly with a blend of spices, ensuring every side is seasoned.
Introduce the seasoned beef to the Dutch oven, allowing each piece to brown on all sides.
Reintroduce the cooked onions along with potatoes, carrots, tomato paste, brown sugar, red wine vinegar,
Worcestershire sauce, minced garlic, and the remainder of the salt.
Lower the heat to a gentle simmer, cover the Dutch oven, and allow the ingredients to meld for about 1½ to 2 hours.
Exploring Diverse Variations of Hungarian Beef Goulash
Noodles: For a novel twist, serve your Hungarian Goulash over egg noodles, reminiscent of stroganoff.
Caraway: Infuse your goulash with a traditional touch by adding a hint of caraway seeds.
Bay Leaves: Incorporate a whole bay leaf during cooking for flavor infusion, removing it before serving.
Green Pepper: Introduce diced green peppers for a delightful crunch and freshness.
Red Pepper: Elevate the spice level and add texture by sprinkling red pepper flakes upon serving.
Meat Cuts: Don't hesitate to substitute chuck roast with ground beef or stew meat.
The Historical Tapestry of Hungarian Beef Goulash
The origins of Hungarian Goulash trace back to the 9th century, emanating from Hungary itself. The term "goulash" finds its roots in the Hungarian word "gulyás," denoting a connection with herding. This dish gained its name due to its association with herdsman-style dinners, which resonated with the hearty stew's history. Hungarian cattlemen would dehydrate the goulash, enabling them to rehydrate it swiftly for a convenient meal.
Though originating in Hungary, Goulash has transcended borders, captivating palates worldwide. Here, we present a few intriguing global renditions:
Austria: Wiener saftgulasch or "soft goulash with sausage" is relished atop dark bread and referred to as "fiakergulasch" or "coachman's goulash."
The Czech Republic: Czech "Guláš" features beer in its preparation, often accompanied by bread dumplings and a generous serving of beer.
Croatia: Croatian goulash spotlights wild game, like boar or deer, along with bacon, served on polenta or pasta.
North America: The version introduced to North American cookbooks around 1914 involves ingredients more readily available in the region, including elbow macaroni and canned tomato sauce.
Safety and Storage Considerations for Hungarian Beef Goulash
Beef attains safe consumption at an internal temperature of 160°F (71.1°C), which this stew easily meets.
When serving, refrain from letting the stew sit out for over 2 hours.
Leftovers can be stored for up to 3 days, provided they cool to room temperature before refrigeration.
For long-term storage, freeze goulash in an airtight freezer-safe container for up to 3 months, defrosting before reheating.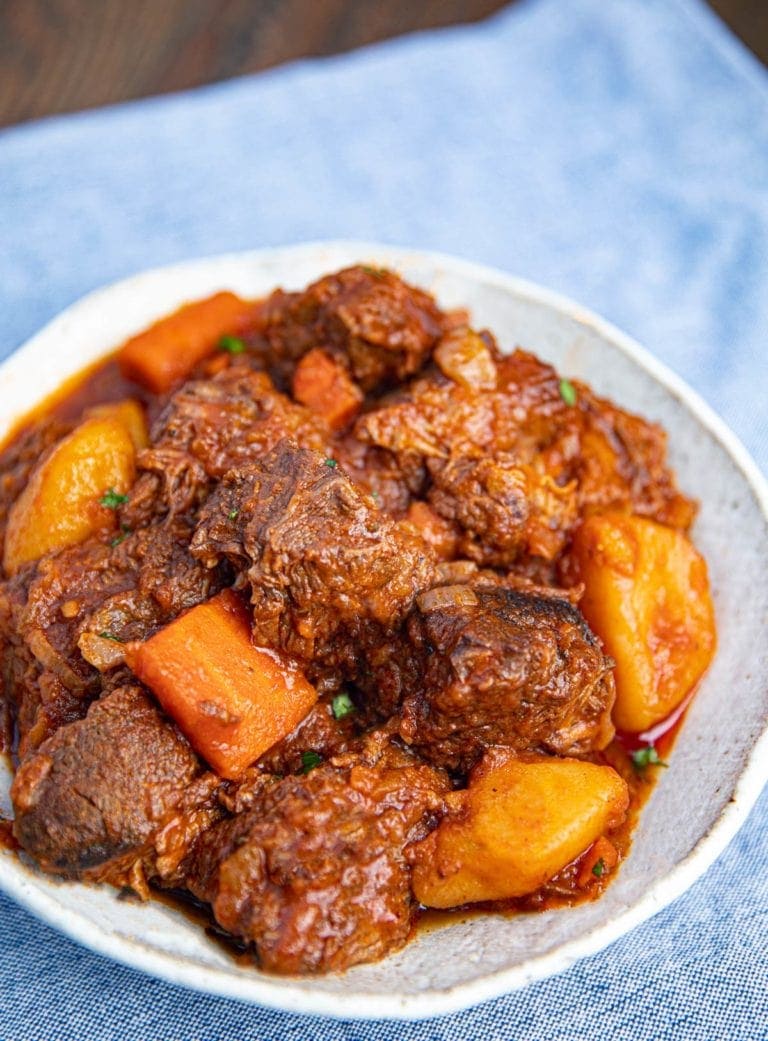 Original Recipe – Hungarian Beef Goulash
Ingredients:
4 pounds chuck roast, cut into 1″ inch cubes
1 1/2 teaspoons Kosher salt
1/2 teaspoon coarse ground black pepper
3 tablespoons Hungarian sweet paprika
1/3 cup vegetable oil
1 yellow onion, chopped
2 cloves garlic, minced
4 medium Yukon potatoes, cut into 2″ cubes
4 medium carrots, peeled and cut into 2″ cubes
6 ounces tomato paste
1 tablespoon Worcestershire sauce
2 tablespoons brown sugar, packed
1 tablespoon red wine vinegar
3 cups beef broth
Instructions:
Preheat the oven to 325°F.
Season the chunks of beef with salt, pepper, and paprika.
Heat oil in a large Dutch oven over medium-high heat and brown the beef cubes on all sides, around 5-6 minutes.
Remove and set aside.
Reduce the heat to medium and sauté onions and garlic in the same pot until translucent, approximately 3-4 minutes.
Add potatoes, carrots, tomato paste, Worcestershire sauce, brown sugar, red wine vinegar, beef broth, and the seared beef cubes (including any juices) to the pot. Mix well.
Cover and place the Dutch oven in the preheated oven for about 2 hours, or until the meat is fork-tender.