Indulge in the comforting flavors of Slow Cooker Turkey Chili, a soul-warming soup that combines fresh vegetables and lean meats to create a perfectly seasoned delight. This recipe is a true time-saver, allowing you to set it and forget it while you handle your daily errands. Imagine coming home to the enticing aroma of a hot, hearty, and home-cooked dinner waiting to embrace you. Whether you prefer it with a side of cornbread, poured over corn chips, or adorned with your favorite toppings like cheese, sour cream, jalapenos, or green onions, this slow cooker turkey chili will undoubtedly become your go-to recipe for those busy, time-strapped days.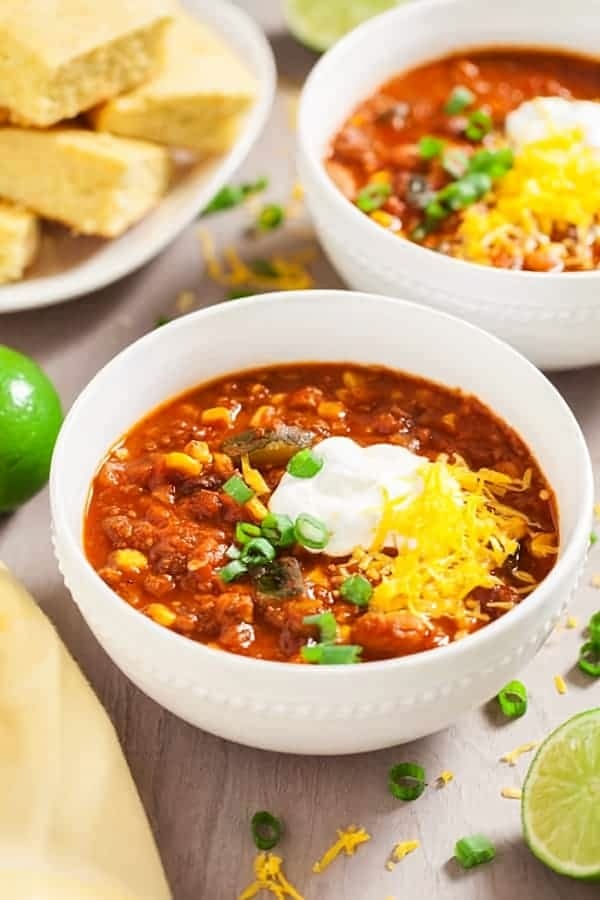 Exploring the Great Turkey Chili Debate
Ground beef has long been the foundation of numerous meals, but lately, there has been a rising trend of substituting it with a healthier alternative: ground turkey. The debate between ground turkey and ground beef has gained prominence as people make everyday choices regarding their meals. The question arises, where does the health advantage lie when it comes to turkey?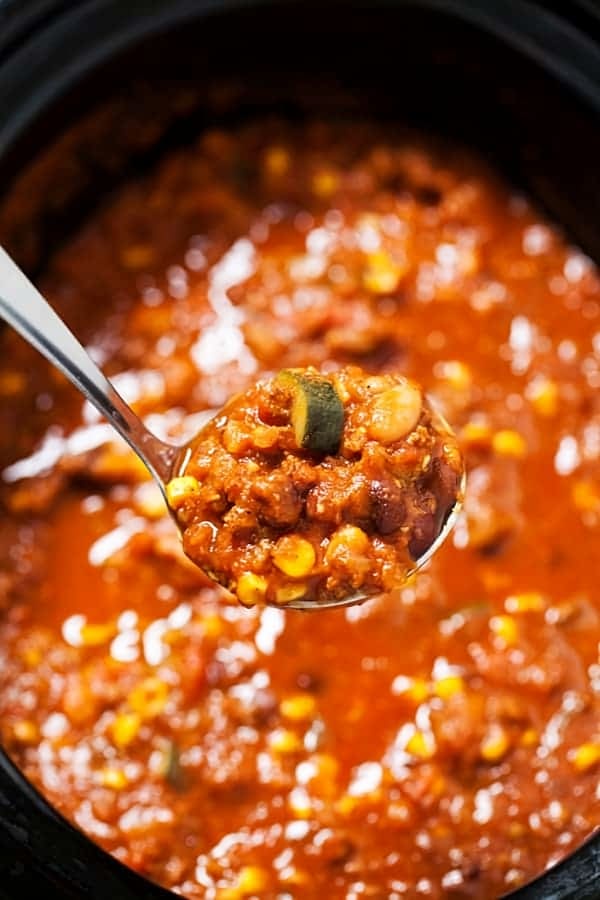 Well, it depends. I know, it's not the most satisfying answer. The key lies in scrutinizing labels when making purchases. It's crucial to opt for lower-fat content options such as lean turkey or ground turkey breast. In the battle of calories and protein, ground turkey and ground beef often stand toe-to-toe, but turkey emerges victorious in the saturated fat arena. Ground turkey boasts less saturated fat than ground beef, making it a healthier choice. However, if ground beef is your preference, feel free to substitute it in this recipe!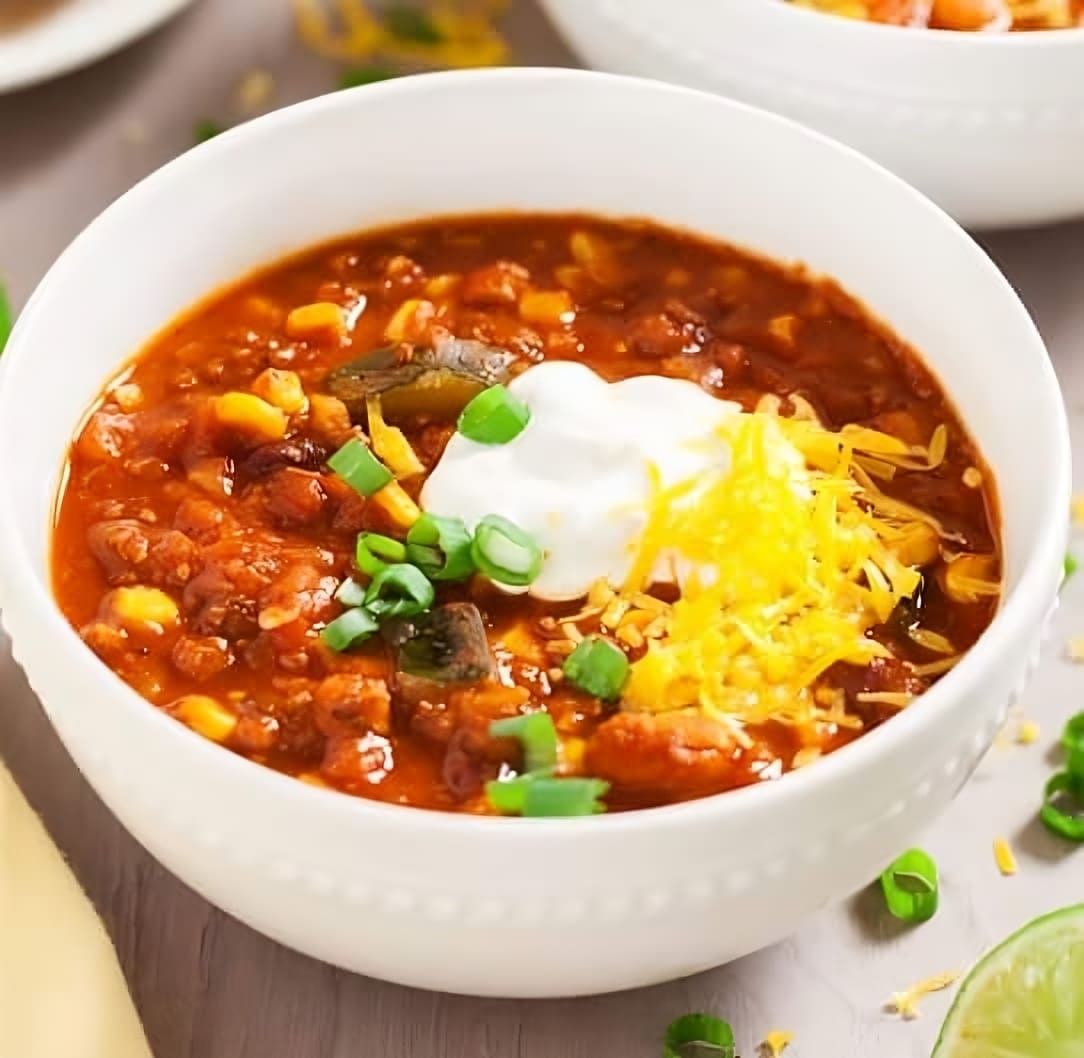 Ingredients for Slow Cooker Turkey Chili
1 tablespoon vegetable oil
1 medium yellow onion, diced
2 teaspoons garlic, minced
1 pound ground turkey
1 medium zucchini, diced into ½-inch pieces
1 package (1.25 ounces) chili seasoning mix
1 can (28 ounces) crushed tomatoes
1 can (15 ounces) tomato sauce
1 can (15 ounces) cannellini beans, rinsed and drained
1 can (15 ounces) black beans, rinsed and drained
1 can (15 ounces) sweet corn, drained
1 medium lime, juiced
Salt and pepper, to taste
Sour cream, for topping
Scallions, for topping
Shredded cheddar cheese, for topping
Instructions for Slow Cooker Turkey Chili
Begin by heating the oil in a large skillet over medium heat until it simmers. Add the diced onion and cook for 2-3 minutes, then add the minced garlic and cook for an additional minute.
Add the ground turkey to the skillet and cook until it is no longer pink, ensuring you break up the meat as it cooks. Introduce the diced zucchini and chili seasoning, stirring the ingredients to combine them thoroughly.
Transfer the mixture to a slow cooker. Pour in the crushed tomatoes, tomato sauce, cannellini beans, black beans, and sweet corn. Stir everything together to ensure all the flavors meld. Cover the slow cooker with its lid and allow the chili to cook on low for approximately 7 hours.
After the cooking time has elapsed, squeeze the juice of the lime into the chili and season with salt and pepper according to your taste preferences. Serve the chili piping hot, accompanied by your desired toppings such as sour cream, scallions, and shredded cheddar cheese.
Embrace the ease and flavor of Slow Cooker Turkey Chili, a wholesome dish that nourishes the body and warms the soul. By utilizing fresh ingredients and lean turkey, you can enjoy a satisfying meal that doesn't compromise on taste or health benefits. The slow cooker method ensures that the flavors meld together perfectly, creating a rich and hearty chili that will leave you craving more.