Looking for a delicious and easy weeknight meal? Look no further than this Grilled Bacon Wrapped Pork Tenderloin Stuffed with Apples! This recipe is sure to be a hit with your family and friends, with its juicy and tender pork, crispy bacon, and sweet apple pie filling.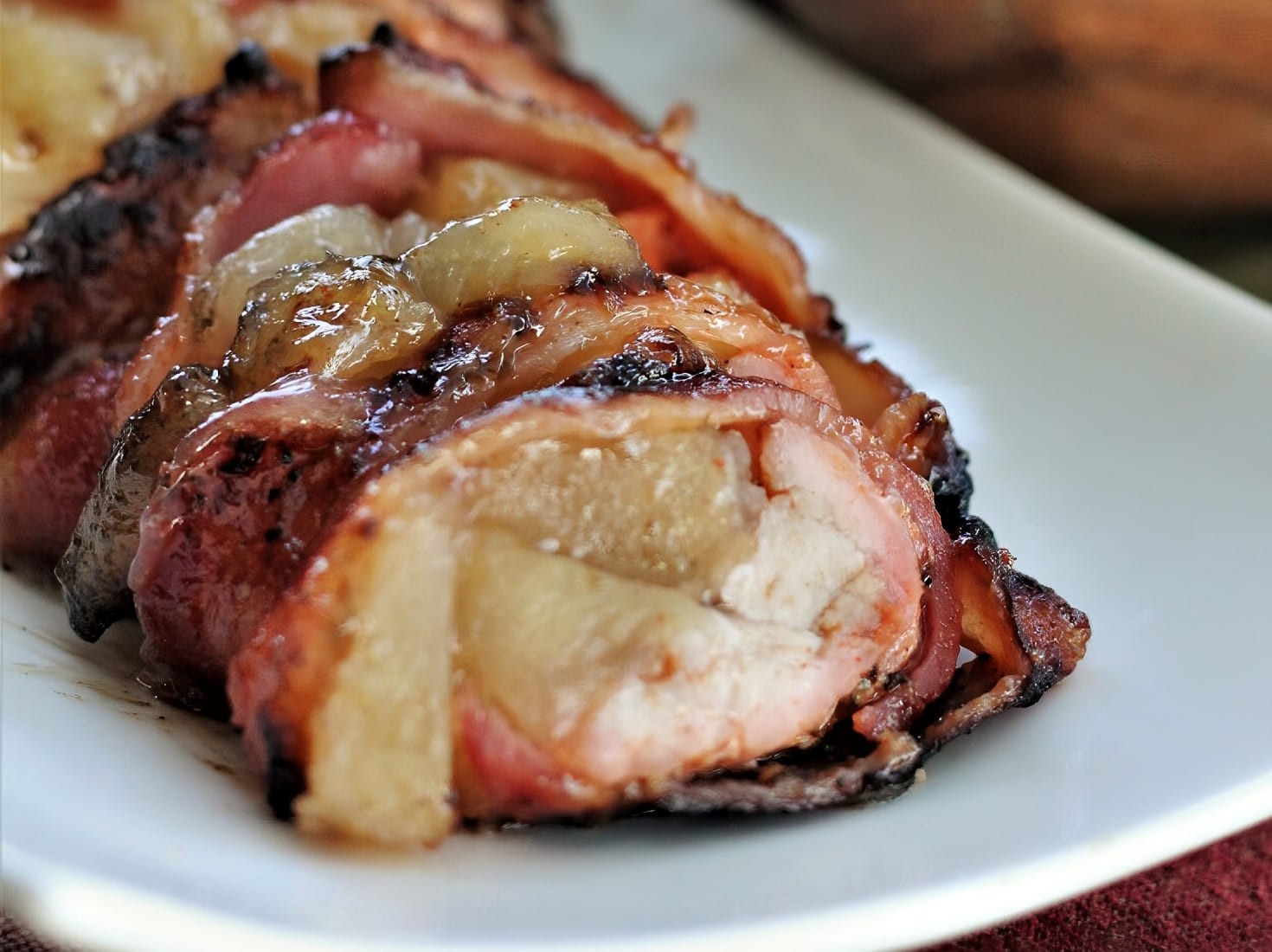 To make this dish, you'll need just four simple ingredients and a grill preheated to 425-450 degrees F. First, season the pork with a teaspoon of Sweet Rub on all sides. Then, cut a slit lengthwise in the pork and stuff it with apple pie filling, being careful not to cut through the bottom of the tenderloin. Next, wrap the tenderloin in bacon, making sure to overlap the strips so they don't come undone, and secure with toothpicks.
Once the pork is assembled, place it on the grill and cook for 3-4 minutes, flipping a quarter turn each time, until the internal temperature reaches 145 degrees F. Let the meat rest for 8-10 minutes, slice, and serve.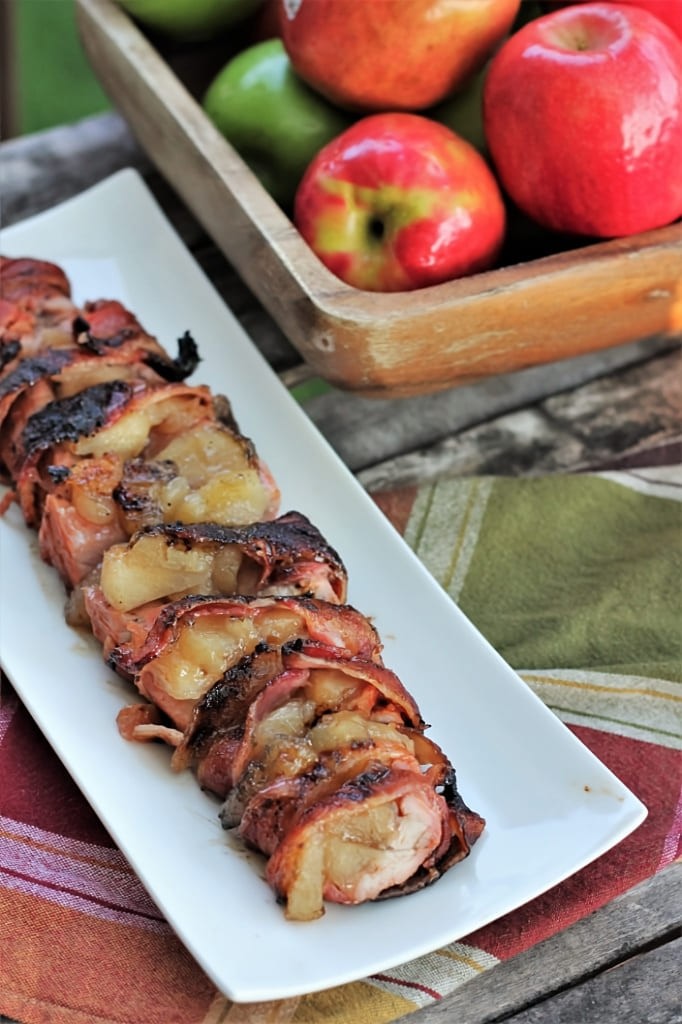 To ensure your pork comes out perfectly every time, be sure to monitor the temperature with a reliable thermometer and use toothpicks or skewers to hold the bacon in place. If you prefer softer bacon, cook the pork over indirect heat for the entire cook time.
With its combination of sweet and savory flavors, this Grilled Bacon Wrapped Pork Tenderloin Stuffed with Apples is sure to be a crowd-pleaser. So fire up the grill and enjoy this easy and delicious meal tonight!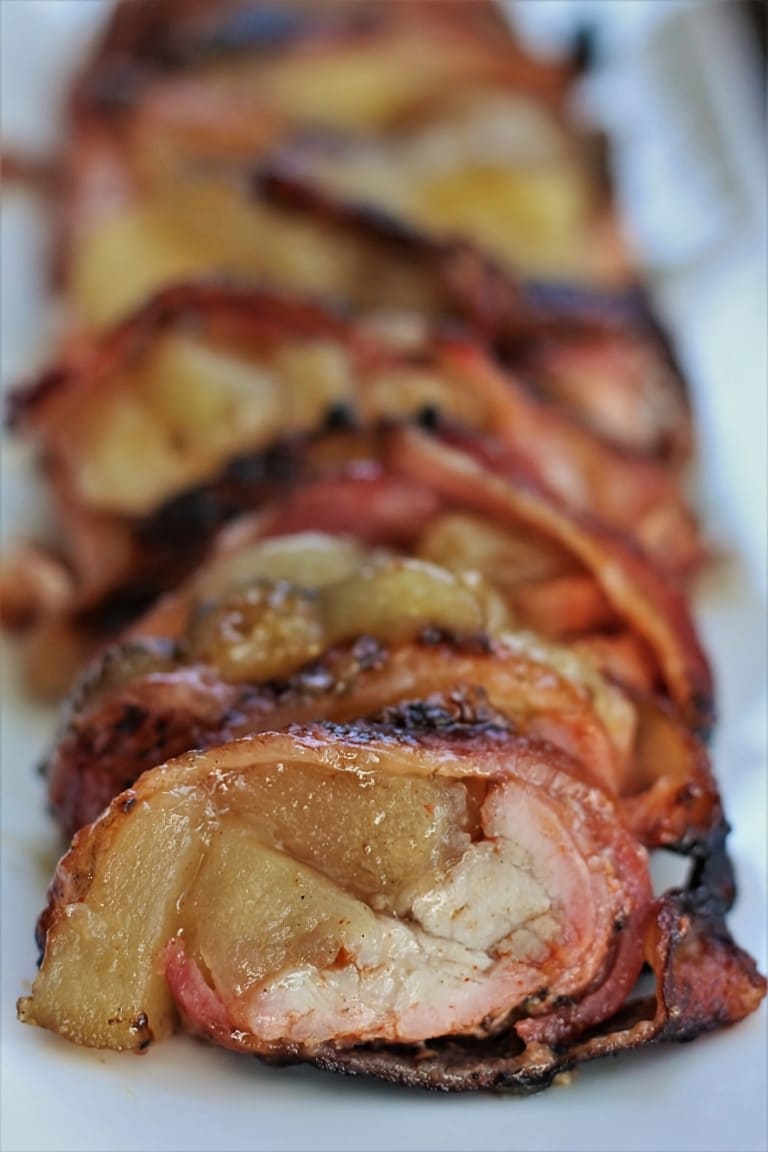 Here are the ingredients you'll need:
1 1/2-2 pound pork tenderloin
1 tablespoon sweet BBQ rub (homemade or store-bought)
1 can (21 oz) apple pie filling
6-8 slices bacon
Instructions
To start, preheat your grill to 425-450 degrees F for direct heat grilling. Then, season the pork tenderloin by sprinkling about a teaspoon and a half of sweet BBQ rub on all sides and rubbing it in evenly.
Next, make a pocket in the tenderloin by carefully cutting a slit lengthwise into the pork tenderloin with a sharp knife, starting about an inch from one end and stopping an inch from the other end. Be sure not to slice all the way through the bottom of the tenderloin.
Once you've made the pocket, spoon the apple pie filling into it. Depending on the size of your tenderloin, you may have some pie filling left over.
After the apple pie filling is in place, it's time to wrap the tenderloin with bacon. Starting at one end, wrap the stuffed tenderloin with bacon, making sure the edges just barely overlap to create a seal for the apple pie filling. Secure the ends of the bacon with toothpicks and sprinkle the exterior with the remaining sweet BBQ rub.
Carefully transfer the wrapped tenderloin to the grill and grill it on each side for 3-4 minutes, flipping only a quarter turn each time. It's best to avoid flipping more than once per side to keep everything together.
Once the pork reaches an internal temperature of 145 degrees F and the bacon is crisp, remove it to a cutting board and let it rest for 8-10 minutes before slicing and serving.
This bacon-wrapped pork tenderloin stuffed with apple pie filling is a delicious and unique way to enjoy pork tenderloin on the grill. Give it a try for your next BBQ or dinner party!