Zesty Lime Refried Beans are a delicious side dish or dip made with pinto beans that are mashed to a thick consistency. With the perfect blend of spices and a hint of fresh lime juice, these homemade refried beans are a flavorful and easy-to-make alternative to canned beans. Garnished with cilantro, tomatoes, and cotija cheese, these beans are sure to become a favorite addition to your Mexican-inspired meals.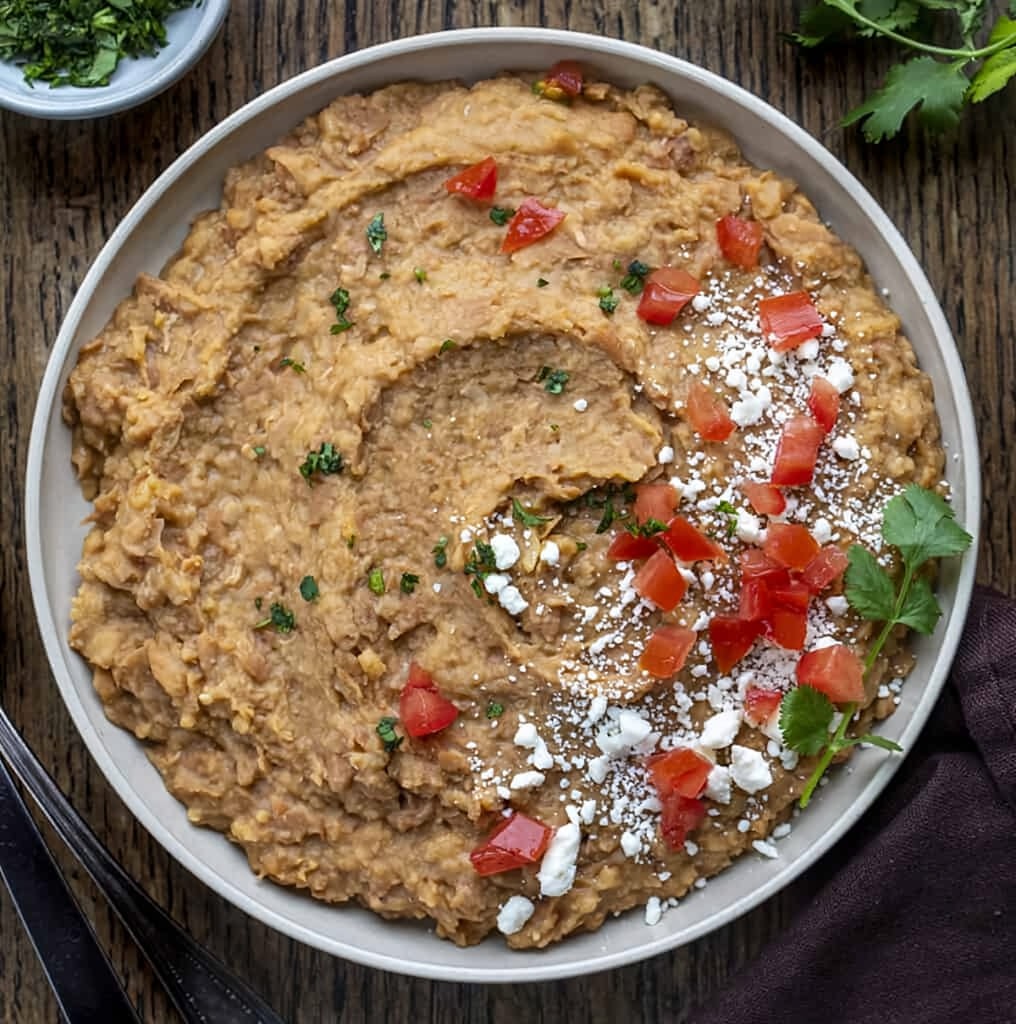 These Zesty Lime Refried Beans are a must-try recipe for anyone who loves the rich flavors of Mexican cuisine. Made with simple ingredients such as pinto beans, onion, garlic, and a blend of spices, these beans are cooked to perfection in a cast-iron or stainless steel skillet. The addition of lime juice adds a burst of freshness to the dish, elevating the flavors to a whole new level. Whether used as a side dish for tacos and burritos, or as a dip with tortilla chips, these refried beans are sure to impress with their homemade taste and unique twist of tangy lime.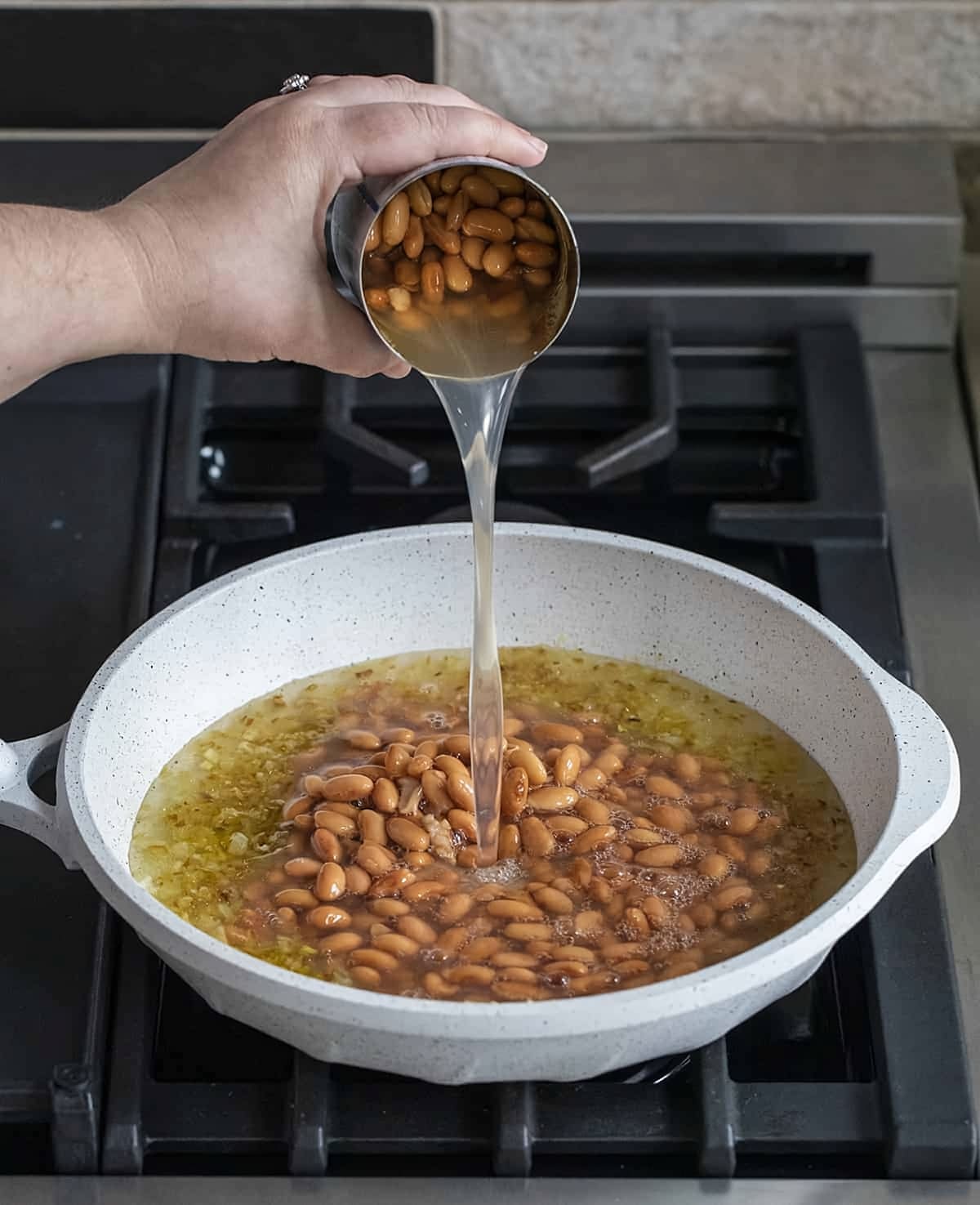 Ingredients:
2 tablespoons olive oil
1 small yellow onion, finely diced (approximately ½ cup)
1 teaspoon garlic, minced
2 cans (15 ounces each) pinto beans, undrained
1 teaspoon chili powder
½ teaspoon cumin
½ teaspoon kosher salt
½ medium lime, juiced (approximately 1 tablespoon)
Cilantro, for garnish
Tomato, for garnish
Cheese, like cotija, for garnish
Instructions:
In a large cast-iron or stainless steel skillet over medium heat, add olive oil. When the oil is sizzling, add the diced onion and cook until very soft, about 8-10 minutes.
Add minced garlic and cook for an additional 30 seconds.
Add the pinto beans, chili powder, cumin, and salt to the skillet. Stir to combine and continue to cook until the beans are heated through, about 5-7 minutes, stirring occasionally.
Reduce the heat to low. Using a potato masher or the back of a spoon, mash the beans in the skillet for 8-10 minutes, or until they reach your desired consistency. Keeping the heat on low will help evaporate the excess liquid.
Stir in the freshly squeezed lime juice until combined.
Garnish the refried beans with cilantro, diced tomatoes, and crumbled cotija cheese (or cheese of your choice) for added flavor and presentation.
Serve the Zesty Lime Refried Beans warm as a side dish for tacos, burritos, or any Mexican-inspired meal, or as a delicious dip with tortilla chips.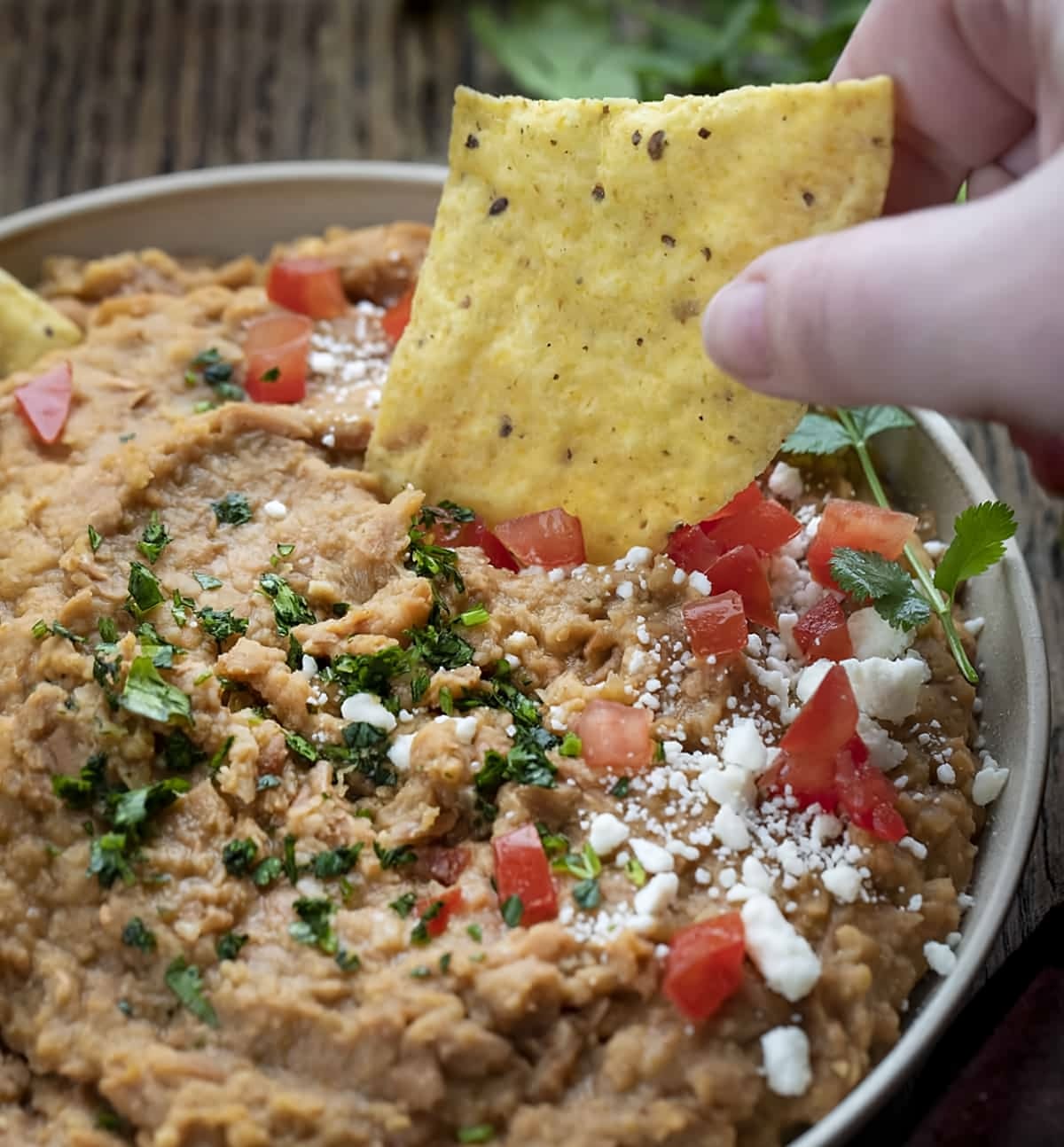 Note:
Leftover refried beans can be stored in the refrigerator, covered, for 4-5 days or frozen for up to a year in freezer-safe containers or bags.