Portions of the roast are served with an amazing cranberry sauce with raisins and fresh rosemary. It is important to serve the meat hot! The garnish can be traditional mashed potatoes or potatoes baked with vegetables.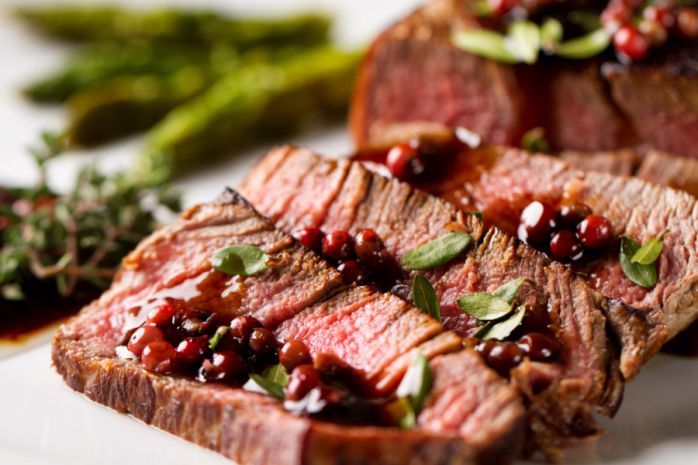 Ingredients
beef tenderloin 1.5 kg
parsley with root 3 pcs.
celery 3 pcs.
celery root 50 g
onions 2 pcs.
black pepper 10 units
vinegar 250 ml
cranberries 3 tbsp.
cloves 2 pcs.
bay leaf 1 pc.
60 g raisins
clarified butter 2 tbsp
10 g starch
rosemary 2 sprigs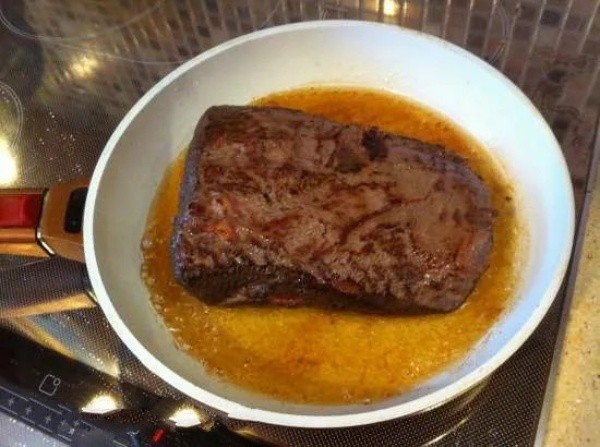 Instructions
Chop the herbs and onions. Pour it in vinegar and 500 ml of water.
Add spices, boil and leave to cool.
Put the raw meat in marinade for 3 days in the fridge to marinate, turning occasionally.
Dry meat, rub with salt and pepper, fry in melted butter.
Strain the marinade. Add greens and onions to meat, pour 250 ml of marinade and 125 ml of water.
Braise under a lid for 1.5-2 hours over low heat.
When ready, remove the meat from the broth and leave in a warm place.
Strain 150 ml. of broth, add raisins and cranberries, bring to the boil and thicken with starch.
To taste, you can add salt, ground black pepper and sugar.
Portion the meat, put it on the plates, pour the sauce over it and decorate with greenery as desired.
Serve hot together with a side dish.