Oatmeal Chocolate Chip Cookies: A Flavorful Fusion of Chewiness and Decadence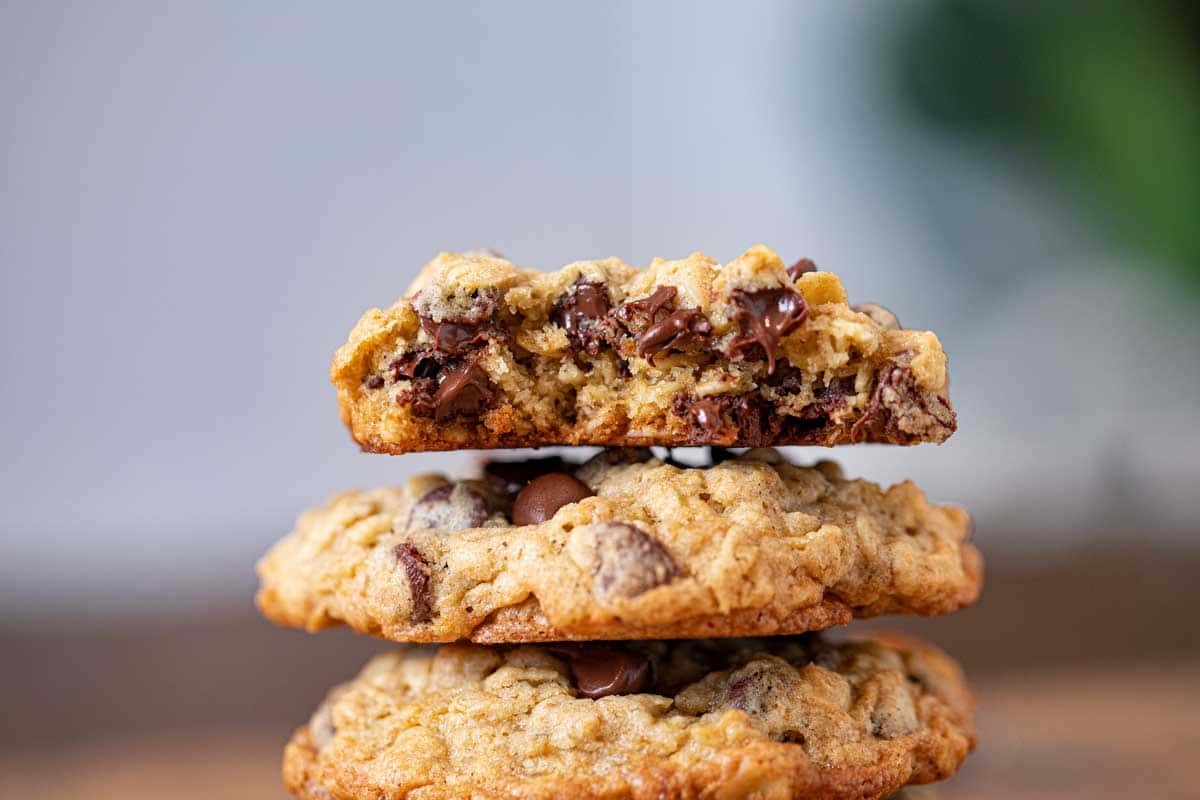 Oatmeal Chocolate Chip Cookies combine the timeless delight of Oatmeal Raisin Cookies with the indulgent allure of Chocolate Chip Cookies, crafting a symphony of chewy texture and the sweetness of brown sugar. The melding of these classic flavors creates a heavenly treat that's simply irresistible. The hearty chewiness of the oats harmonizes beautifully with the semi-sweet chocolate chips, resulting in a cookie that's a true crowd-pleaser.
Families with discerning palates, especially kids, will find solace in this recipe. A quick and seamless transition from traditional oatmeal cookies to the exquisite charm of Oatmeal Chocolate Chip Cookies guarantees smiles around the table. Bid farewell to leftover raisins and embrace these cookies that are bound to captivate even the pickiest eaters.
For picture-perfect cookies with prominently displayed chocolate chips, here's a hack: Prepare the dough with only two-thirds of the chocolate chips incorporated, reserving the remainder. Allow the dough to chill for 30 minutes to an hour for easier rolling into dough balls. Afterward, shape the dough into 1-inch balls and refrigerate for an additional 15-30 minutes.
When it's time to bake, roll the dough balls in the remaining chocolate chips, ensuring that some chips grace the exterior of the cookies, creating a visual masterpiece.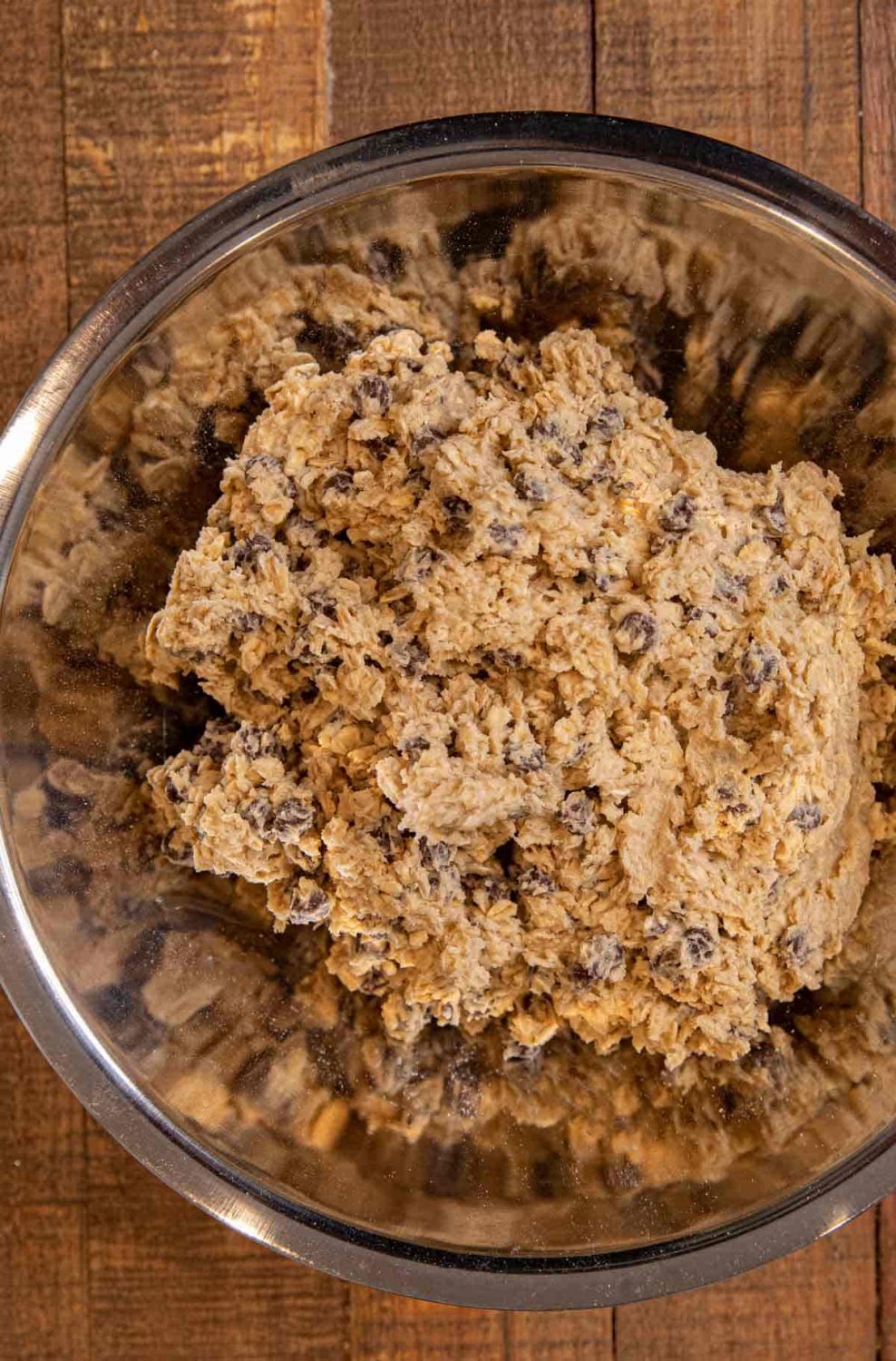 Mastering Chewiness:
The perfect combination of brown sugar and white sugar contributes to the ultimate chewy texture.
Under-bake the cookies by 1-2 minutes if a softer consistency is desired.
For a crisper cookie, extend the baking time to 12-13 minutes.
Over-mixing the flour can lead to dry cookies.
When measuring flour, spoon it in instead of scooping for a better texture.
Refrigerating the cookie dough maintains thickness, preventing thinness during baking.
Employ quality baking sheets or cookie sheets, lined with parchment paper or a silicone mat.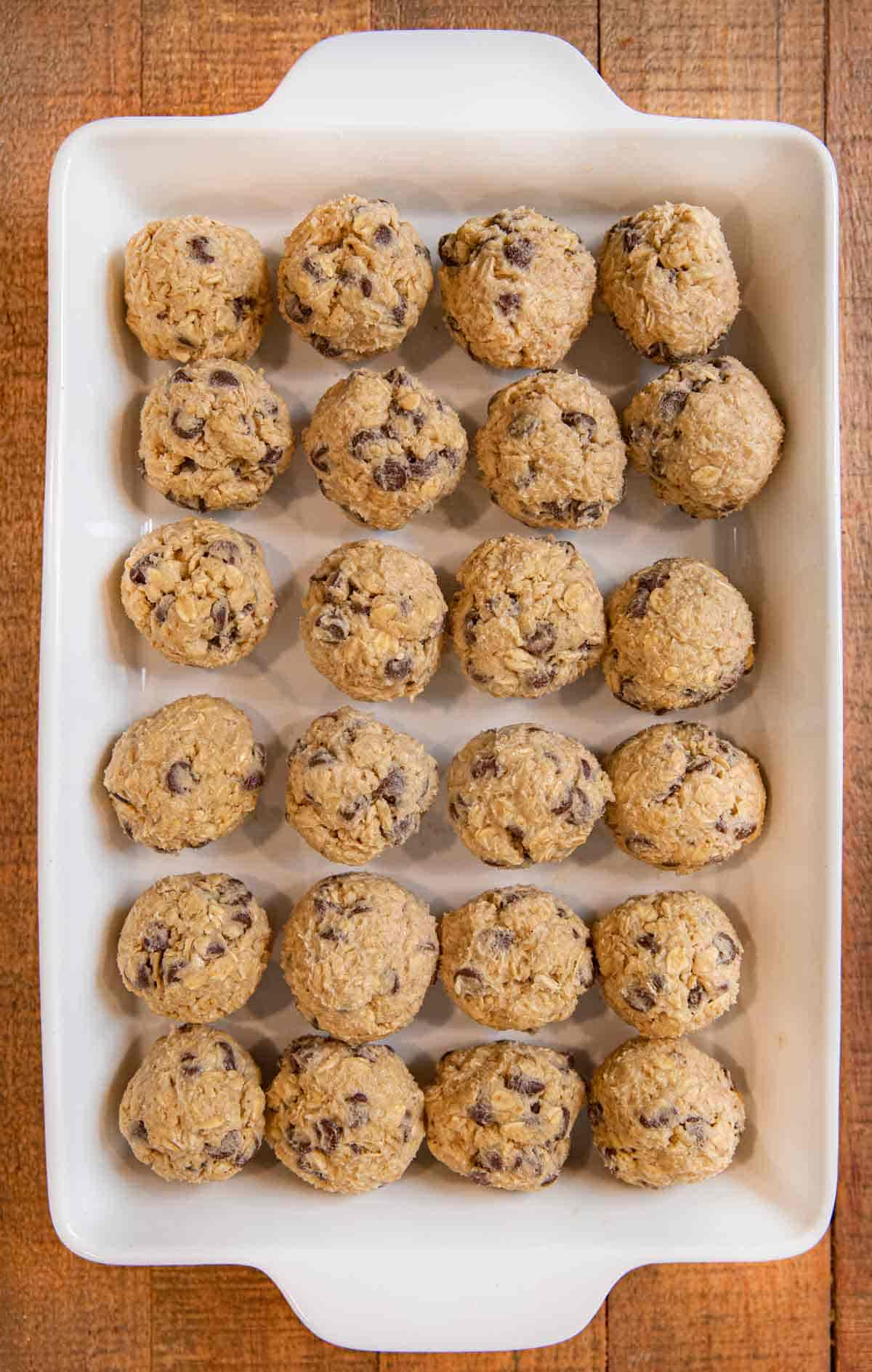 Pro Tips for Baking Cookies:
Use an electric mixer to whip butter and sugar until light and fluffy before incorporating the flour mixture and chocolate chips.
Allow the cookies to cool entirely on a wire rack rather than the baking sheet. Briefly rest them on the baking sheet to firm up before transferring.
Achieve uniformity by using a cookie scoop to measure equal portions of dough.
A hand mixer and a large bowl can replace a stand mixer for butter and sugar beating, ensuring minimal mixing for other ingredients.
For thicker cookies, rely on chilled butter and chill the dough in the refrigerator for at least 30 minutes before baking.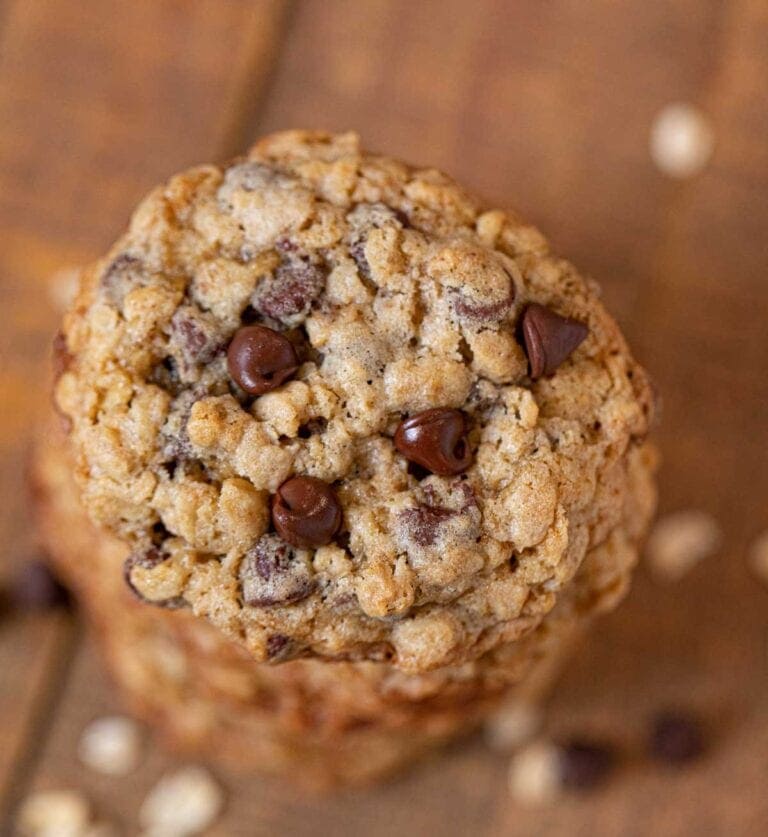 Ensure Success:
Opt for rolled oats instead of instant oats, as the latter may disintegrate and not contribute to a chewy consistency.
Innovative Variations:
Experiment with white chocolate, milk chocolate, or dark chocolate chips for diverse flavor profiles. Butterscotch chips are another delectable option.
Add crunch with chopped walnuts, pecans, or peanuts.
Elevate the cookies by incorporating ¼ cup of smooth peanut butter into the wet ingredients before adding eggs.
Infuse additional flavors by introducing ground cinnamon or substituting light brown sugar with dark brown sugar.
For gluten-free alternatives, grind instant oats into flour and replace regular flour as directed.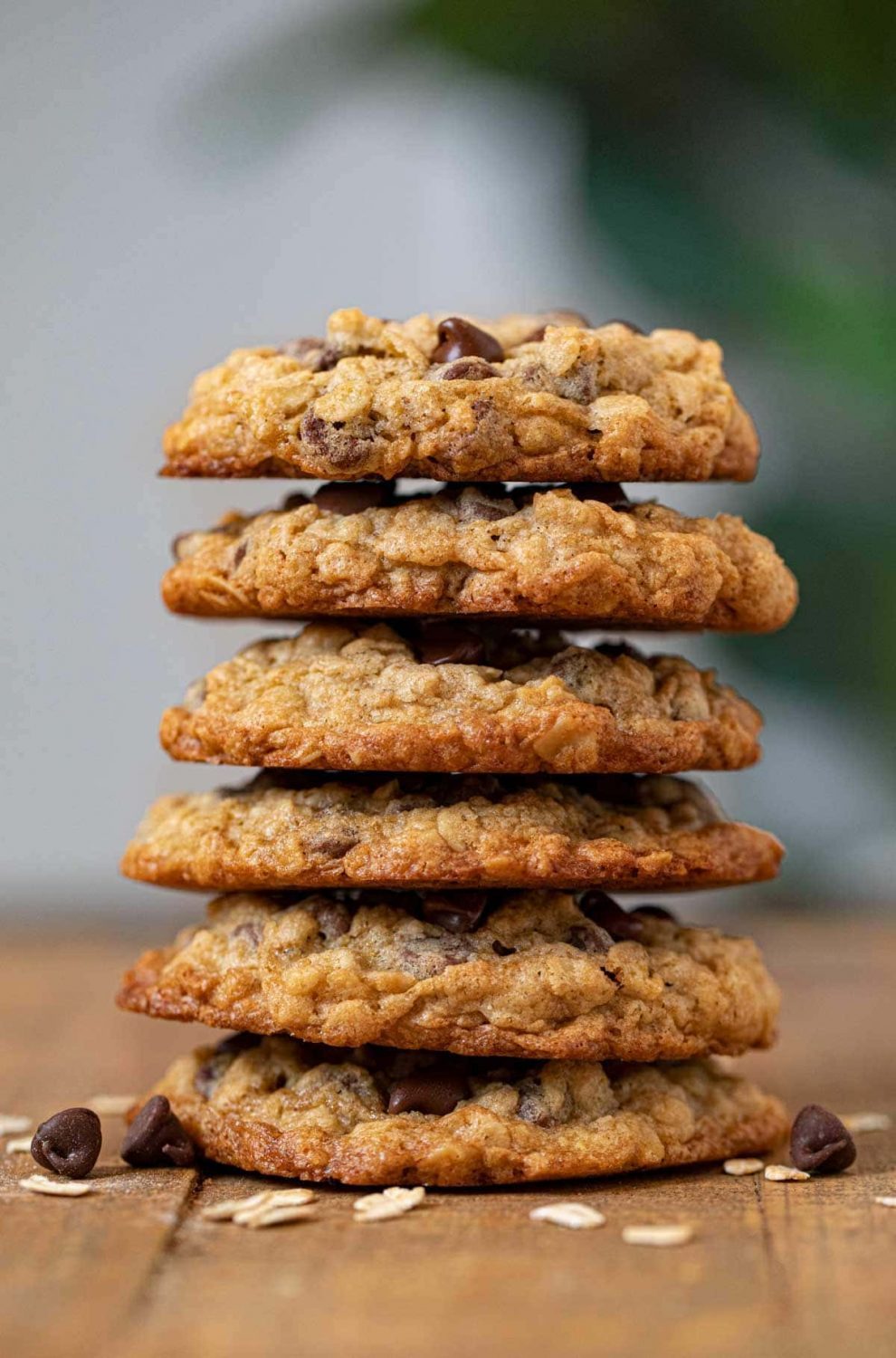 Storage Wisdom:
Keep Oatmeal Chocolate Chip Cookies in an airtight container at room temperature for up to 2 days.
Extend the cookie life by storing them in the fridge for a week. Microwave for about 15 seconds to rejuvenate chewiness.
Freeze cookie dough or baked cookies in an airtight container for up to 2 months. To freeze dough, lay it on a baking sheet for an hour before transferring to a freezer bag.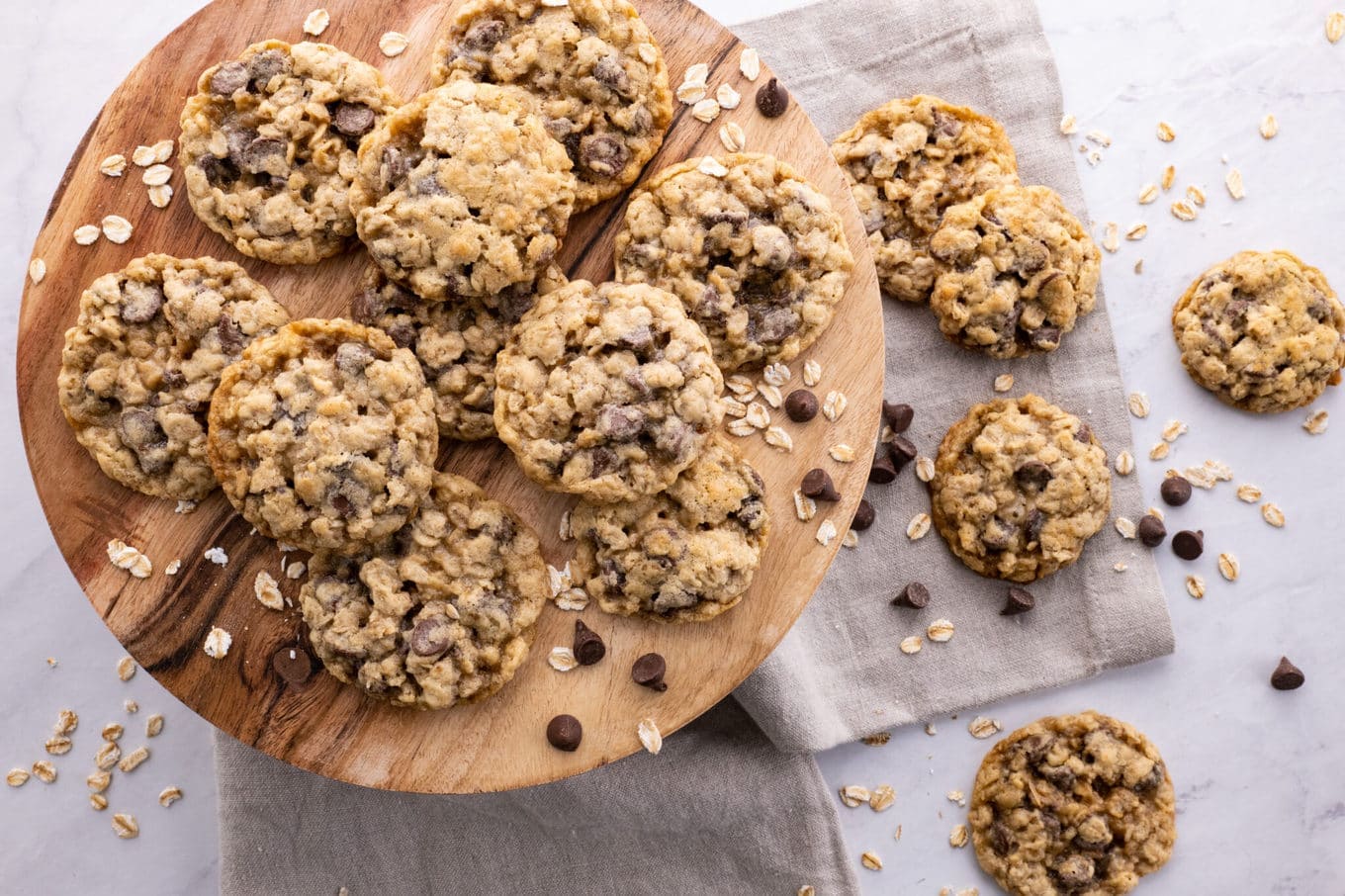 Ingredients:
8 tablespoons unsalted butter, softened
1/3 cup sugar
1/3 cup packed brown sugar
1 large egg
2 teaspoons vanilla extract
1/2 cup flour
1/2 teaspoon baking soda
1/4 teaspoon salt
1 1/2 cups old-fashioned oats (not quick oats)
1 cup semi-sweet chocolate chips
Instructions:
Preheat the oven to 350 degrees Fahrenheit.
Using a stand mixer, beat the butter and sugar on medium speed until light and fluffy for 1-2 minutes.
Incorporate the egg and vanilla until well combined.
On low speed, add in the flour, baking soda, and salt, mixing just until combined.
Gently add the oats and chocolate chips on low speed until combined.
Use a 2-tablespoon scoop to measure the dough onto a baking sheet.
Bake for 8-9 minutes, until the cookies are golden.
Allow the cookies to cool on a wire rack and indulge in the perfect blend of chewiness and chocolate delight.