I suggest you pay attention to a really luxurious dish – a delicious piece of pork loin stuffed with chicken fillet, apples, walnuts, cranberries and herbs. The roll is covered with a glossy glaze based on orange confit, which gives the dish a rich citrus flavor. When you cut the roll, the juicy filling will delight you with its flavor and aroma! No guest will remain indifferent.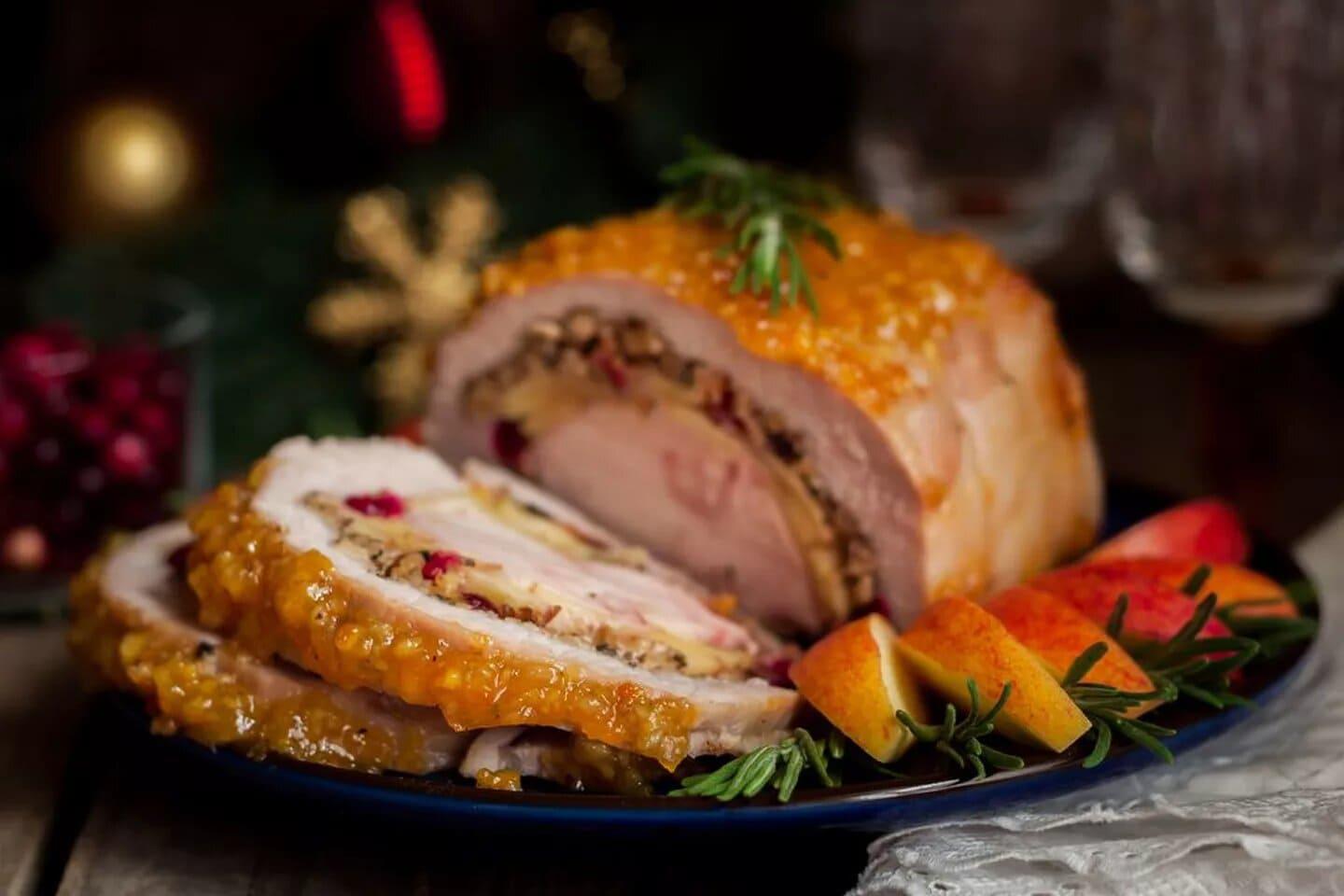 Ingredients (6 servings)
Pork loin 800 gr.
Butter 3 tbsp.
Cranberries 2 tbsp.
Walnuts 2 tbsp.
Chicken fillet 1 pc.
Apples 2 pcs.
Dried rosemary 1 tsp.
Dried thyme 1 tsp.
Ground black pepper to taste
Salt to taste
Orange confit 50 g.
Orange juice 1 tbsp.
Garlic 2 cloves.
Mustard 1 tsp.
Instructions
Soak cranberries (if dried) in boiling water, then dry them on a sieve, chop walnuts with a knife, chop thyme and rosemary, peel apples from cores and seeds and cut them into thin slices.
Using a sharp knife, cut the pork loin lengthwise, unfolding it like a roll to make a rectangular piece.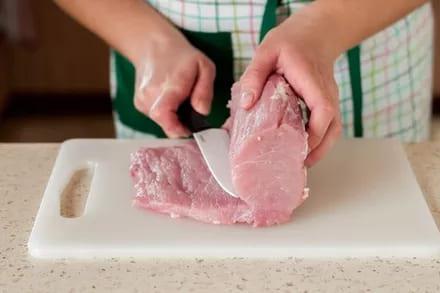 Cover the meat with cling film and give it a good beating on both sides.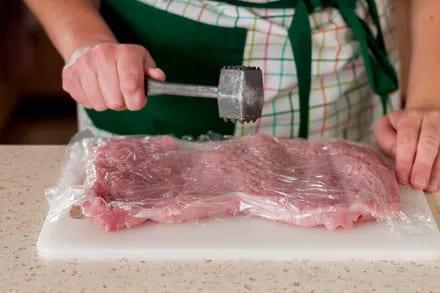 Melt the butter in the microwave.
Brush the loin with 2 tablespoons of melted butter, salt and pepper.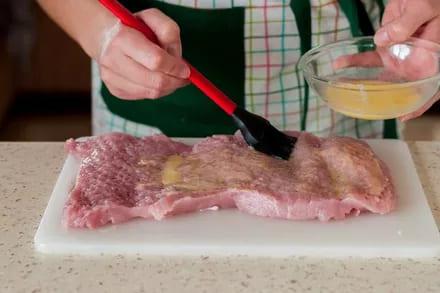 Place chopped nuts, cranberries, thyme and rosemary on the meat.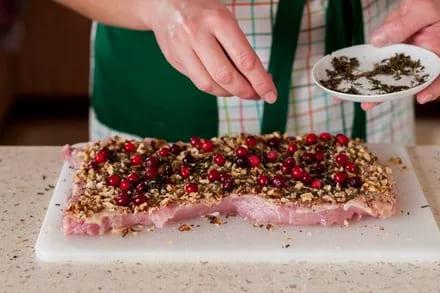 On top of them distribute thin plates of apples.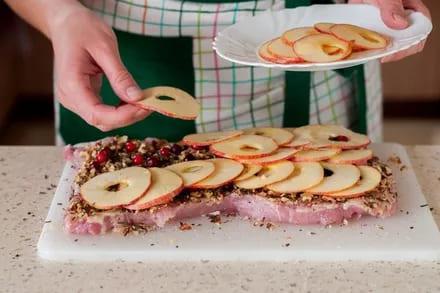 Place the chicken fillet in the center of the piece.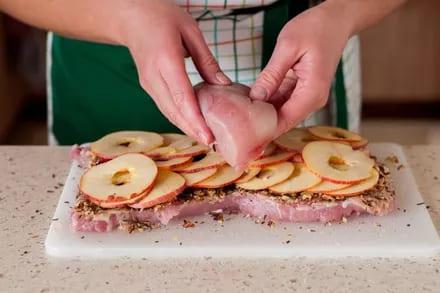 Roll up the meat and tie it tightly with string.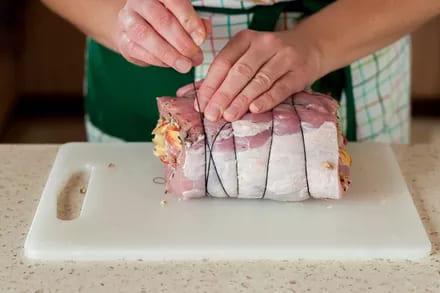 Place the roll in a baking dish, brush with the remaining butter, cover the dish with foil and send it to the oven heated to 180 degrees for 40-45 minutes.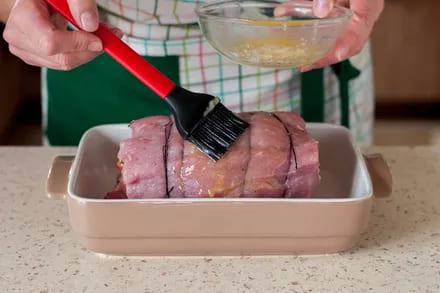 Combine the orange jam, orange juice, mustard, crushed garlic, salt and pepper in a saucepan.
Heat the mixture over a low heat, stirring until the confit melts and the mixture begins to boil.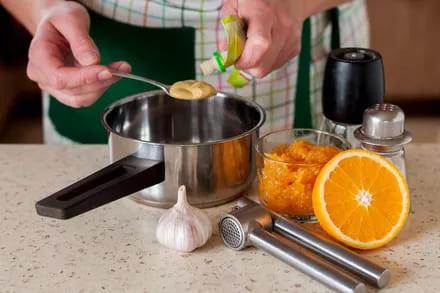 Take the roll out of the oven, remove the foil, glaze and put it in the oven for another 30 minutes.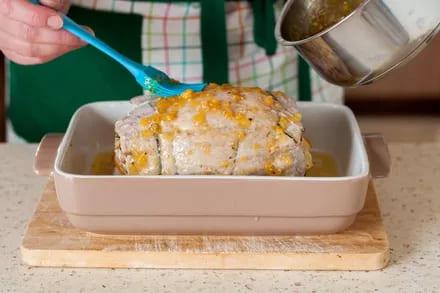 Cover the finished roll with foil, leave it for 5-10 minutes, then carefully remove the string.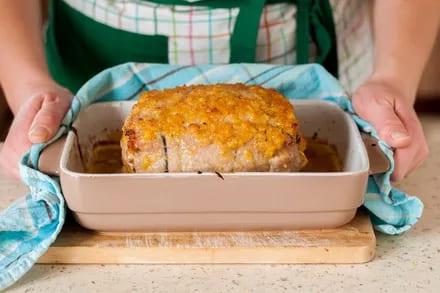 Serve in slices.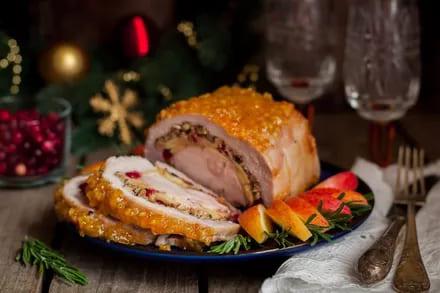 Bon appetit!