Welcome to the world of irresistible homemade dinner rolls! These soft and fluffy rolls are making waves in the culinary community, with millions of people raving about their taste and texture. Developed after years of testing, this recipe has become a sensation in restaurants and bakeries worldwide. Whether you're a seasoned baker or a beginner, you're in for a treat. Join us as we uncover the secrets to creating the most amazing dinner rolls ever. From mastering the art of kneading dough to understanding different types of yeast, we'll guide you every step of the way. Learn pro tips on measuring flour, shaping rolls, and even freezing or making ahead for maximum convenience. Get ready to elevate your dining experience with these heavenly dinner rolls that will leave your taste buds begging for more. So put on your apron, fire up your oven, and get ready for a culinary adventure like no other!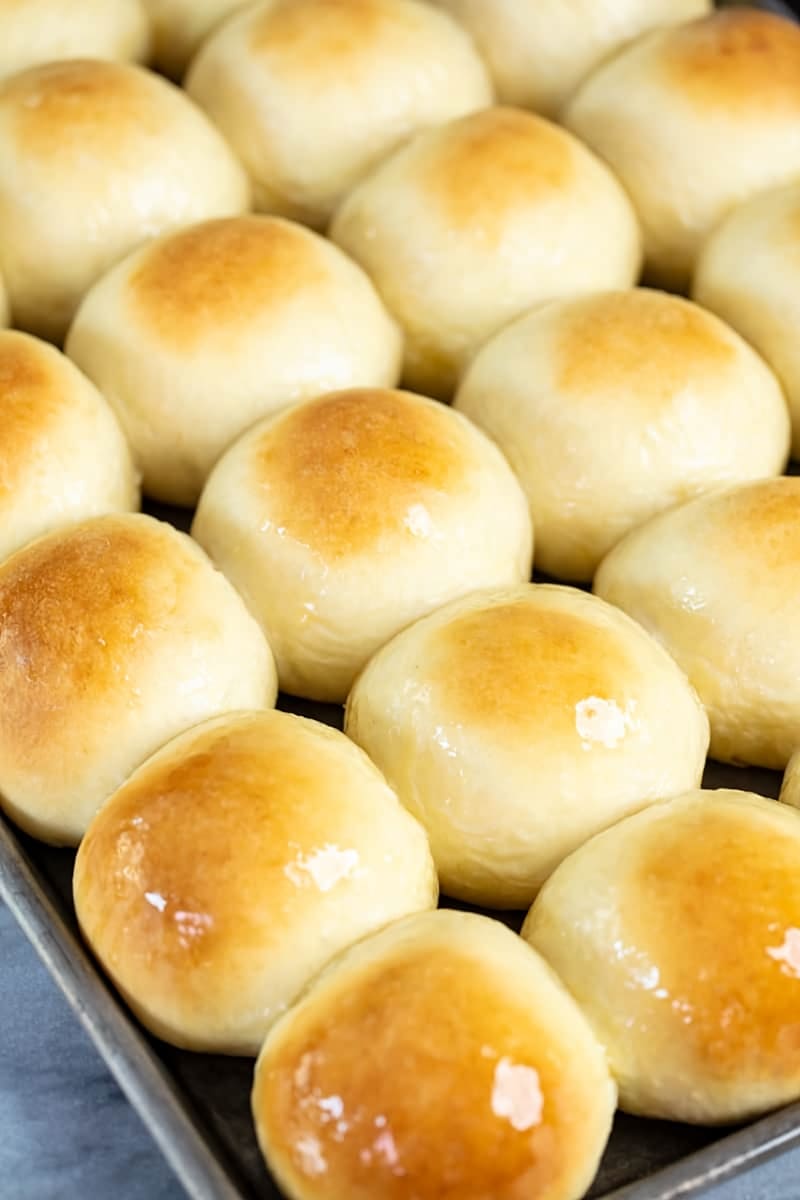 Ingredients:
1 and 1/2 cups warm water
1/2 cup granulated sugar
1 tablespoon active dry yeast
1 teaspoon salt
1/2 cup unsalted butter, melted
2 large eggs
5 and 1/2 cups all-purpose flour
Instructions:
In a large mixing bowl, combine warm water and sugar. Sprinkle the active dry yeast over the top and let it sit for 5 minutes until foamy.
Add salt, melted butter, and eggs to the bowl. Mix well.
Gradually add in the flour, one cup at a time, mixing until a soft dough forms.
If using a stand mixer, knead the dough with the dough hook attachment for about 5 minutes until the dough is smooth and slightly tacky. If kneading by hand, turn the dough out onto a clean surface and knead for about 10 minutes, gradually adding more flour as needed, until you have a soft and smooth dough ball that is tacky but not sticky.
Place the dough back into the mixing bowl and cover with a clean towel. Let it rise in a warm, draft-free place for 90 minutes or until it has doubled in size.
Preheat your oven to 375°F (190°C) and grease a 9×13-inch baking pan.
Punch down the dough to release the air. Turn it out onto a lightly floured surface and divide it into 24 equal pieces.
Weigh each piece to ensure they are all the same size, aiming for about 2.5 ounces each.
Shape each dough piece into a smooth, round roll by rolling it between your palm and the countertop in a circular motion for about 30 to 45 seconds.
Place the rolls in the prepared baking pan, leaving a little space between each roll for them to expand. Cover the pan with a clean towel and let the rolls rise for another 30 to 45 minutes until they are doubled in size.
Bake the rolls in the preheated oven for 15 to 20 minutes or until they are golden brown on top.
Remove the rolls from the oven and brush the tops with melted butter for a glossy finish.
Let the rolls cool slightly before serving. Enjoy these soft and fluffy homemade dinner rolls that practically melt in your mouth!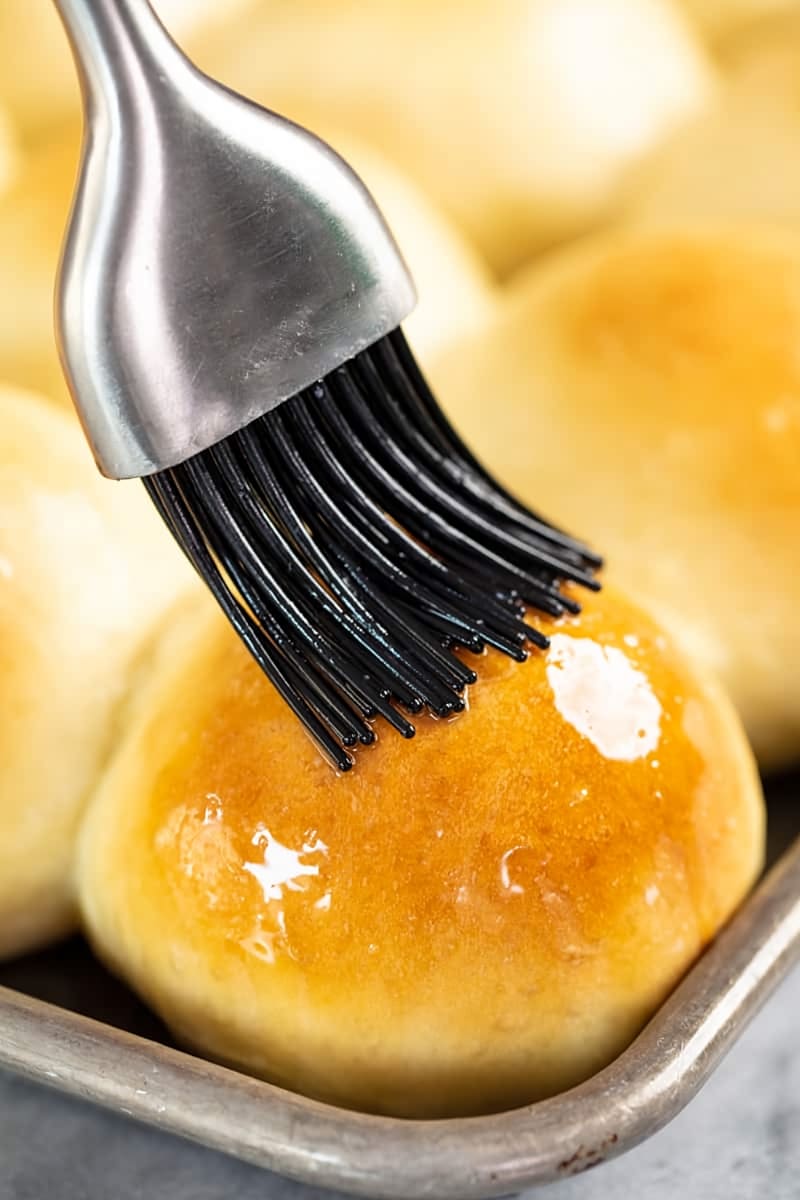 Freezer Instructions:
If you want to freeze the rolls for later baking, shape them into rolls and place them on a baking sheet. Place the sheet in the freezer and freeze until the rolls are firm. Once frozen, transfer the rolls to an airtight container or a zip-top freezer bag and store in the freezer for up to 2 months. When ready to bake, remove the rolls from the freezer and let them thaw and undergo their second rise until doubled in size, which can take about 1 to 2 hours depending on the temperature of your home. Then, bake them as directed.
Make-Ahead Instructions:
If you need to make the dough ahead of time, follow the recipe instructions until you shape the dough into rolls and place them on a baking sheet. Instead of letting them rise for an additional 60 minutes, cover the shaped rolls with plastic wrap and place the pan in the refrigerator. The rolls will only rise slightly while refrigerated, and you can hold them this way for up to 24 hours. When ready to bake, remove the rolls from the fridge and let them rise at room temperature while your oven preheats. Then, bake them as directed.