Zucchini rolls with carrots are one of the simplest, yet most beloved by many, easy snack options. These rolls can be divided into two groups – vegetable and meat. For vegetable zucchini rolls, tomatoes, bell peppers, onions, carrots, beets, cucumbers and celery are used as the filling. As a filling for meat rolls most often used minced meat, bacon, fillet.
The recipe for meat rolls, which I want to offer you to prepare as simple and accessible as possible. In fact, the preparation of this snack consists of roasting zucchini and preparing a carrot and cheese salad, which perfectly complement each other. It is better to take young zucchini of small size. Such beautiful rolls can not only be served for lunch and dinner, take to a picnic, but also decorate any holiday table!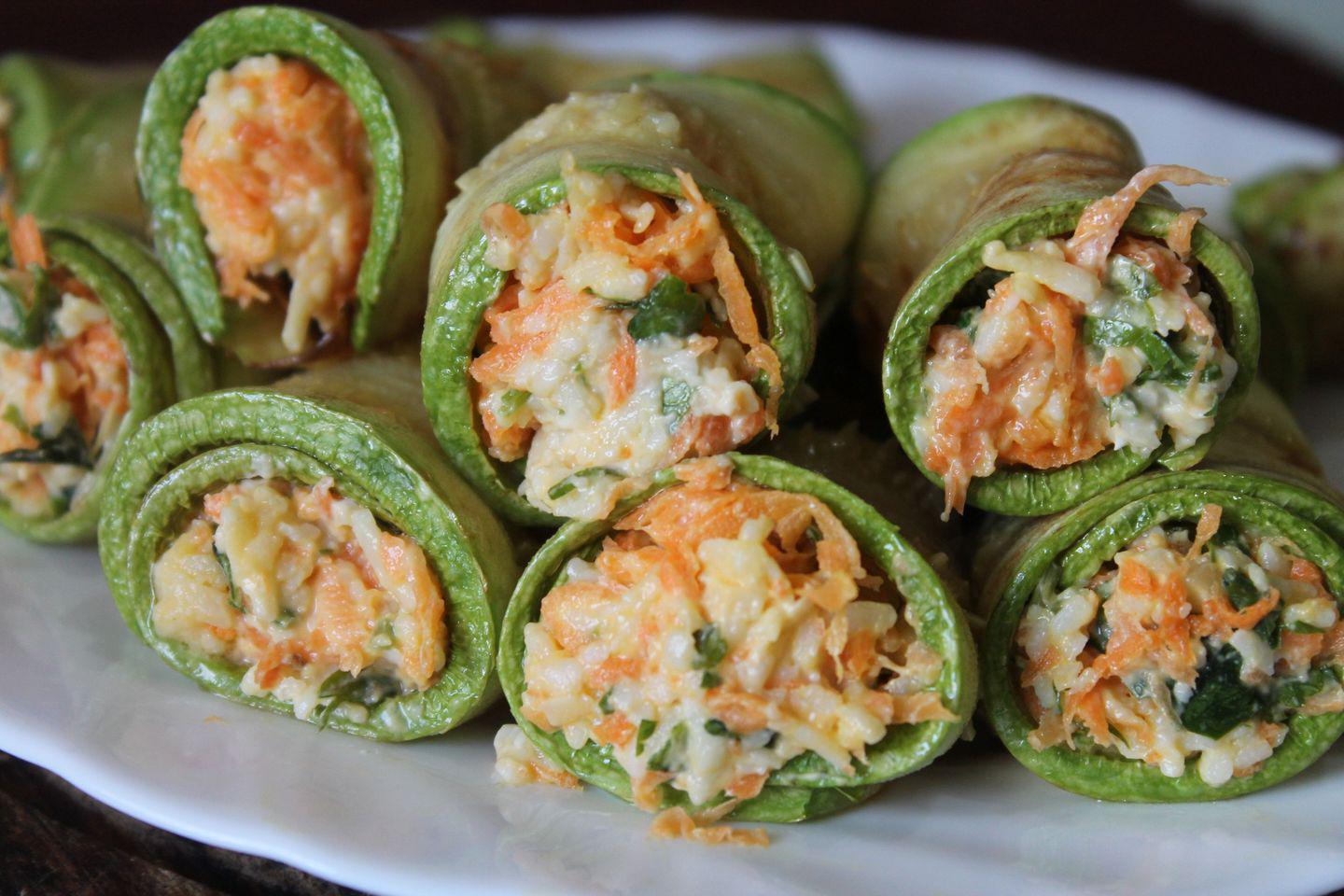 Ingredients (5 servings)
Zucchini 2 pcs.
Vegetable oil 50 ml
Hard cheese 150 gr
Carrots 150 gr
Sour cream 2 tbsp.
Garlic cloves 3 pcs.
Greens (dill, parsley) 1 pouch.
Salt 2 pinches.
Instructions
To prepare the filling, finely chop the greens. I use parsley.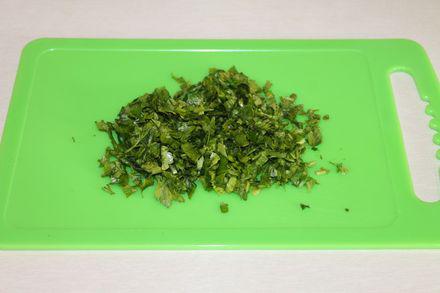 Grate carrots on a fine grater.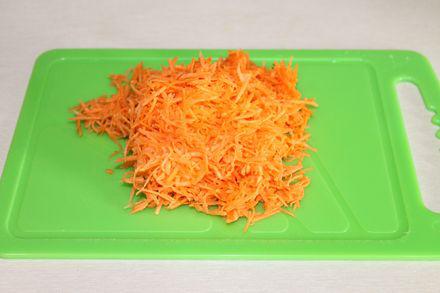 Grate the cheese on a fine grater. It is better to take the cheese of medium hardness.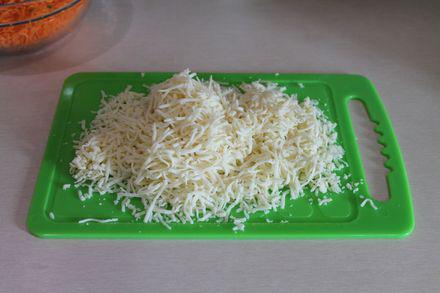 In a bowl, combine the greens, cheese and carrots, stir.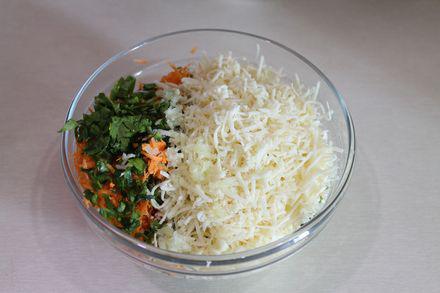 Squeeze the garlic with a garlic masher into the stuffing bowl or chop as finely as possible. Add salt and stir to combine.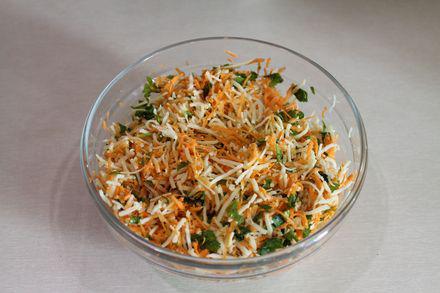 Add the sour cream and stir. Adjust the amount of sour cream to taste, I use about 2 tablespoons of sour cream 20% fat. The filling should not be liquid, but also not dry.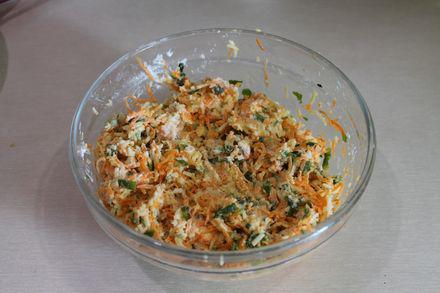 Wash and dry the zucchini and cut off the edges. Trim both sides of the skin as shown in the photo. You can also fry it and put the filling, but you can't roll it up.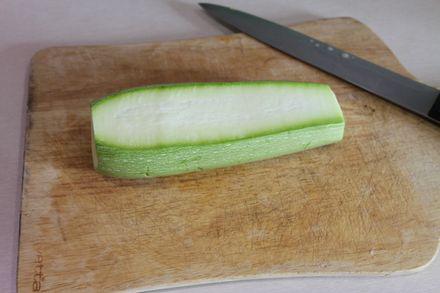 Slice the zucchini thinly lengthwise, the thickness of the slice should be about 2-3 mm.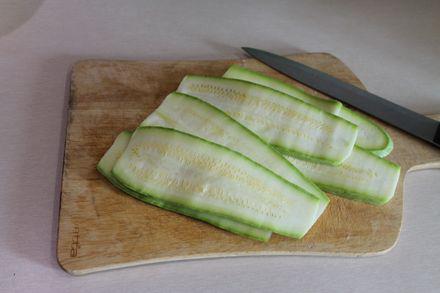 Heat a small amount of vegetable oil in a frying pan.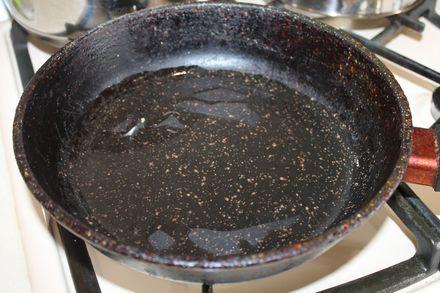 Place the sliced zucchini in a pan, fry over medium heat.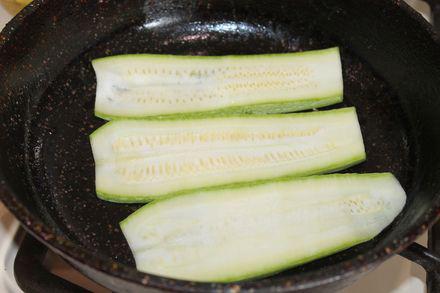 Turn over and fry the other side.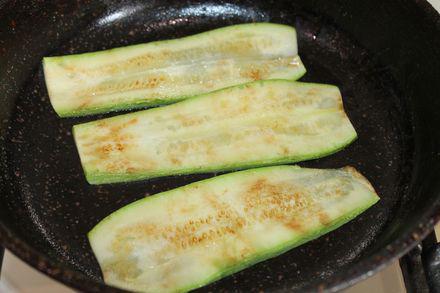 To remove excess vegetable oil, place the fried zucchini on a paper towel, if necessary. Spoon a teaspoonful of filling onto the edge of the fried zucchini.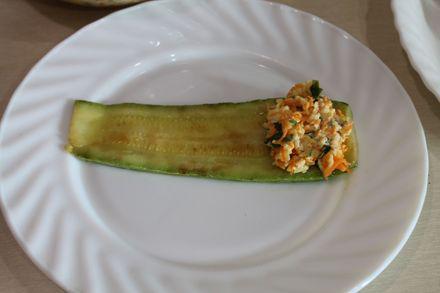 Roll up the roll. You can fix it with a skewer or toothpick, it will be easier to take from the plate, but it is not necessary.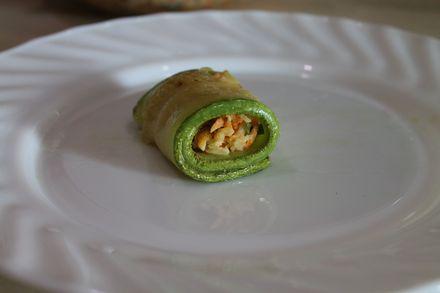 Place the formed rolls on a plate. Serve immediately after cooking.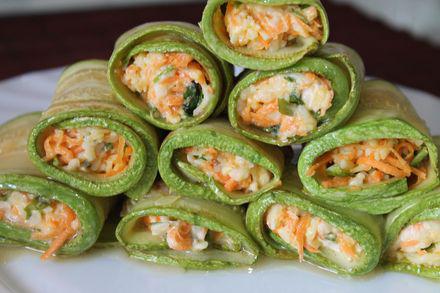 A delicious and very easy appetizer is ready. Bon appetit!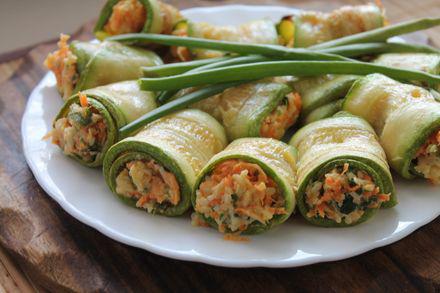 What's your favorite filling for zucchini rolls? Share in the comments!