Crafting the garlic butter sauce is a breeze, taking only a few minutes, yet it imparts a burst of exquisite flavor to the dish. This light and refreshing dinner pairs wonderfully with simple sides like asparagus, Roasted Broccoli, or Mashed Potatoes.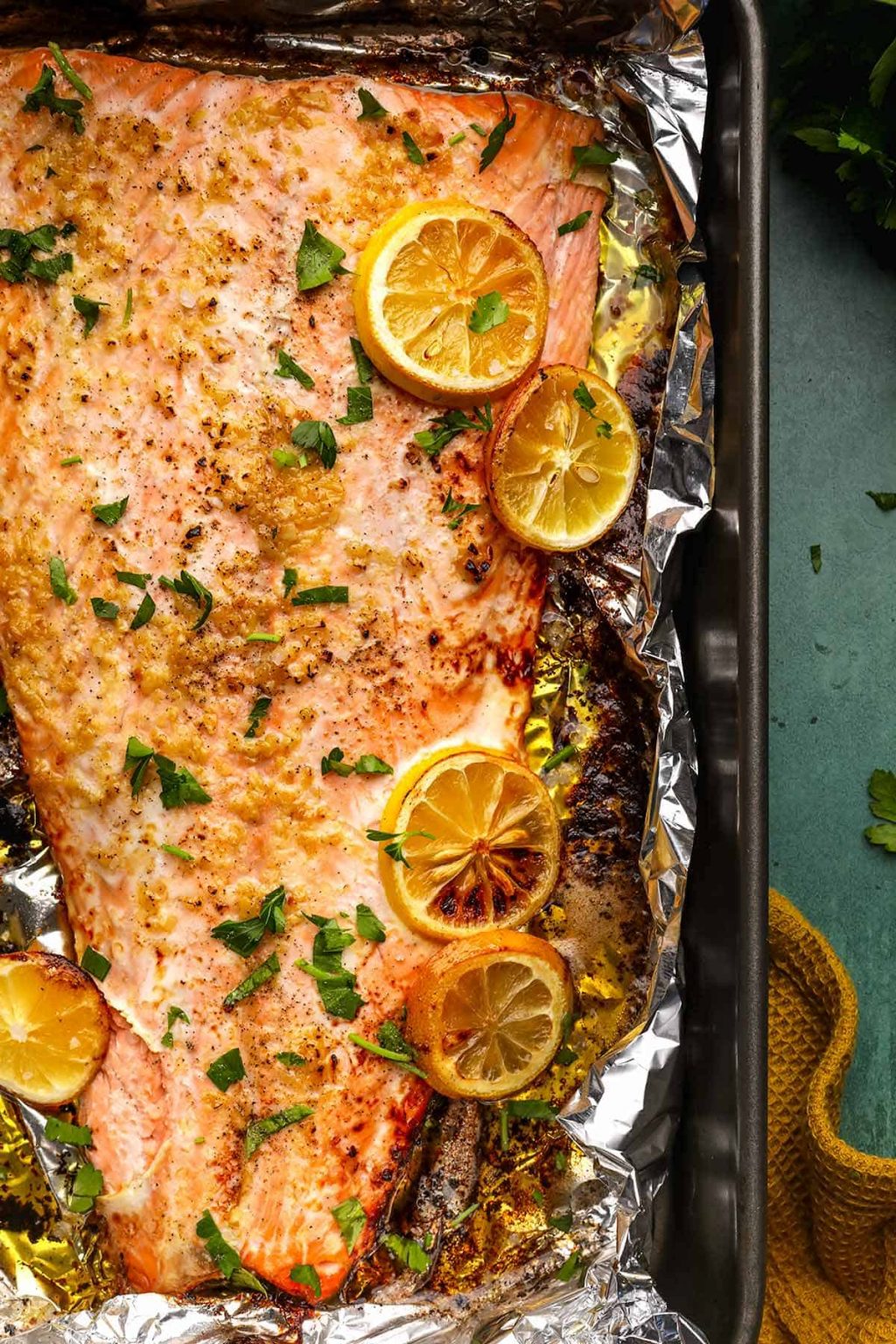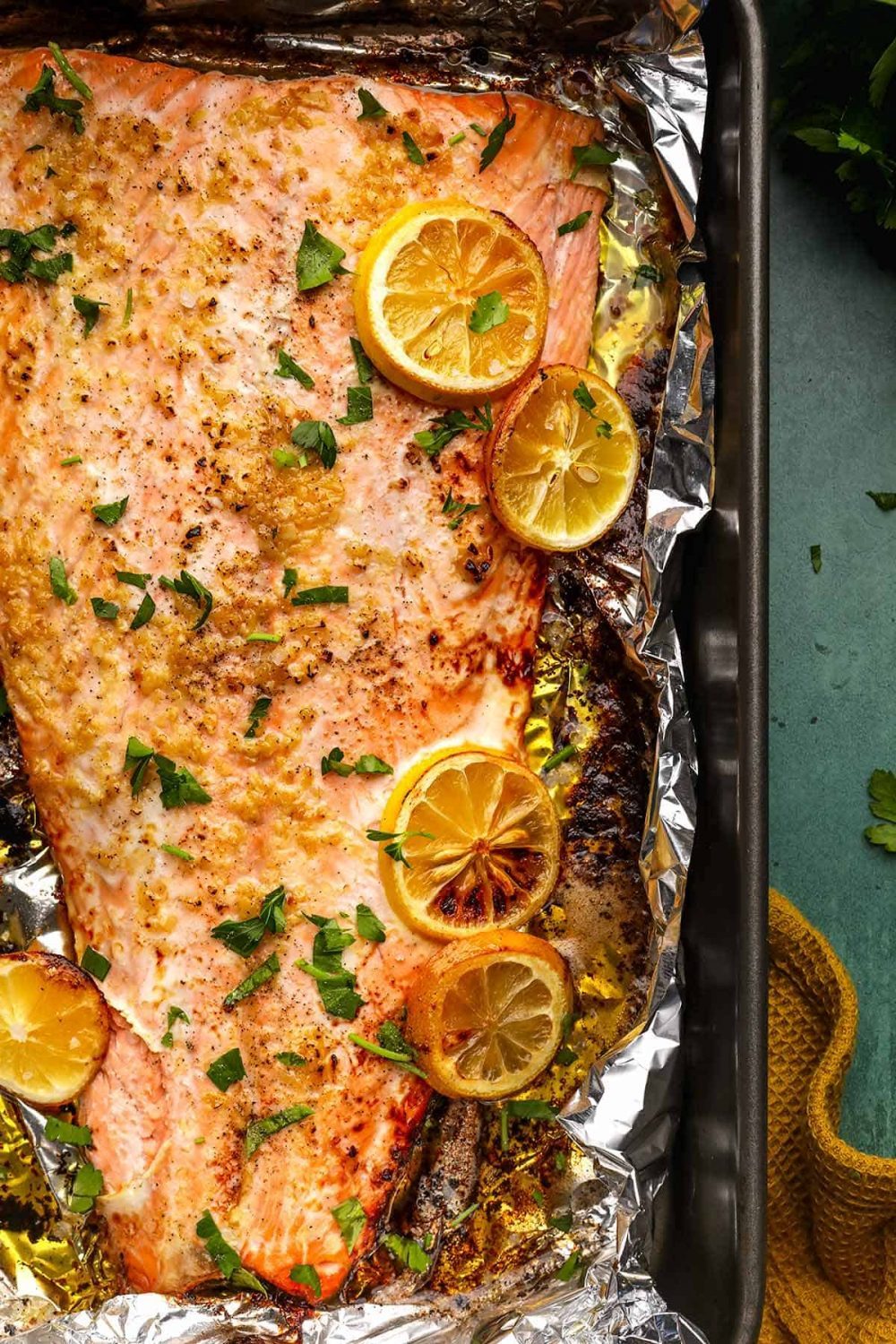 While pan-fried, smoked salmon, and grilled salmon have their merits, baked salmon is an excellent choice for those new to cooking seafood. It's a nearly foolproof recipe, allowing the salmon to absorb the flavors of garlic, lemon, and seasonings as it bakes. The result is a juicy, moist baked salmon with perfectly flaky skin.
In addition to its delectable taste, baked salmon recipes offer a plethora of health benefits. Salmon is low in calories and rich in heart-healthy omega-3 fatty acids, making it an ideal choice for wellness-conscious individuals. Moreover, this salmon recipe is gluten-free, and since it's baked, there's no excess oil typically associated with frying.
How to Make Garlic Butter Salmon
Preparation: Begin by preheating your oven to 375 degrees F and lining your baking pan with aluminum foil. Ensure that the foil is sufficiently large to envelop the salmon without making direct contact.
Salmon: Place the fillet in the prepared pan, skin-side down. Leaving the skin on and cooking the salmon skin-down serves as a protective layer, preventing the meat from becoming burnt or overly dry due to the hot pan. Instead, the skin becomes delightfully flaky and flavorful.
Garlic Butter: In a small bowl, whisk together melted butter, minced garlic, lemon juice, salt, and pepper. Pour this delightful concoction over the salmon.
Baking: Close the foil securely over the salmon, ensuring that it does not touch the fish directly. Bake for 15-18 minutes, adjusting the cooking time to achieve your preferred level of doneness. Keep in mind that the internal temperature should reach 145 degrees Fahrenheit for the baked salmon to be deemed safe to consume.
Serving: Exercise caution when opening the foil to avoid being scalded by the escaping steam. Cut the salmon into portions and garnish with a wedge of lemon, if desired.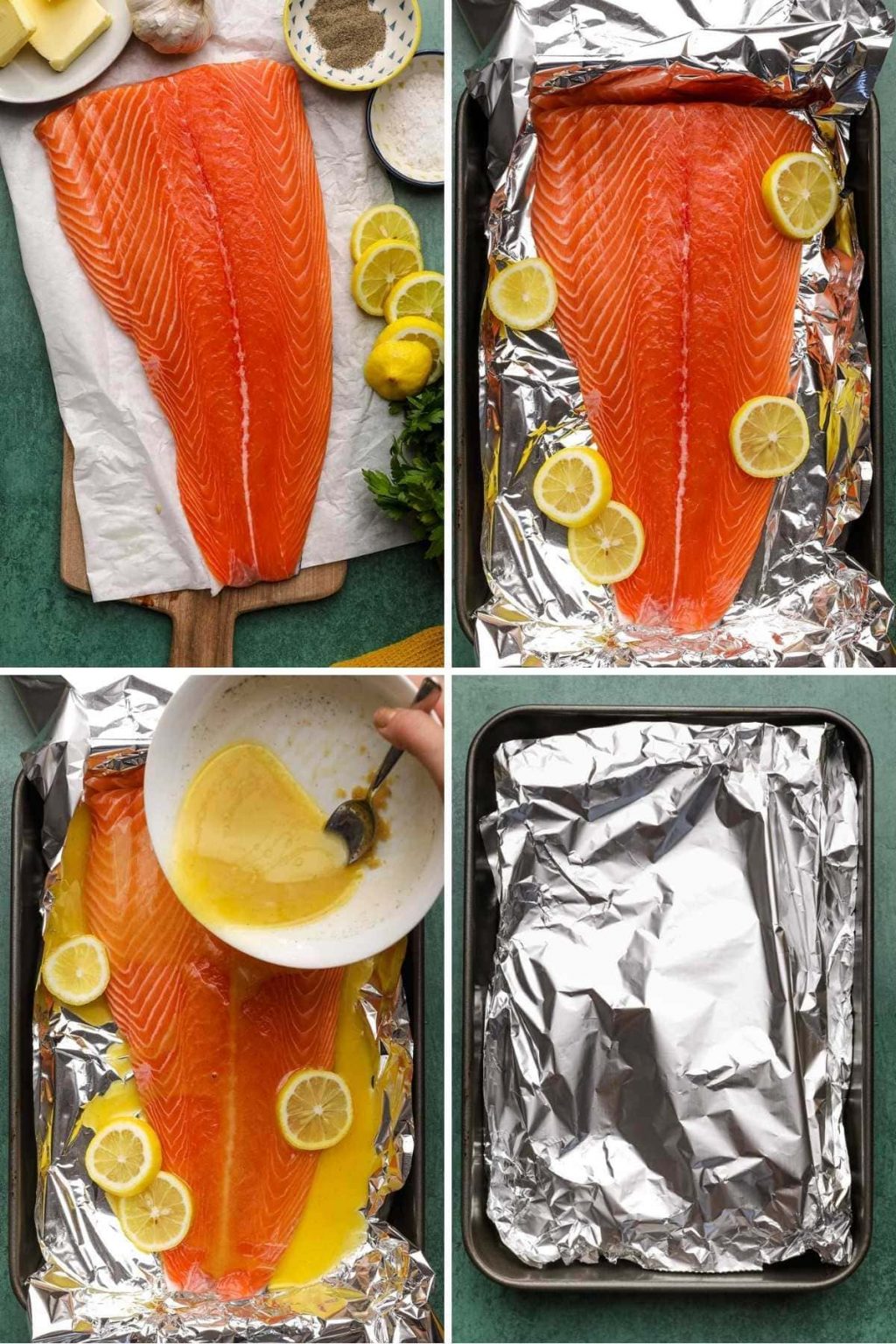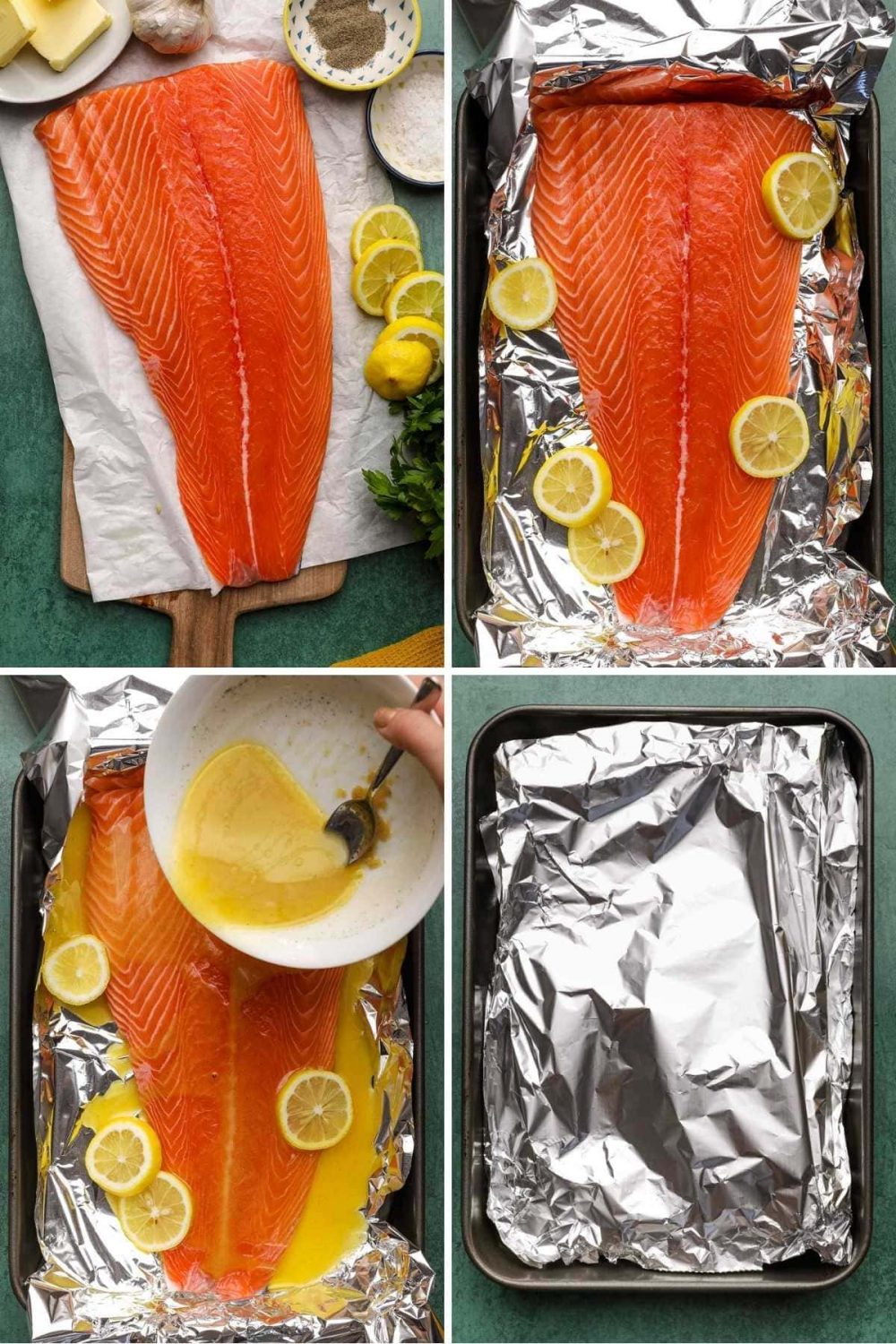 Frequently Asked Questions About Garlic Butter Salmon
Why Wrap Salmon Fillet in Foil?
Tenting aluminum foil around the salmon is a critical step in this Easy Baked Salmon recipe. The foil serves to trap moisture, preventing the salmon from drying out during baking. Furthermore, it helps amalgamate and retain all the flavors, allowing them to meld into the Lemon Garlic Butter Salmon.
What if the Salmon I purchased is not fully deboned?
Before you begin preparing your Salmon, ensure that it is completely deboned. Run your fingers along the length of the salmon, checking for any remaining bones. If you detect any, use a small pair of needle-nose pliers to gently remove them. Press down softly on the tender salmon meat with your fingers, grasp the tip of the bone with pliers, and extract it at the same angle it is positioned.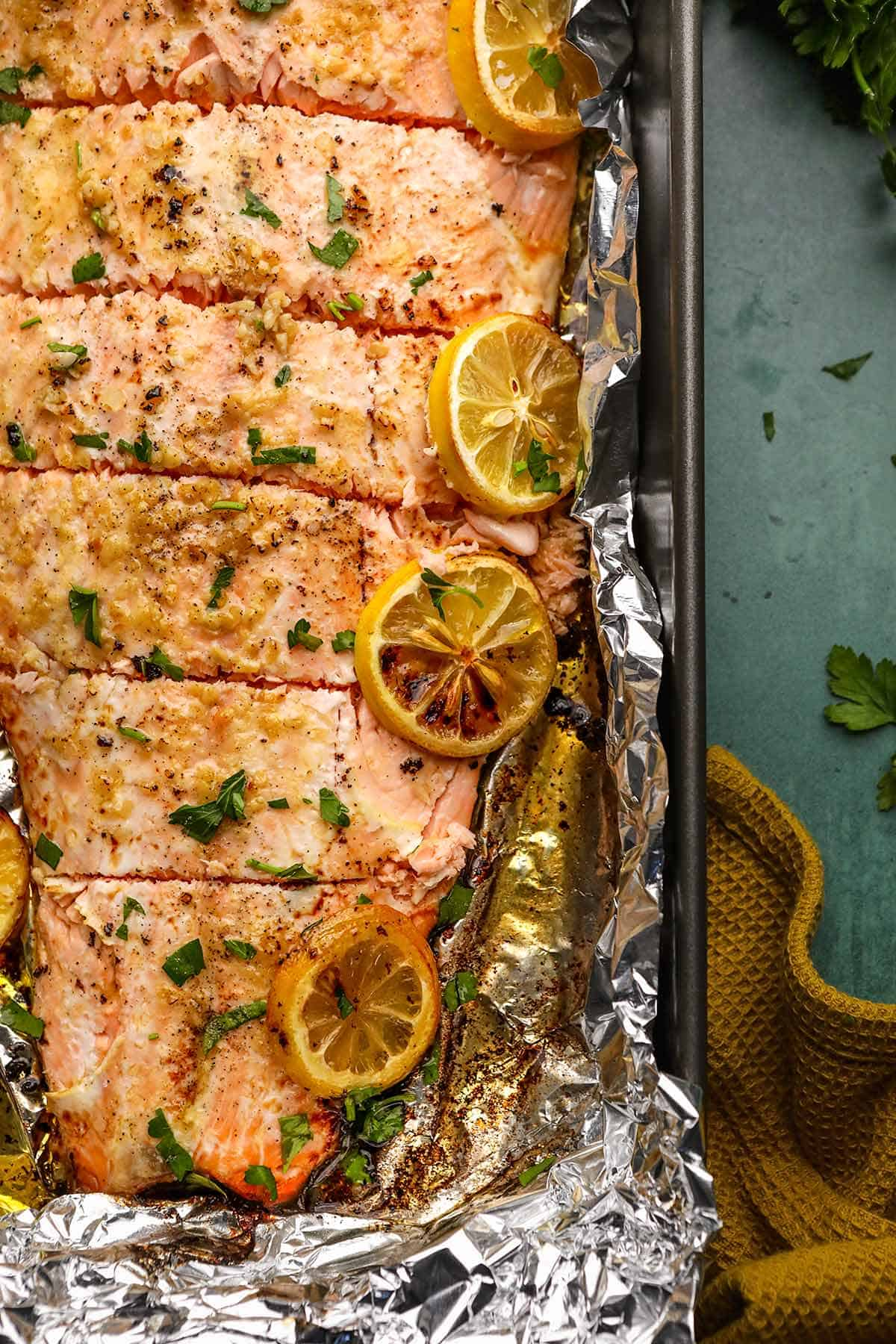 Variations on Garlic Butter Salmon
Sauce Mix-ins: Elevate the flavor profile of your cooked salmon by experimenting with various ingredients mixed into the garlic butter recipe. To introduce a touch of sweetness, consider incorporating honey for Honey Garlic Salmon. Alternatively, you can substitute honey with brown sugar if unavailable. Experiment with Dijon mustard or fresh herbs for alternative butter sauce variations.
Dairy-Free: Should you require a dairy-free Garlic Salmon option, simply replace the butter in the salmon recipe. Most grocery stores offer vegan butter alternatives. Alternatively, consider using coconut oil or olive oil as a substitute for butter.
Add-ins: Infuse your Baked Salmon recipe with diverse seasonings and add-ins to explore a spectrum of flavors. Sprinkle fresh or dried parsley on the cooked salmon before serving. Alternatively, you can incorporate Cajun seasoning, red pepper flakes, rosemary, or dill into your preparation.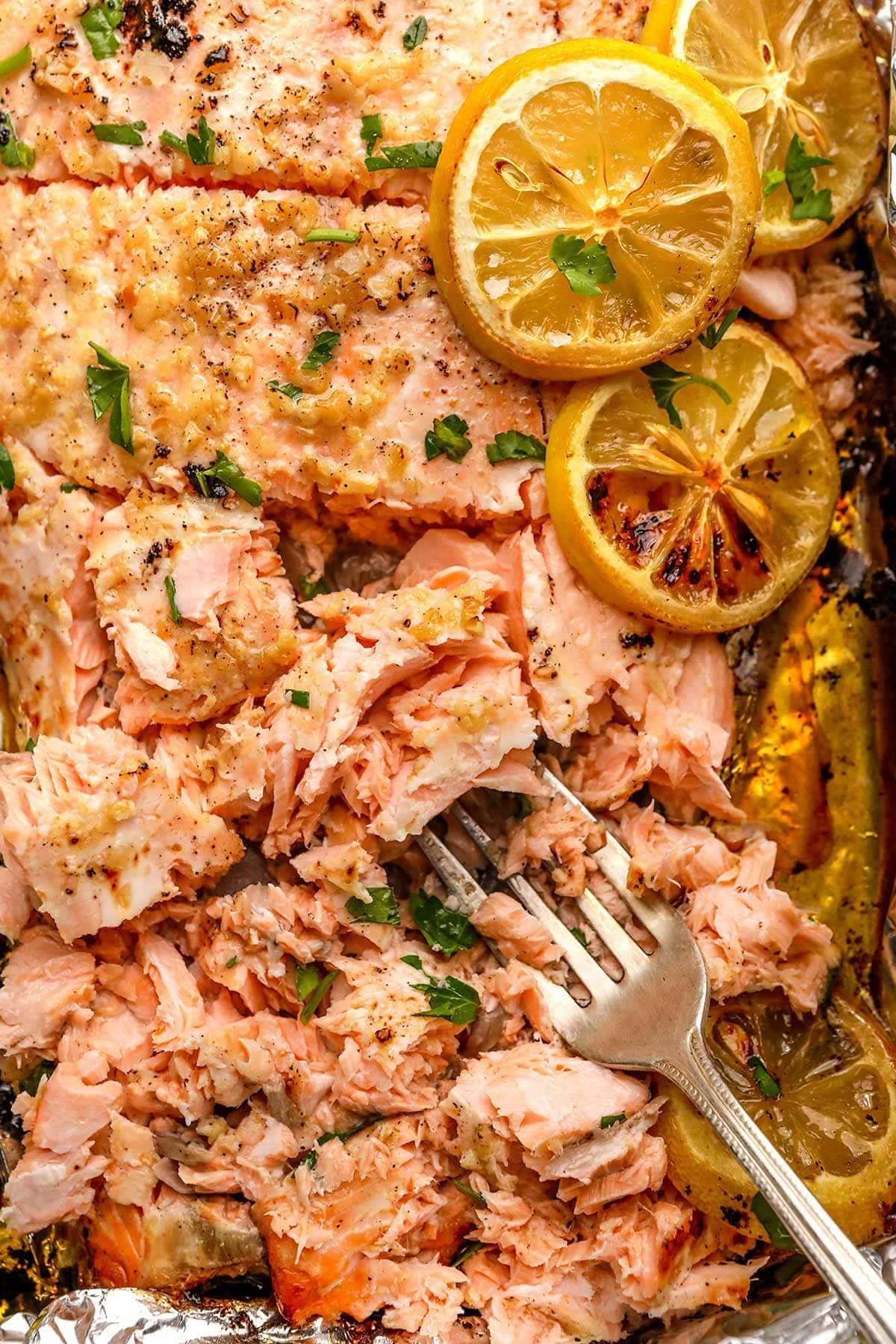 Serving Ideas for Garlic Butter Salmon
Dinner: Present Garlic Butter Salmon as a delectable dinner alongside your preferred vegetables. Green vegetables, such as Brussels Sprouts, Green Beans Almondine, or Broccoli, complement salmon beautifully. Alternatively, pair the salmon with white rice or brown rice for a satisfying meal.
Salad: Serve warm salmon atop your favorite salad. You can also use leftover salmon by chopping it and adding it to a cold or reheated salad. Garlic Butter Salmon makes an excellent light lunch option, accompanied by a side salad.
Bowls: Whip up delectable Garlic Butter Salmon bowls for a speedy lunch. Use fresh or leftover salmon to crown a bowl filled with vegetables, rice, or pasta. You can incorporate small vegetables like peas or corn, a bagged assortment of frozen chopped vegetables, or your favorite vegetable selections. For a low-carb bowl, omit the rice or pasta, and consider including quinoa for added nutritional value.
How to Store Garlic Butter Salmon
Serve: Do not allow your salmon recipe to remain at room temperature for more than 2 hours.
Store: Seal your Baked Salmon tightly in an airtight container or wrap it securely. It will keep well in the refrigerator for 3-5 days.
Freeze: This recipe is also freezer-friendly, with a storage life of 2-3 months. When ready to reheat, allow the salmon to thaw in the refrigerator and then reheat it in a skillet. Prepare a fresh sauce to rejuvenate the flavors.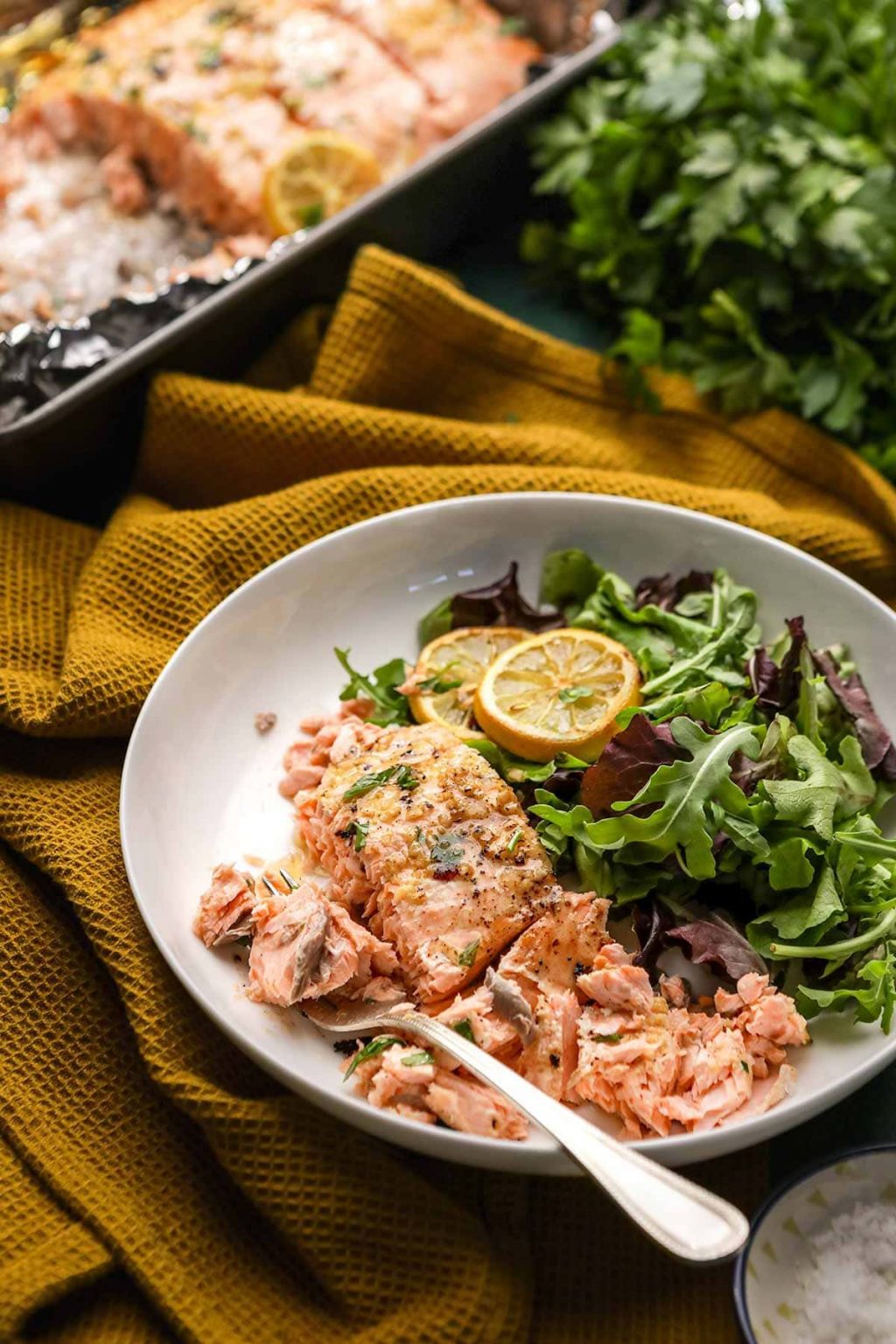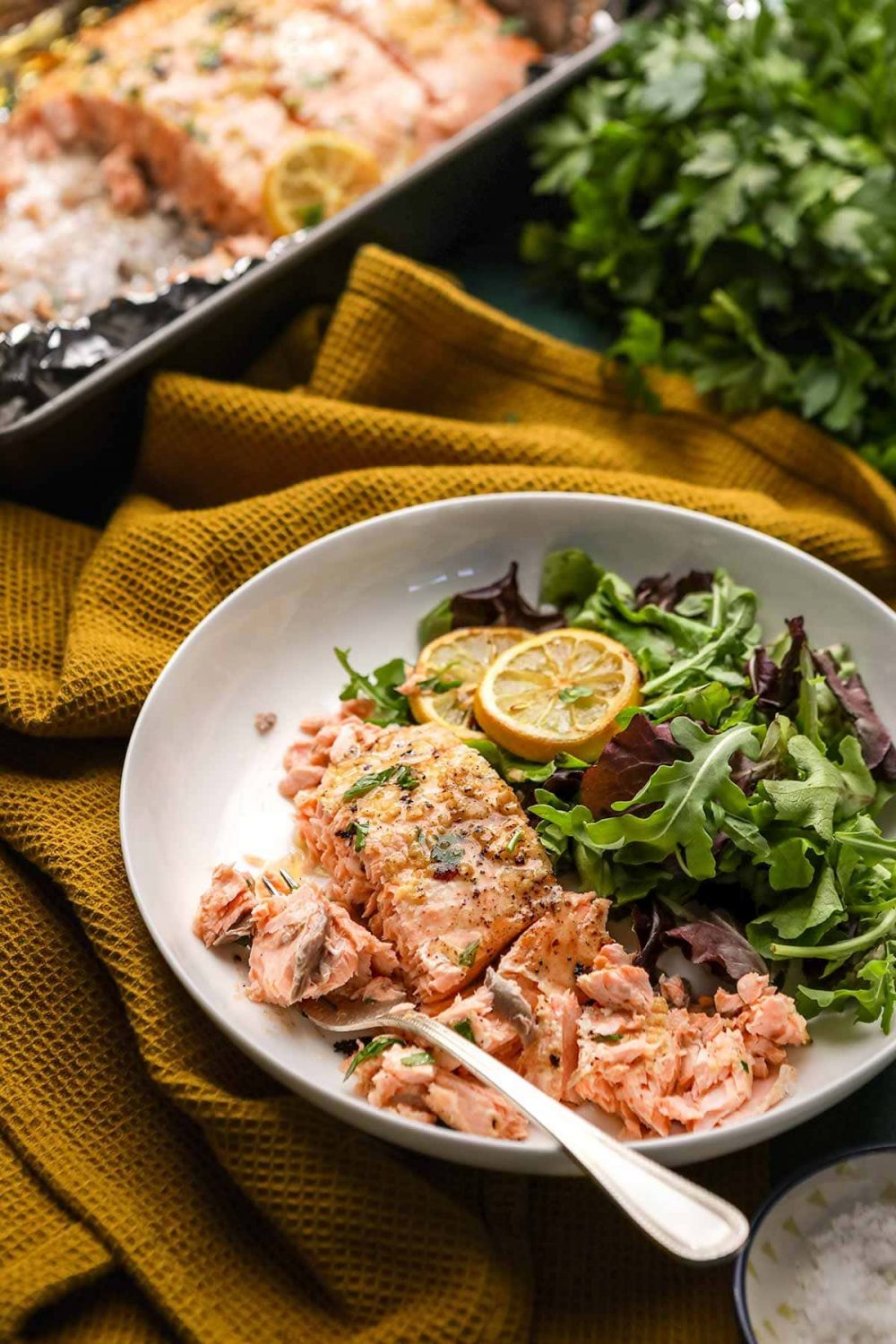 Ingredients:
2 pounds salmon fillet, deboned
4 tablespoons unsalted butter, melted
4 cloves garlic, minced
1 tablespoon lemon juice
1 teaspoon kosher salt
1/2 teaspoon coarse ground black pepper
Instructions:
Preheat your oven to 375 degrees Fahrenheit (190 degrees Celsius). Line a baking pan with aluminum foil, ensuring it's large enough to enclose the salmon without touching it.
Place the salmon fillet, skin-side down, in the prepared pan. Leaving the skin on serves as protection, preventing the meat from burning or drying out.
In a small bowl, whisk together the melted butter, minced garlic, lemon juice, kosher salt, and coarse ground black pepper.
Pour the garlic butter mixture evenly over the salmon fillet.
Carefully fold the aluminum foil over the salmon, creating a sealed packet. Ensure the foil does not touch the fish directly.
Bake the salmon in the preheated oven for 15-18 minutes. You can adjust the cooking time based on your preferred level of doneness, but ensure the internal temperature of the salmon reaches 145 degrees Fahrenheit (63 degrees Celsius) for safe consumption.
When removing the salmon from the oven, take care when opening the foil to avoid being scalded by the hot steam.
Cut the salmon into individual portions and serve with a lemon wedge garnish, if desired.
Enjoy your delightful Garlic Butter Salmon!