If you're looking for a quick and easy dish to bring to your next summer BBQ or a light lunch option, consider making Orzo Pasta Salad! This dish is healthier than many other side dishes, and the kids will love it too. It's packed with fresh vegetables, like red peppers, broccoli, cherry tomatoes, and bell peppers, which not only add flavor but also provide a variety of benefits. The shallot in this salad is milder than an onion and adds a bit of garlic flavor, while the salami and feta cheese add saltiness to the whole thing.
Orzo pasta is a type of short-cut pasta that looks like a large grain of rice but is still considered a pasta. You can find orzo in the pasta aisle of almost all major grocery stores. Cooking orzo for pasta salad is simple: just bring a large pot of lightly salted water to a boil, add the pasta, and cook for 8 to 10 minutes or until al dente. Rinse the pasta with cold water to cool it completely before adding it to the dish.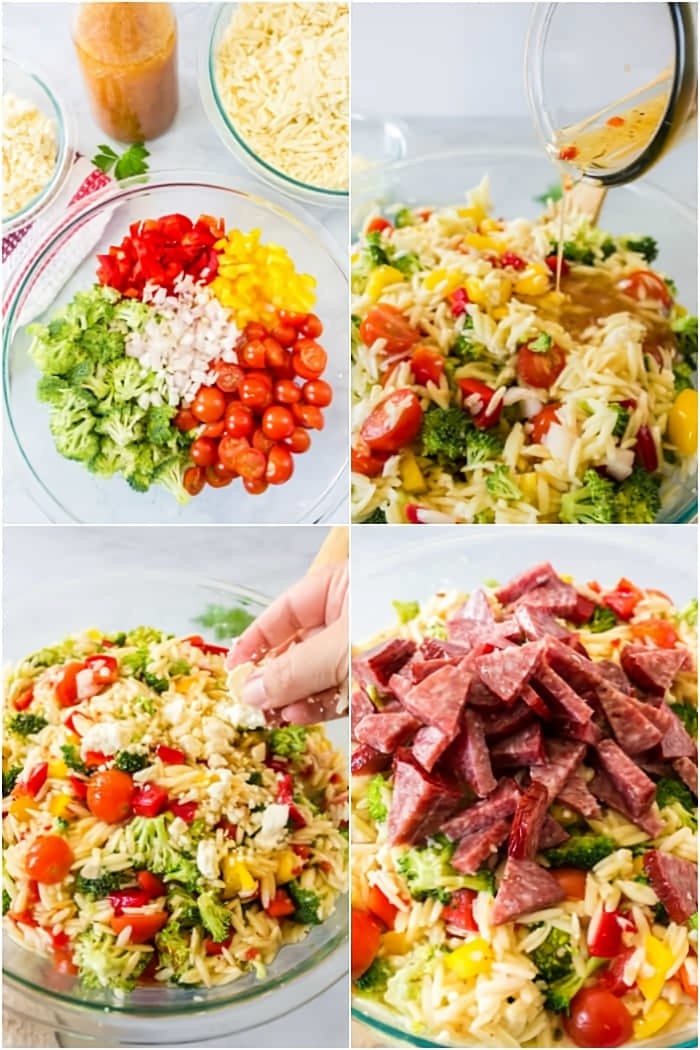 The ingredients for this orzo pasta salad recipe include orzo pasta, hard salami, head of broccoli, red bell pepper, yellow bell pepper, cherry tomatoes, feta cheese crumbles (or goat cheese), shallot, and Quick and Easy Italian Dressing. The dressing is super simple to make with ingredients you likely already have in your kitchen. You can also use your favorite premade bottle from the grocery store or swap out the Italian dressing for another type, such as a simple vinaigrette.
If you want to add more veggies or meat to this dish, some great options include red onion, bacon bits, cauliflower, olives, garbanzo beans, or grilled chicken. You can serve this dish as a party side dish or as the main dish for a lighter meal like lunch.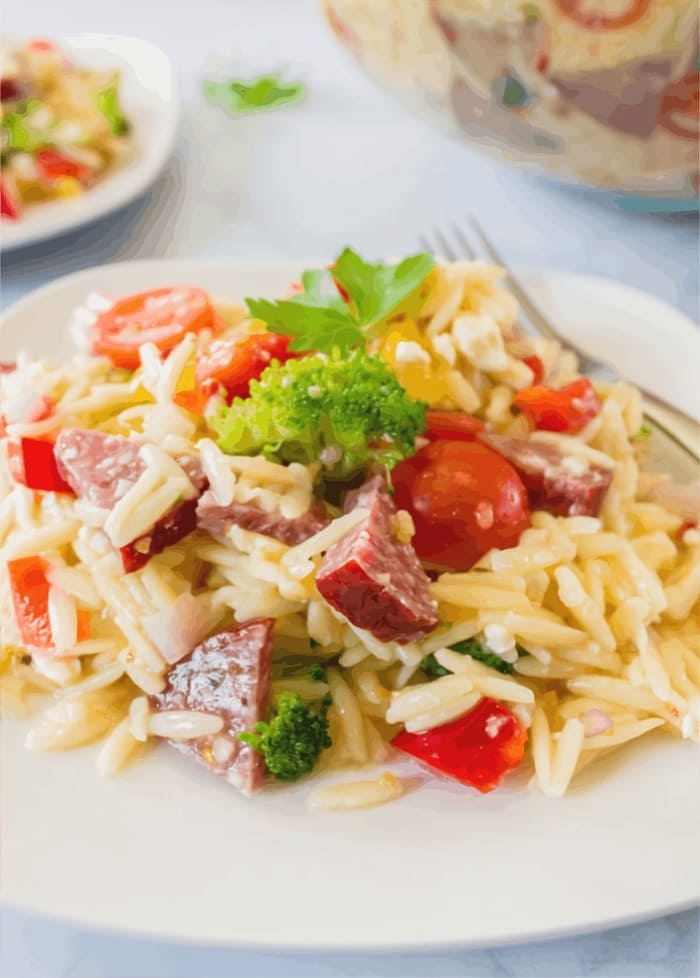 You can even make it ahead of time and store it in the refrigerator for up to four days in an airtight container or covered in plastic wrap. So go ahead and give this delicious and colorful Orzo Pasta Salad a try at your next gathering!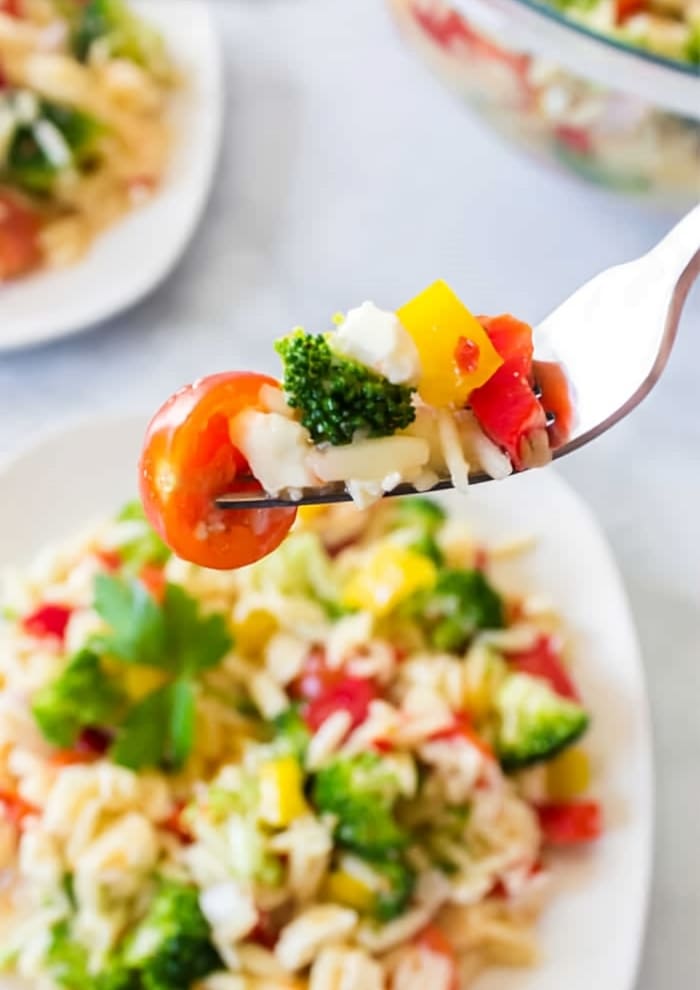 Ingredients
1 pound orzo pasta
7 ounces hard salami chopped
1 head broccoli chopped into bite-sized pieces
1 red bell pepper
1 yellow bell pepper
1 cup cherry tomatoes halved
1 cup feta cheese crumbles crumbled
1 shallot diced
Quick and Easy Italian dressing (about 1 cup)
Instructions
To start, you'll need one pound of orzo pasta. Cook the pasta according to the instructions on the package, then drain and rinse it under cold water to stop the cooking process.
Next, it's time to add in the flavorful ingredients that make this pasta salad so delicious! You'll want to chop up seven ounces of hard salami, one head of broccoli (chopped into bite-sized pieces), one red bell pepper, one yellow bell pepper, and one cup of cherry tomatoes (halved). Add all of these ingredients to a large mixing bowl along with one cup of crumbled feta cheese and one diced shallot.
To finish the dish, pour about one cup of Quick and Easy Italian dressing over everything in the bowl. Gently stir everything together until all of the ingredients are coated in the dressing. Then, cover the bowl with plastic wrap and refrigerate it until you're ready to serve.
This pasta salad is a great option for a side dish at a potluck, barbecue, or any other type of gathering. It's easy to make, packed with flavor, and sure to impress your guests. So why not give this amazing orzo pasta salad recipe a try at your next event? Your taste buds will thank you!