Corn and Sausage Gnocchi is a mouthwatering dish that effortlessly brings together flavors for a delightful culinary experience. Gnocchi, originating in Northern Italy, is a type of dumpling with a rich history in European cuisine. Although commonly referred to as pasta, gnocchi's light, airy texture and distinctive potato flavor set it apart. While you can purchase gnocchi from the freezer section of your local grocery store, making it from scratch is also an option. In this article, we'll explore a recipe for homemade gnocchi and guide you through the process of preparing this savory dish.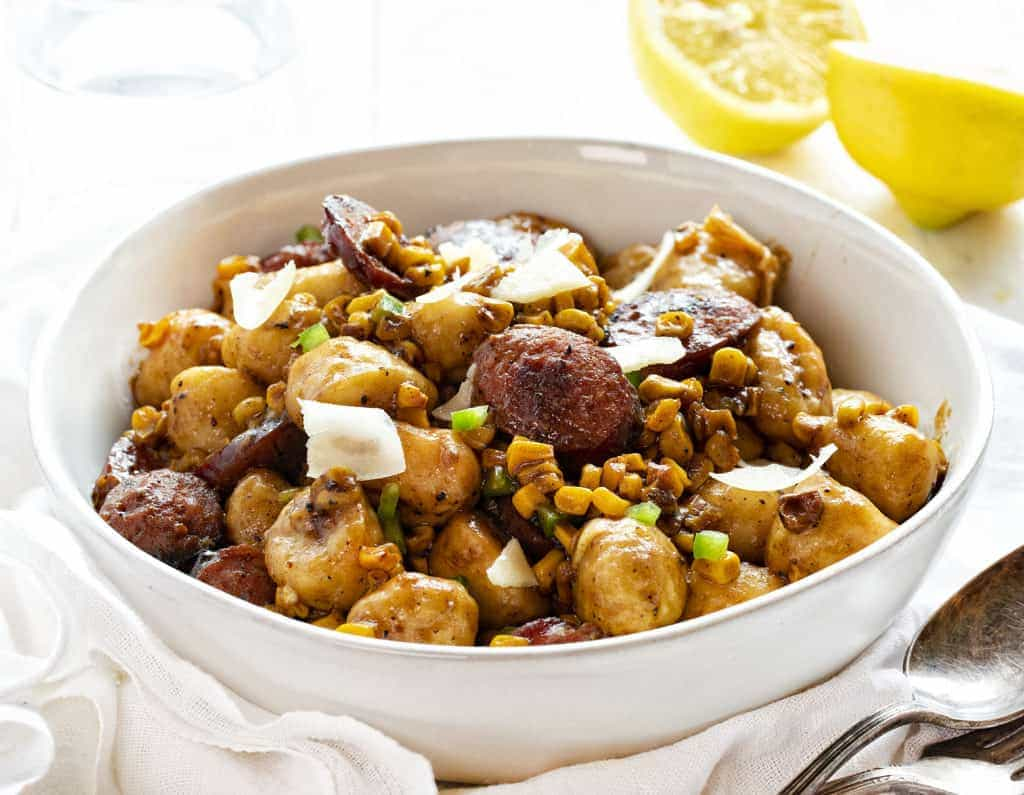 The Art of Gnocchi-Making
Crafting your own gnocchi can be a rewarding culinary adventure, but for convenience, this recipe employs frozen gnocchi. Traditionally, gnocchi is made by combining potatoes and flour, resulting in bite-sized balls of dough.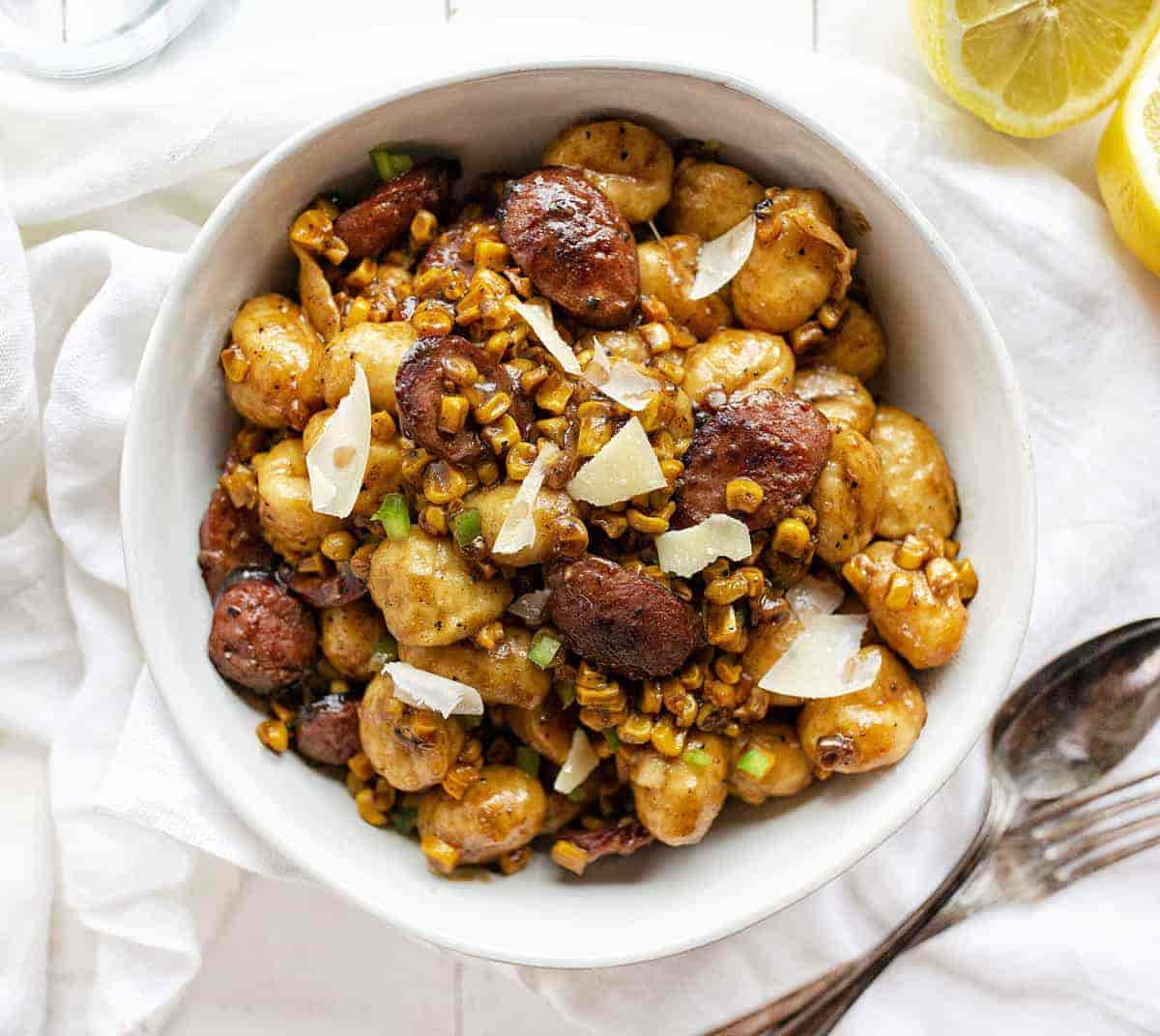 Here's a simple recipe to make Homemade Gnocchi:
Ingredients:
2 potatoes
2 cups all-purpose flour
1 egg
Instructions:
Begin by bringing a large pot of salted water to a boil. Peel the potatoes and add them to the pot. Cook until tender but still firm, approximately 15 minutes. Drain, allow them to cool, and then mash them.
In a large bowl, combine 1 cup of mashed potatoes, flour, and the egg. Knead the mixture until the dough forms a ball. Shape small portions of the dough into long "snakes." On a floured surface, cut the snakes into half-inch pieces. For added texture, roll each piece slowly under a fork.
Bring another large pot of lightly salted water to a boil. Drop the gnocchi into the boiling water and cook for 3 to 5 minutes, or until the gnocchi rises to the surface. Use a hand-strainer to remove the cooked gnocchi, then add it to the dish.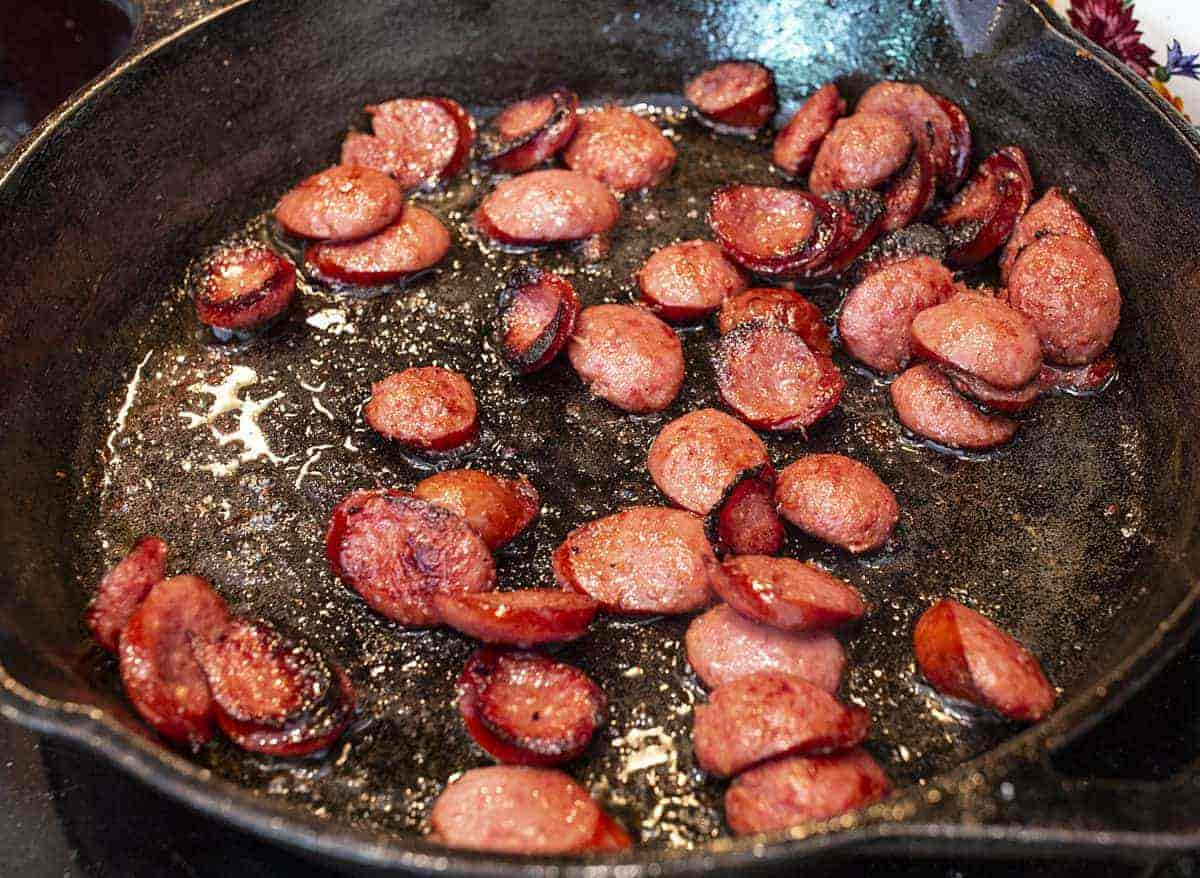 Preparing the Summer Sausage
Beef summer sausage adds a slightly sweet and hearty touch to this gnocchi dish. For optimal results, it's recommended to cook the summer sausage separately. However, if pressed for time, you can also add it to the roasted corn.
To prepare the summer sausage:
Begin by cutting the summer sausage ring diagonally. While not necessary, this adds an element of fun to the dish.
Heat a tablespoon of oil in a large skillet or sauté pan over medium heat. Add the sliced summer sausage, arranging it in an even layer using tongs. Allow it to cook for approximately 3 minutes, then flip the pieces over to cook the other side. Cook for a total of 6 minutes. Drain any excess oil but do not wipe out the pan.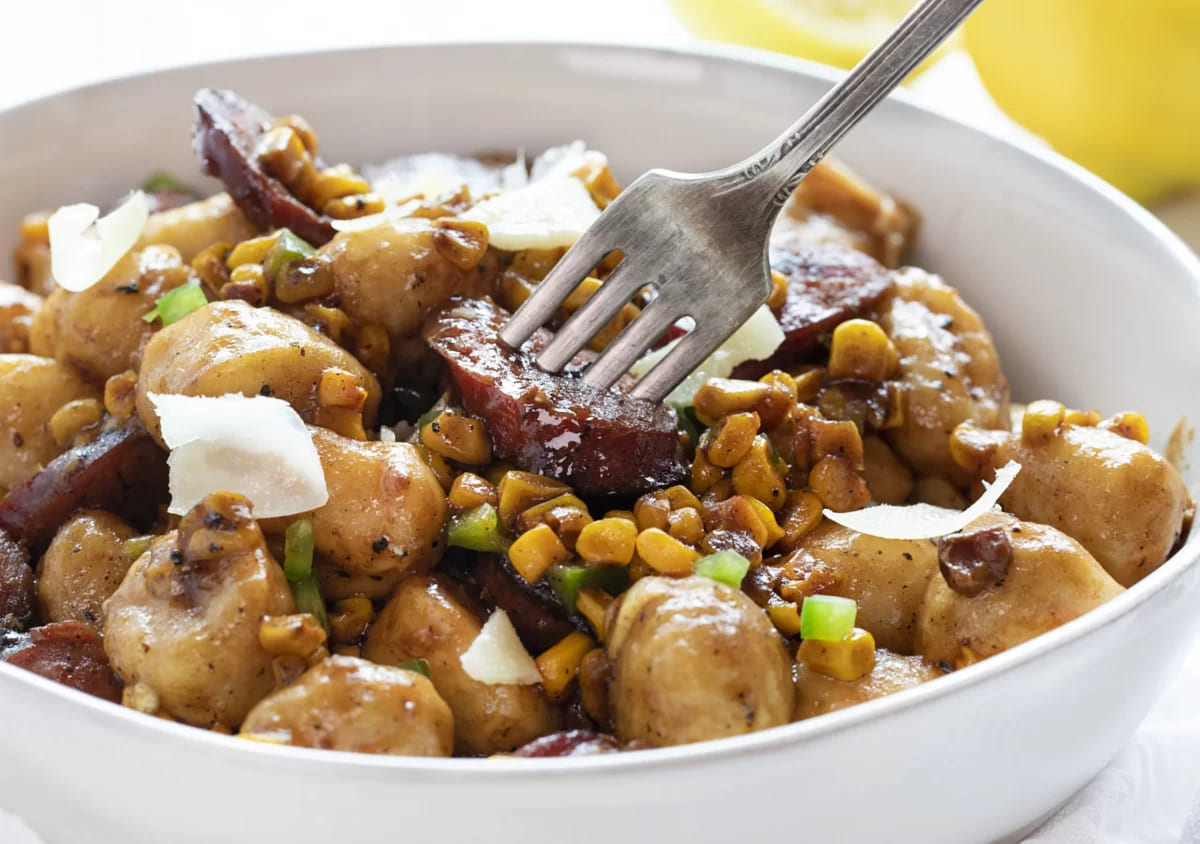 Storing Corn and Sausage Gnocchi
To store any leftover Corn and Sausage Gnocchi, simply place it in an airtight container and refrigerate for up to 3 days. When reheating, you have the option to warm it on the stove-top in a skillet with a little oil or use the microwave.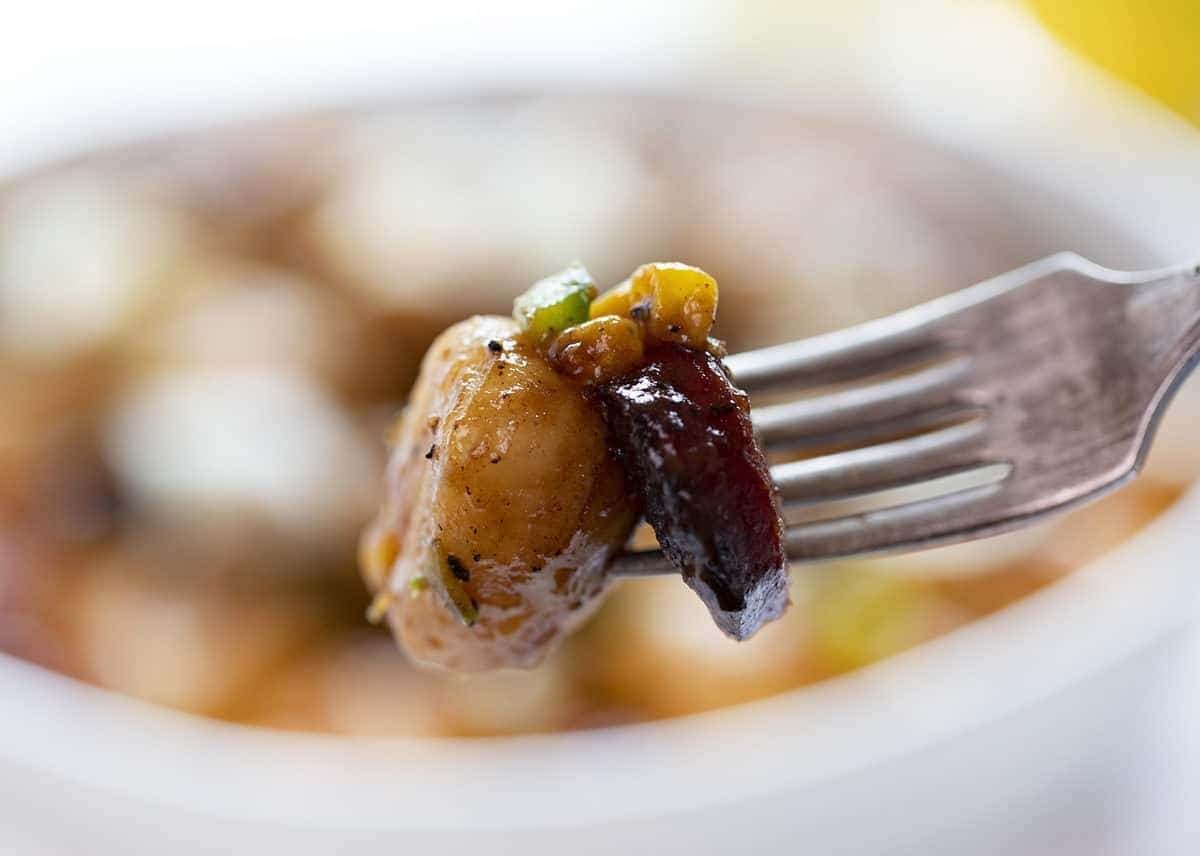 Recipe for Corn and Sausage Gnocchi
Ingredients:
1 package (16 ounces) gnocchi, cooked and drained (reserving a cup of pasta water)
12 ounces beef smoked sausage, diagonally sliced into ½-inch pieces
2 cans (15 ounces each) sweet corn, drained
2 tablespoons extra-virgin olive oil, divided
2 tablespoons unsalted butter
Juice of 1 medium lemon
¼ cup grated parmesan cheese
1 medium jalapeño pepper, seeded and diced
Instructions:
Preheat your oven to broil. Place the drained sweet corn in an even layer on a rimmed baking sheet and drizzle it with 1 tablespoon of olive oil. Season with salt and pepper, then broil for approximately 8 minutes or until the corn is nicely charred.
In a large skillet, heat the remaining tablespoon of olive oil. Add the sliced sausage to the pan and arrange it in an even layer. Sear both sides for about 3 minutes per side until they develop a beautiful caramelized color.
Once the sausage is cooked, add the roasted corn and the cooked gnocchi to the skillet. Pour in the reserved pasta water to moisten the dish and enhance its flavors. Mix everything together well and remove the skillet from heat.
Add the unsalted butter, grated parmesan cheese, the juice of one lemon, and the diced jalapeño to the skillet. Stir the ingredients thoroughly to combine their flavors. For individual servings, you can reserve a little parmesan and jalapeño as toppings.
Serve the Corn and Sausage Gnocchi hot, and if desired, garnish with the reserved parmesan and jalapeño. The dish is now ready to be enjoyed!
Conclusion
Corn and Sausage Gnocchi is a delectable dish that showcases the unique flavors of gnocchi, roasted corn, and savory sausage. With a straightforward recipe for homemade gnocchi and simple cooking techniques, you can easily recreate this delightful meal. Whether you choose to make the gnocchi from scratch or use frozen ones, the result will be a satisfying dish that combines the creaminess of gnocchi with the smoky richness of sausage and the charred sweetness of corn. Give this recipe a try and indulge in a scrumptious plate of Corn and Sausage Gnocchi today!