This recipe for marinating meat for a kebab is very good help when you need to cook quickly. Marinating time is quite enough for an hour.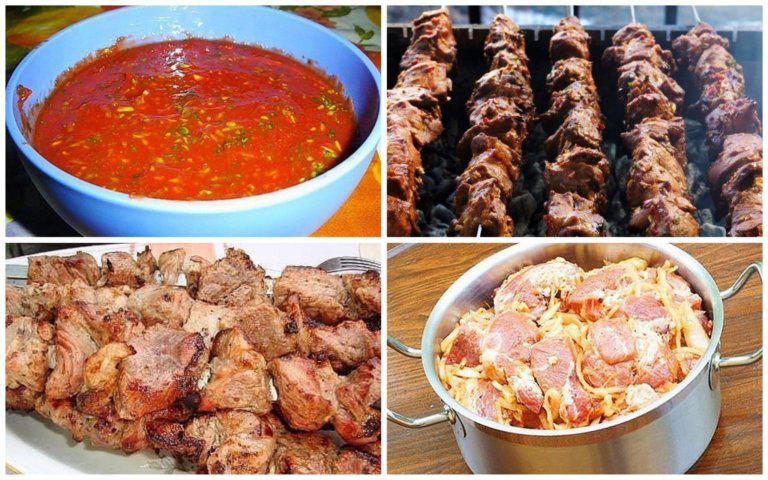 The amount of marinade in the recipe for 1.5- 2 kilograms of meat. Pour 150 – 200 ml. vegetable oil at the bottom of the pan. Then we add spices: red and black pepper, you can add a little ground spice, coriander, dried coriander (very little). Great is baked suneli. In general, herbs to your taste.
Try to cut the meat not very small pieces, so the kebab will be juicier.
Now the onions! We will need a lot of onions! For this amount of meat, it is necessary to take not less than 0.5 kilograms of small onions. It is very important to peel so that the tails and spouts remain uncut. Cut the onion lengthwise into four pieces. If very small, you can additionally grate them and put to the marinade.
The prepared meat (the best way is the pork neck) should be well coated in marinade, we shift the onions and leave for marinating.
When put on a skewer, it is important to pierce the onion from the inner edge of each piece. Then you will appreciate the grilled onions! Noses and tails will burn and remain a delicious grilled onion with meat.
An unusual marinade, isn't it?
Thanks to the oil, which melts and burns, heats the meat from the inside does not let it dry out!
The only disadvantage is that the fat drips on the coals more than usual. In this case, you need to watch and stew the fire more often.
It is very important not to leave the meat unattended for even a minute and to turn it as often as possible!
Try making kebab with this recipe, and it's quite possible it will become your favorite!