Experience the enchantment of the Supreme Fiesta Bean Delight—an exquisite fusion of refried beans, velvety cream cheese, zesty salsa, tantalizing cheddar, and flavorful taco seasoning. Elevating your gatherings and game days, this dip stands as the pinnacle of indulgence, gracing your table in a mere 5 minutes.
Indulge in the Supreme Bean Dip
Unveil the ultimate party or game day companion—the Supreme Bean Dip. With a harmonious symphony of savory refried beans, creamy cream cheese, spicy salsa, shredded cheddar, and spirited taco seasoning, it stands as the embodiment of culinary artistry.
Crafting this dip is a swift affair, requiring a mere five minutes of your time. The consensus is unanimous—this dip is a crowd-pleaser. A celebration of creaminess and cheesiness, it gracefully accompanies tortilla chips or adorns a nacho ensemble with a lavish dollop of sour cream.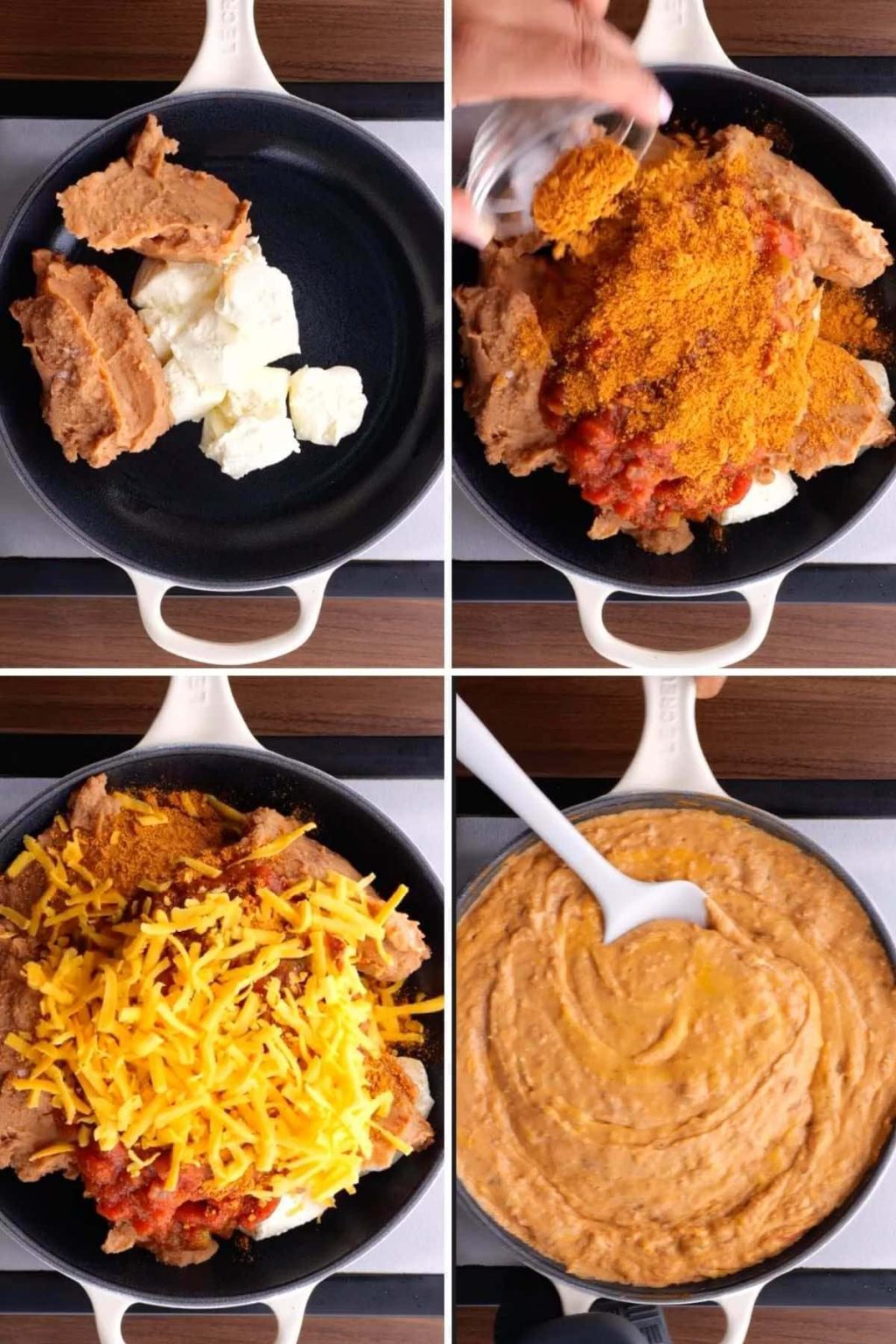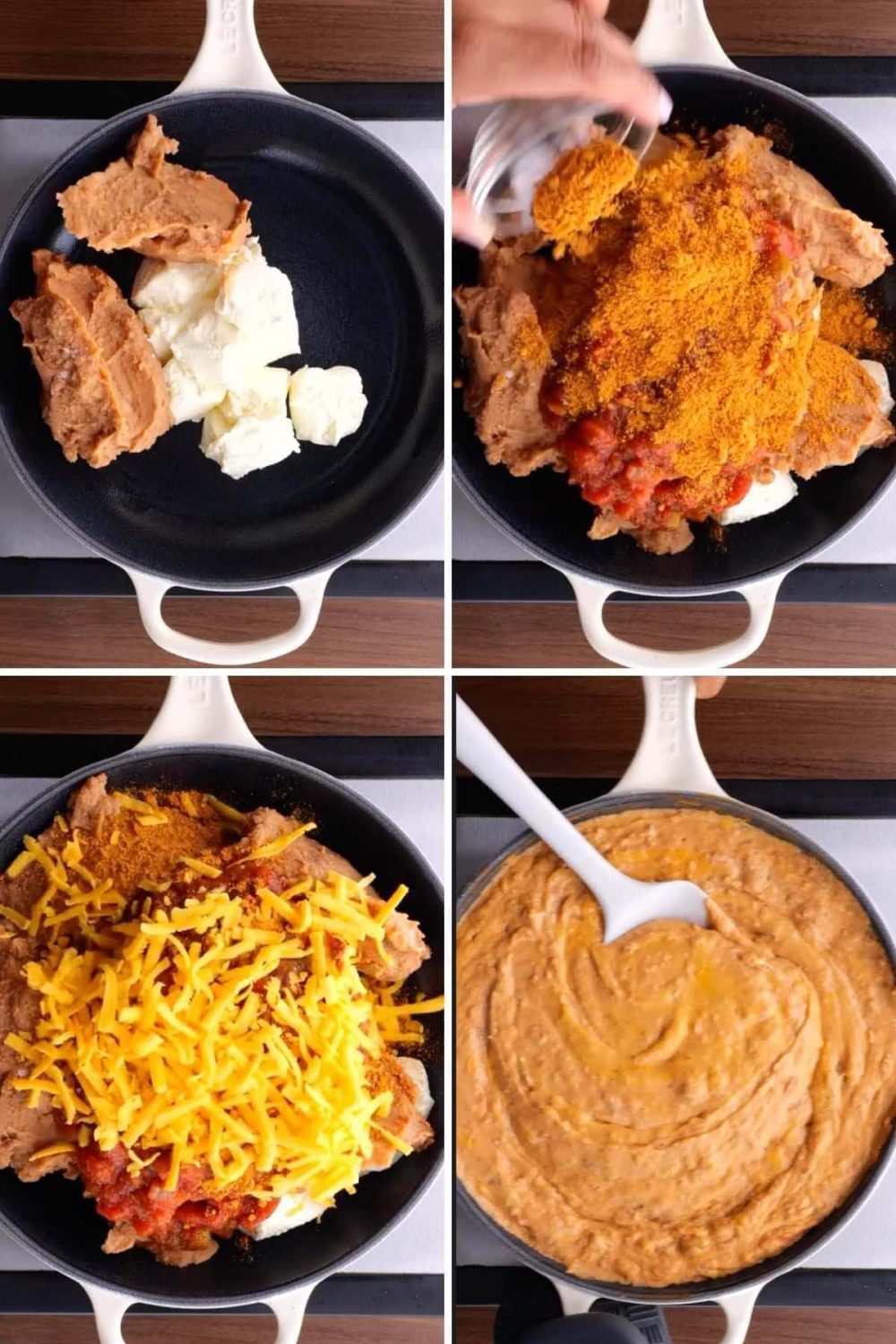 A Vivid Garnish
To add a burst of color to the warm embrace of this brown dip, consider garnishing with freshly chopped green onions, chives, or cilantro. The vibrancy of these embellishments harmonizes with the decadent texture, enhancing both flavor and presentation.
Efficiency at its Best
Embrace the practicality of prepping this dip ahead of time—the day before the celebration. This thoughtful move ensures one less task on the day of the festivity. A swift reheat on the stove for 2-3 minutes before serving is all it takes to revive its splendor.
A Dash of Heat
For those who relish a spicier note, stir in ¼ teaspoon of cayenne pepper and crown the creation with sliced jalapeños. This journey into flavor territory will undoubtedly dissuade you from resorting to store-bought options.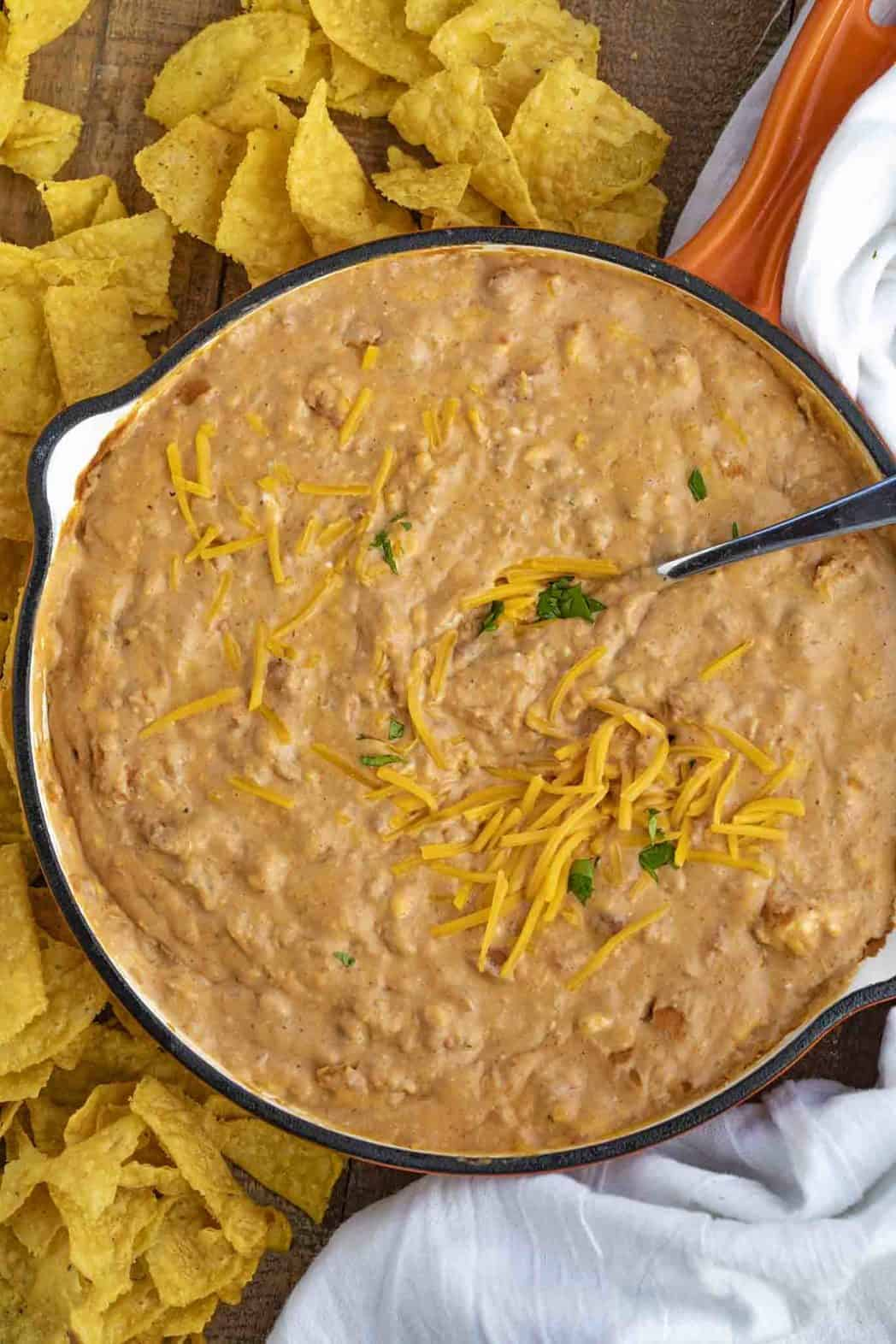 Common Inquiries Addressed:
Can You Prep Bean Dip in Advance?
Indeed, this dip accommodates advance preparation effortlessly. Store it in an airtight container and refrigerate until readiness strikes. A gentle reheat on the stove for 2-3 minutes, with occasional stirring, before serving ensures its triumphant return.
Slow Cooker Transformation for Bean Dip:
Unleash the magic of the slow cooker by orchestrating a seamless rendezvous between all ingredients. Stir them into harmony and let the slow cooker weave its spell—2-3 hours on low, until cheese cascades into molten splendor. Crown with additional shredded cheese and serve.
The Perfect Pairing for Ultimate Bean Dip:
Explore a world of culinary compatibility by presenting Bean Dip with an array of companions: tortilla chips, pretzels, crackers, sliced bell peppers, nachos, or Fritos.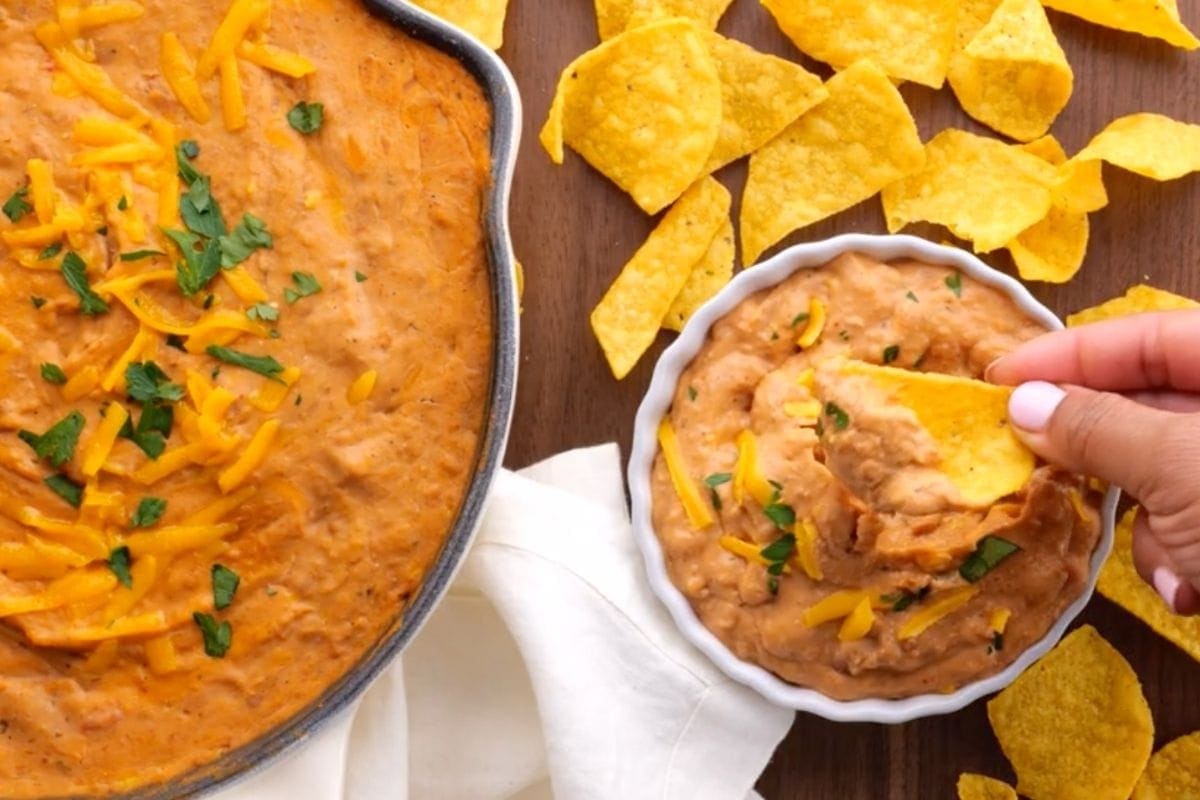 Masterful Tips for Bean Dip Crafting:
Transform this dip into a white bean delicacy by substituting refried beans with pureed white beans.
Incorporate this dip as a layer within a seven-layer bean dip for extra depth.
Infuse a spicier dimension by adding cayenne pepper, diced jalapeños, or hot salsa. Crown with pickled jalapeño slices.
If taco seasoning is absent, summon ½ teaspoon each of cumin, chili powder, and paprika—traditional Tex-Mex flavors at play.
Elevate the dip's flavor profile with a dash of fresh lime juice.
Introduce an added layer of complexity by sautéing chopped onion and garlic in olive oil before introducing other ingredients.
Seek a lighter touch by embracing Neufchatel cheese, low-fat refried beans, and cheese.
Substituting cream cheese with sour cream imparts a slightly lighter texture.
Storage Wisdom for Supreme Bean Dip:
Serving: The dip flourishes at room temperature for up to 2 hours, or can be kept warm in a small crockpot for 4 hours.
Storage: Seal the Bean Dip within an airtight container and refrigerate for 3-4 days.
Freezing: Embrace the art of freezing by tightly wrapping the dip and placing it in the freezer for 2-3 months. A gentle defrost in the refrigerator or a warming session on the stove or in the microwave, with stirring, restores its glory. Pair with fresh tortilla chips for a triumphant presentation.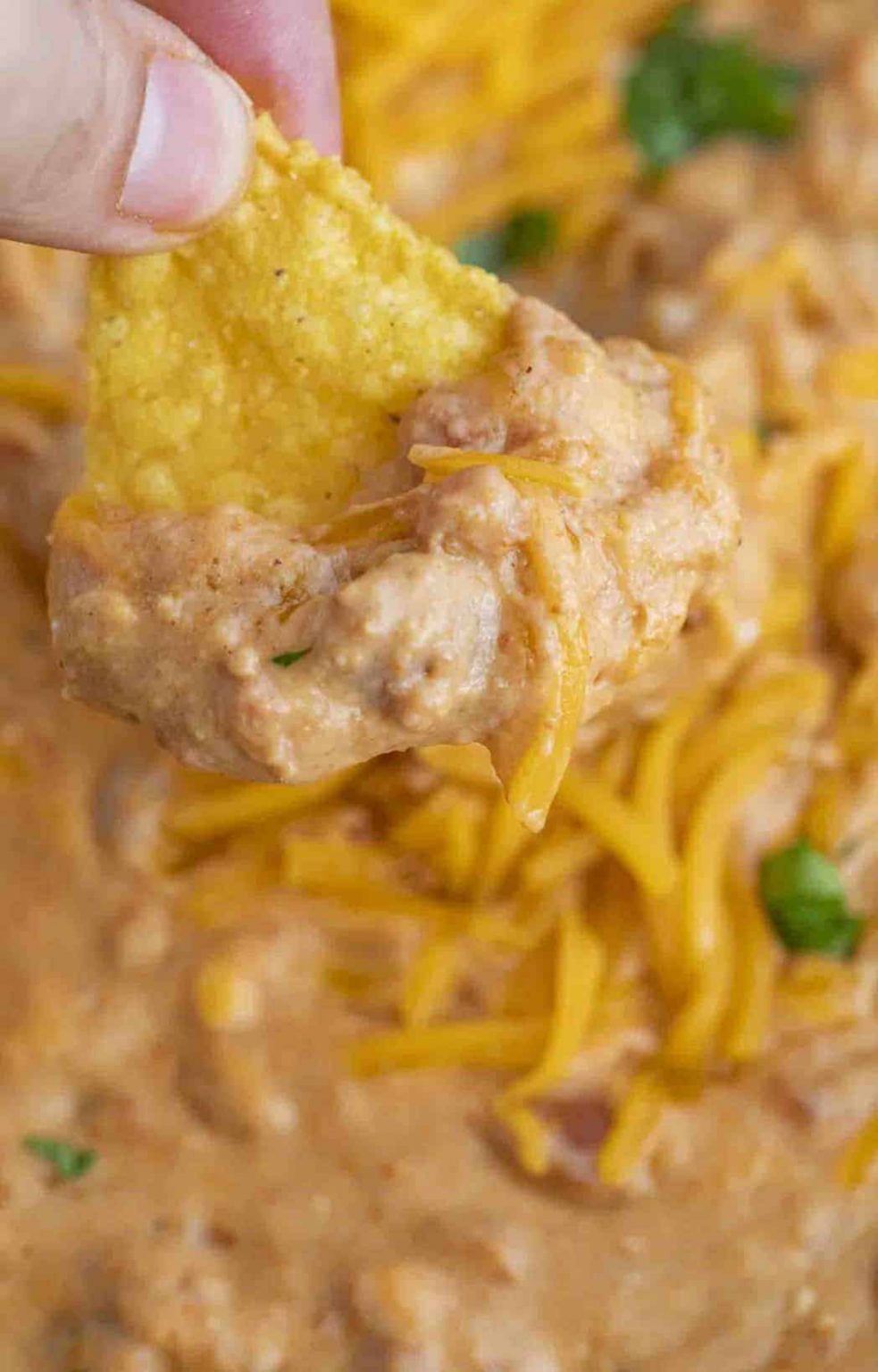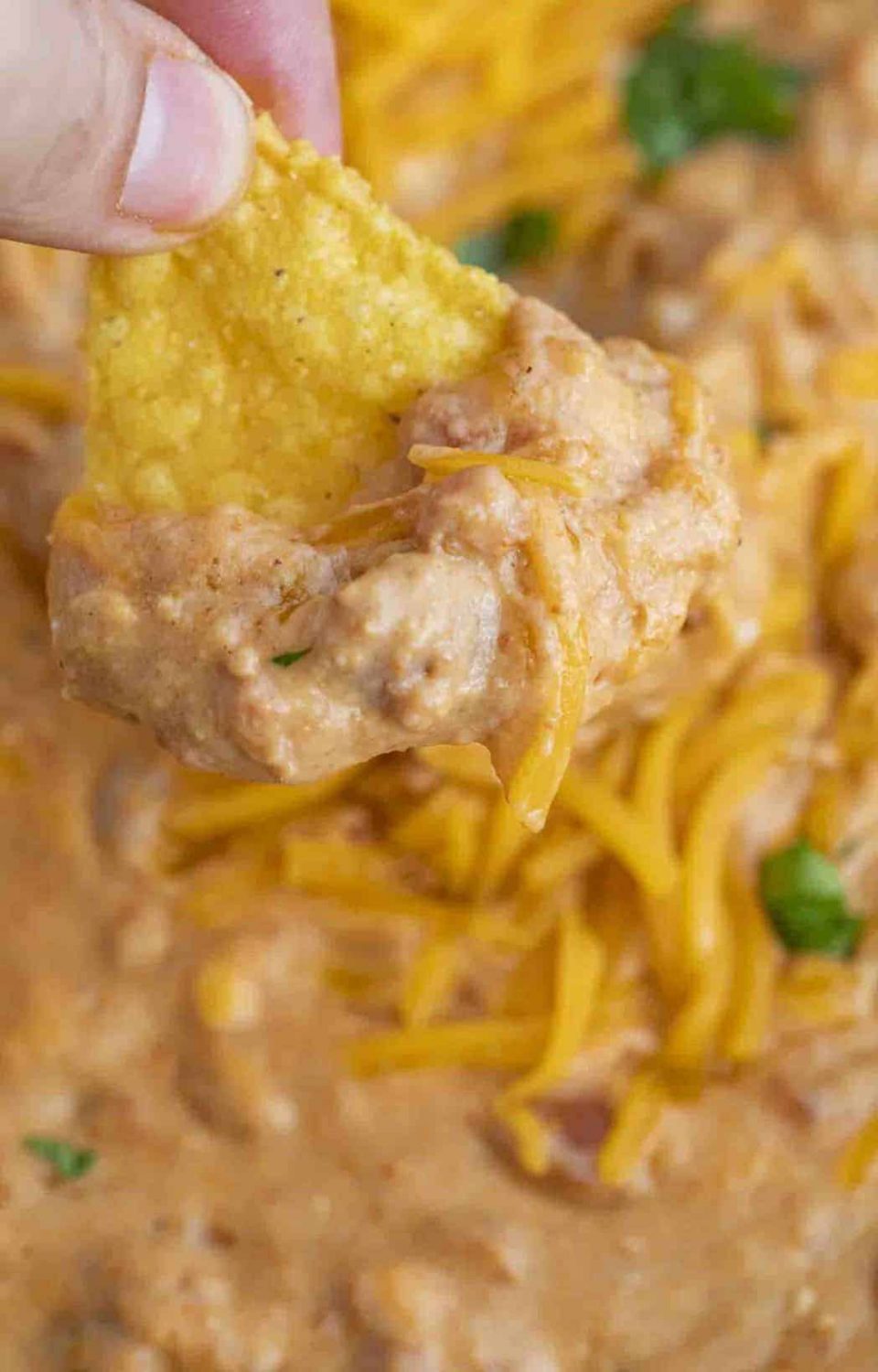 Ingredients for Supreme Indulgence:
8 ounces of softened cream cheese
32 ounces of refried beans
1 cup of zesty salsa
2 tablespoons of spirited taco seasoning
2 cups of grated sharp cheddar cheese
Crafting the Supreme Bean Symphony:
Gather the ensemble of ingredients in a medium saucepan over medium heat. Stir them into a harmonious fusion for 3-5 minutes.
Transition to a gentle simmer to retain warmth until the moment of serving arrives. Transfer the symphony to a serving bowl, presenting the ultimate indulgence.