Among the traditional dishes of Ukrainian cuisine, kruchenyky (croquettes) with mushrooms occupy a place of honor, just like varenyky or holubtsy. And for a housewife, the recipe for pork kruchenyky with mushrooms is also a very convenient recipe, because it can be prepared both for a family dinner and for guests.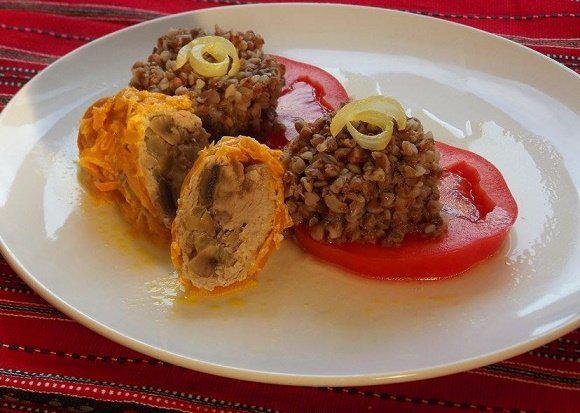 Ingredients
Pork 1 kg
Champignons 200g
Sour cream 20% 50g (2 tablespoons)
Oil 100 ml (7 tablespoons)
Carrots 100 g (1 medium)
Onions 200g (2 pcs.)
Salt 10 g (1 teaspoon)
Ground black pepper 1g (optional)
Bay leaf 1g (2-3 pcs.)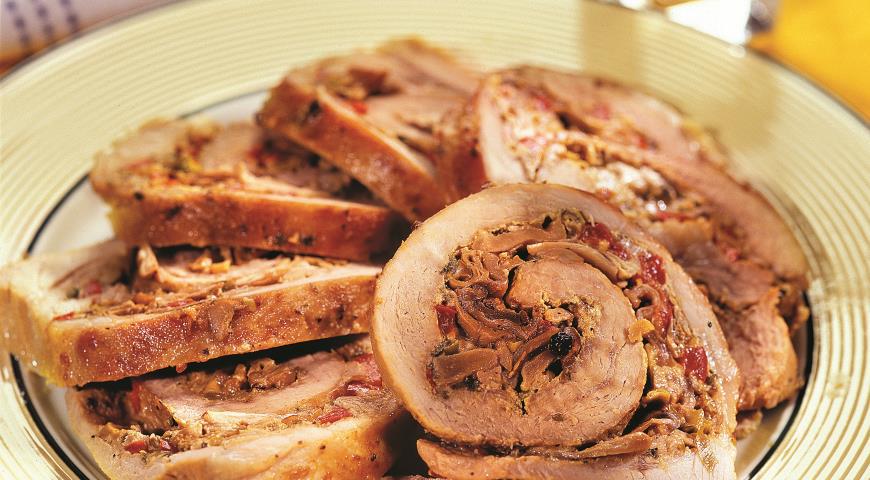 Recipe for Krucheniki with Mushrooms
Step 1.  Prepare the stuffing for the croquettes with mushrooms. Take 1 onion, grate, fry a little in 1 tablespoon of vegetable oil. Wash the mushrooms (quickly, so that they do not absorb a lot of water). Chop the mushrooms and stew with the onion for 5 minutes, without covering. Stuff the croquettes with salt (1/4 teaspoon salt) and pepper to taste.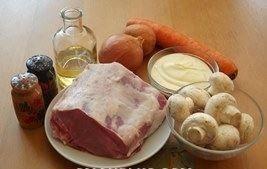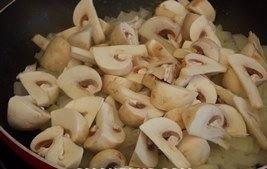 Step 2. Cut the pork into palm-sized pieces about 1 cm thick and beat it well – this will be the "wrapping" for the pork mushroom croquettes.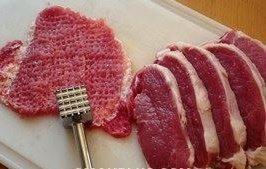 Step 3. Spread the filling on the pieces of pork and roll each one up. There is no need to thread or pierce the pork with a toothpick: the meat will stick quite firmly and the pork will not unroll during frying.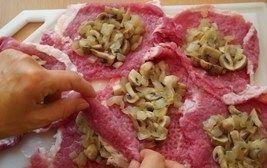 Step 4. Fry the pork and mushroom croquettes on all sides in oil heated to 100 degrees. You can check the temperature of the oil with a kitchen thermometer or, if you do not have a thermometer at hand, make sure that the oil is boiling but not smoking). Remove the croquettes from the pan.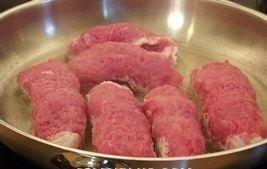 Step 5. In the meantime, chop the remaining onion, grate carrots on a coarse grater. Stew the vegetables in the fat, which is left from frying croquettes. Then add sour cream to the carrots and onions, salt (3/4 teaspoon salt) and pepper, bring everything to a boil.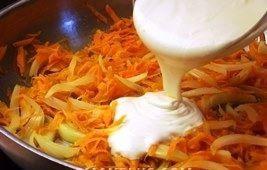 Step 6. Put half of the vegetable dressing in the form together with the bay leaf, mix the croquettes and mushrooms in a single layer on top, then cover the meat with the rest of the vegetables. Cover the form (with a lid or foil). Bake in the oven for 2 hours at 100 degrees.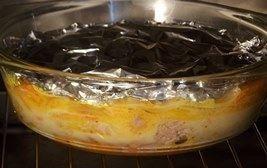 Step 7. Krucheniki with pork mushrooms can be served as a separate dish or with a side dish.
Nutritive value per 100g
Calorie: 302 kcal (high)
Protein: 9.1 g
Fats: 28.7 g
Carbohydrates: 1.9 г