Looking for a delightfully sinful dessert that will satisfy your sweet tooth? Look no further than Skillet Oreo Brownies. These mouthwatering treats are my go-to solution whenever I crave something ridiculously indulgent. They are based on a perfect Brownie Recipe that will have your friends and family begging for more.
The Magic of Skillet Baking
Skillet baking has become my latest obsession. I adore how it evenly and flawlessly cooks everything. And what better way to impress your loved ones than by creating a scrumptious brownie recipe with hidden Oreo surprises, topped with a dollop of ice cream? The best part is that it comes together effortlessly, leaving everyone under the impression that you've slaved away in the kitchen for hours!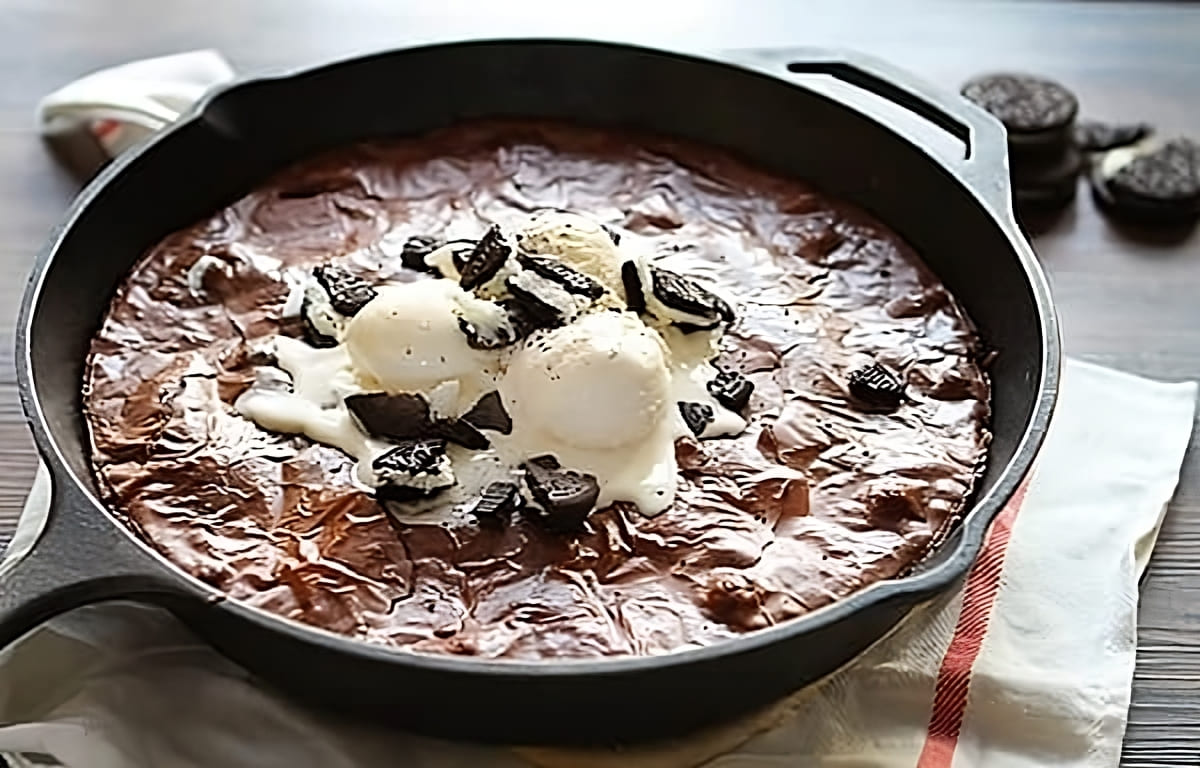 How to Make Oreo Brownies
To start, whip up a batch of our delectable brownies using the recipe below. Meanwhile, make sure to prepare your cast iron skillet. The process varies among individuals, but ensure you take the necessary steps to prevent the brownies from sticking. Personally, I prefer using a non-stick spray and then seasoning the skillet with bacon grease after I've devoured the entire pan. Well, you know what I mean—after we've finished savoring them all.
Once your skillet is ready, pour one-third of the brownie batter into it. Next, take 19 irresistible Oreo cookies and carefully place them over the batter. Now, pour the remaining two-thirds of the batter, ensuring that each Oreo is fully covered. This ensures a heavenly Oreo experience in every bite!
Now, it's time to bake these heavenly treats. Place the skillet in a preheated oven set to 350°F (175°C) and let the magic happen for approximately 35 minutes. Due to the skillet's heat retention capabilities, it's best to remove them a couple of minutes before they are fully done. I usually insert a toothpick at the 35-minute mark and check for a few tiny wet crumbs. Trust me, this is a good thing—a sign of ooey-gooey deliciousness!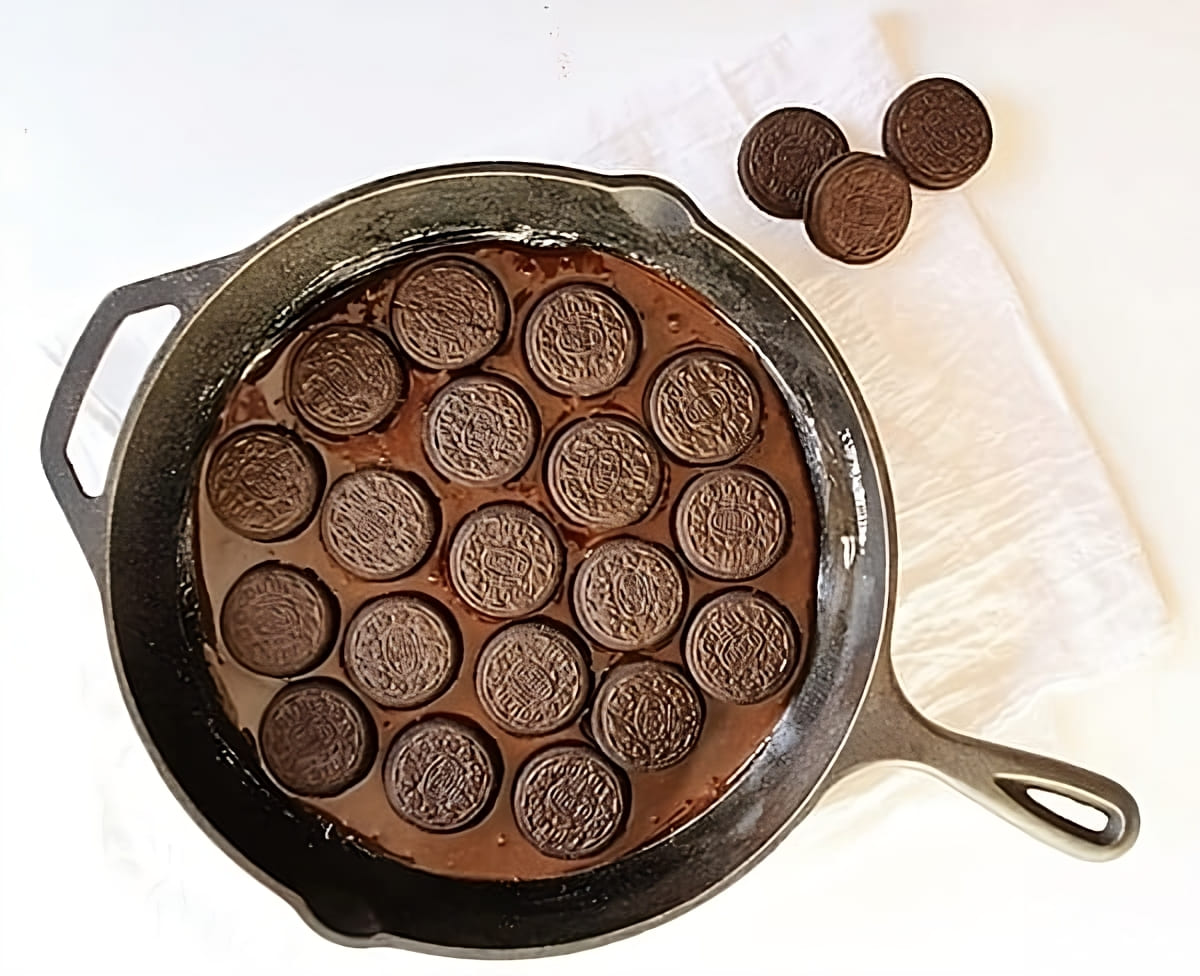 Let Your Taste Buds Rejoice
Take the brownies out of the oven and allow them to cool for about five minutes. Then, go ahead and add a generous scoop of vanilla ice cream on top. For an extra touch of indulgence, drizzle a few crushed Oreo cookies over the ice cream. If you're feeling adventurous, you can also add some hot fudge, marshmallow topping, caramel, or butterscotch sauce. The possibilities are endless, and no matter how you choose to enjoy these brownies, one thing is certain—they will taste absolutely amazing!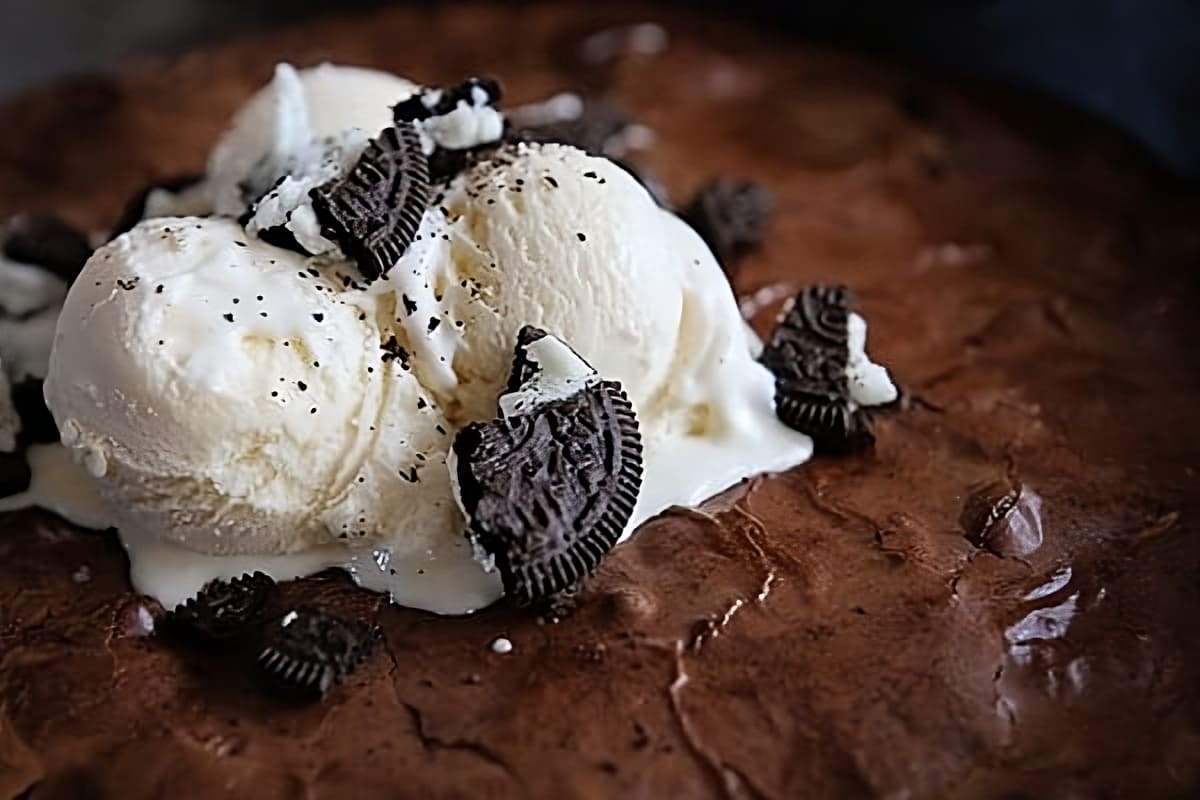 Capture the Moment
Before you lose yourself in the lusciousness of these brownies, take a moment to capture their beauty. Snap a picture of the delectable slice you're about to savor. Trust me, it will make for a pretty sight. Or, if you find yourself unable to resist their allure, just dive right in and enjoy. Don't worry, I've been there too—sometimes, the desire to indulge outweighs everything else!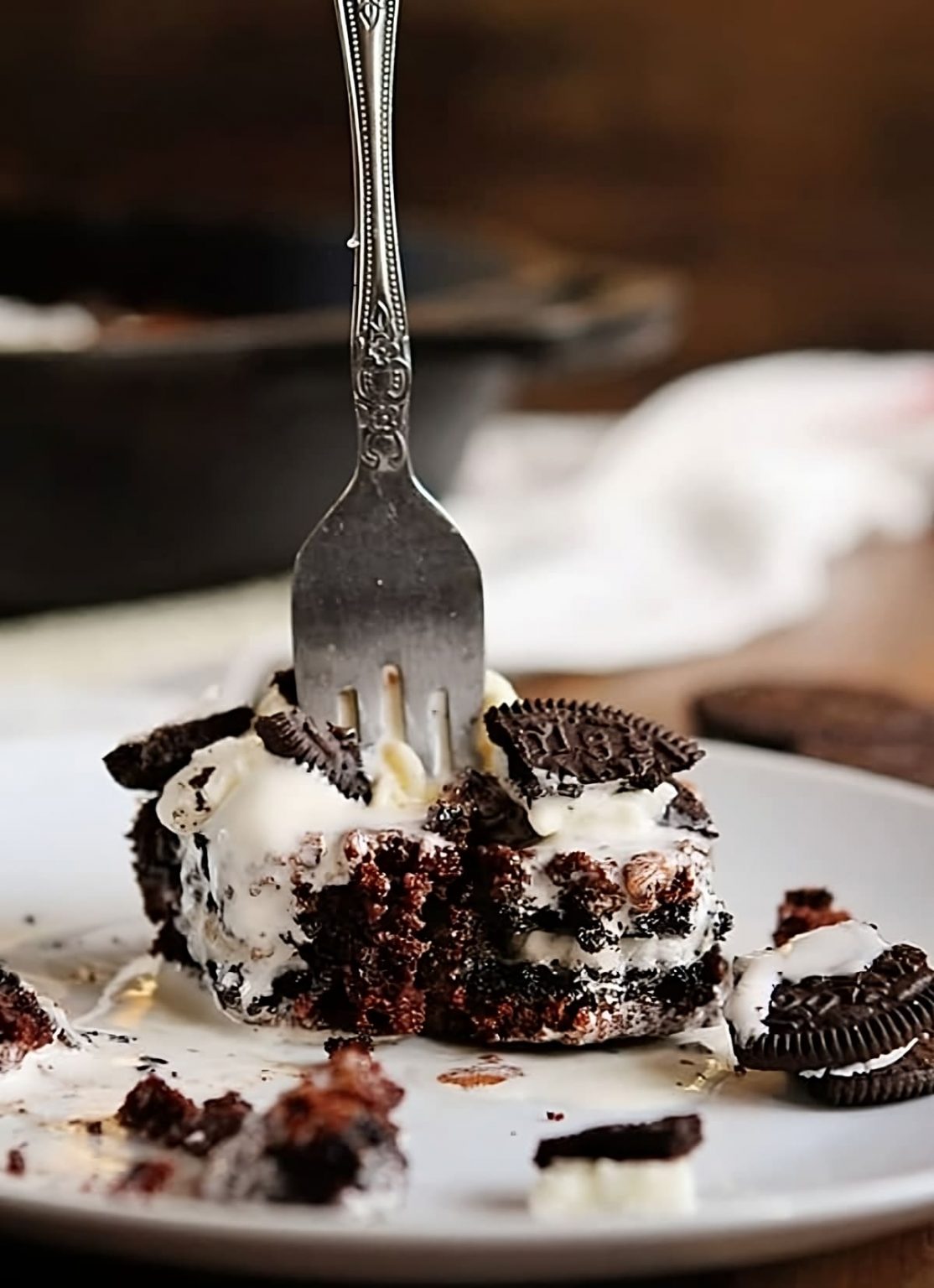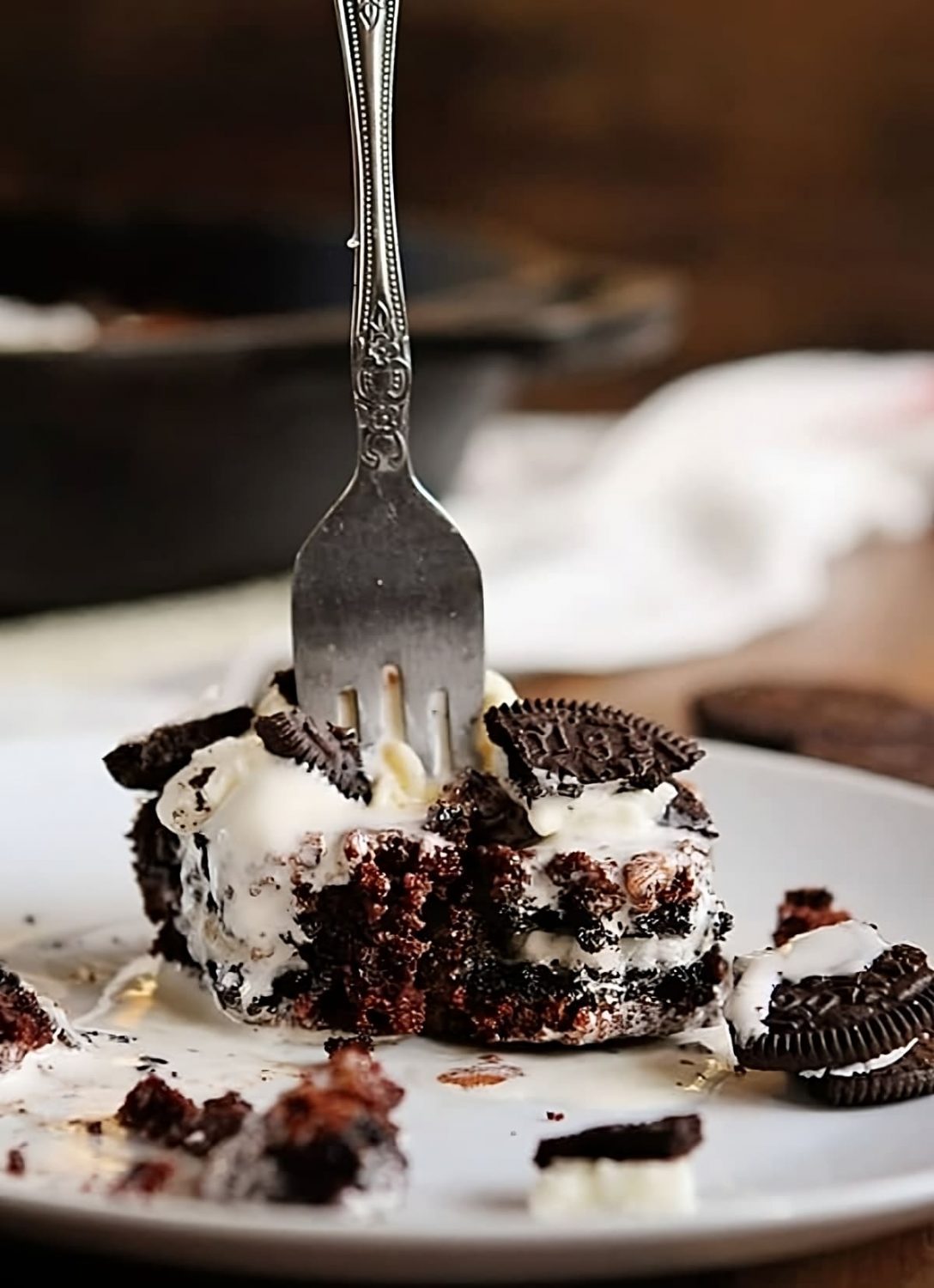 Ingredients:
1 cup (226g) melted butter, cooled slightly
2 cups (400g) granulated sugar
⅔ cup (80g) unsweetened cocoa powder, sifted
1 cup (128g) all-purpose flour
½ teaspoon kosher salt
½ teaspoon baking powder
4 large eggs, at room temperature
2 teaspoons vanilla extract
19 Oreo cookies
Instructions:
Preheat your oven to 350°F (175°C).
Melt the butter and set it aside to cool slightly.
In a medium bowl, sift together the granulated sugar, cocoa powder, flour, salt, and baking powder.
In a large bowl, beat the eggs and vanilla extract together. Slowly add in the melted butter, stirring gently until well combined.
Prepare your 12-inch cast-iron skillet by greasing it with a non-stick spray or your preferred method to prevent sticking.
Pour one-third of the brownie batter into the prepared skillet, spreading it evenly.
Take the 19 Oreo cookies and place them on top of the batter in the skillet.
Pour the remaining two-thirds of the batter over the Oreo cookies, making sure to cover them completely.
Place the skillet in the preheated oven and bake for approximately 35 minutes. As the skillet retains heat well, remove the brownies a couple of minutes before they are fully done. Insert a toothpick into the center at the 35-minute mark to check for a few moist crumbs.
Once baked, remove the skillet from the oven and let the brownies cool for about five minutes.
Serve the brownies directly from the skillet or transfer them to a serving plate. Add a scoop of vanilla ice cream on top and sprinkle some crushed Oreo cookies for extra flavor and presentation.
Feel free to drizzle hot fudge, marshmallow topping, caramel, or butterscotch sauce over the brownies for an added touch of indulgence.
Before devouring your slice of Skillet Oreo Brownie, take a moment to capture its irresistible charm by snapping a picture. Or, if self-control eludes you, simply dig in and enjoy the gooey, chocolaty goodness.
Remember, these brownies are meant to be savored and shared with loved ones. So gather around, indulge, and relish in the heavenly delight of Skillet Oreo Brownies.
Note: This recipe serves as a guide, so feel free to adjust the number of Oreo cookies or experiment with different toppings according to your taste preferences. Enjoy!