This delightful creation marries the richness of creamy peanut butter with the lusciousness of chocolate cake. A dash of coffee in the recipe enhances the chocolatey allure, making this cake a perennial favorite at gatherings and celebrations.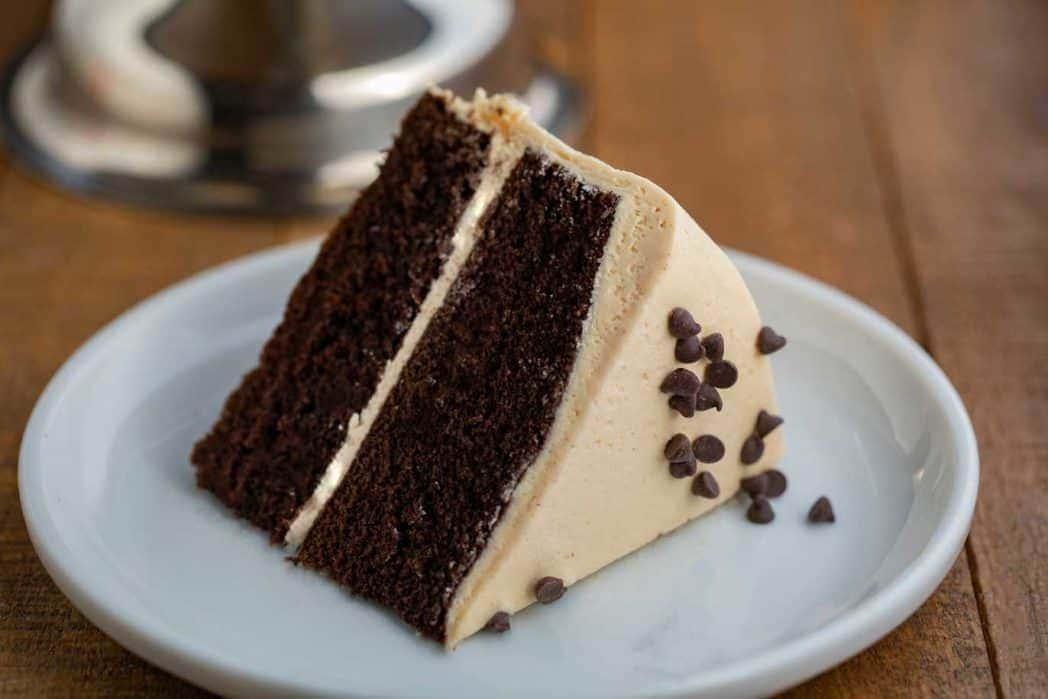 A Flavorful Fusion
Chocolate Peanut Butter Cake is a match made in dessert heaven, where creamy peanut butter dances harmoniously with sumptuous chocolate cake. The infusion of coffee in this recipe elevates the chocolate flavor, making it an absolute crowd-pleaser.
Kid-Friendly and Fun to Decorate
This dessert is not only a treat for adults but also a hit with kids. The unmistakable peanut butter flavor appeals to young taste buds, and children can have a blast decorating it. Consider offering a selection of toppings like peanut butter cups, chocolate pieces, or crushed peanuts for a creative touch. Best of all, this cake can be prepared in under 60 minutes, making it ideal for a morning baking session.
Storing Your Chocolate Peanut Butter Cake
To ensure the longevity of your Chocolate Peanut Butter Cake, store it in the refrigerator within an airtight container. The peanut butter frosting contains dairy components, akin to buttercream, warranting refrigeration. Properly stored, this cake will remain delicious for about a week.
Alternatively, if you prefer to store the cake and frosting separately, you can wrap the unfrosted cake tightly in plastic wrap and leave it on the counter for 3-4 days.
Freezing for Future Delights
For those who want to savor this treat at a later date, follow these steps for freezing:
Prepare the entire cake and freeze it for about an hour.
Remove it from the freezer and wrap it meticulously with plastic wrap and aluminum foil.
Store it back in the freezer. This method preserves the pristine appearance of the peanut butter buttercream frosting.
Your frozen Chocolate Peanut Butter Cake will maintain its quality for 6-8 months.
Decorative Possibilities Abound
Elevate the visual appeal of your Chocolate Peanut Butter Cake with creative toppings, such as:
Marshmallows
Powdered sugar
Chocolate shavings
Caramel sauce
Semisweet chocolate chips
Peanut butter candies (e.g., peanut butter cups or Butterfinger)
Chocolate ganache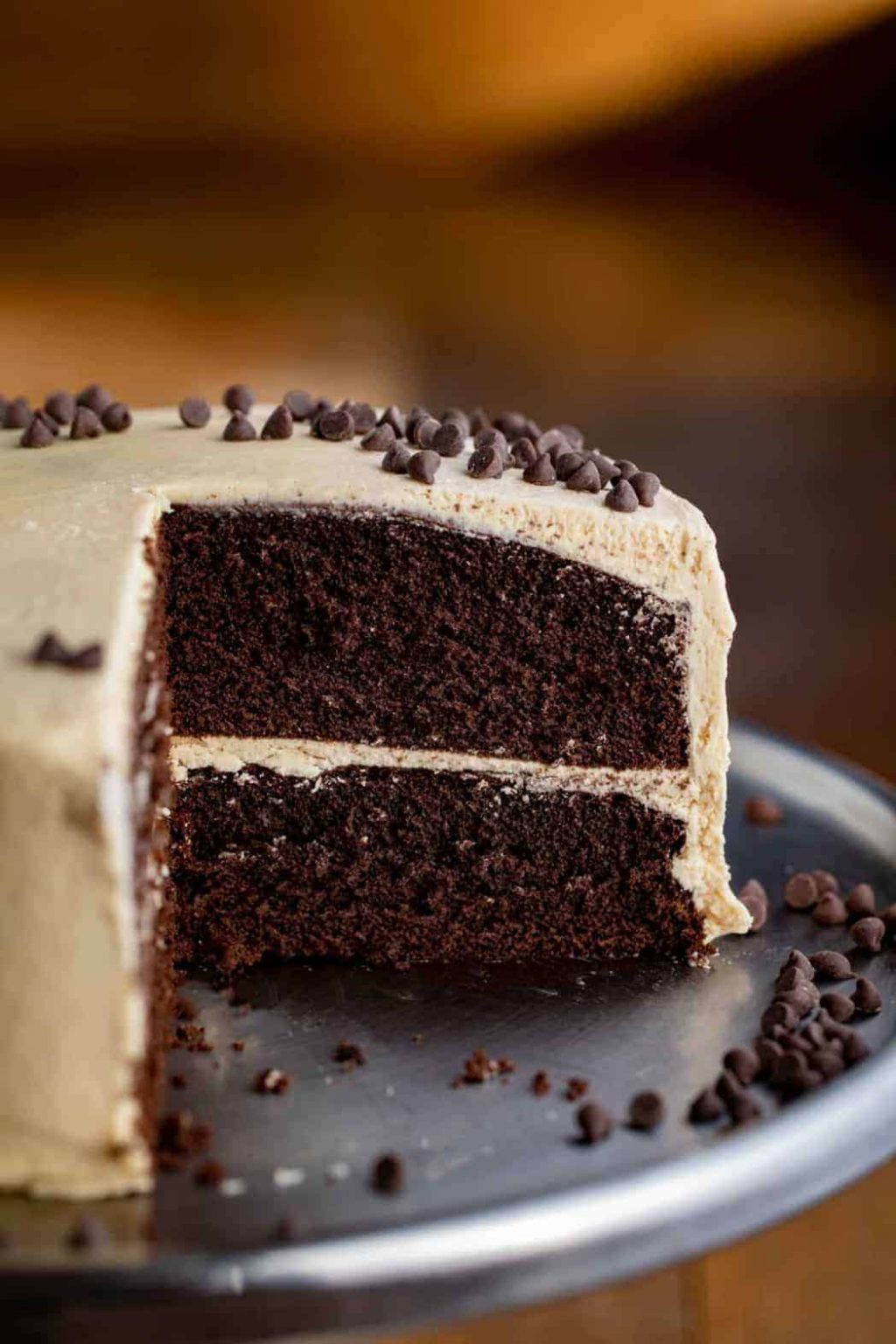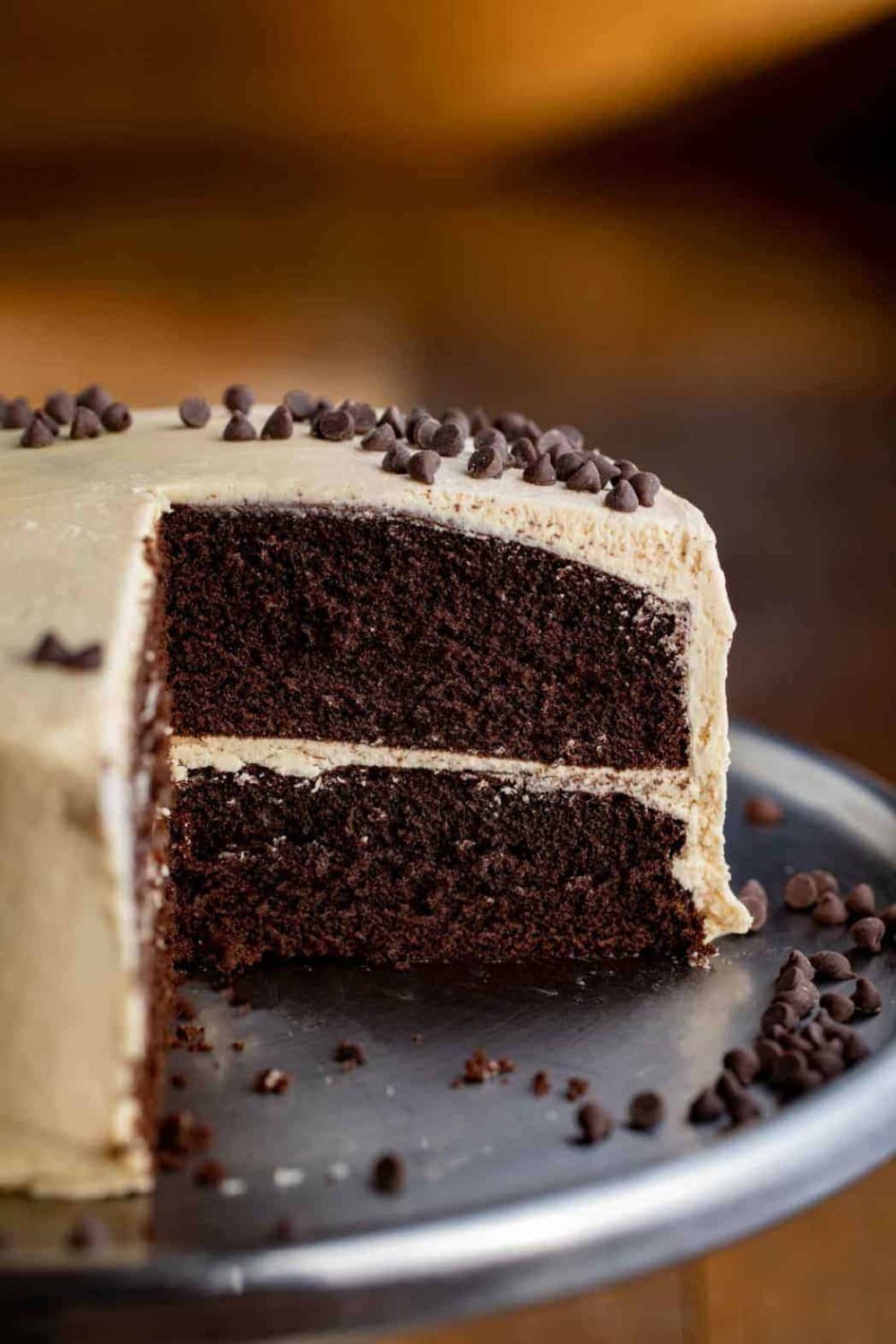 Expert Tips for Crafting Peanut Butter Cake
When pressed for time, consider using chocolate cake mix and preparing the peanut butter frosting from scratch.
Tailor the cake size to your needs by using round cake pans for layers or a sheet cake pan for larger gatherings. For more layers, double the cake recipe.
Opt for baking in a bundt pan, followed by a layer of peanut butter buttercream frosting and a light dusting of powdered sugar for an alternative presentation.
Precise measurement of all-purpose flour is crucial. Level the measuring cup with a knife to avoid an excessively dry cake texture.
Allow the cake to reach room temperature before serving. Cold storage may cause slight hardening of the peanut butter and cake, which can be misconstrued as staleness.
Employ a toothpick to verify thorough baking. A clean toothpick indicates a fully baked cake.
Elevate your cake by drizzling caramel sauce over the finished product. Add a pinch of flaky salt for a chocolate-peanut salted caramel variation. You can create decorative patterns on the cake using a spatula or drizzling chocolate sauce.
Experiment with regular chocolate or dark chocolate cocoa powder to intensify the flavor alongside peanut butter.
For additional flavor nuances, consider using 1 teaspoon of vanilla extract instead of a tablespoon, supplemented with 1 teaspoon of almond extract.
Prevent sticking by dusting your cake pans or lining them with parchment paper.
While a stand mixer is ideal for this dessert, an electric mixer can also suffice.
Enhance moisture by incorporating ½ cup of sour cream into the peanut butter cake batter.
For the frosting, use creamy peanut butter and unsalted butter. Freshly chopped peanuts make for a delightful crunchy topping.
Opt for regular peanut butter instead of natural peanut butter, which tends to separate and may not set correctly.
When creating a layer cake, trim a thin layer from the top of the bottom cake for a flatter surface, ensuring the layers stay together securely.
To achieve an even lighter texture, substitute milk with buttermilk, which interacts with the flour to enhance the cake's fluffiness.
Try cupcakes made from this recipe. Pipe peanut butter buttercream frosting into the center and dust with powdered sugar or add more peanut butter buttercream frosting on top.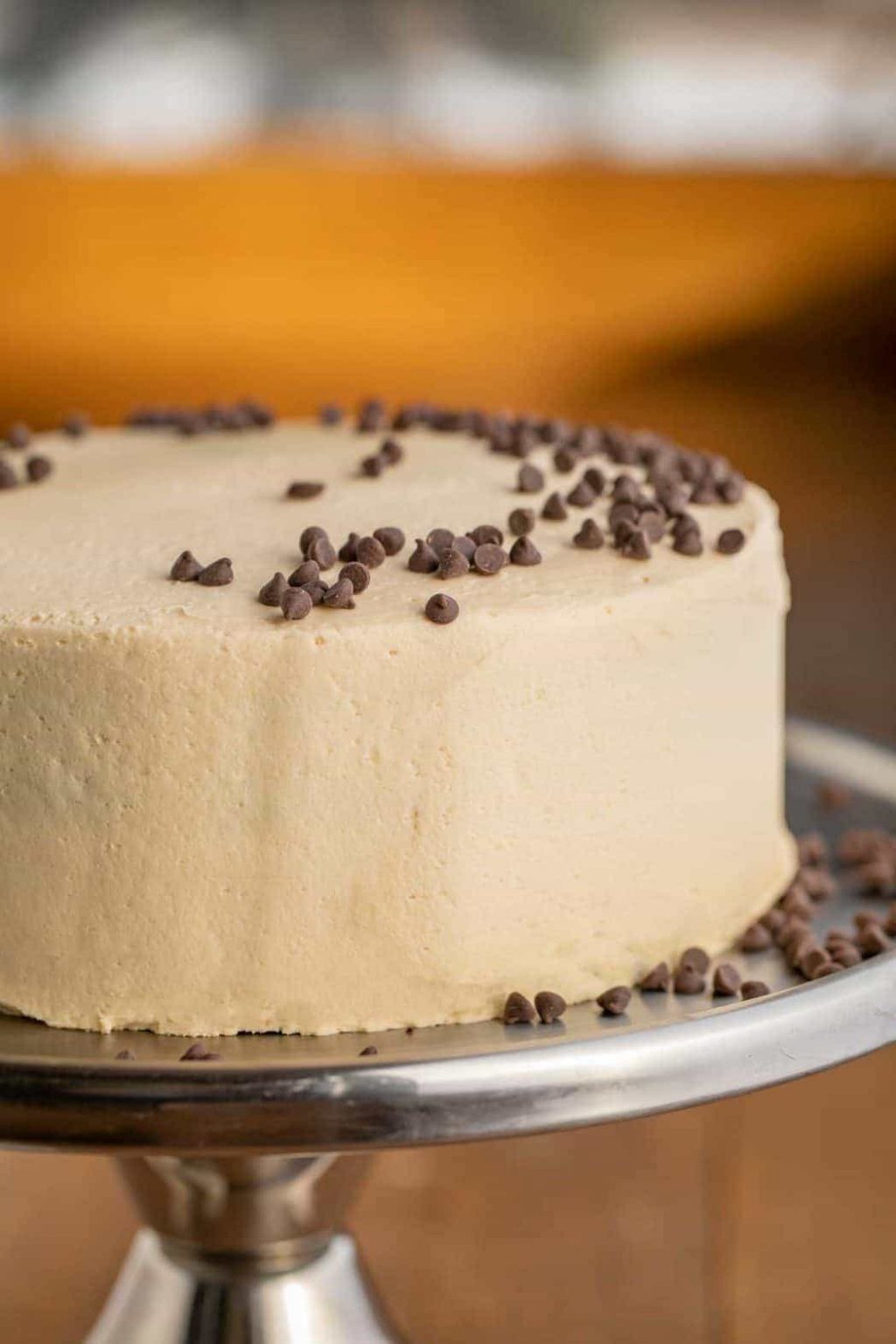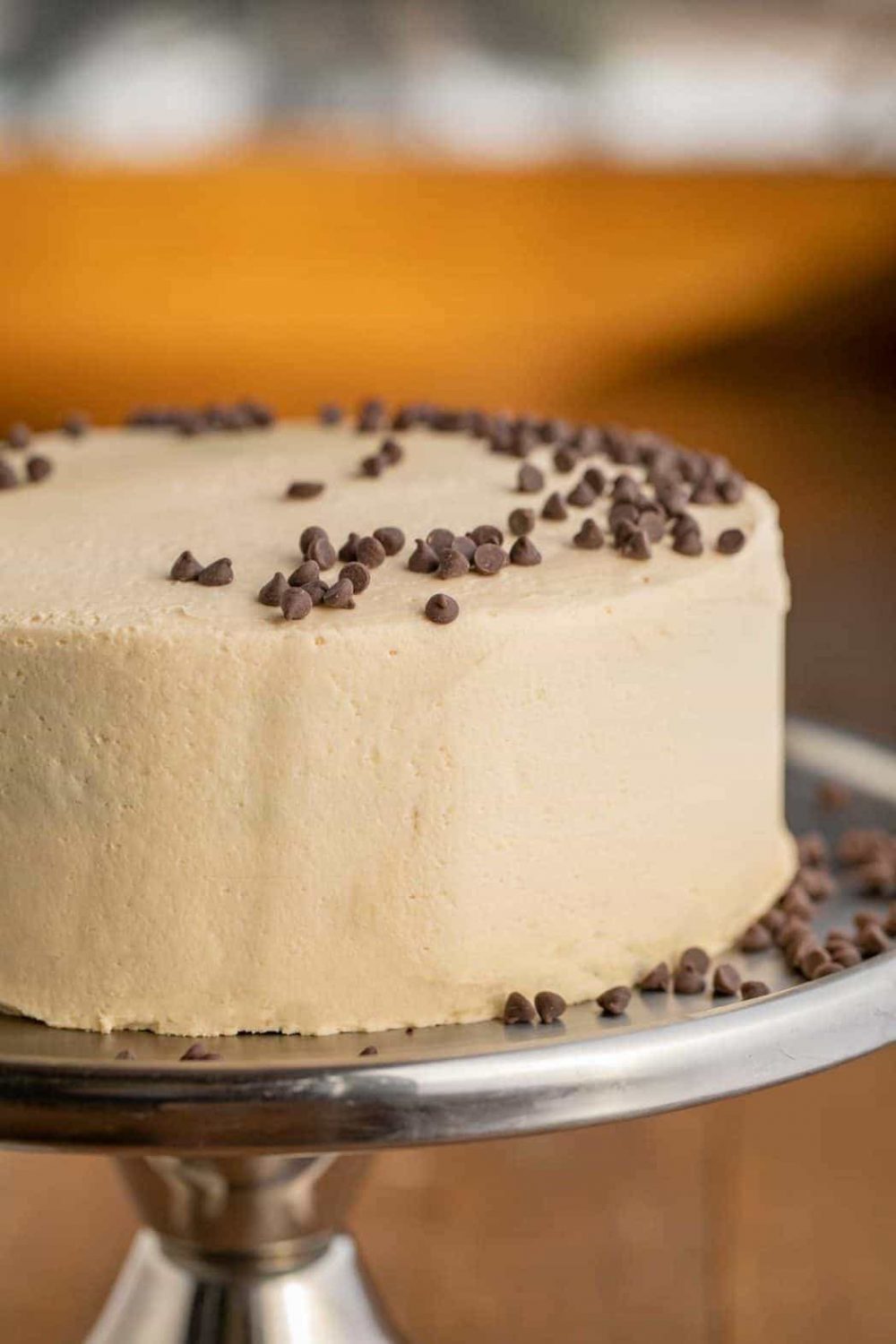 Ingredients
2 cups sugar
1 3/4 cups flour
1 cup unsweetened cocoa powder
1 1/2 teaspoons baking powder
1 1/2 teaspoons baking soda
1 teaspoon salt
2 large eggs
1 cup whole milk
1/2 cup vegetable oil
1 tablespoon vanilla extract
1 cup hot coffee (boiling water is acceptable)
Instructions
Preheat your oven to 350 degrees and grease two 9-inch cake pans, then dust them with cocoa powder.
In a stand mixer set to low speed, combine sugar, flour, cocoa powder, baking powder, baking soda, and salt.
In a separate medium bowl, mix together the eggs, milk, oil, and vanilla. Add this mixture to the stand mixer on low until just combined. Do not overmix.
Carefully stir in the boiling water or hot coffee with a spatula or large spoon until just combined. Avoid using the mixer, as the water is very hot.
Pour the batter into the prepared pans and bake for 30-35 minutes. Remove from the oven and let them cool completely before frosting with the peanut butter frosting.