Indulge in the ultimate smoked prime rib experience with this recipe for Smoked Garlic Butter Prime Rib. Slathered in a delectable herb-infused compound butter and slow-smoked to perfection, this prime rib will undoubtedly steal the spotlight at your holiday table.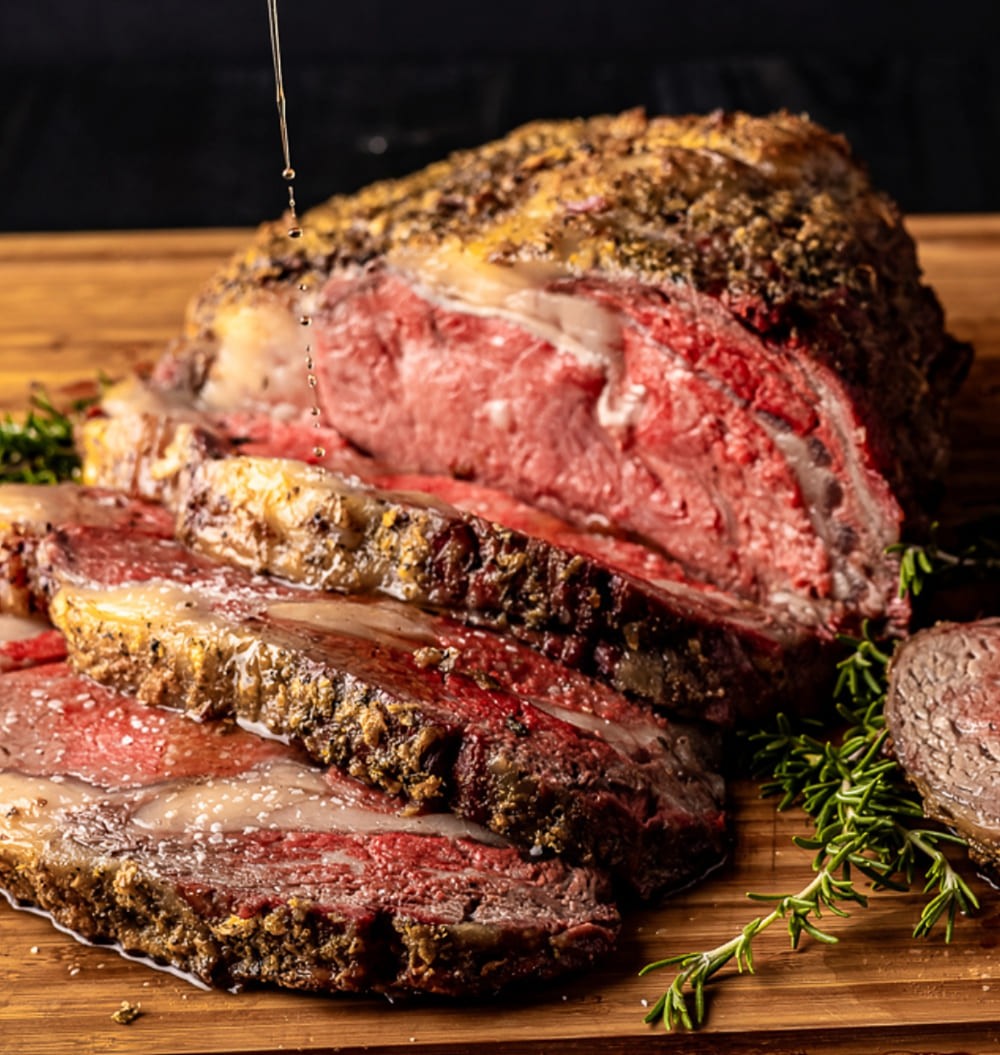 Garlic Butter Prime Rib
When it comes to slow-smoked beef, few things rival the mouthwatering perfection of a prime rib roast. While I've been smoking prime rib for years, this particular recipe quickly became one of my all-time favorites. The entire roast is generously coated with a seasoned garlic butter, which infuses it with incredible flavor and gently bastes the meat as it smokes.
But that's not all. The melted browned butter drippings take this smoked garlic butter prime rib to another level. I prefer to smoke the roast on a rack positioned above a baking sheet. As the meat smokes and the butter slowly melts, it collects underneath the roast, forming a bubbling and browning masterpiece. Once the roast is ready, I strain this luscious butter, season it with a pinch of salt, and drizzle it over the sliced prime rib for a truly indulgent finish.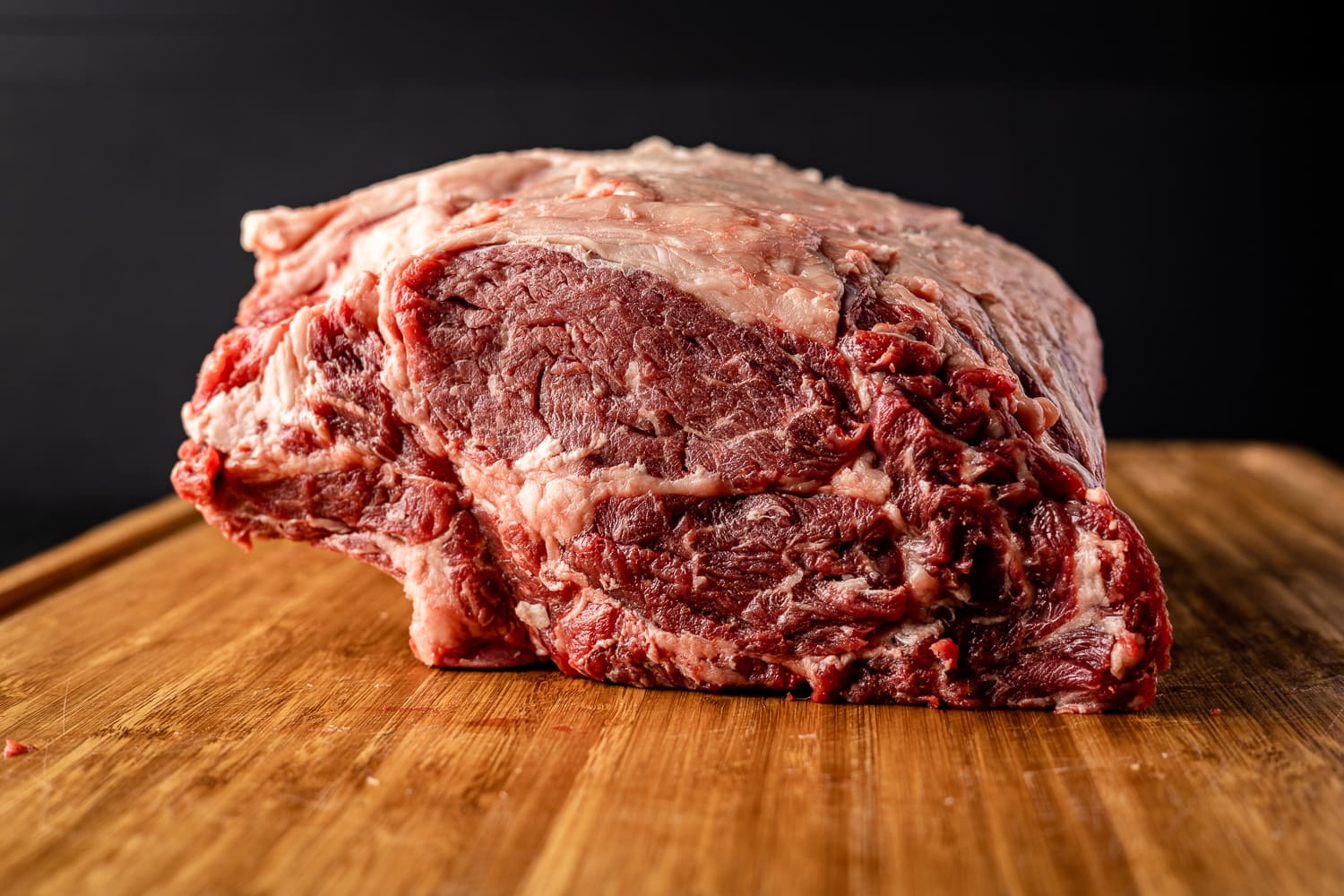 Ingredients for Garlic Butter Prime Rib
The foundation of this recipe is wonderfully simple. To season the roast, all you'll need is high-quality salt and black pepper (adjust the amounts as needed to cover the entire roast).
8-10 pound bone-in prime rib roast
1 tablespoon coarse ground salt
1 tablespoon black pepper
For the garlic herb butter, gather the following ingredients:
16 ounces softened butter
8 cloves minced garlic
2 sprigs finely minced rosemary
2 sprigs finely minced thyme
2 teaspoons salt
2 teaspoons black pepper
The flavors in the seasoned butter are inspired by a resting butter I use for grilled steaks. The goal is to enhance the natural flavor of the beef without overpowering its subtle earthy notes. With fresh garlic, herbs, salt, and pepper, this butter is simple yet absolutely incredible. As the garlic and herbs smoke along the edges of the prime rib roast, they create an irresistibly delicious crust.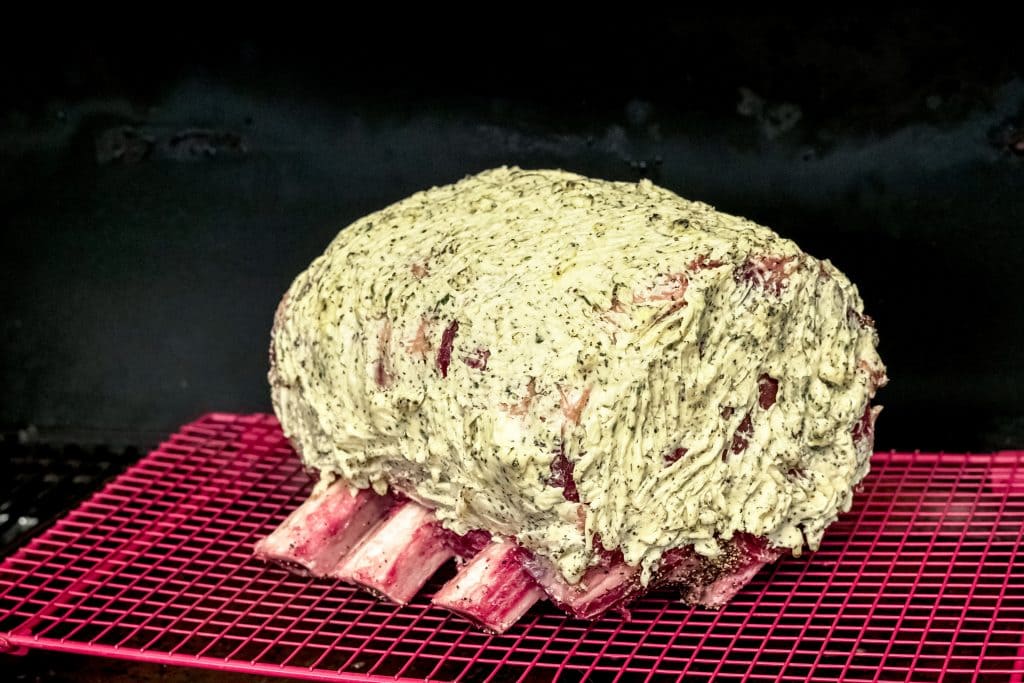 How to Make Garlic Butter Prime Rib
Let's dive into the process of creating this amazing roast. It's relatively straightforward and guarantees an unforgettable meal. Follow these steps to make your garlic butter prime rib:
Preheat: Fire up your favorite smoker and let it reach a temperature of 225 degrees F, using oak or hickory wood for an authentic smoky flavor.
Prep: Trim the top of the roast, leaving about 1/4 inch thickness. Season the entire roast with salt and pepper.
Slather in Garlic Butter: In a small bowl, prepare the garlic butter by combining the softened butter, minced garlic, finely minced rosemary and thyme, salt, and black pepper. Generously slather the roast on all sides with the garlic butter.
Smoke: Place the buttered prime rib on a flat baking rack positioned above a rimmed baking sheet on the smoker. Smoke until the internal temperature reaches 120°F for rare, 125°F for medium-rare, or 130°F for medium doneness.
Rest: Remove the prime rib from the smoker and let it rest for 20 minutes. Meanwhile, increase the temperature of the smoker to 400°F. Strain the butter and drippings from the baking sheet, setting the resulting liquid aside.
Sear: Once the smoker reaches 400°F, place the prime rib directly on the grill grates and sear the meat until it reaches your desired final doneness (130°F for rare, 135°F for medium-rare, or 140°F for medium).
Enjoy: Remove the smoked garlic butter prime rib from the smoker and allow it to rest for around 15 minutes. Just before slicing and serving, drizzle the reserved drippings over the roast for an extra touch of decadence.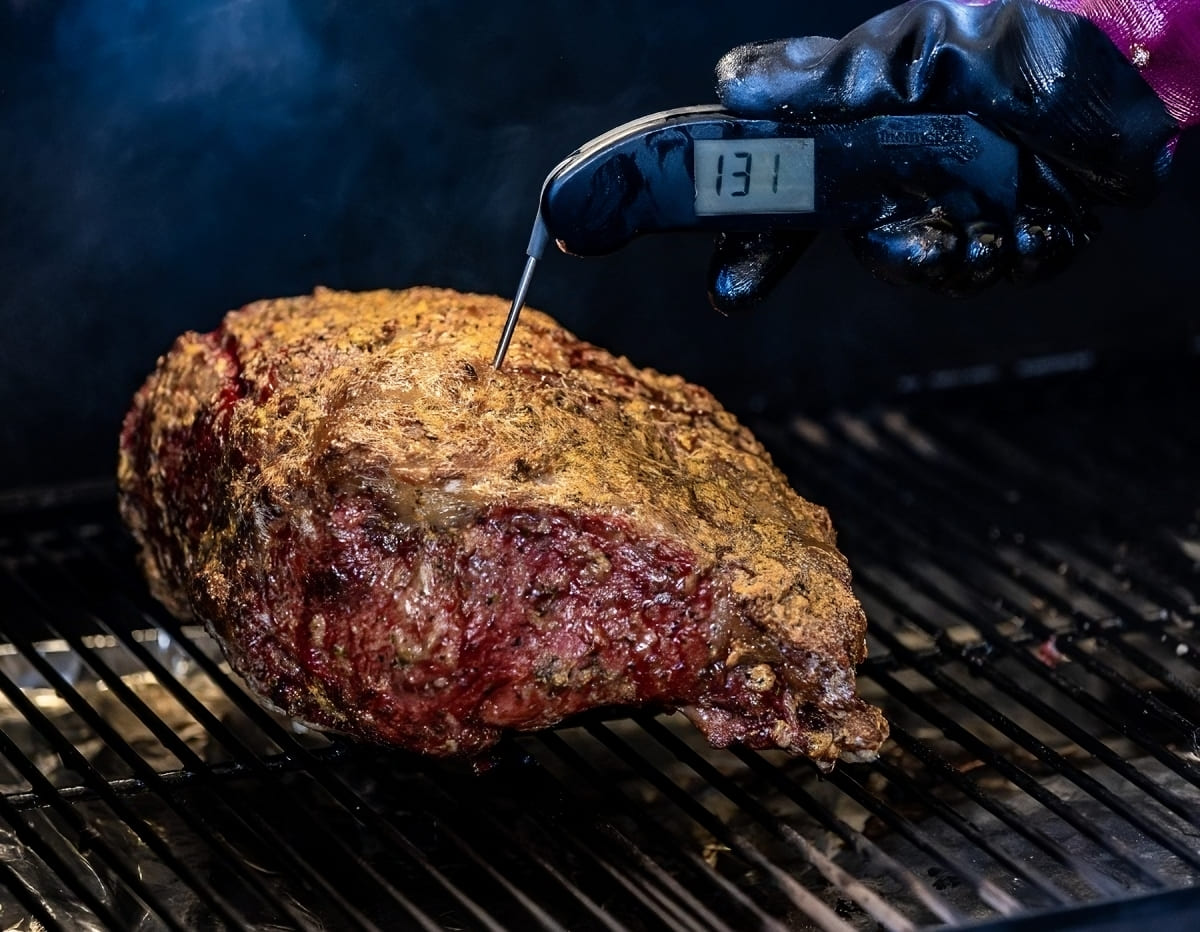 How Long to Smoke Garlic Butter Prime Rib
Plan on approximately 35 minutes per pound at 225 degrees F when smoking a rare roast. If you prefer your prime rib closer to medium, allow 40 minutes per pound. Don't forget to account for at least 30 minutes of rest time and an additional 15 minutes or so for the high-heat sear before serving. These time estimates encompass the overall smoking process for this flavorful garlic butter prime rib.
To ensure perfectly cooked, tender meat with a delightful pink center, it's crucial to monitor the internal temperature. I recommend using an internal thermometer to keep track of the prime rib's progress throughout the cooking journey.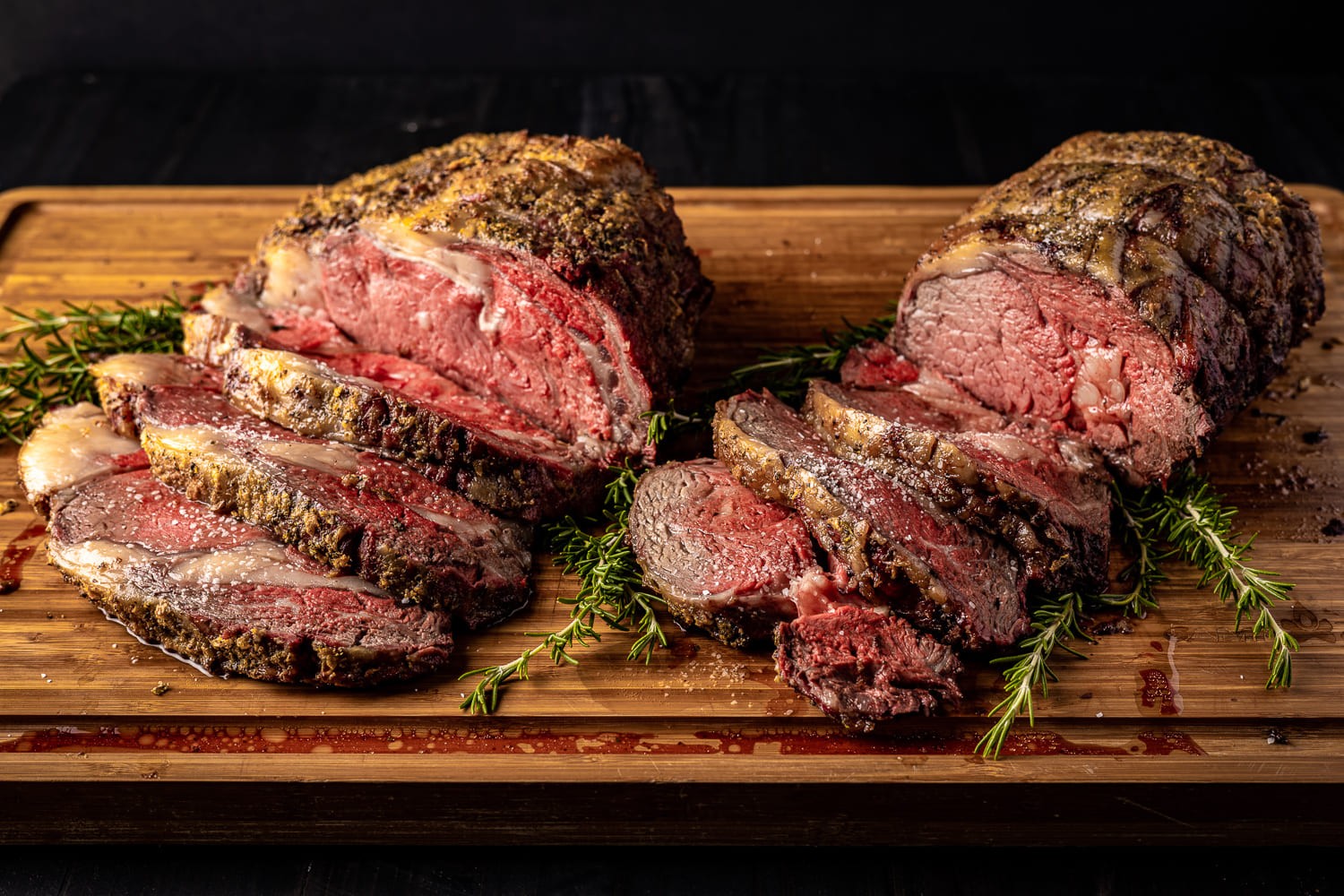 Prepare to savor the succulent and aromatic flavors of this smoked garlic butter prime rib. It's a feast fit for special occasions and will impress all who gather around your holiday table.