Homemade Sweet and Sour Chicken with crispy chicken, pineapple, and bell peppers – a delicious takeout favorite without artificial food coloring.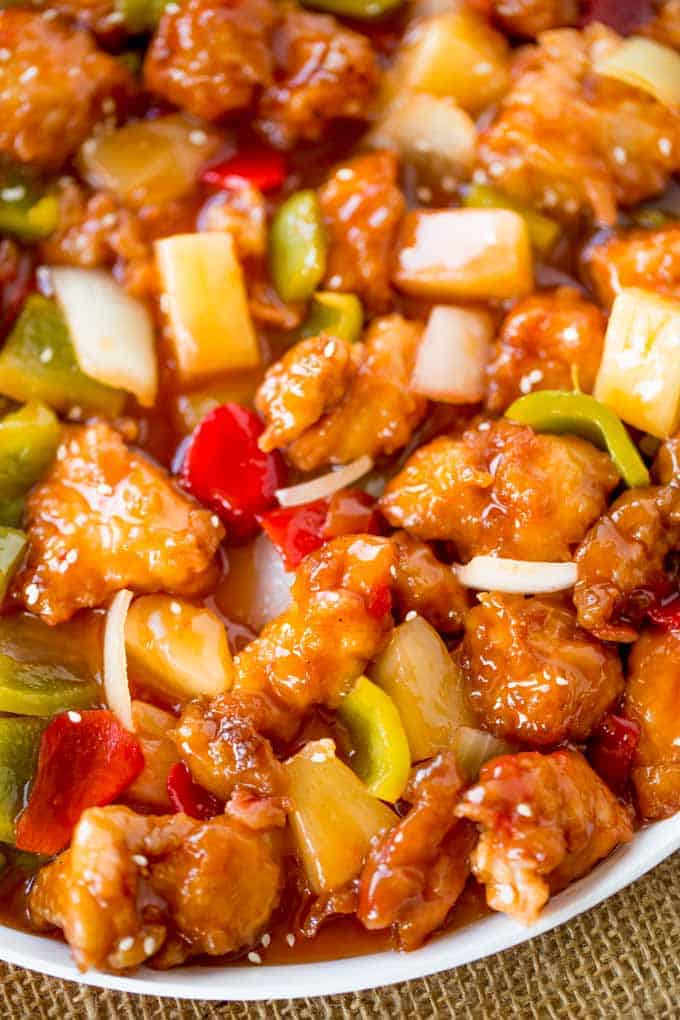 Homemade Sweet and Sour Chicken: A Beloved Classic
Homemade Sweet and Sour Chicken is a classic Chinese dish that many of us shy away from making at home. The idea of using a wok and handling pineapple can be intimidating, but trust me, it's much easier to prepare than you might think.
Among the countless classic Chinese recipes I feature on my blog, Sweet and Sour Chicken is undoubtedly one of the most requested. It's not just about the recipe itself; it's that irresistible SAUCE. I vividly remember the first time I made this sauce as a teenager. It also marked the start of my journey into mastering the art of using chopsticks. For a whole month (yes, my mom wasn't thrilled), I exclusively used chopsticks for every meal, accompanied by a tiny bowl of Sweet and Sour Chicken Sauce for dipping – a nostalgic culinary adventure!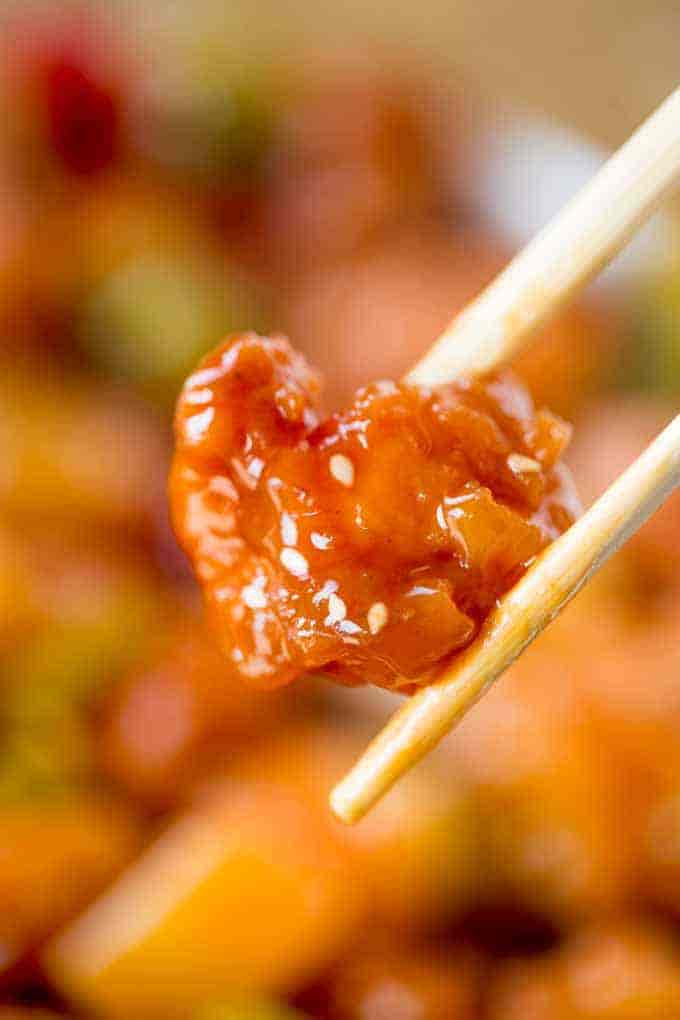 How to Craft Perfect Sweet and Sour Chicken
When it comes to creating a delectable Sweet and Sour Chicken recipe, there are a few essential tips I'd like to share:
Crispy, Light Breading: Achieving a super crispy and light breading is key. I've experimented with both tempura batter and a straight cornstarch coating, but I prefer cornstarch for its ease of use. Regardless of your choice, avoid a doughy coating that soaks up the sauce like a sponge.
Quality Pineapple Chunks: Use high-quality pineapple chunks. I recommend either super sweet fresh pineapple or the frozen chunks available at stores like Costco. Their frozen pineapple has never disappointed me.
Embrace the Onions: Don't skip the onions. While some may have aversions to them, both the onions and bell peppers play a crucial role in balancing the dish's flavors. Without them, you'd have an overly sweet dish with just a sour punch from the pineapple. The hint of bitterness from the peppers and onions helps cut through the sweetness, creating a harmonious blend of flavors.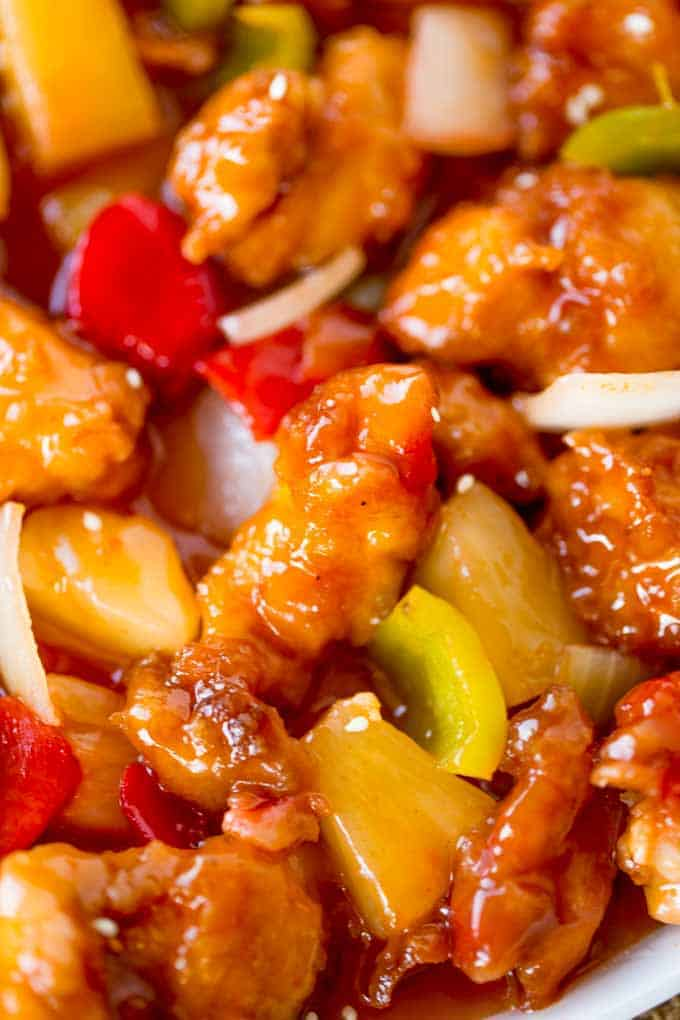 Ingredients:
1 1/2 pounds chicken breasts, cut into 1" chunks
1/2 cup cornstarch
2 eggs, beaten
1/4 cup flour
Canola oil for frying
1 cup pineapple chunks
1 red bell pepper, cut into 1" chunks
1 green bell pepper, cut into 1" chunks
1/2 yellow onion, cut into 1" chunks
1/2 cup sugar
1/4 cup brown sugar
1/2 cup apple cider vinegar
1/3 cup ketchup
4 teaspoons reduced-sodium soy sauce
2 cloves garlic, minced
Instructions:
Begin by preparing the sauce. In a small bowl, whisk together the sugar, brown sugar, apple cider vinegar, ketchup, soy sauce, and minced garlic.
Pour enough canola oil into a Dutch oven or frying pan so that it comes up about an inch to an inch and a half from the bottom.
Heat the oil over medium-high to high heat. You want the chicken to cook and brown in about 2-3 minutes.
In a large ziplock bag, add the cornstarch. Place the chicken pieces into the bag and shake them until they are evenly coated with cornstarch.
Dip the cornstarch-coated chicken pieces into the beaten eggs and then into the flour before adding them to the hot oil. Cook the chicken in batches to ensure a single layer in the oil.
Cook the chicken for 2-3 minutes, until it is cooked through and crispy. Remove the cooked chicken to a cookie sheet (avoid using paper towels), and continue cooking the remaining batches of chicken pieces.
Once done cooking, leave about a tablespoon of oil in the pan. Add the bell peppers, onions, and pineapple. Cook for 1-2 minutes, or until they are crisp-tender.
Reintroduce the prepared sauce and stir to coat the ingredients. Cook for an additional 30 seconds to warm the garlic.
Finally, add the cooked chicken pieces back into the pan and stir until the sauce has thickened and is bubbling.
Serve your homemade Sweet and Sour Chicken immediately, optionally garnished with sesame seeds or green onions.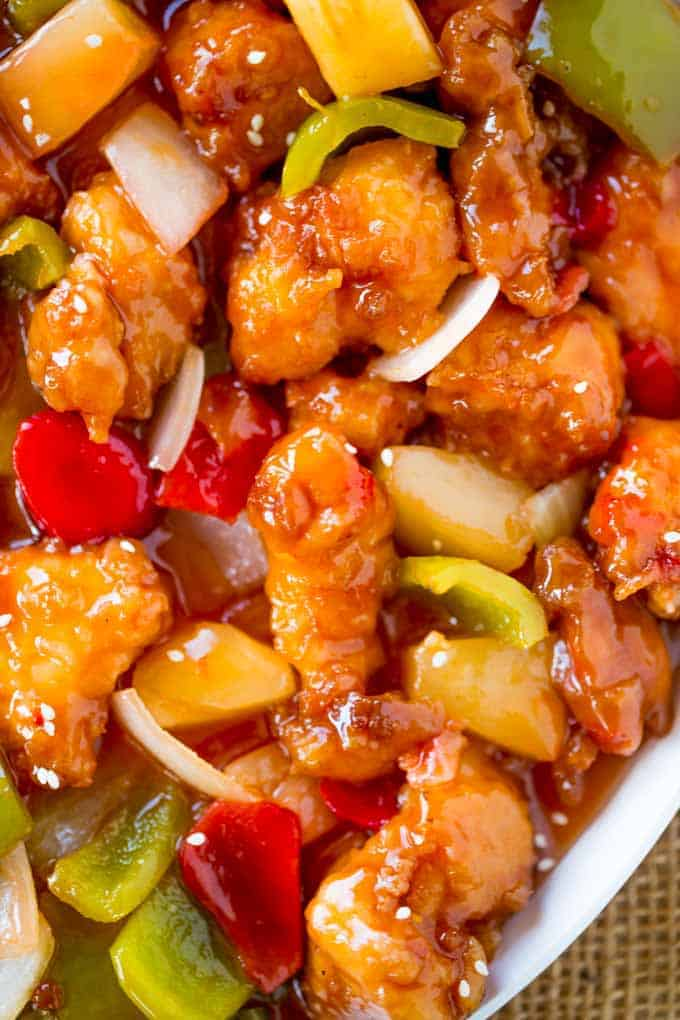 Elevate your dinner table with this delightful homemade Sweet and Sour Chicken. It delivers the crispy chicken, succulent pineapple, and vibrant bell peppers you love from your favorite takeout place, all without the artificial food coloring. Don't let the idea of a wok and pineapple intimidate you; this recipe is a breeze to make. Whether you're a long-time fan or trying it for the first time, you'll savor the delicious nostalgia of this classic Chinese dish. Enjoy!