If you're looking for a salad that's packed with flavor, you have to try this delicious Jalapeno Chicken Salad! It's a perfect combination of spicy chili lime chicken, fresh veggies, and a tangy Jalapeno Ranch Dressing that's sure to tickle your taste buds. But if you're a fan of classic Ranch Dressing, you can definitely use that instead!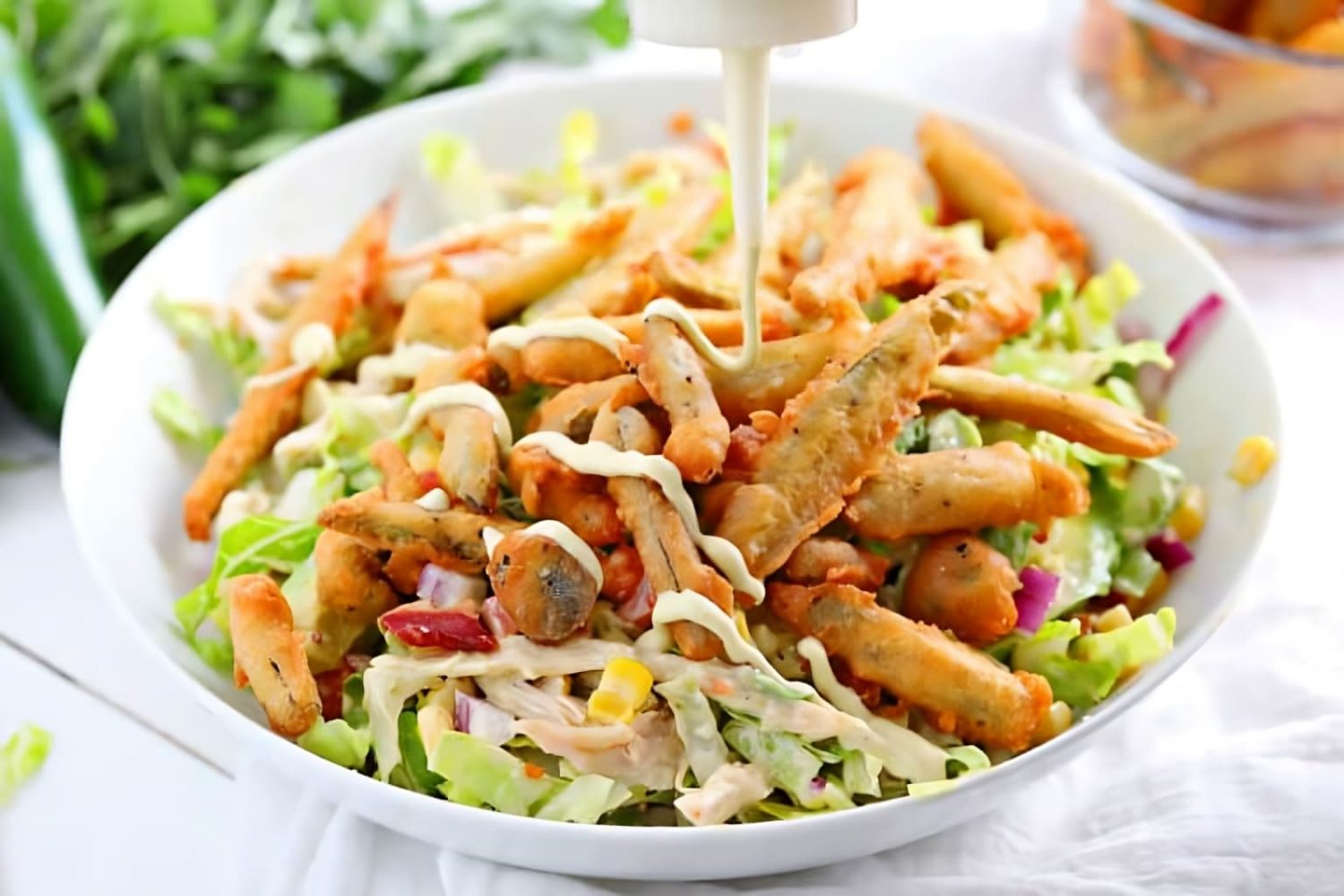 This salad is not only delicious, but it's also visually stunning. You'll find piles of shredded rotisserie chicken, seasoned with homemade chili lime seasoning, placed atop a bed of fresh cut veggies like romaine lettuce, juicy Roma tomatoes, diced red onions, crisp corn kernels, and creamy avocado. And let's not forget the crispy thick cut bacon, which adds an extra layer of crunchiness and flavor to the mix. To top it all off, the salad is garnished with homemade crispy fried jalapeños and Jalapeño Ranch Dressing.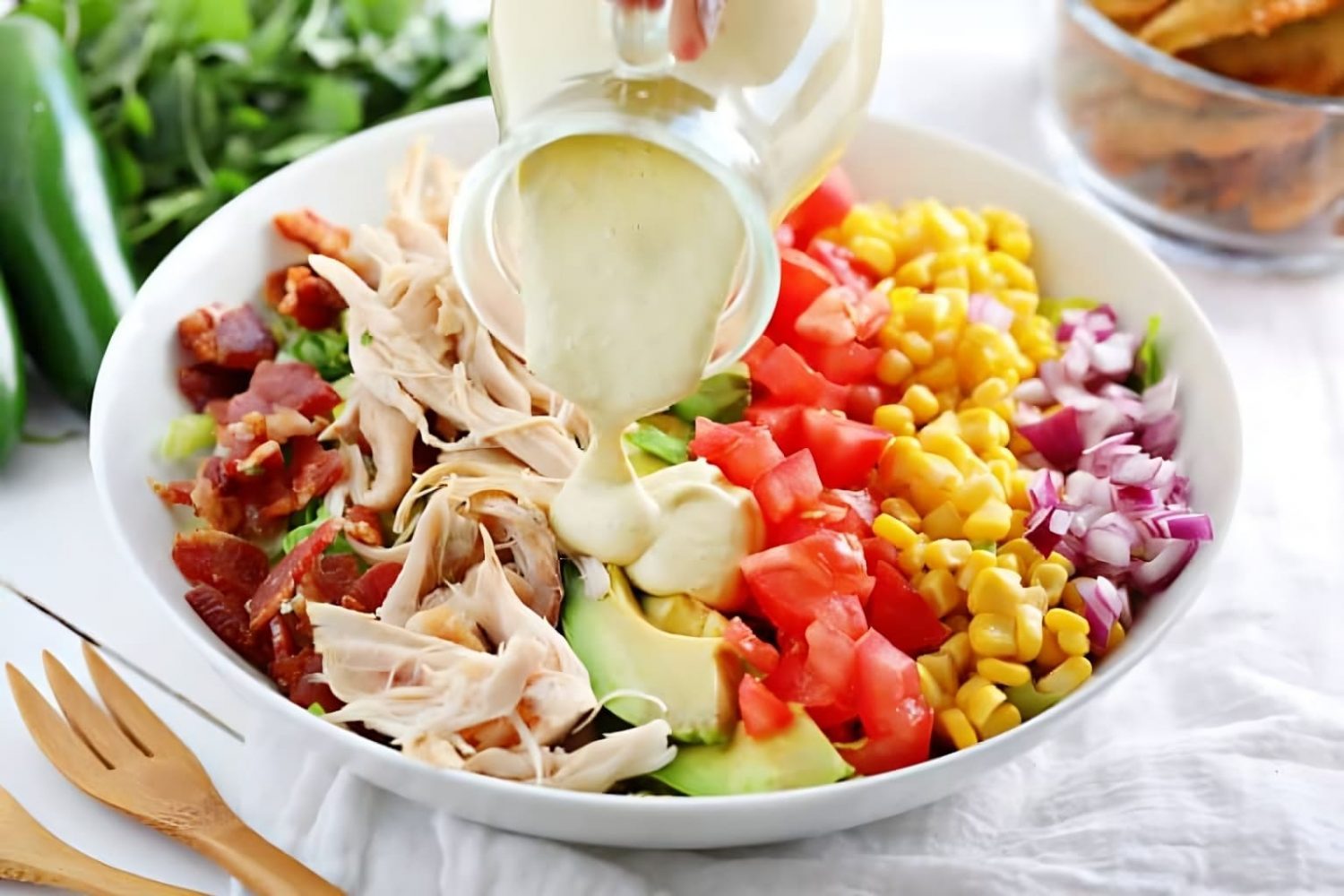 Making Jalapeno Chicken Salad is a bit of work, but trust us, it's totally worth it. The basic foundation of the salad is relatively easy, though. You can use store-bought rotisserie chicken or make your own seasoned chicken with our chili lime recipe. Serve the chicken warm or cold, depending on your preference. As for the bacon, we suggest using thick cut bacon and cooking it in the oven on a lined baking sheet for a fuss-free experience.
For the veggies, we recommend using corn, tomatoes, avocado, red onion, and cilantro. However, you can add in other veggies like shaved carrots, cucumbers, peas, or even chopped hard boiled eggs for extra protein. When it comes to toppings, you can swap out the fried jalapeños for croutons, tortilla strips, or homemade croutons if you prefer.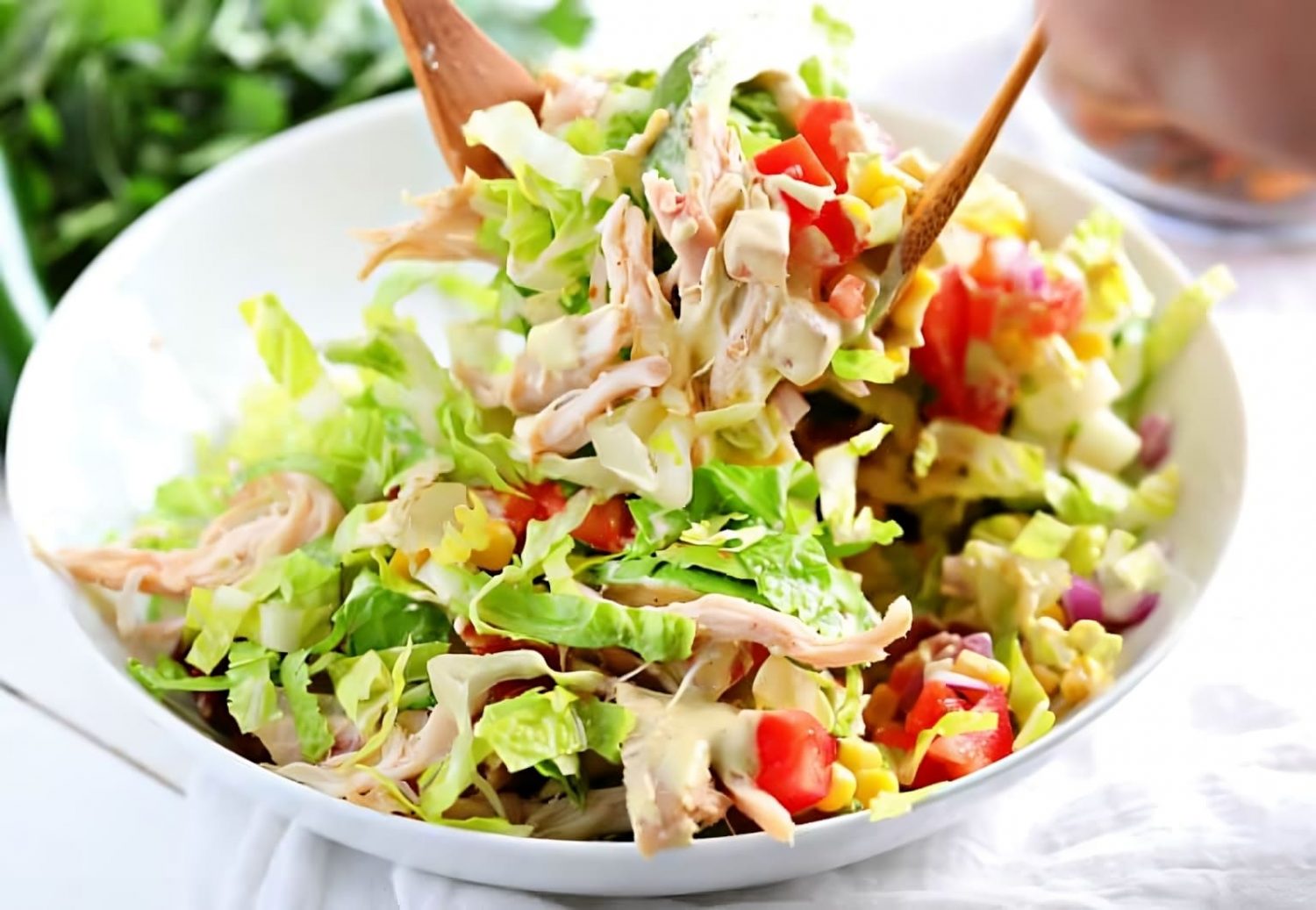 To make Jalapeno Chicken Salad, start by preparing your veggies and bacon. Make sure you've also cooked up the Crispy Fried Jalapeños and Jalapeño Ranch Dressing ahead of time. Then, in a medium-sized bowl, mix together the chicken, chili powder, lime juice, cumin, cayenne pepper, and garlic powder. In a separate, larger bowl, add the romaine lettuce, corn, tomatoes, red onion, bacon, avocado, cilantro, and seasoned chicken. Toss everything together with half of the dressing and add more to taste.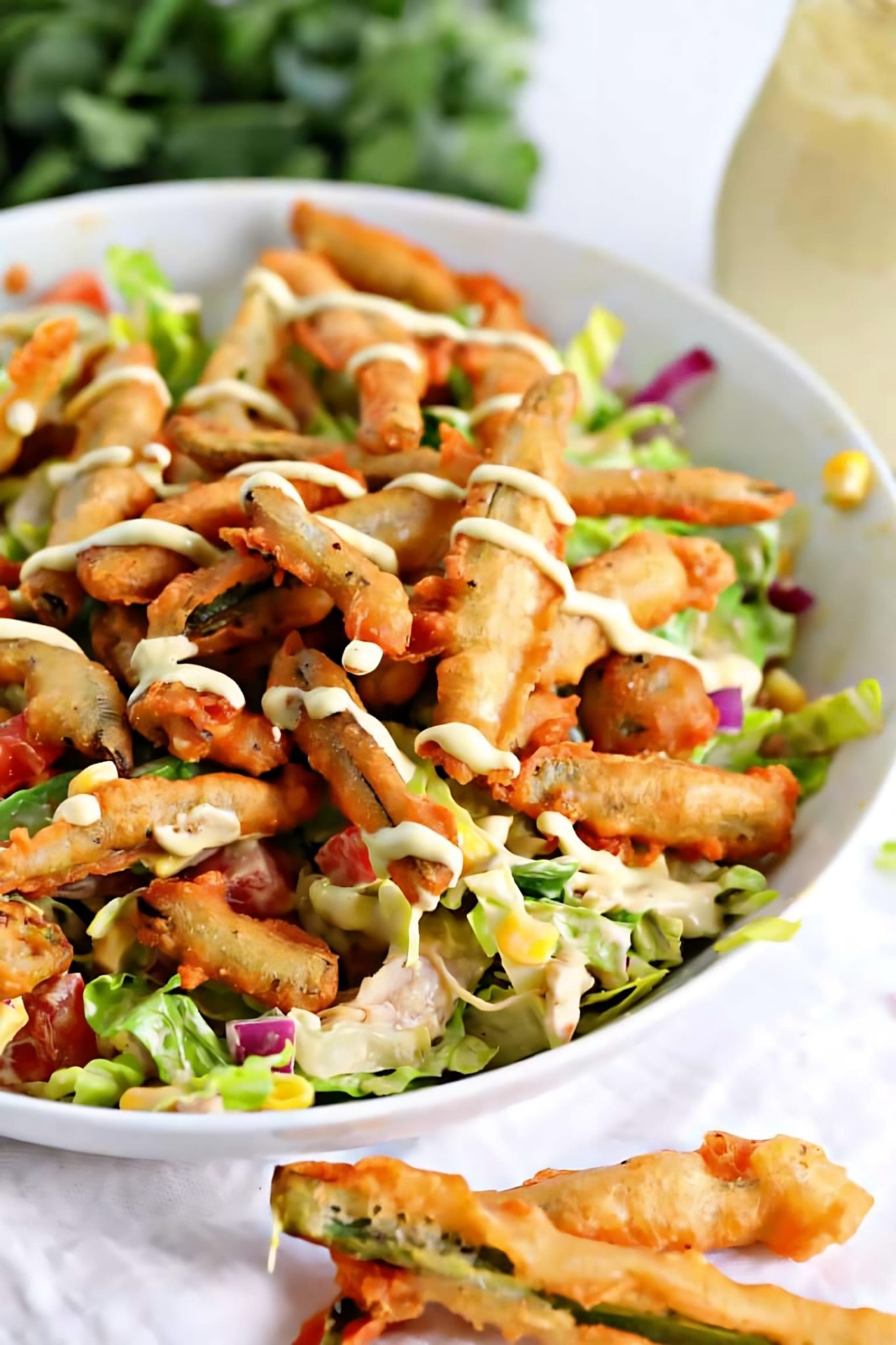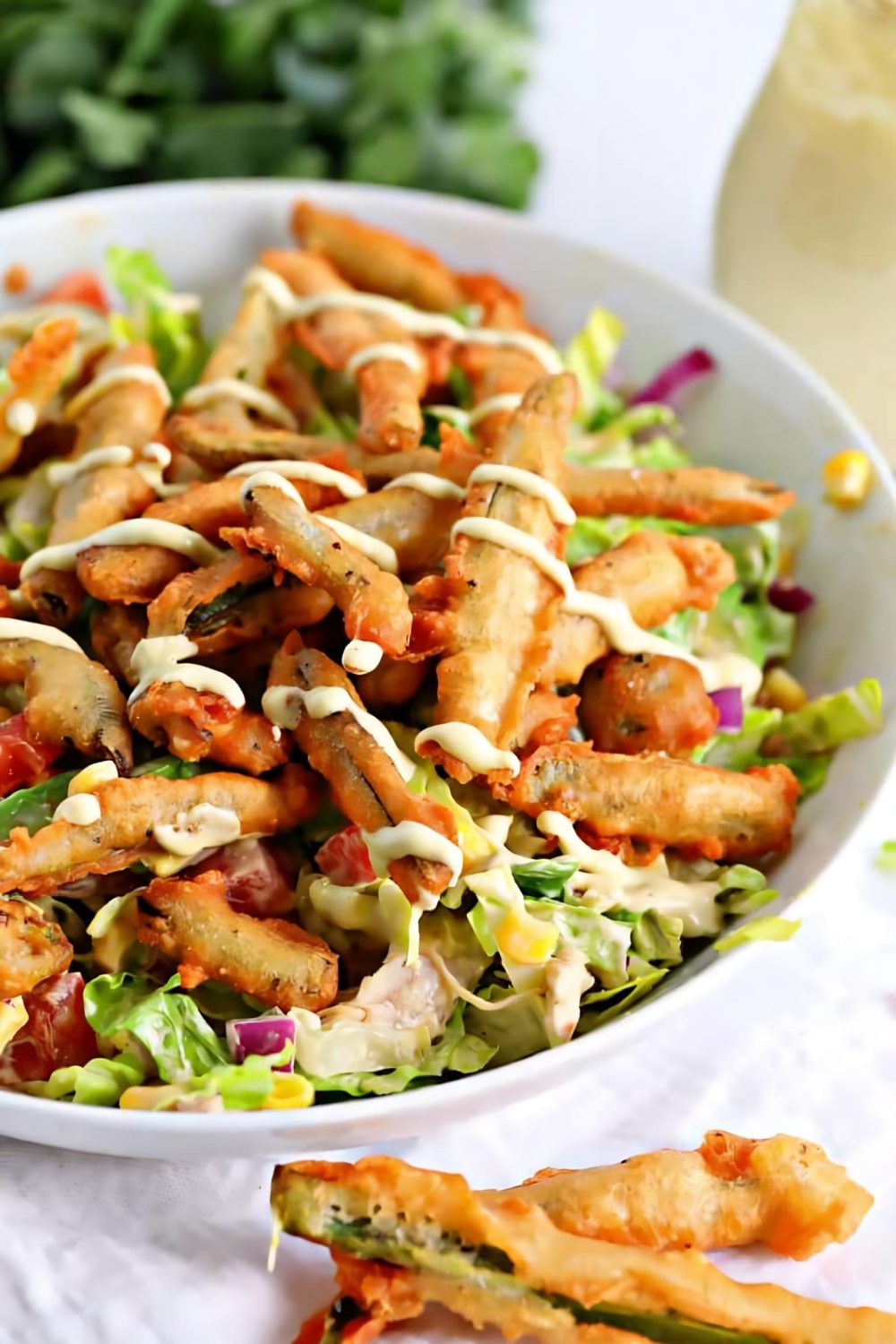 If you're looking to make this salad a bit healthier, you can use chicken breast that's been boiled or grilled without any added oil or butter. For the dressing, you can use our Homemade Ranch Dressing but swap out the sour cream for Greek yogurt and the mayonnaise for low-fat buttermilk. And instead of croutons or fried jalapeños, you can use sunflower seeds or nuts for added texture.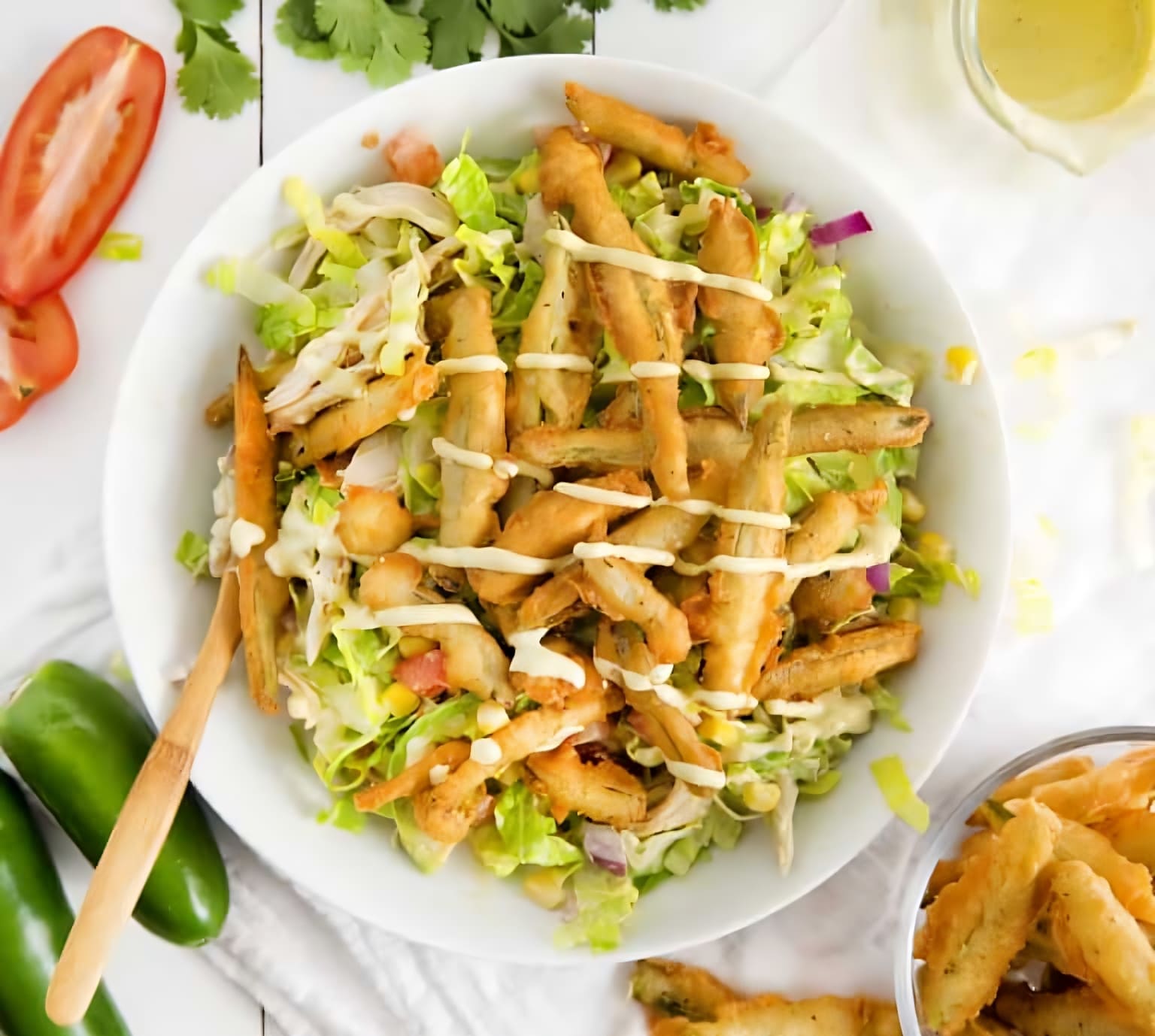 In summary, here are the ingredients you'll need for Jalapeno Chicken Salad:
1 Rotisserie Chicken, shredded, skin removed
1 teaspoon chipotle chili powder
½ teaspoon lime juice
⅛ teaspoon cumin
⅛ teaspoon cayenne pepper
½ teaspoon garlic powder
2 heads Romaine Lettuce, chopped
1 Roma Tomato, chopped
1 small red onion, chopped
3 strips bacon, cooked and crumbled
1 avocado, cut into strips
1 tablespoon cilantro, chopped
1 can (15.25 ounces) corn
1 cup Jalapeno Ranch Dressing 
1 cup Crispy Fried Jalapenos 
Instructions
In a medium-sized bowl, mix the chicken with the chili powder, lime juice, cumin, cayenne pepper, and garlic powder until it's evenly coated.
In a large bowl, combine chopped romaine lettuce, Roma tomato, red onion, bacon, avocado strips, chopped cilantro, corn, and 1/2 cup of jalapeno ranch dressing (you can find the recipe in the notes section below). Add the chicken mixture to the salad and toss until everything is well-coated. If desired, you can add more dressing to taste.
Finally, top the salad with crispy fried jalapenos. Serve immediately and enjoy!
With these simple ingredients and easy-to-follow instructions, you'll have a delicious and satisfying salad that's perfect for any occasion.