Prepare to indulge in the ultimate dessert fusion of cinnamon, sugar, and velvety cheesecake nestled in a delightful pie crust. But wait, there's more! Stick around until the end, as I have an exciting twist to share with you. If you're a fan of the heavenly Apple Crisp Cheesecake, you won't want to miss out on my award-winning Apple Crisp recipe.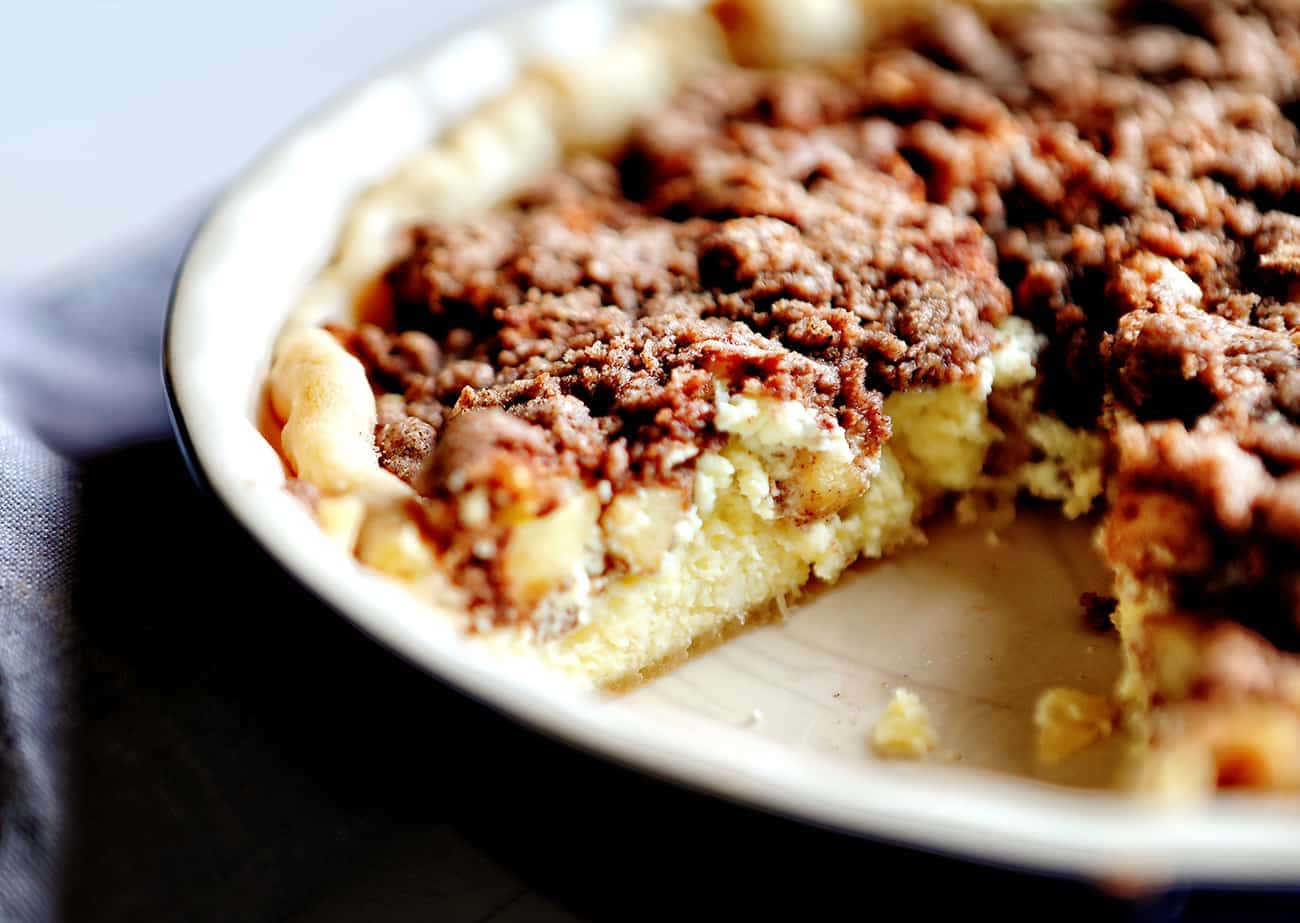 Unveiling Apple Crisp Cheesecake
In simple terms, Apple Crisp Cheesecake is a harmonious blend of flavors. It features a delectable pie crust as the foundation, creamy cheesecake filling as the centerpiece, and a sprinkle of apple crisp crumble to complete the symphony of tastes. It's the ultimate combination of our favorite treats.
The Birth of Apple Crisp Cheesecake
One chilly Sunday afternoon in Minnesota, I found myself rummaging through my pantry and stumbled upon four bottles of McCormick Pure Vanilla Extract. Inspired to utilize this treasure trove of vanilla goodness, I decided to whip up a cheesecake. As I glanced over at my table, a bowl of apples caught my eye, remnants of my beloved Apple Crisp. And that's how the idea for Apple Crisp Cheesecake was born!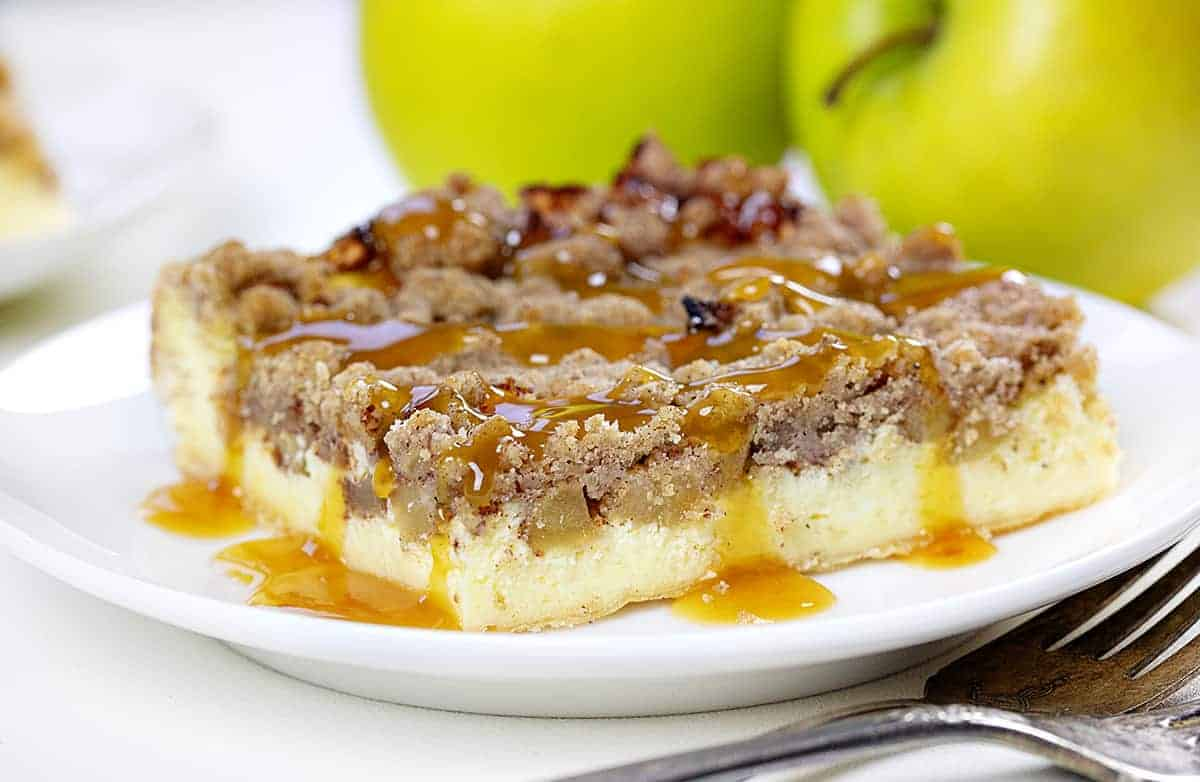 Selecting the Perfect Apples
Choosing the right apples is essential to achieve the perfect balance of tanginess that pairs exquisitely with the buttery topping of an apple crisp. My top recommendations are Honeycrisp and Granny Smith apples. Honeycrisp apples are known for their crisp and juicy texture, accompanied by a honey-sweet and tart flavor. Fun fact: Honeycrisp apples were developed right here in Minnesota, making us proud! Alternatively, Granny Smith apples offer a satisfying crispness with a distinct sourness. While a combination of sweet apples like Golden Delicious and tart apples is also an option, it's worth noting that the reheating process may affect the texture of the leftovers, resulting in a mushier outcome.
The Magic of Brown Sugar Apple Crisp
While many recipes call for solely granulated sugar or a mix of granulated and brown sugar, the true depth of flavor lies in the exclusive use of brown sugar. Once you try this apple crisp, you'll understand what I mean. I prefer using light brown sugar, but dark brown sugar works wonderfully too. In case you find yourself without brown sugar, fear not! You can easily create your own at home.
Homemade Brown Sugar Delight
For light brown sugar, add 1-2 tablespoons of molasses to 1 cup of granulated sugar. If you prefer dark brown sugar, incorporate 3-4 tablespoons of molasses to 1 cup of granulated sugar. Personally, I enjoy mixing up a generous batch using my food processor, but you can also do it by hand if you prefer.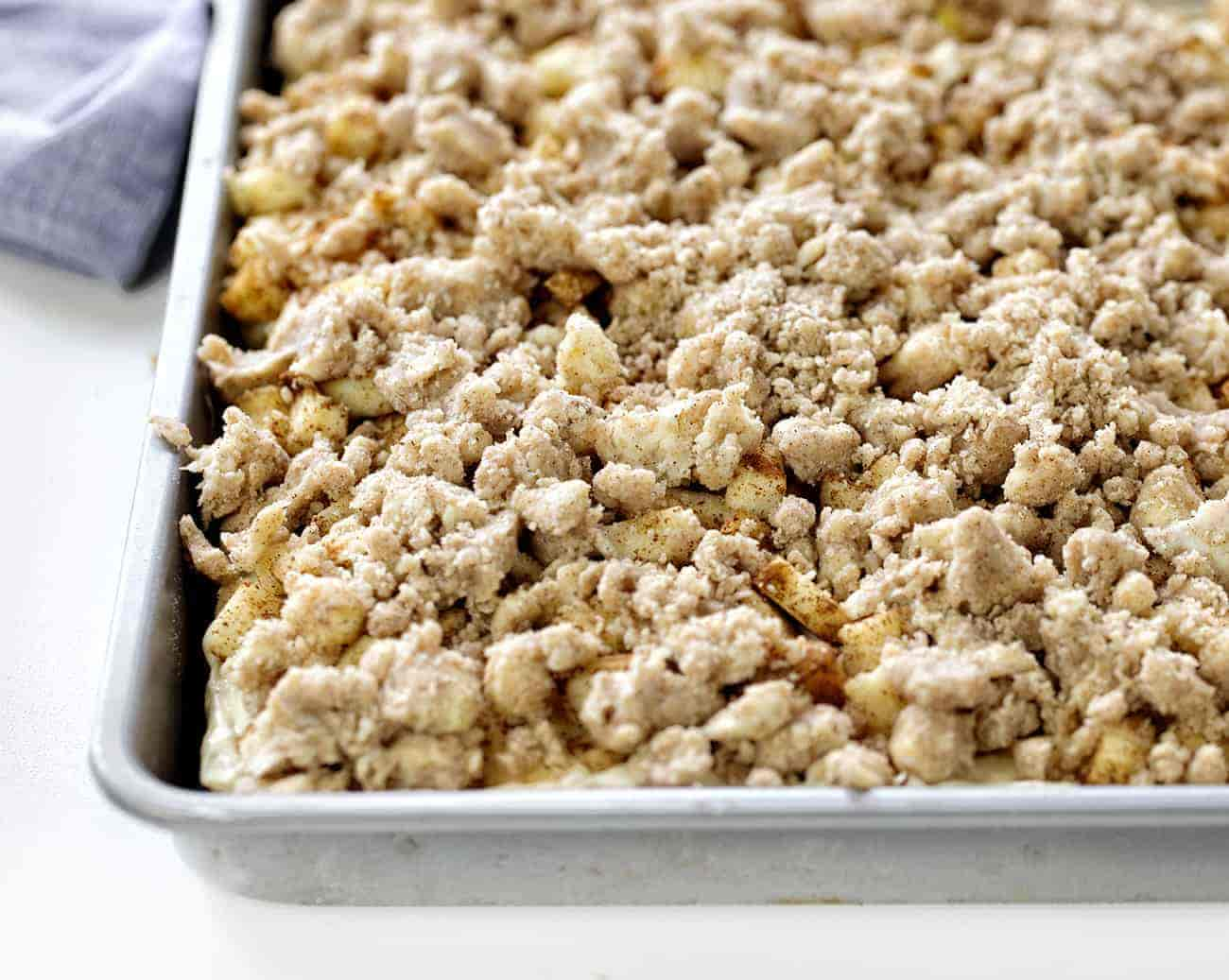 Ingredients for Apple Crisp Cheesecake
Apple Mixture:
2 Granny Smith apples, peeled and diced into small cubes
2 teaspoons McCormick Cinnamon, ground
2 teaspoons all-purpose flour
Cheesecake Filling:
2 (8 oz) packages of cream cheese
2 teaspoons McCormick Pure Vanilla Extract
2 large eggs, at room temperature
1/2 cup (100g) granulated sugar
Crumb Topping:
1/2 cup all-purpose flour
1 teaspoon McCormick Apple Pie Spice
1/2 cup (1 stick or 113g) cold butter
2 teaspoons brown sugar
1 prepared pie crust
Instructions for Apple Crisp Cheesecake
Preheat your oven to 350°F.
Place the prepared pie crust into a 7-inch pie pan and bake for 10 minutes. Remove from the oven and set it aside to cool on a cooling rack.
Apple Mixture:
Peel the Granny Smith apples and dice them into small 1/4-inch cubes.
In a medium bowl, combine the diced apples, ground cinnamon, and all-purpose flour. Toss the ingredients together until the apples are evenly coated. Set the mixture aside.
Cheesecake Filling:
In another bowl, beat the cream cheese, McCormick Pure Vanilla Extract, eggs, and granulated sugar until smooth and creamy. Set aside.
Crumb Topping:
In a third bowl, combine the all-purpose flour, McCormick Apple Pie Spice, cold butter, and brown sugar. Mix the ingredients until they are well incorporated and the butter chunks are roughly the size of a pea.
Assembling the Pie:
Once the pie crust has cooled, spread the cream cheese filling evenly over the crust, creating a smooth layer.
Next, add the prepared apple mixture on top of the cream cheese filling, ensuring an even distribution.
Finish off by sprinkling the crumb topping over the apple layer, creating a generous coating.
Baking the Apple Crisp Cheesecake:
Place the pie pan in the preheated oven and bake for 45-50 minutes. The cheesecake is ready when the edges are set and slightly golden, and the center is still slightly jiggly.
Remove the Apple Crisp Cheesecake from the oven and allow it to cool completely on a wire rack.
Once cooled, refrigerate the cheesecake for at least 4 hours or overnight to allow it to firm up and the flavors to meld together.
Serve chilled and savor every bite of this delectable Apple Crisp Cheesecake.
Now you have the recipe to create a truly remarkable dessert. Indulge in the harmonious combination of cinnamon, sugar, and creamy cheesecake, topped with a delightful apple crisp crumble. Whether you're enjoying it as a special treat for yourself or sharing it with loved ones, this Apple Crisp Cheesecake is sure to impress.