If you're craving a delightful dessert with a zesty twist, you've come to the right place! Our rendition of Easy Lemon Bars, featuring a buttery shortbread crust and a tangy lemon curd filling, is bound to tantalize your taste buds. The best part? This bakery-worthy recipe requires just five simple ingredients!
Classic Lemon Bars, also known as lemon squares, have always been a beloved treat. With a quick and straightforward shortbread crust, a lemony curd-style filling that doesn't require stovetop cooking, the only challenge here is the anticipation as you wait for them to set up before indulging in this tangy delight.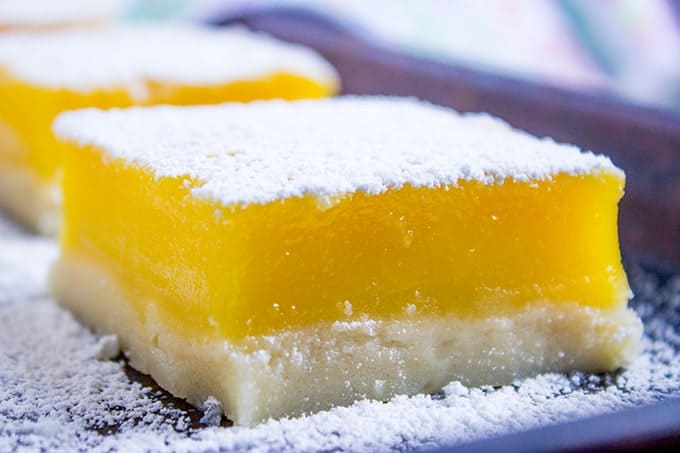 Creating the Perfect Shortbread
In our easy lemon bars recipe, crafting the shortbread crust is a breeze. All you need is a food processor to blend together all-purpose flour, sugar, and frozen butter cubes for a mere 20 seconds until the dough forms large chunks.
No need to get your hands dirty; simply transfer the dough to a baking pan, press it into an even layer using a spatula, and pop it in the oven.
The beauty of our truly Easy Lemon Bars lies in the crust-making process, which, traditionally considered the most challenging part, is effortlessly completed in just 20 seconds using a food processor.
The Irresistible Lemon Filling
The lemony goodness of our Lemon Bars stems from a mixture of lemon juice, lemon zest, sugar, whole eggs (yes, we use the entire egg, not just yolks like in traditional lemon curd), and a touch of all-purpose flour to thicken the filling as it bakes.
Achieving Perfect Lemon Bar Slices
To ensure perfect slices of lemon bars, line your baking pan with parchment paper, ensuring it hangs over the edges by at least 3 inches. This overhang will enable you to lift the entire pan out without breaking the bars once they've chilled in the freezer for at least an hour to firm up.
Before attempting to lift the parchment paper, run a knife along its outer edges to release the bars.
For an exquisite finishing touch, dust your lemon bars with powdered sugar. You can also preserve their moisture by lightly pressing the edges of each piece into powdered sugar before storing them in an airtight container.
Zesting and Juicing Lemons Like a Pro
To zest a lemon, use a microplane to grate the rind, removing only the yellow layer of the lemon's skin. Be cautious not to include any of the white pith, which imparts bitterness.
For juicing, cut a lemon in half horizontally (not through the stem), then insert a fork into each half, firmly holding it in your palm while twisting the fork to extract the juice. You can also microwave the lemon for 5 seconds before squeezing to make juicing easier.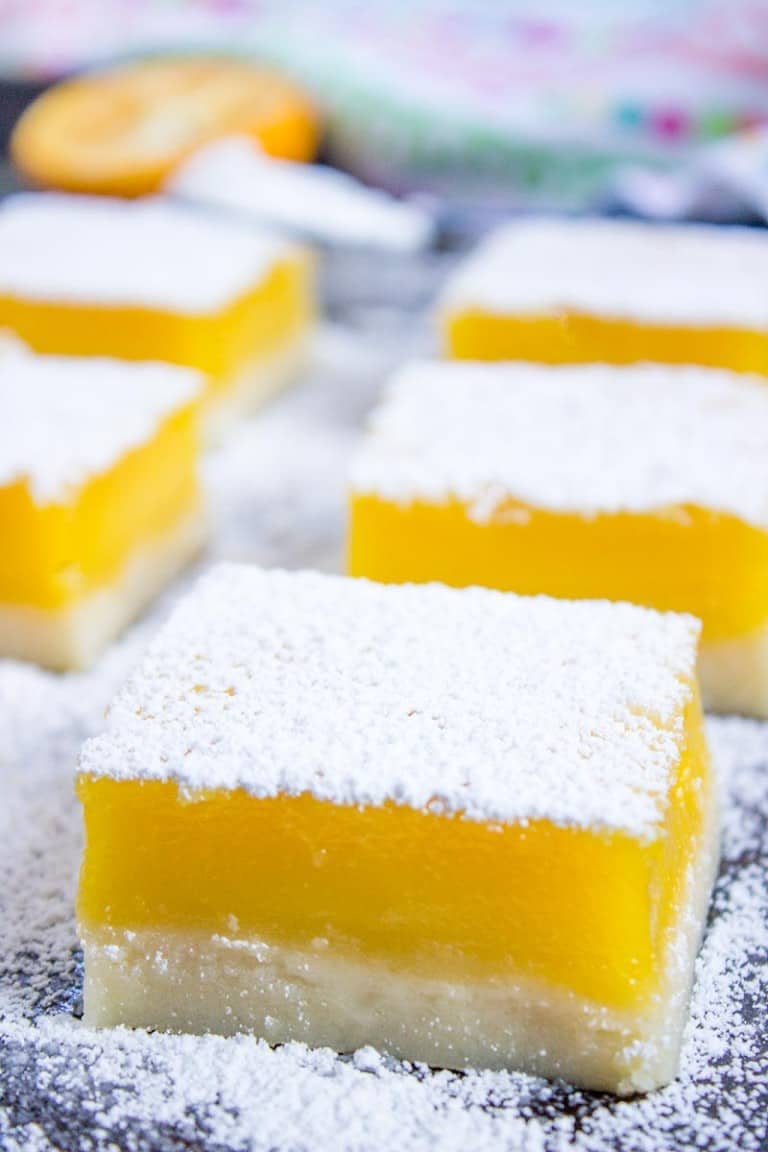 No-Bake Lemon Bars
For a no-bake version of these lemon bars, follow these steps:
Bake the shortbread crust as directed.
Top the crust with a box of lemon pudding mix, 8 ounces of whipped topping (or use homemade whipped topping), and ½ cup of milk.
Allow it to firm up in the freezer to your desired consistency, as it will melt at room temperature.
Exploring Fun Flavor Twists
Get creative with your Lemon Bars by trying these exciting flavor variations:
Lime Lemon Bars: Replace ¼ cup of lemon juice with lime juice and add the zest of one lime to the mixture.
Orange Lemon Bars: Swap out ¼ cup of lemon juice for orange juice and include 1 teaspoon of orange zest.
Meyer Lemon Bars: Use Meyer lemons instead of regular lemons and reduce the sugar by 2 tablespoons.
Lemon-Blueberry Bars: Mix in 2 cups of blueberries coated with flour into the filling mixture and bake for an additional 10 minutes.
Strawberry Lemon Bars: Incorporate 2 cups of strawberries tossed with flour into the filling mixture and bake for an extra 10 minutes.
Fruit Jam Lemon Bars: Add dollops of your favorite fruit jam (berry, orange, pineapple, or any flavor you prefer) on top of the lemon layer before baking. It's a simple hack to use up the last bit of jam in the fridge.
Poppy Lemon Bars: Enhance your lemon bars with 1 tablespoon of poppy seeds, adding a delightful crunch to both the lemon mixture and the shortbread base.
White Chocolate Lemon Bars: After baking the shortbread base and before adding the lemon layer, drizzle melted white chocolate over the crust.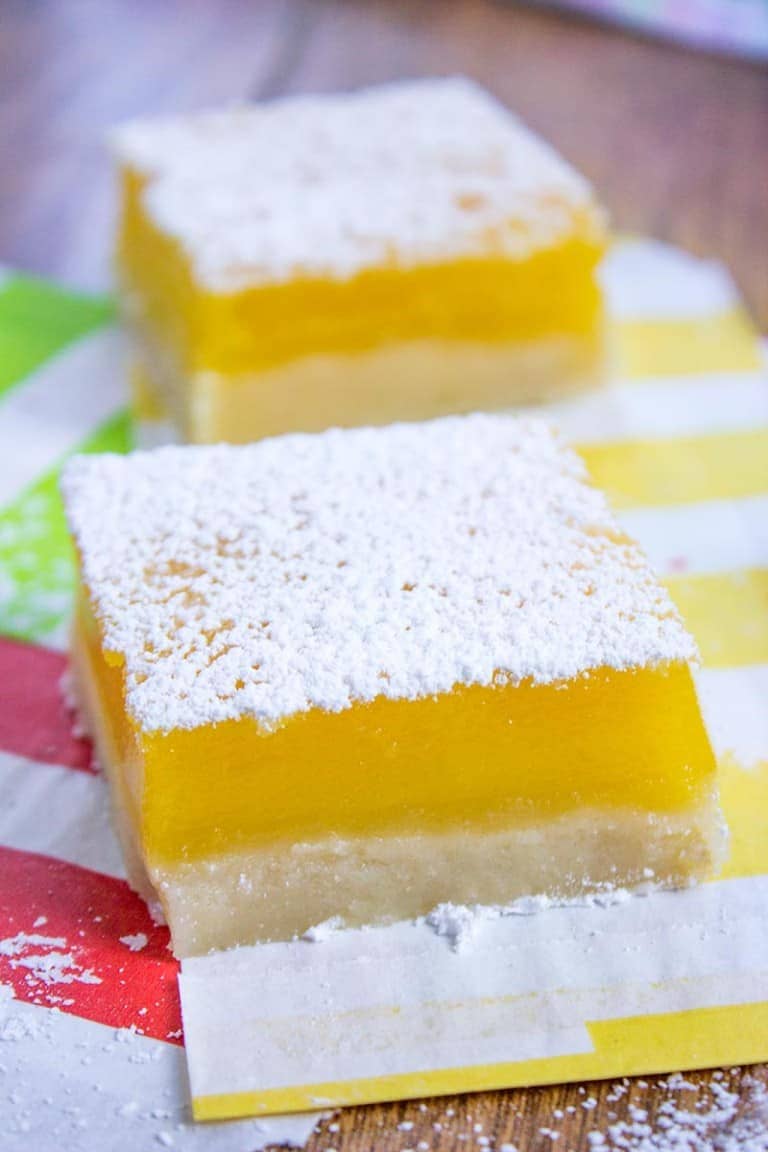 Ingredients
For the Crust:
12 tablespoons unsalted butter, frozen and diced
6 tablespoons sugar
1 ½ cups all-purpose flour
For the Filling:
1 ½ cups sugar
¼ cup all-purpose flour
4 large eggs
¾ cup lemon juice
1 tablespoon lemon zest
Instructions
Preheat your oven to 350 degrees and line your baking pan with parchment paper, ensuring it hangs over the edges.
In a food processor, combine the diced butter, sugar, and flour. Process for 20-30 seconds until the dough forms into a ball.
Press the dough into an 8×8 inch pan and bake for 22-25 minutes.
In a large bowl, whisk together the 1 ½ cups sugar, ¼ cup flour, eggs, lemon juice, and lemon zest. Let the mixture sit for 15 minutes while the crust bakes. Whisk it again before pouring it onto the crust.
Bake the crust with the filling for 30-35 minutes, removing it before it starts to brown.
Now, savor the irresistible goodness of your homemade Lemon Bars, the perfect blend of sweet and tangy!