Indulge your taste buds in the delightful combination of zesty lemons, bursting blueberries, and moist zucchini with this extraordinary Lemon Blueberry Cake. Packed with flavors that harmonize perfectly, this cake will quickly become your favorite dessert. Get ready to fall in love with every heavenly bite!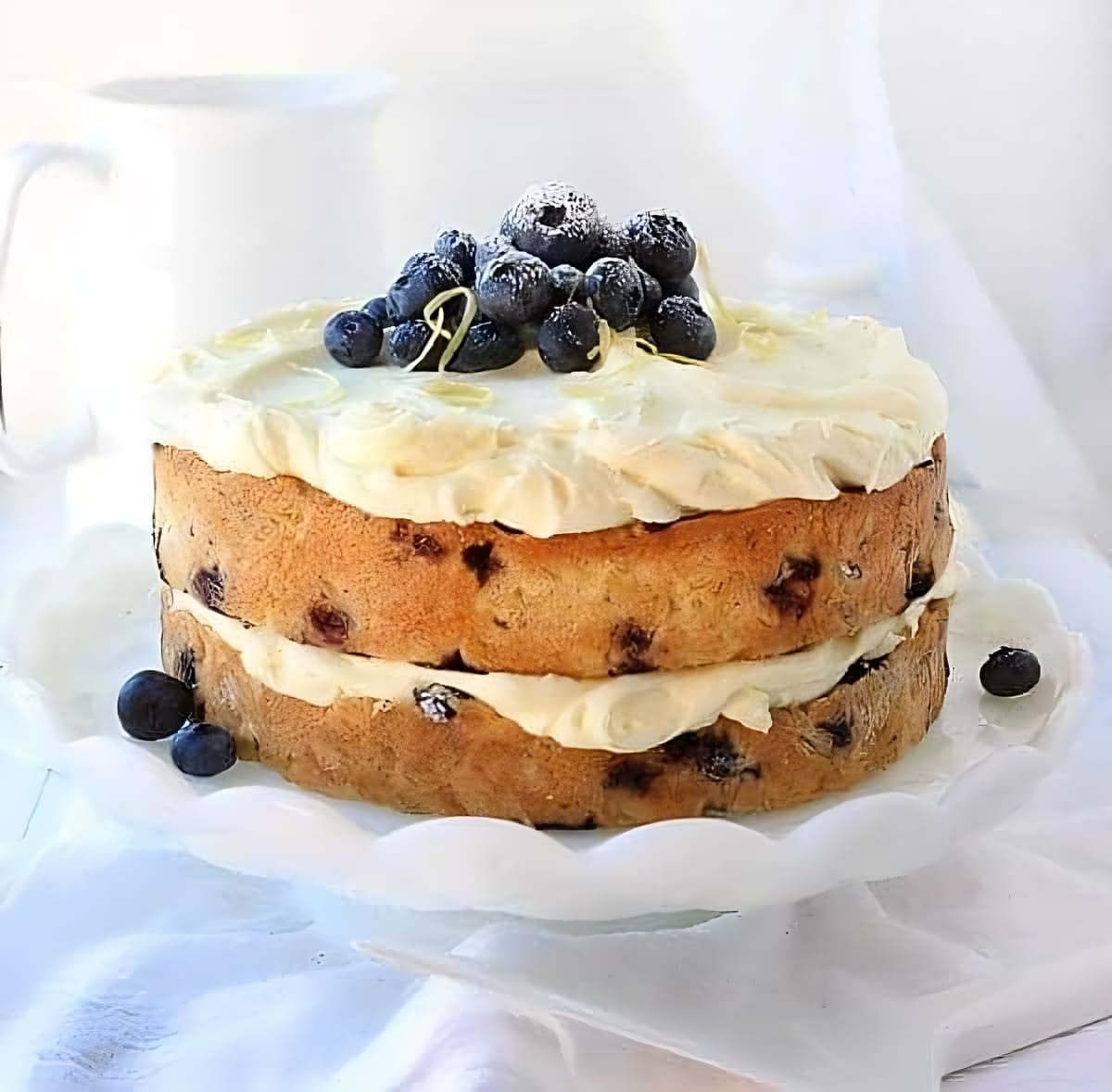 The Timeless Pairing of Lemons and Blueberries
Lemons and blueberries have long been recognized as a match made in culinary heaven. Their bright and tangy flavors complement each other in the most delightful way. To take this classic combination to new heights, we've incorporated freshly grated zucchini into the cake. Not only does it add incredible moisture, but it also enhances the overall texture and taste of the cake. Prepare yourself for a truly unforgettable dessert experience.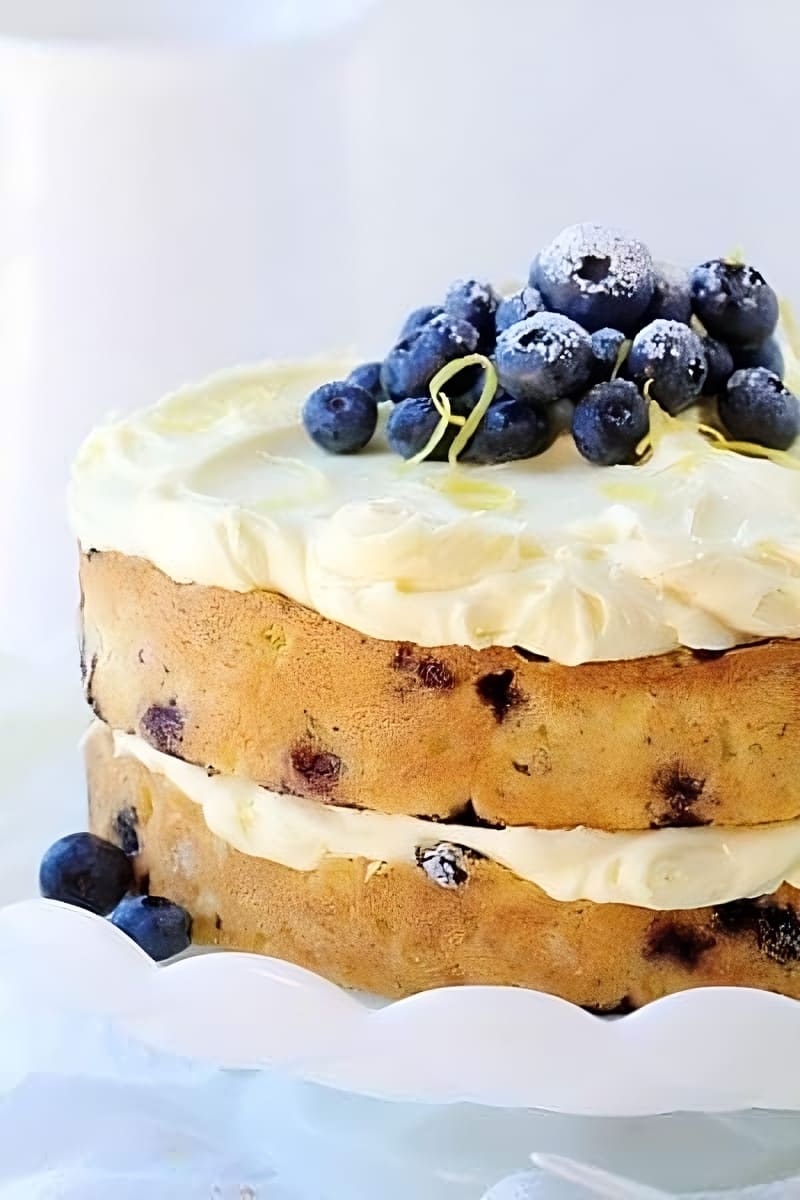 Unlocking the Magic of Zucchini in Baking
You may be wondering why we've chosen to include zucchini in this cake. Well, let us tell you—the benefits are incredible! Zucchini is a versatile vegetable that can be used in both savory and sweet dishes. When incorporated into baking, it brings a moistness that elevates the final result. Although you won't taste the zucchini itself, its presence ensures a cake that is tender, rich, and utterly delectable.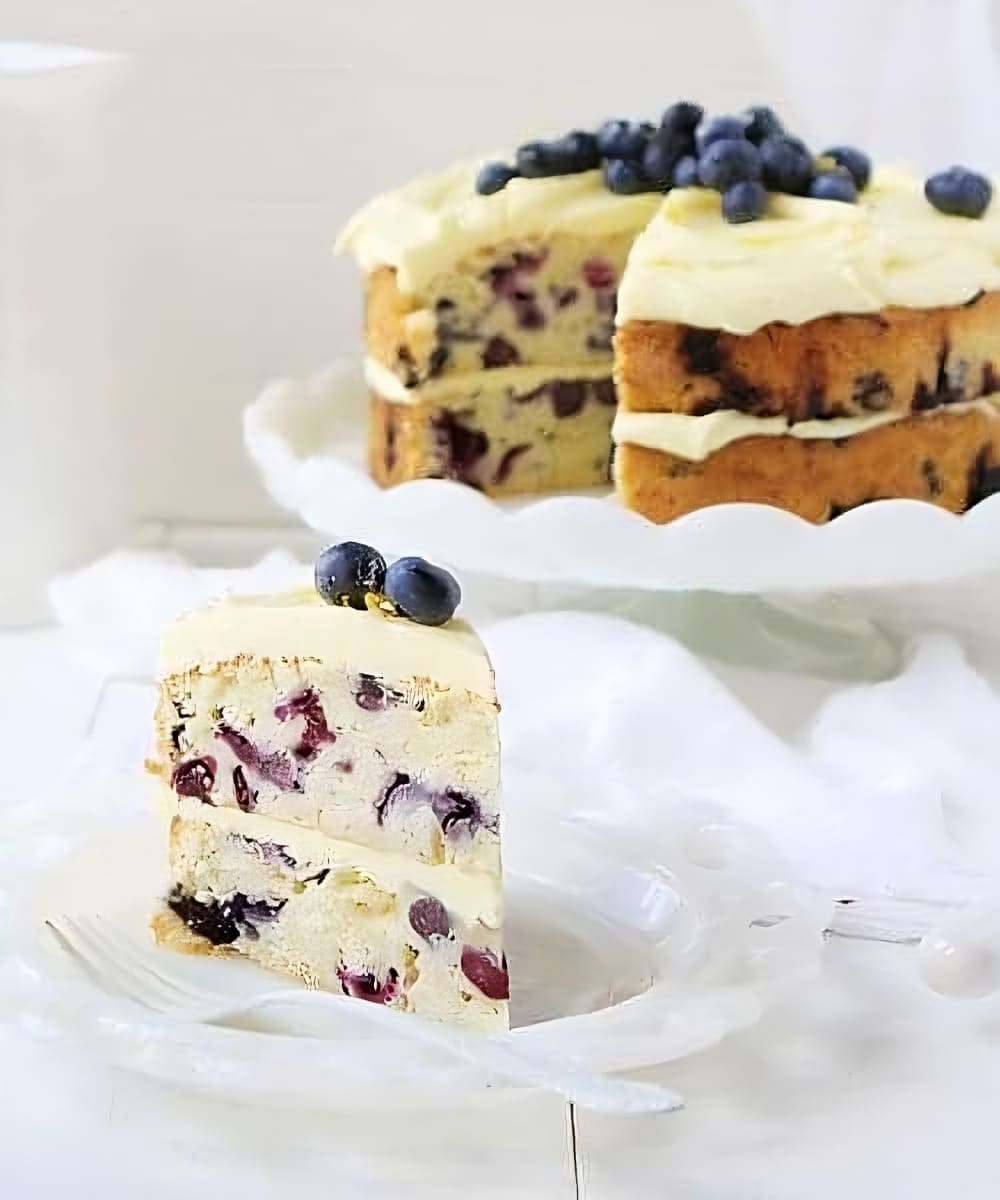 A Moisture-Rich Delight
Prepare to be amazed by the level of moisture in this cake. The combination of zucchini, blueberries, and lemon infuses each bite with a burst of juiciness. For a clean cut, you can briefly freeze the cake after baking. However, we highly recommend savoring it while it's still warm, allowing the zucchini bits to mingle with the bursting blueberries in a delightful way.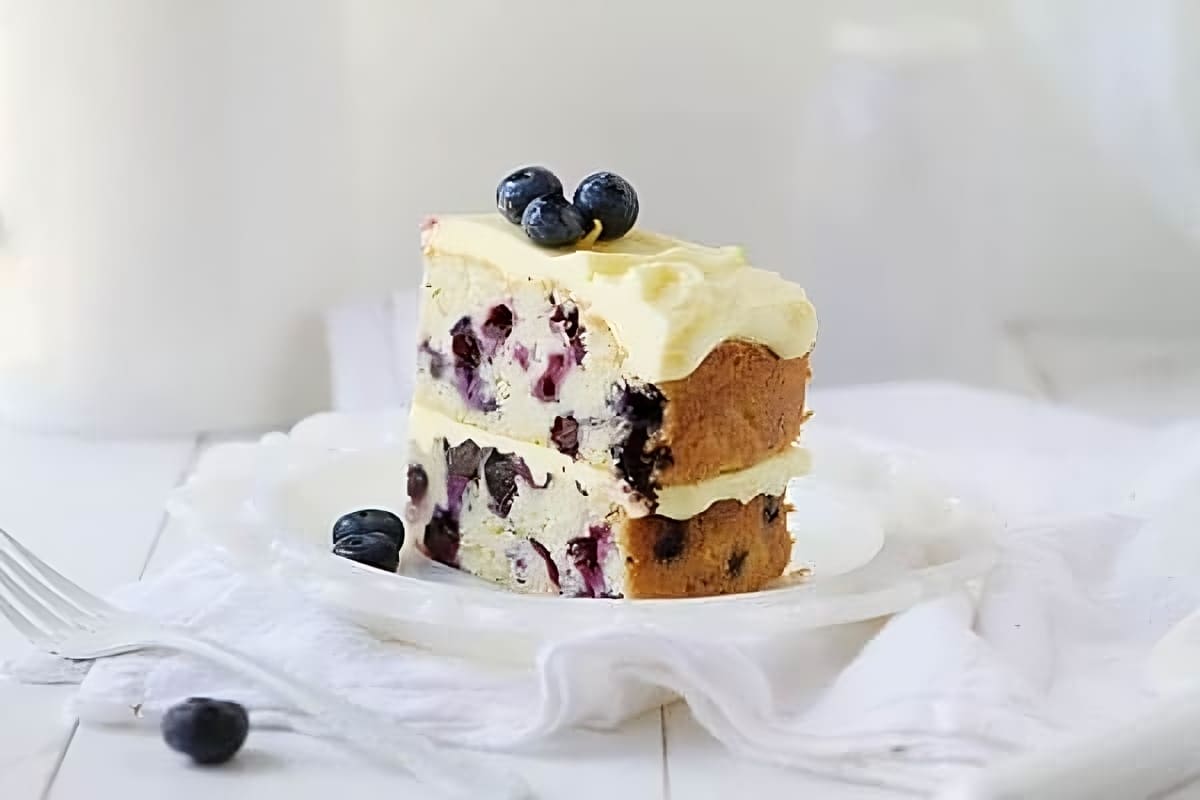 Using Frozen Blueberries
Yes, you can use frozen blueberries for this cake! Simply ensure they are thawed before incorporating them into the batter. It's worth noting that the thawed blueberries may impart a slightly bluish tint to the cake as they release their juices during baking. Don't worry—it's a small trade-off for the burst of flavor they bring.
Transforming into Bread
If you prefer a bread variation, you're in luck! Pour the batter into four mini loaf pans and bake them at 350°F for approximately 50 minutes. Check for doneness by inserting a toothpick into the center—it should come out with crumbs, but not wet batter. Once baked to perfection, you'll have delightful lemon blueberry zucchini bread ready to enjoy.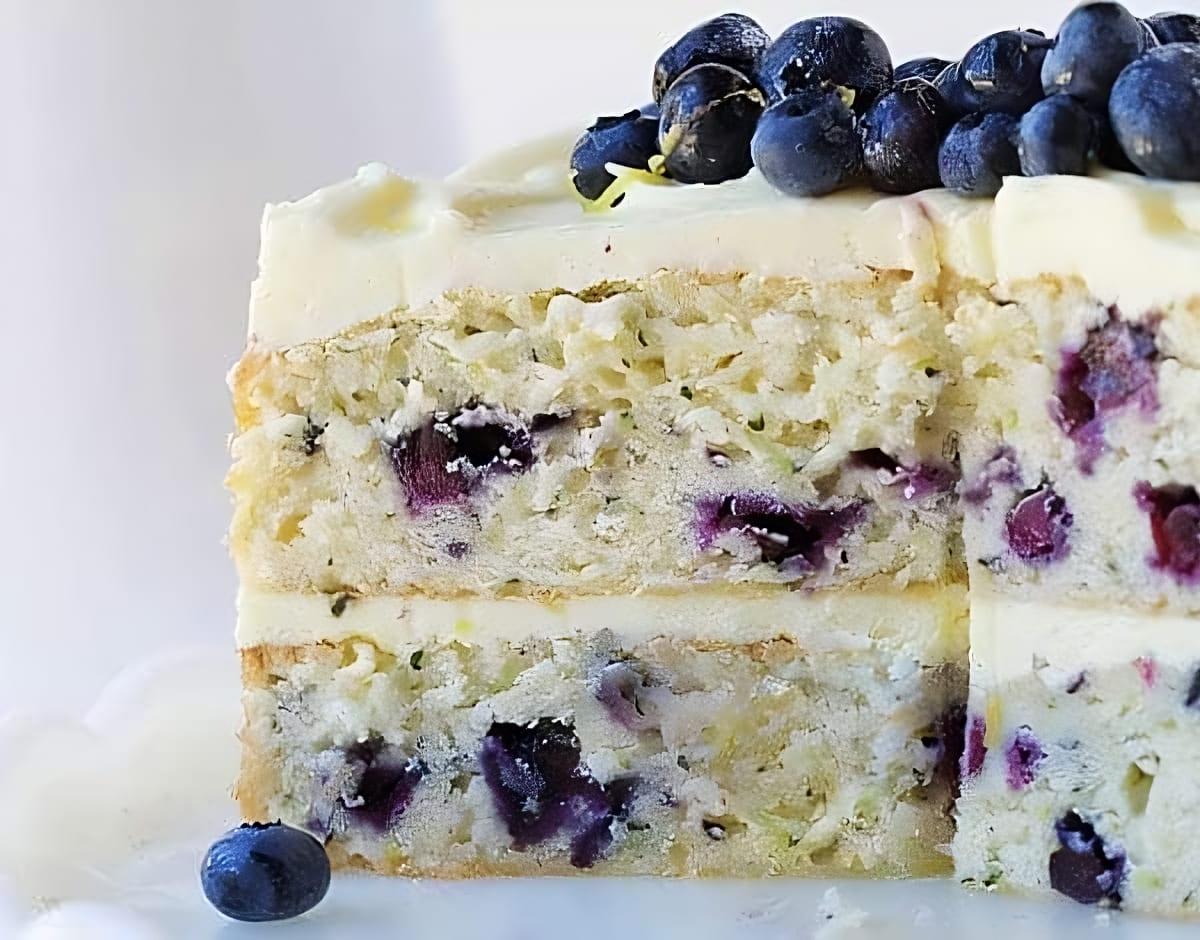 Ingredients:
Cake:
2 cups finely shredded zucchini, lightly drained
3 large eggs, lightly beaten (at room temperature)
1 cup (224g) vegetable oil
3 teaspoons vanilla extract
2¼ cups (450g) granulated sugar
3 cups (375g) all-purpose flour
1 teaspoon kosher salt
1 teaspoon baking powder
¼ teaspoon baking soda
1 pint fresh blueberries (reserve a few for garnish, if desired)
Lemon Buttercream:
1 cup (226g) butter (at room temperature)
3½ cups confectioners' sugar
Juice of one lemon
Zest of one lemon
1 teaspoon vanilla extract
⅛ teaspoon kosher salt
Instructions:
Cake:
Preheat the oven to 350°F. Grease and flour two 8-inch round cake pans or use non-stick baking spray.
Grate the zucchini and place it in a clean dish towel. Lift the edges of the towel and gently squeeze out excess moisture, leaving the zucchini slightly damp. You'll need 2 cups of shredded zucchini.
In a large bowl, using a hand mixer, beat together the eggs, vegetable oil, vanilla extract, and granulated sugar until well combined.
Fold in the shredded zucchini until evenly incorporated.
Slowly add the flour, kosher salt, baking powder, and baking soda to the bowl, stirring gently until just combined.
Gently fold in the fresh blueberries, reserving a few for garnish if desired.
Divide the batter evenly between the prepared cake pans.
Bake in the preheated oven for 35-40 minutes or until a knife inserted into the center of the cakes comes out clean.
Allow the cakes to cool in the pans for 20 minutes, then transfer them to wire racks to cool completely.
Lemon Buttercream:
In a mixing bowl, combine the butter, confectioners' sugar, and kosher salt. Beat until well combined and creamy.
Add the lemon juice, lemon zest (excluding if you plan to pipe the buttercream), and vanilla extract to the bowl. Continue beating for 3 to 5 minutes until the buttercream is light and fluffy.
Assembly:
Once the cakes have cooled completely, place one cake layer on a serving plate or cake stand.
Spread a generous amount of lemon buttercream on top of the first layer.
Carefully place the second cake layer on top of the buttercream and press gently to secure.
Frost the top and sides of the cake with the remaining lemon buttercream, creating a smooth and even layer.
Garnish with reserved fresh blueberries, if desired.
Slice and serve this luscious Lemon Blueberry Zucchini Cake to the delight of your taste buds!
Whether enjoyed as a sweet treat or a show-stopping dessert, this Lemon Blueberry Zucchini Cake is sure to impress. The combination of flavors and textures will leave you wanting more. So, grab a slice and savor the moistness of the zucchini, the burst of blueberries, and the zing of lemon in every heavenly bite. Indulge in this delectable creation and let your taste buds rejoice!