Looking for the perfect side dish to bring to a potluck or picnic? Look no further! Our unique twist on Easy Pasta Salad, featuring mozzarella, black olives, cherry tomatoes, and bell peppers in a creamy Italian dressing, is sure to be a crowd-pleaser. This flavorful pasta salad is a simple yet satisfying meatless option, but feel free to get creative by adding salami, prosciutto, or pepperoni if you desire that extra protein punch.
The best part? This recipe takes just 10 minutes to prepare, but we recommend refrigerating it for at least an hour before serving. Chilling allows the flavors to meld, ensuring a refreshing and satisfying dish best enjoyed cold.
Whether it's for potlucks or a quick weekday meal, our unique Italian Pasta Salad recipe trumps the store-bought alternatives every time. Plus, if you opt for pre-made dressing, it's almost as effortless as it is delicious, ready in just 10 minutes.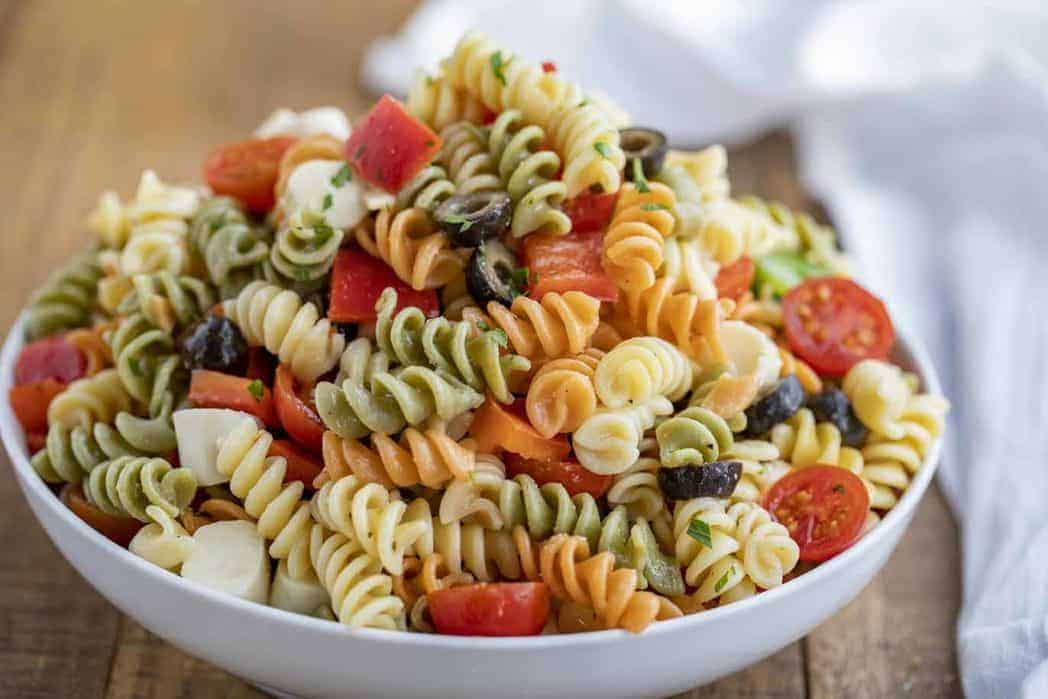 How to Make Our Unique Italian Pasta Salad
Ingredients:
1 pound of tricolor rotini pasta (precooked)
8 ounces of diced mozzarella cheese
2 cups of halved cherry tomatoes
8 ounces of medium pitted black olives
1 chopped green bell pepper
1 chopped red bell pepper
2 cups of Italian Dressing (see recipe below or use bottled)
Instructions:
Step One: Begin by boiling the pasta until it's perfectly cooked, then drain it (if not using precooked pasta). Be sure to cook it al dente to prevent mushiness. Rinse the pasta with cold water to stop further cooking.
Step Two: In a medium bowl, combine all the ingredients, ensuring your veggies are uniformly chopped for a cohesive look and bite-sized portions.
Step Three: Cover the pasta salad and refrigerate until thoroughly chilled. Just before serving, garnish with fresh parsley for an extra touch of presentation.
Frequently Asked Questions
Can you make Pasta Salad ahead of time?
Absolutely! This Italian pasta salad tastes even better when refrigerated, making it an ideal make-ahead dish. Prepare it the day before or in the morning for evening gatherings. To ensure optimal quality, don't make it more than 24 hours in advance. If it starts to dry out, keep some extra dressing on hand, and tightly seal the salad.
What other vegetables can I add to my Pasta Salad?
Feel free to experiment and customize your pasta salad with various vegetables for added nutrients and flavor. Some excellent additions include zucchini, white beans, pepperoncinis, banana peppers, red onions, and English cucumbers.
Key Ingredients for Our Unique Italian Pasta Salad
Our pasta salad boasts a delightful mix of ingredients that harmonize beautifully. You can easily find them at your local grocery store:
Pasta: We recommend tricolored pasta for its vibrant appearance, but regular pasta works just as well.
Cheese: Fresh mozzarella adds a mild and delightful taste. Mini mozzarella balls are convenient and ready to use.
Olives: Pitted black olives are essential for that signature flavor.
Tomatoes: Cherry tomatoes are easy to halve and incorporate.
Dressing: Homemade Italian dressing, with its unparalleled freshness and flavor, is the preferred choice. However, store-bought alternatives can be used in a pinch.
Bell Peppers: Red and green bell peppers add color and depth to the dish.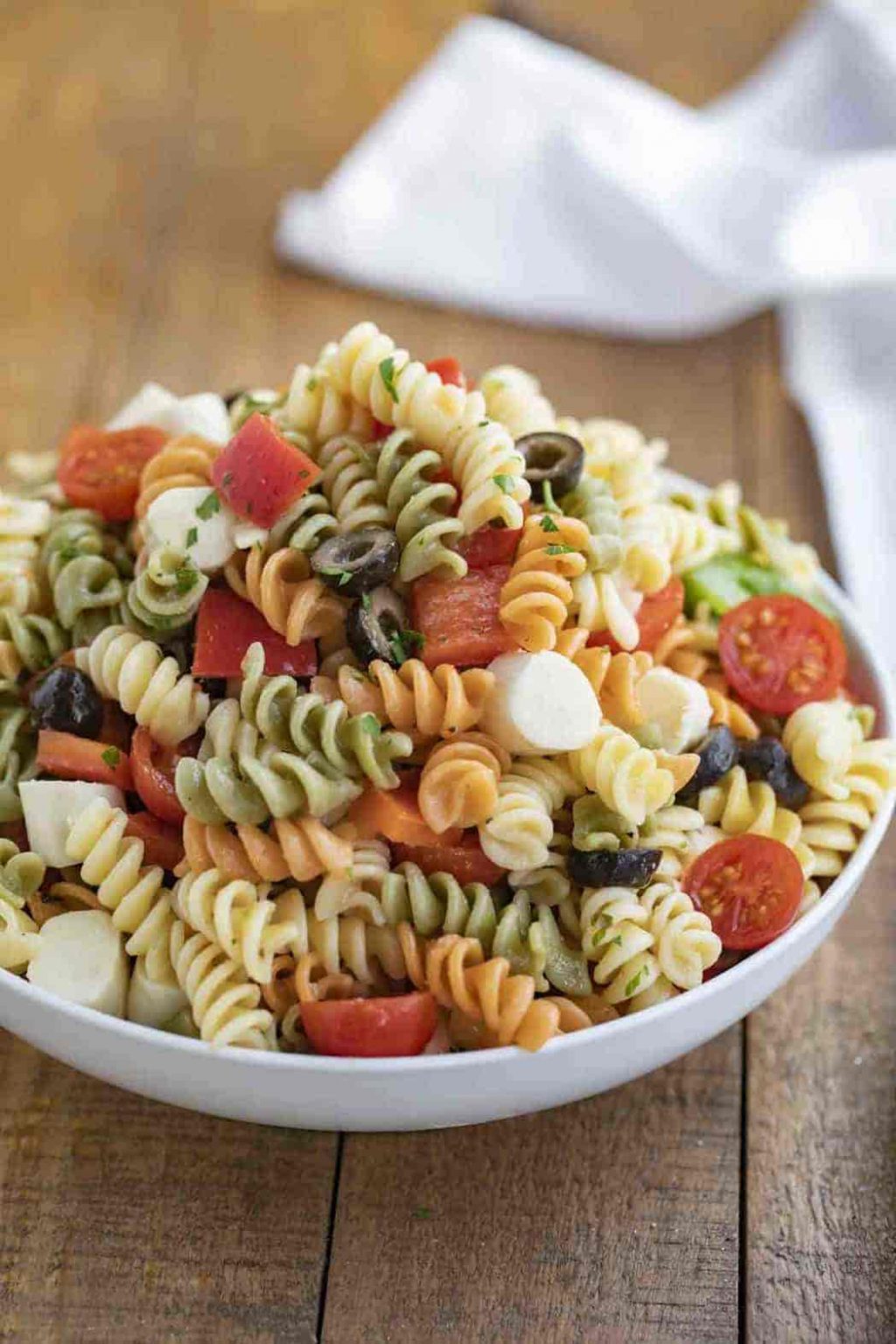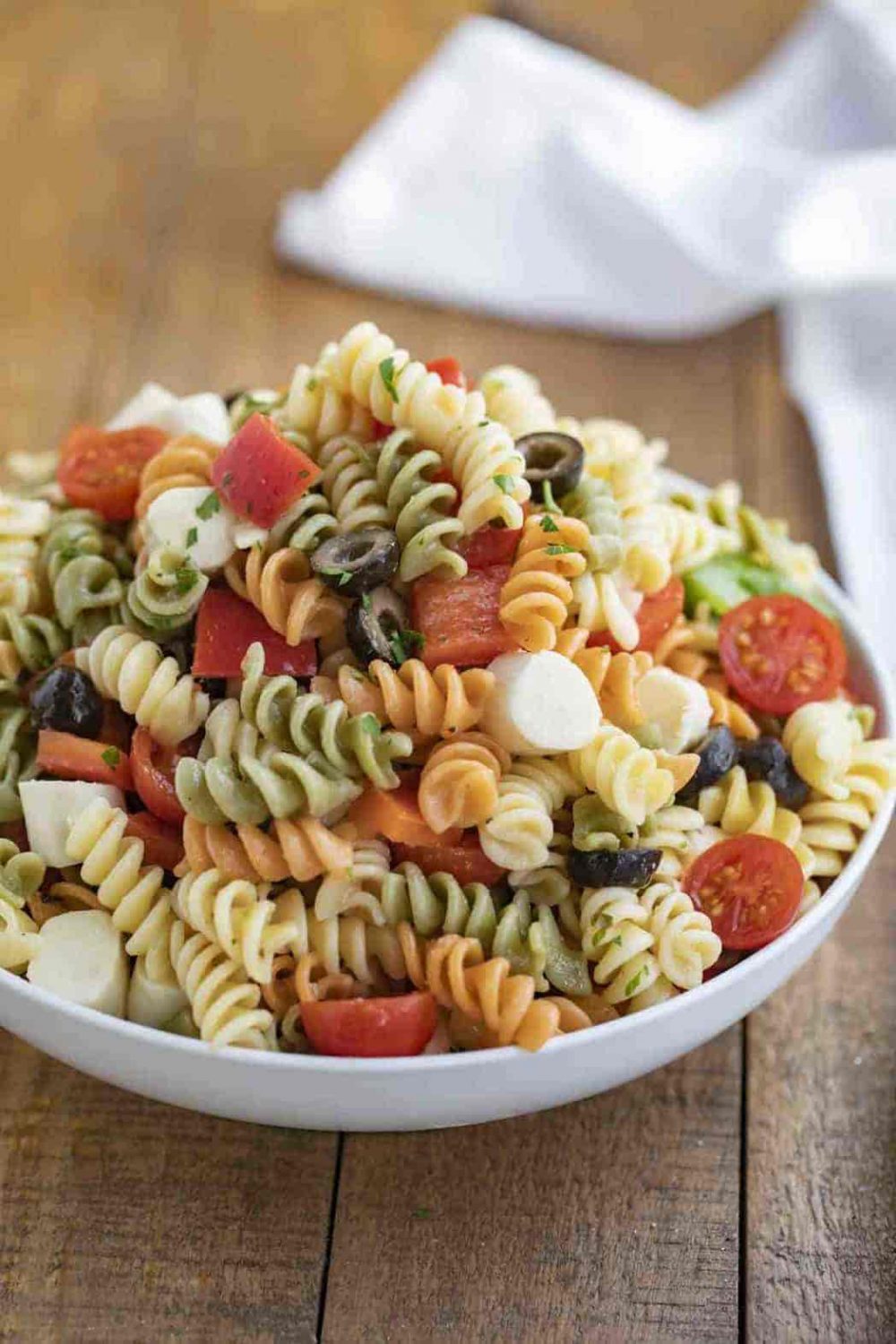 How to Make Homemade Creamy Italian Dressing
Our healthy homemade dressing is free of artificial preservatives and incredibly easy to whip up. Simply mix the following ingredients and refrigerate. Pro tip: Clean out an empty glass dressing jar to recycle.
Ingredients:
½ cup extra virgin olive oil
¼ cup white wine vinegar
¼ cup mayonnaise
1 tablespoon lemon juice
¾ cup shredded parmesan cheese
¼ teaspoon garlic salt
¼ teaspoon dried basil
¼ teaspoon dried oregano
¼ teaspoon marjoram
Instructions:
Whisk together the olive oil, white wine vinegar, mayonnaise, lemon juice, Parmesan cheese, garlic salt, dried basil, dried oregano, and dried marjoram in a small bowl until well combined. Store the dressing in an airtight container in the fridge for up to 7 days.
Variations for Our Unique Italian Pasta Salad
Our recipe offers a world of versatility, allowing for additions, substitutions, and unique twists. Here are some ideas to consider:
Pasta: Try penne pasta or any other type you have on hand for a different presentation.
Vinegar: Experiment with balsamic vinegar, red wine vinegar, or apple cider vinegar in the dressing for added depth of flavor.
Spicy: Kick up the heat with red pepper flakes, diced red onions, or spicy peppers.
Dressing: While store-bought dressing works, our homemade version packs more flavor.
Additions: Elevate your pasta salad with ingredients like sun-dried tomatoes, artichokes, cucumber, Roma tomatoes, or aged provolone. Top with grated parmesan or serve it on the side.
Flavor Booster: Enhance the Italian pasta salad with fresh herbs such as basil, dill, coarse ground black pepper, or minced chives.
Greek Style: Incorporate feta cheese to create a Greek Pasta Salad, and consider using Kalamata olives for that authentic touch.
How to Store Our Unique Italian Pasta Salad
To enjoy the best results:
Serve: Chill the pasta salad in the refrigerator for at least an hour before serving. Avoid leaving it at room temperature for more than two hours.
Store: After serving, store the pasta salad in an airtight container for up to 4 days. Be sure to stir well before serving.
Freeze: Oil-based dressings don't freeze well, so it's best to make a fresh batch rather than attempting to freeze this recipe. Enjoy your fresh and delicious pasta salad!