Spicy and sour sauces, with apples and other additives quickly become boring. This recipe is for those who want the taste of a classic and balanced tomato sauce, which can be supplemented with any spices and seasonings as desired.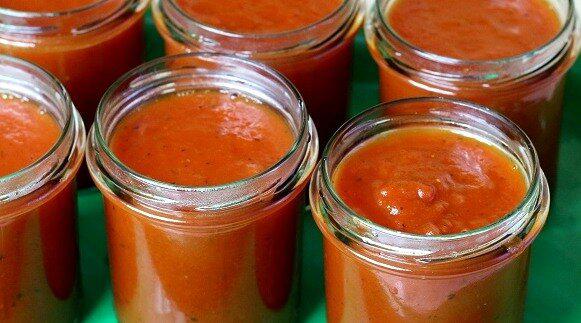 And the great thing about my recipe is that the ketchup doesn't need to be boiled down and apples or store-bought thickeners need not be added to make it thicker.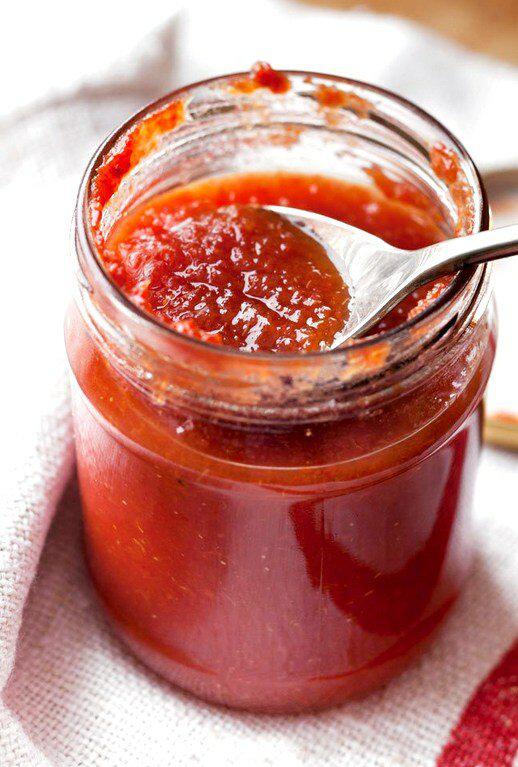 Canned Homemade Ketchup
There are many flavors, and there's no arguing about flavors – but to me this is a really great recipe – I share with pleasure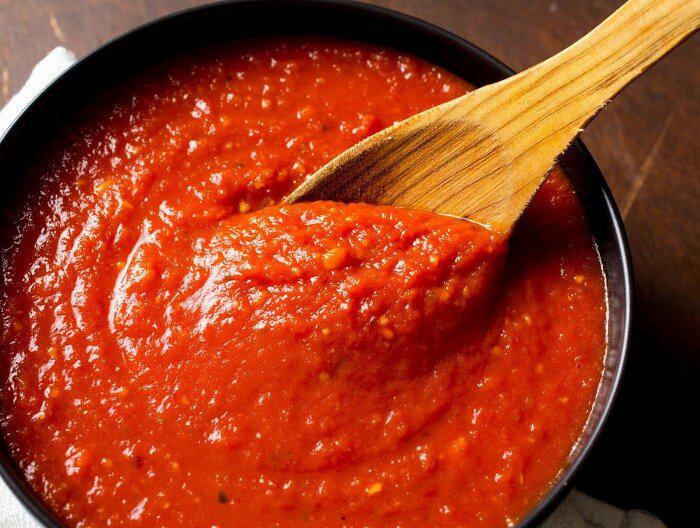 Ingredients (per 3 liters of finished product):
Tomatoes 5 kg (approximately);
Red peppers 1-1.5 kg (unpeeled);
Onions 1-1.5 kg;
Salt 2.5 tbsp.
Sugar 700 g;
Vinegar 150-200 grams (according to your taste);
Black pepper and allspice 5-10 pcs, cloves 5-7 pcs, cinnamon – a couple of times on the tip of a knife for a perfect flavor.
Instructions:
You don't need a meat grinder, juicer or blender. You need tomatoes and a little time. Time will pay off with delicious ketchup! Tomatoes with peel cut into quarters – small, 5-7 slices large. Peppers – in 4 parts, onions as well.
Important: The consistency and uniformity depends on the density and… on the sieve.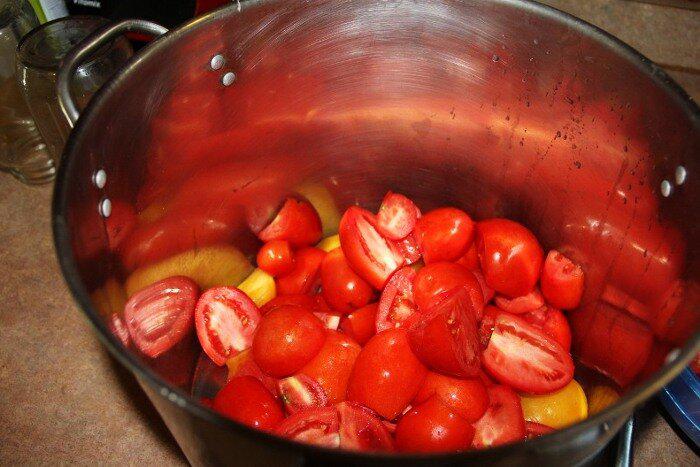 Pour a little water in the bottom of a wide saucepan so the tomatoes don't burn immediately. You can and should cover with a lid. Bring the tomatoes to a boil on a low heat, simmer, stirring, for about 15-20 minutes and let them infuse. The longer cooked tomatoes infuse, the thicker the ketchup.
Trick #1 for making perfect homemade ketchup
At this point, the most important process happens – the tomato skins and peppers give up their pectin and peel off. And it is very easy to rub them through a sieve: first through a large one, then a smaller one – so that the ketchup is very homogeneous.
Tomatoes with peppers and onions should be present for 2-3 hours. You can even leave it for the night, from this will not be worse.
Then you need to boil the tomatoes again, cool them again and rub them through a sieve. It is easy – the skin itself comes off after standing. And if the sieve is large and there is a wide wooden spoon – everything turns out quickly.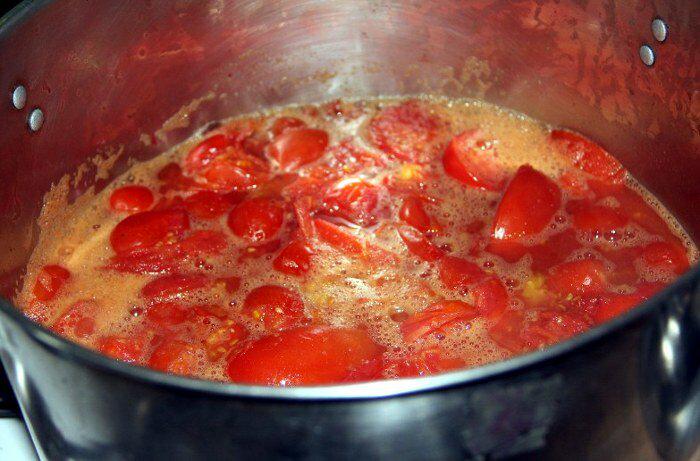 Now we leave the tomatoes to infuse again for 2-3 hours. Why again? And at this time a new tomato mystery happens: the tomato begins to settle, or rather its thick part. And there is an almost transparent liquid on the surface. We would boil it for hours, and the steam would be all over the house. But this way – the tomato did it all by itself 🙂
Trick number 2 for a great tomato sauce
This liquid needs to be drained off. It can be used to make tomato soups, casseroles, cook in this liquid delicious pasta and so on.
In general, this tomato liquid will come in handy. And in the end there remains a very thick tomato puree.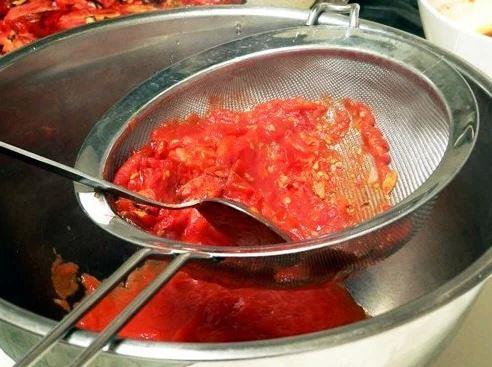 Now let's fill the ketchup with bright notes of flavor – yes, that classic flavor. We add salt and sugar, some black pepper and allspice (10 pieces each), up to 7 cloves, and a pinch of cinnamon. The aroma will be light, unobtrusive, barely perceptible – but indispensable.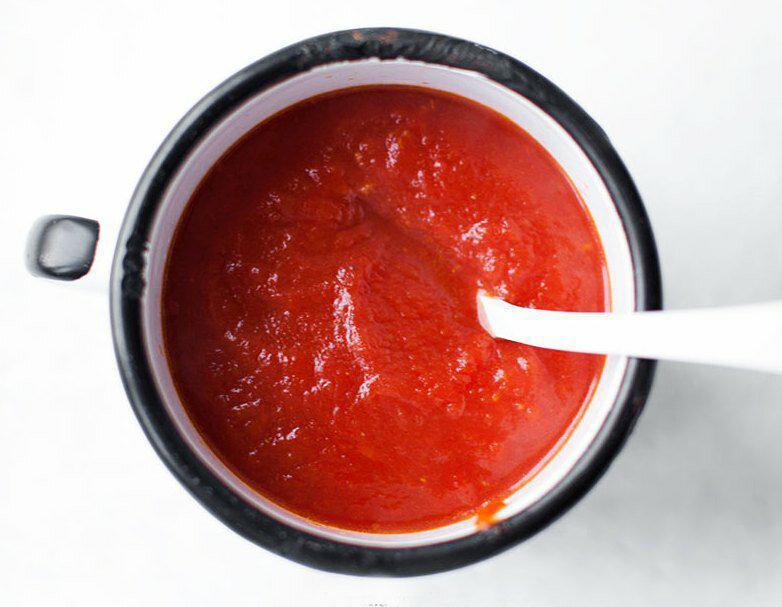 Add salt and sugar, then bring back to a boil. Boil for 10-15 minutes, skimming the foam and stirring in a circle with waving movements so that the liquid evaporates more actively.
Turn it off again, let it cool for an hour or two, cook it again, and go through the cycle three times, following the principle of making jam. On the last cycle cook ketchup for 30-40 minutes. To be honest, I can cook ketchup and a couple of days – and jam too 🙂 10 min before turning off, we pour the vinegar.
Trick #3 for making classic thick ketchup
It is this method "boil – turn off – boil" gives both density and bright color: the tomato does not darken, overcooking, does not get a brownish hue, does not lose flavor.
This is also how the sauce becomes thick: after all, in between cooking and cooling cycles, the liquid still evaporates, and pectins work – ketchup thickens itself – of course, if we "infused" it well, and got not quite a liquid puree.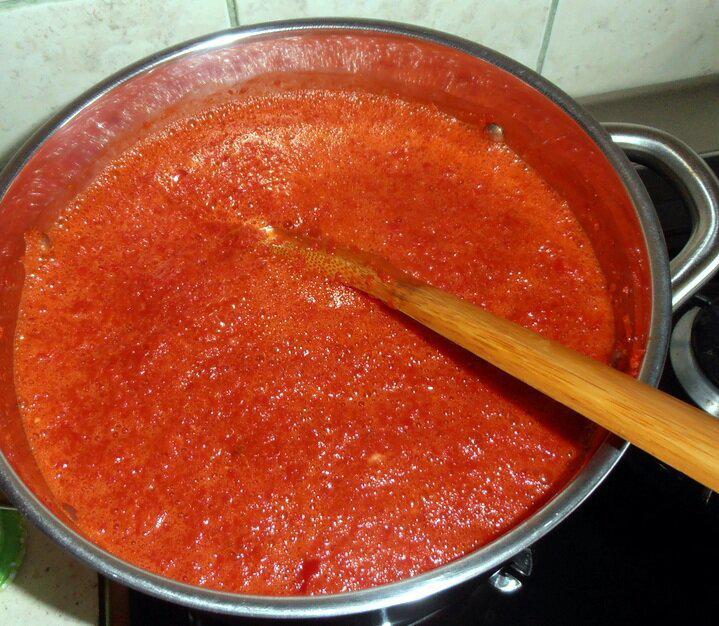 And then everything is simple: pour the boiling ketchup into sterilized jars, close the lids, turn the jars lids down. That's all, ketchup is ready – it can be stored in a dry place at room temperature for several years and can be enjoyed all year long.