Indulge in the delicious flavors of blackberries with this amazing blackberry chicken salad! This salad boasts juicy blackberries, crunchy walnuts, creamy avocado, and a tangy kick from the red onions. The star of this dish is the blackberry balsamic vinegar dressing that takes it to a whole new level of deliciousness.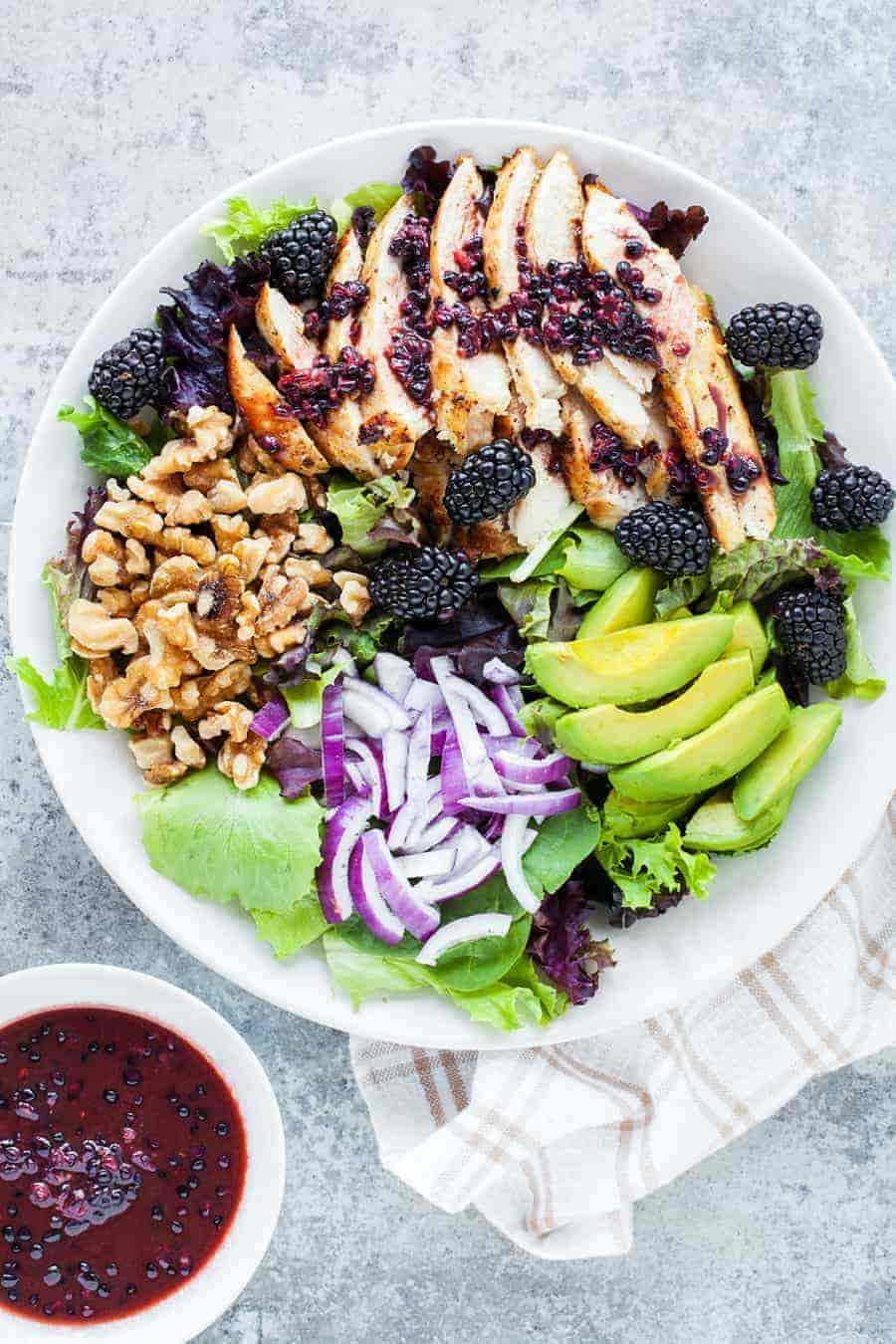 Make the most of the summer season by incorporating fresh blackberries into your salad. This sweet and savory salad is a textural delight that will leave your taste buds wanting more. The succulent chicken strips paired with the sweet dressing will make this salad an instant favorite at your dinner table.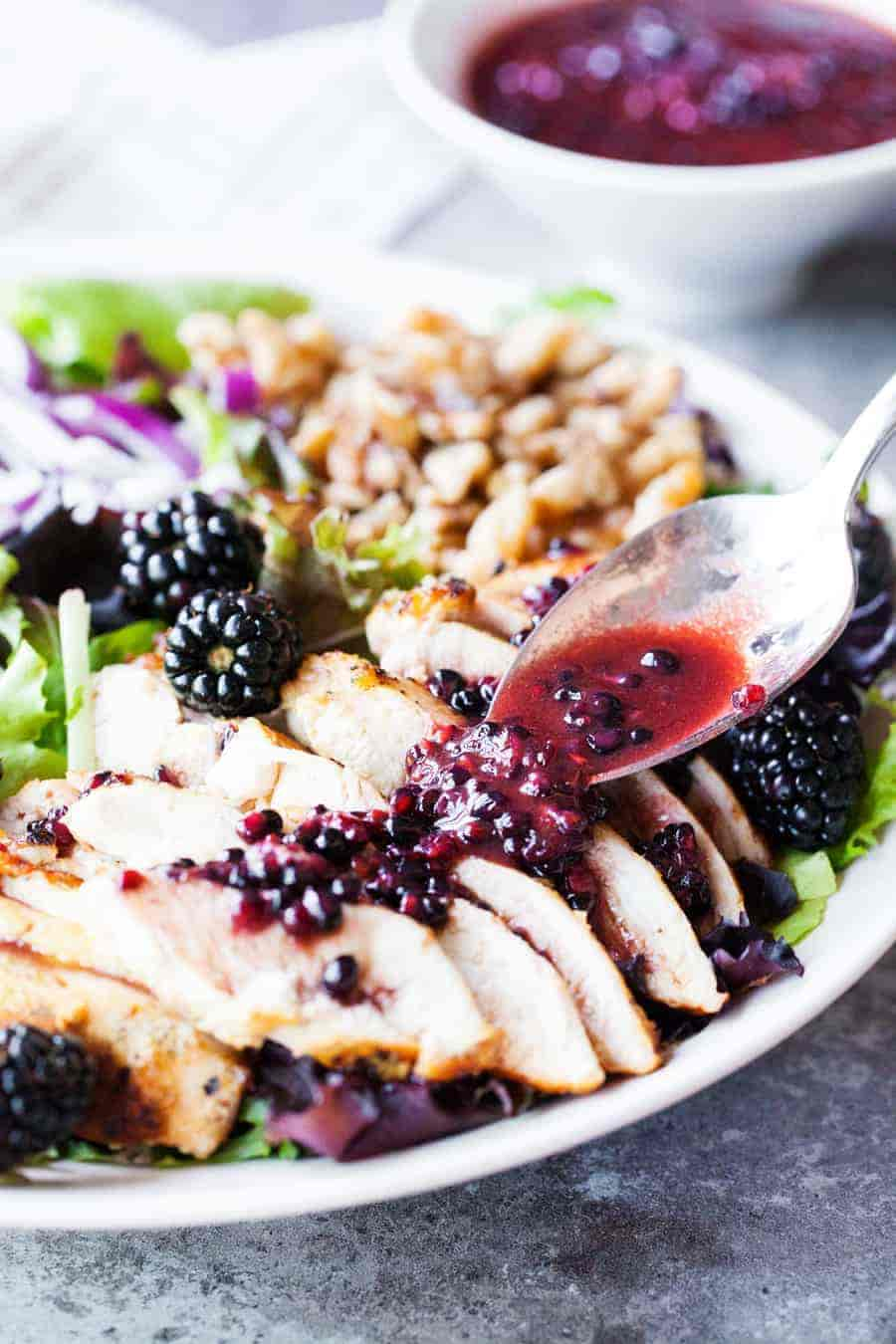 The balsamic dressing is the perfect accompaniment to this salad, and the best part is how easy it is to make. With just a few simple ingredients, you can create a dressing that is bursting with flavor and texture.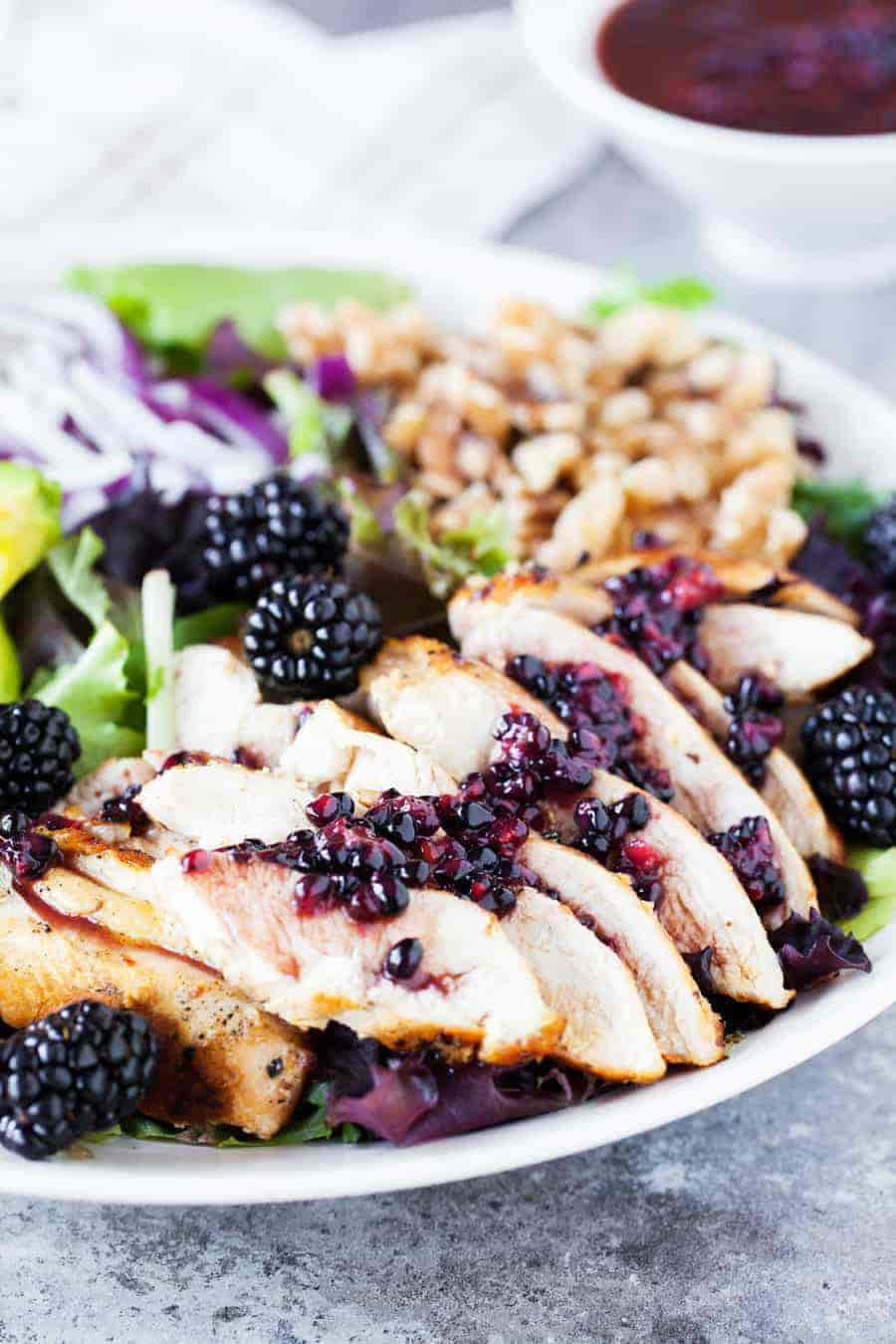 Ingredients:
Salad
½ pound boneless, skinless chicken breasts
6 cups spring mix lettuce
1 cup fresh blackberries
1 medium avocado, sliced
¼ cup red onion, sliced
¼ cup chopped walnuts
Dressing
½ cup fresh blackberries
2 teaspoons Dijon mustard
2 tablespoons balsamic vinegar
2 tablespoons extra virgin olive oil
2 tablespoons honey
1 teaspoon soy sauce
Salt and pepper to taste
Instructions:
Cook the chicken in a cast iron skillet over medium-high heat until fully cooked. Tent with foil and let rest while preparing the rest of the salad.
Add the spring mix lettuce to a large bowl. Arrange the blackberries, avocado, red onion, and walnuts on top of the bed of lettuce. Set aside.
In a medium bowl, combine the dressing ingredients except for the salt and pepper. Use a fork to mash the blackberries and whisk to combine. Season with salt and pepper to taste.
Slice the cooked chicken and set over the salad. Drizzle with dressing and serve immediately.
This blackberry chicken salad is a perfect dish to enjoy during summer or any time of the year. It's easy to prepare, and the combination of flavors and textures will impress your guests. Give it a try, and you won't be disappointed!