Indulge in the deliciousness of a perfectly baked salmon with this Easy 5 Ingredient Baked Salmon recipe. With a garlic, lemon, and dill butter sauce, this dish is bursting with flavor and requires only 5 simple ingredients. Whether you choose wild-caught or farm-raised salmon, this recipe is foolproof and can be easily mastered by anyone, regardless of their culinary skills. Fresh dill is the star of this dish, adding a burst of aromatic flavor to the tender salmon fillet. Get ready to impress your family and friends with this effortless and mouthwatering salmon recipe!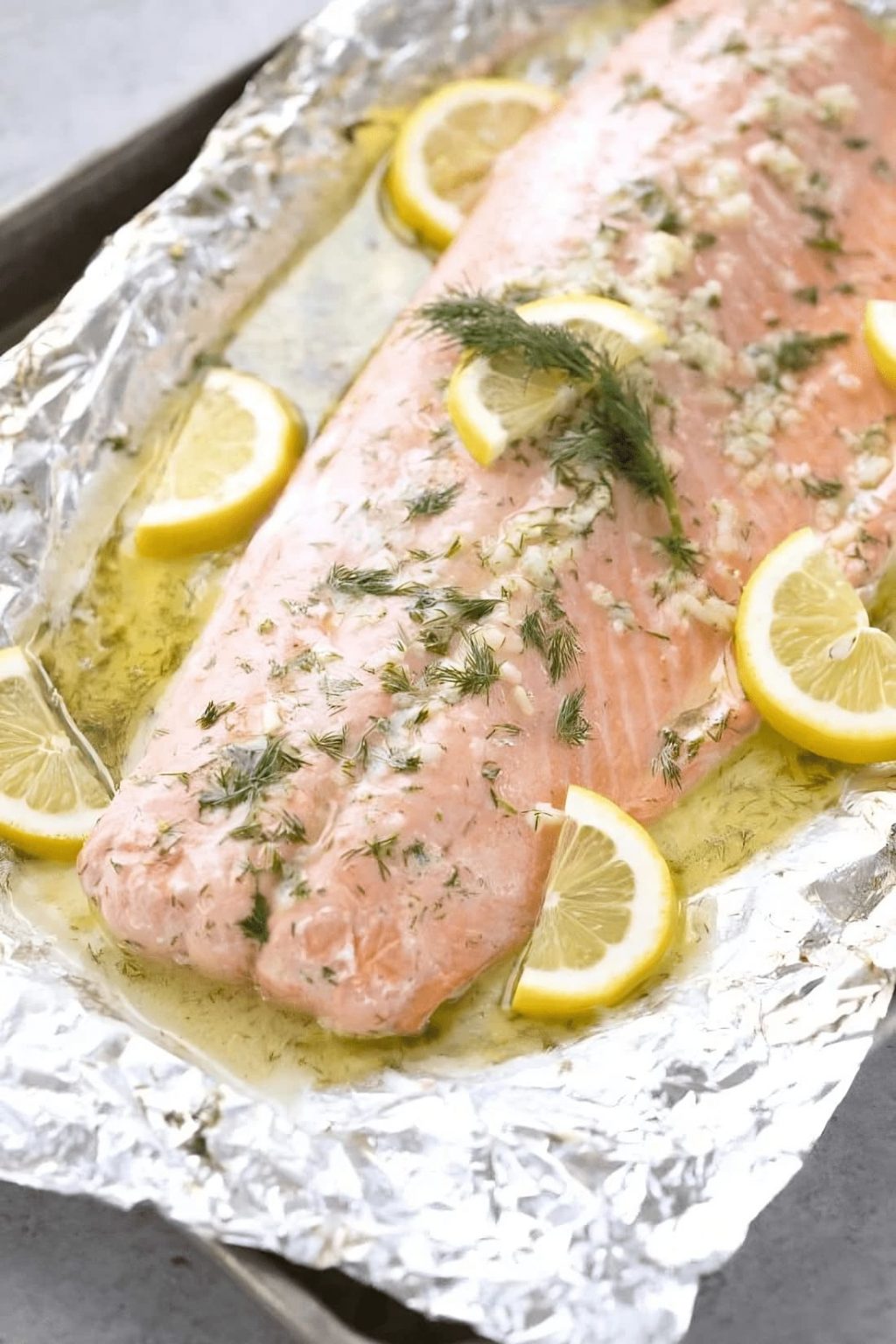 This Easy 5 Ingredient Baked Salmon recipe is a perfect choice for a quick and flavorful seafood meal. Salmon, the most widely consumed fish in the United States, is elevated to new heights with a simple yet delicious garlic, lemon, and dill butter sauce. The combination of flavors creates a harmonious blend that enhances the natural richness of the salmon. The recipe gives you the option to choose between wild-caught or farm-raised salmon, making it versatile and adaptable to your preferences. With minimal preparation and cooking time, this recipe is perfect for busy weeknight dinners or special occasions when you want to impress your guests with a gourmet-quality dish.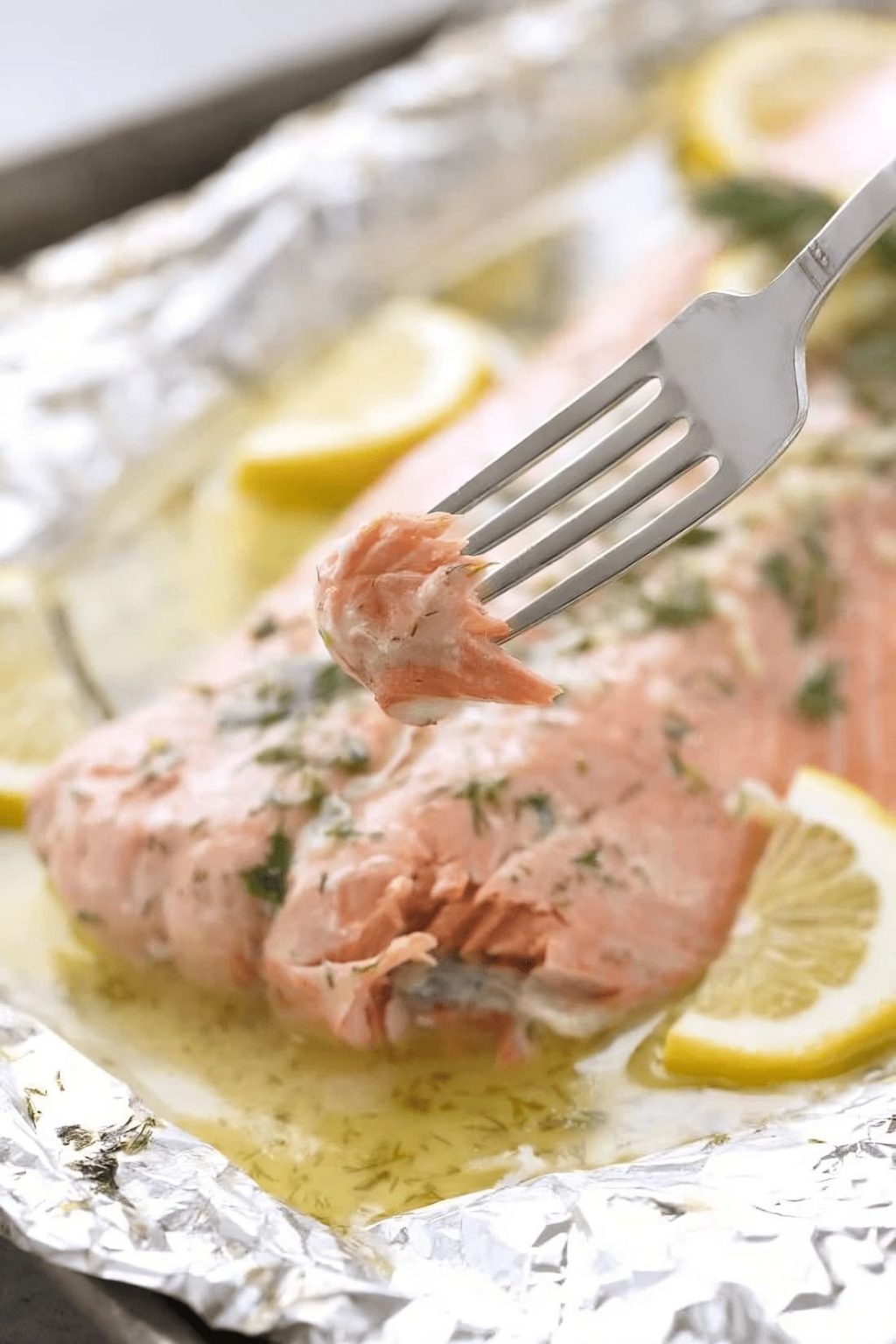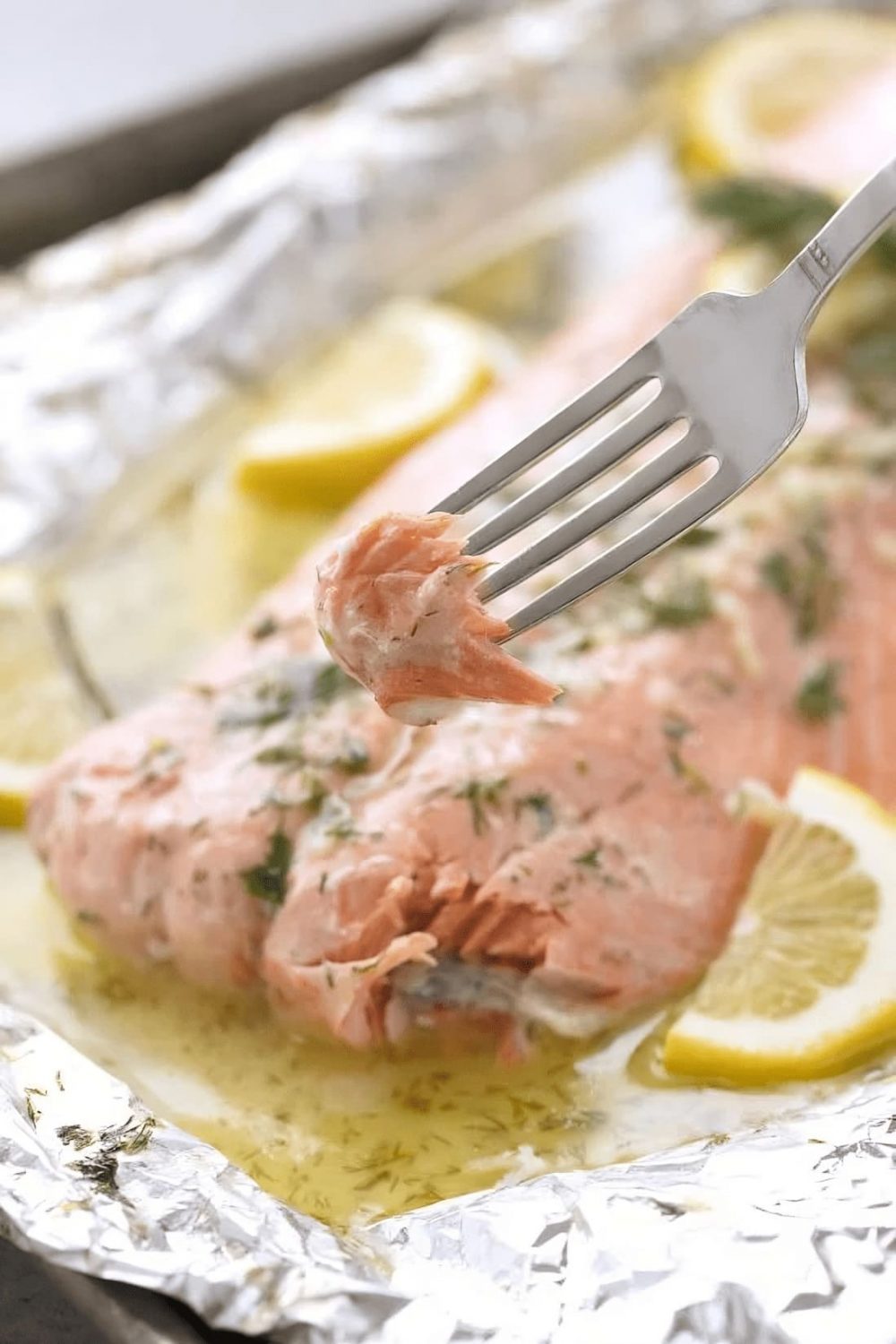 Ingredients:
1 (2-3 pound) salmon fillet, deboned
1/2 cup salted butter, melted
4 tablespoons fresh lemon juice
8 garlic cloves, crushed
2 tablespoons finely chopped fresh dill
Instructions:
Preheat your oven to 375 degrees Fahrenheit and line a 4-sided baking sheet with aluminum foil.
Place the salmon fillet in the middle of the foil.
In a glass measuring cup, whisk together the melted butter, lemon juice, crushed garlic, and chopped fresh dill.
Pour the butter mixture directly over the salmon fillet.
Pull the sides and ends of the aluminum foil up and pinch them together to cover the salmon completely.
Bake the salmon in the preheated oven for 15-20 minutes, or until it flakes easily with a fork.
Carefully remove the salmon from the oven and let it rest for a few minutes before serving.
Serve the Easy 5 Ingredient Baked Salmon hot with your favorite side dish, such as roasted vegetables or a lemony quinoa salad, and enjoy the irresistible flavors of this simple yet elegant seafood dish.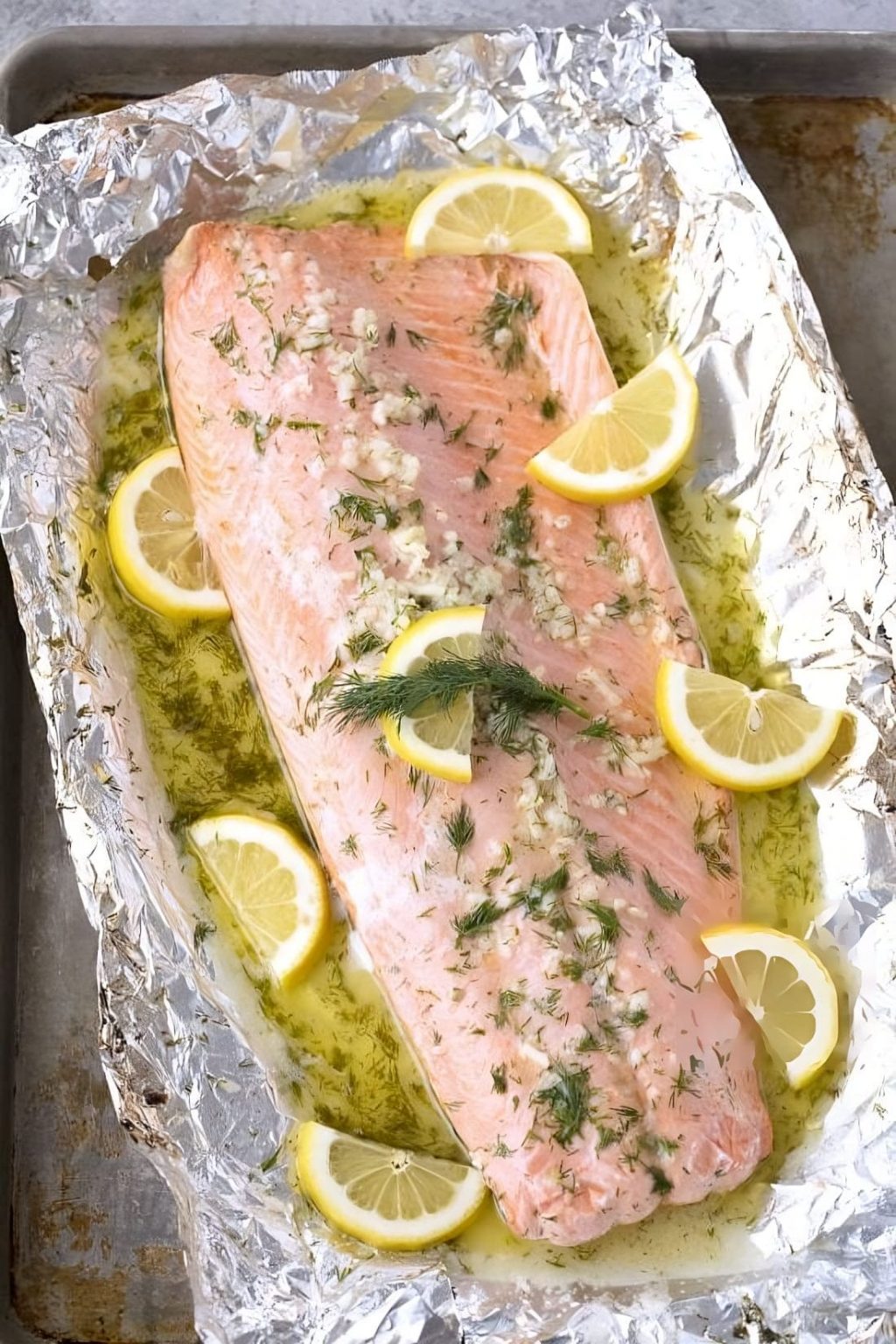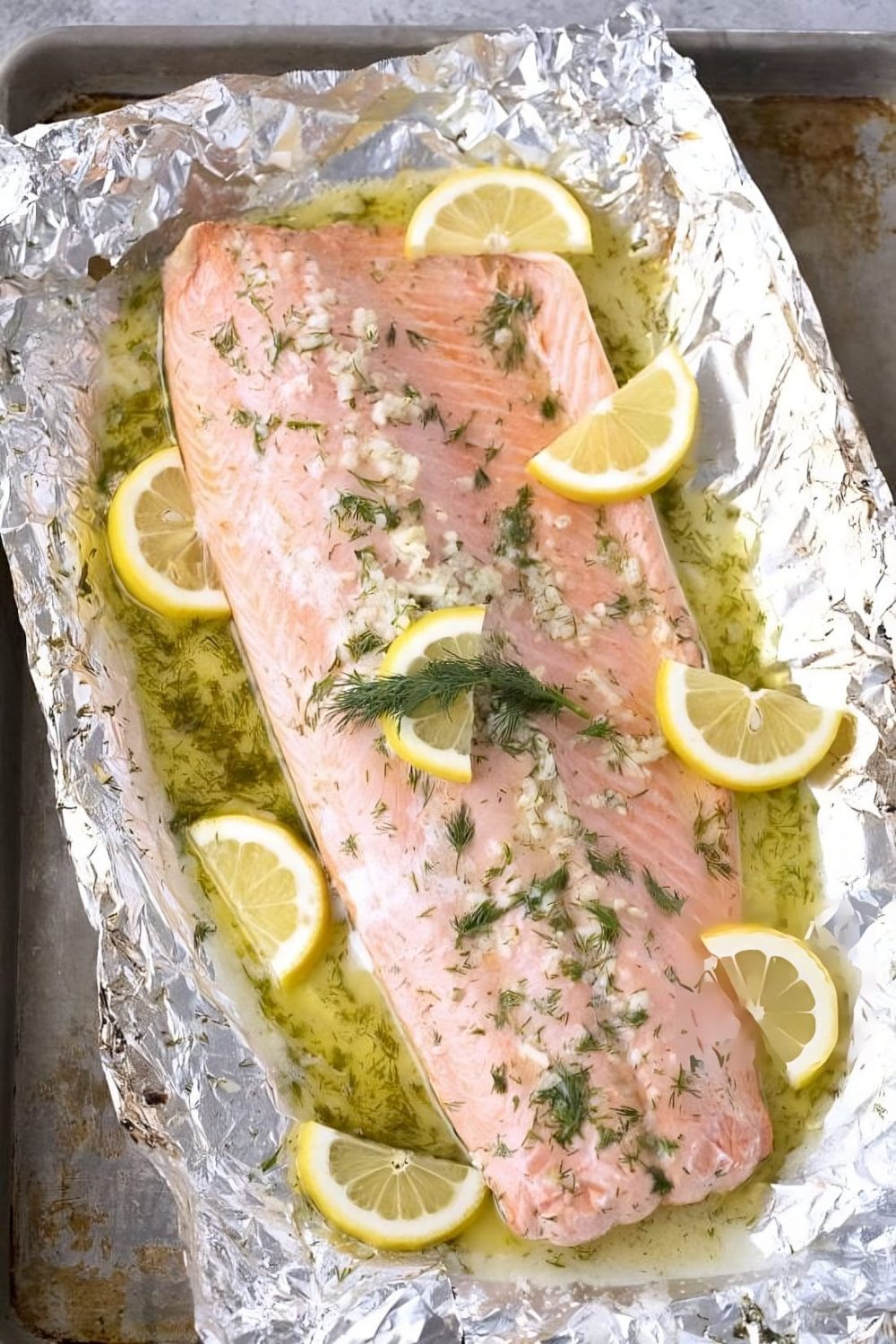 Note: Fresh dill is crucial to this recipe as it adds a distinct and aromatic flavor to the salmon. Avoid substituting with dried dill as it won't provide the same results.