Indulge in the ultimate fusion of velvety, rich pound cake and luscious chocolate chips, baked to perfection in just 60 minutes.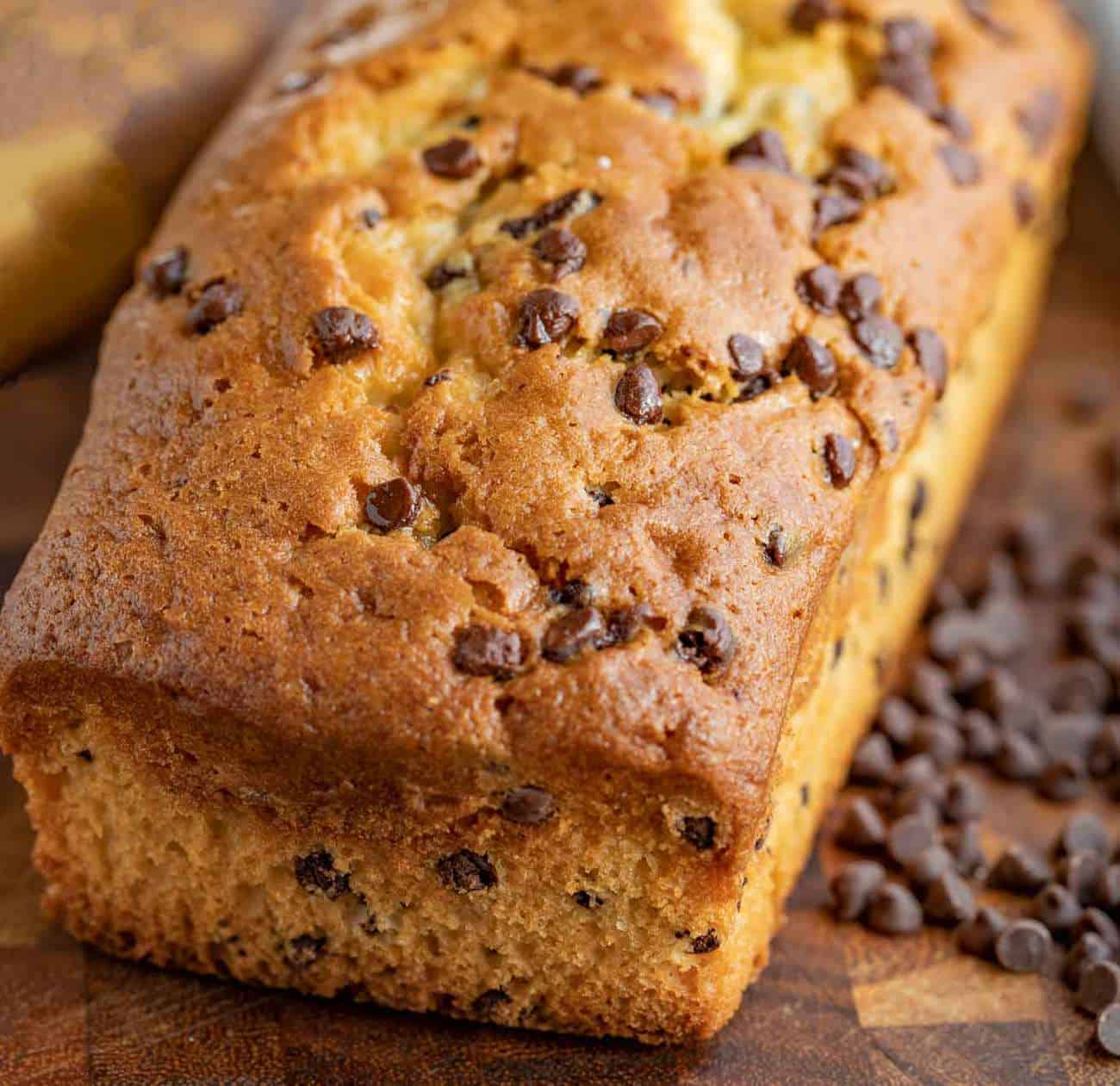 Savoring Chocolate Chip Pound Cake
Chocolate Chip Pound Cake is your weekday dessert dream come true. It's effortlessly portioned and fits seamlessly into your hectic schedule. This delectable treat strikes the perfect balance between soft, buttery pound cake and the delightful surprise of sweet, melty chocolate chips that are scattered throughout the loaf.
Imagine starting your day with a slice of this Chocolate Chip Pound Cake, accompanied by a steaming cup of coffee. Or, elevate it into an after-dinner masterpiece to impress your guests. Freshly baked pound cake offers endless possibilities: pair it with ice cream, fresh berries, whipped cream, hot fudge, caramel sauce, or even strawberry sauce to create a delightful dessert bar for your next gathering.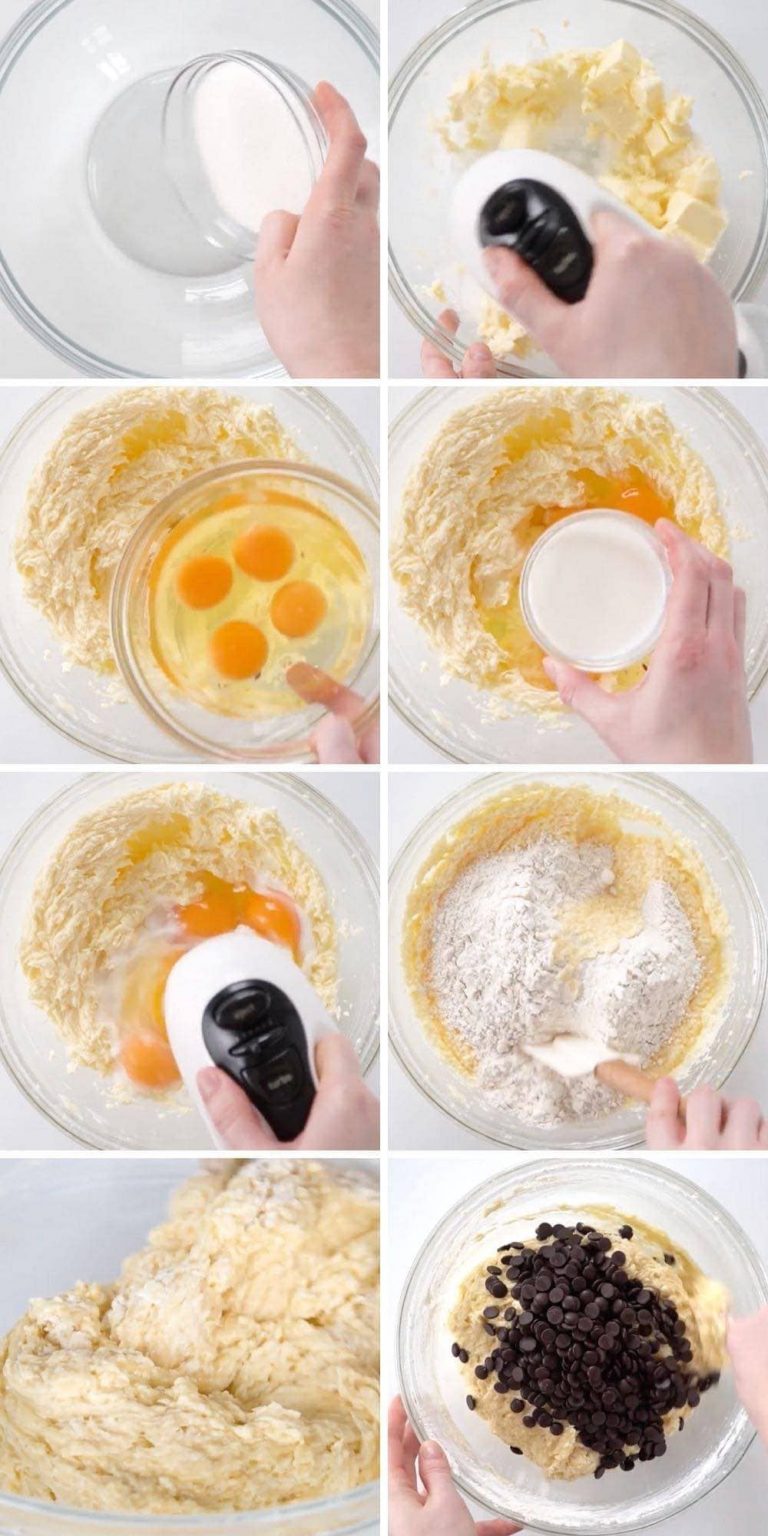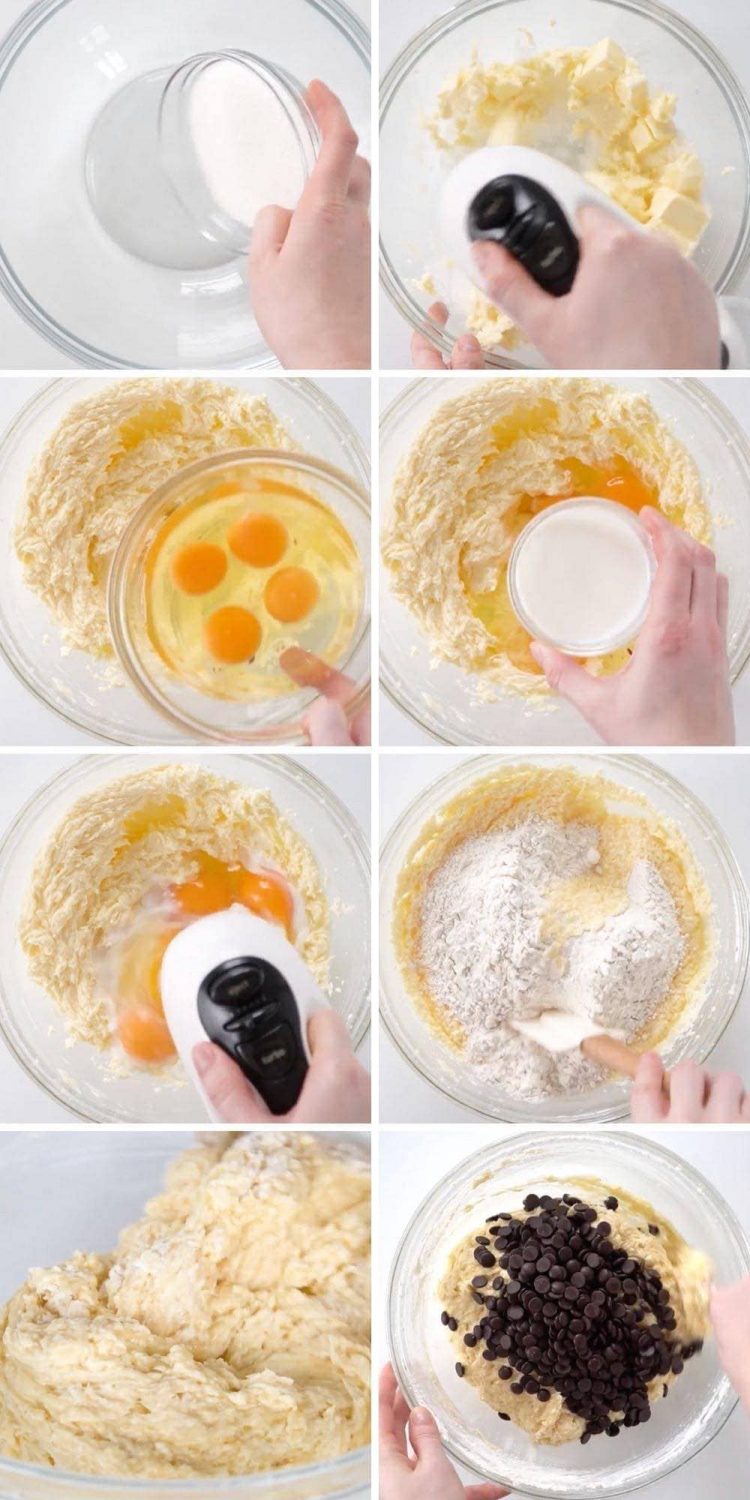 Frequently Asked Questions
How can I prevent my pound cake from turning dry?
Achieving a moist pound cake involves a few essential tips. First, monitor your cooking time carefully to avoid overbaking. Precisely measure your ingredients, and if possible, weigh them to ensure you don't add excessive dry components, which can lead to a dry cake. Another option is to replace regular milk with buttermilk. Buttermilk contains more fat and natural acidity, imparting moisture to the cake while rendering it irresistibly tender.
What should I do if my pound cake is browning too quickly?
While this recipe typically yields excellent results without a cover, if you notice excessive browning around the edges, simply cover the cake with aluminum foil to prevent it from burning.
What other flavors can I incorporate into Chocolate Chip Pound Cake?
For an extra burst of flavor, consider adding a pinch of cinnamon or nutmeg to the cake batter. Additionally, experiment with dark chocolate chips or white chocolate chips for delightful variations.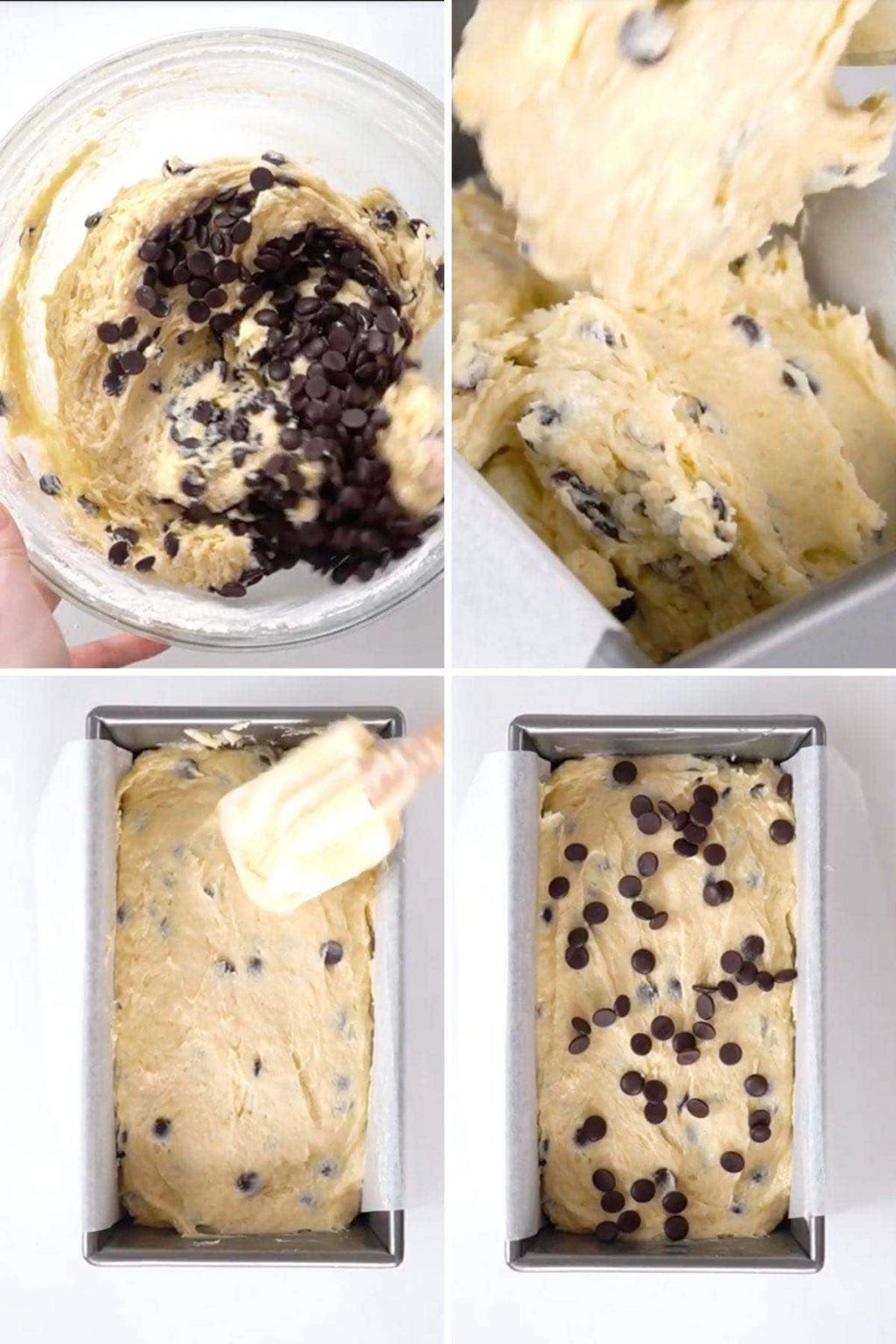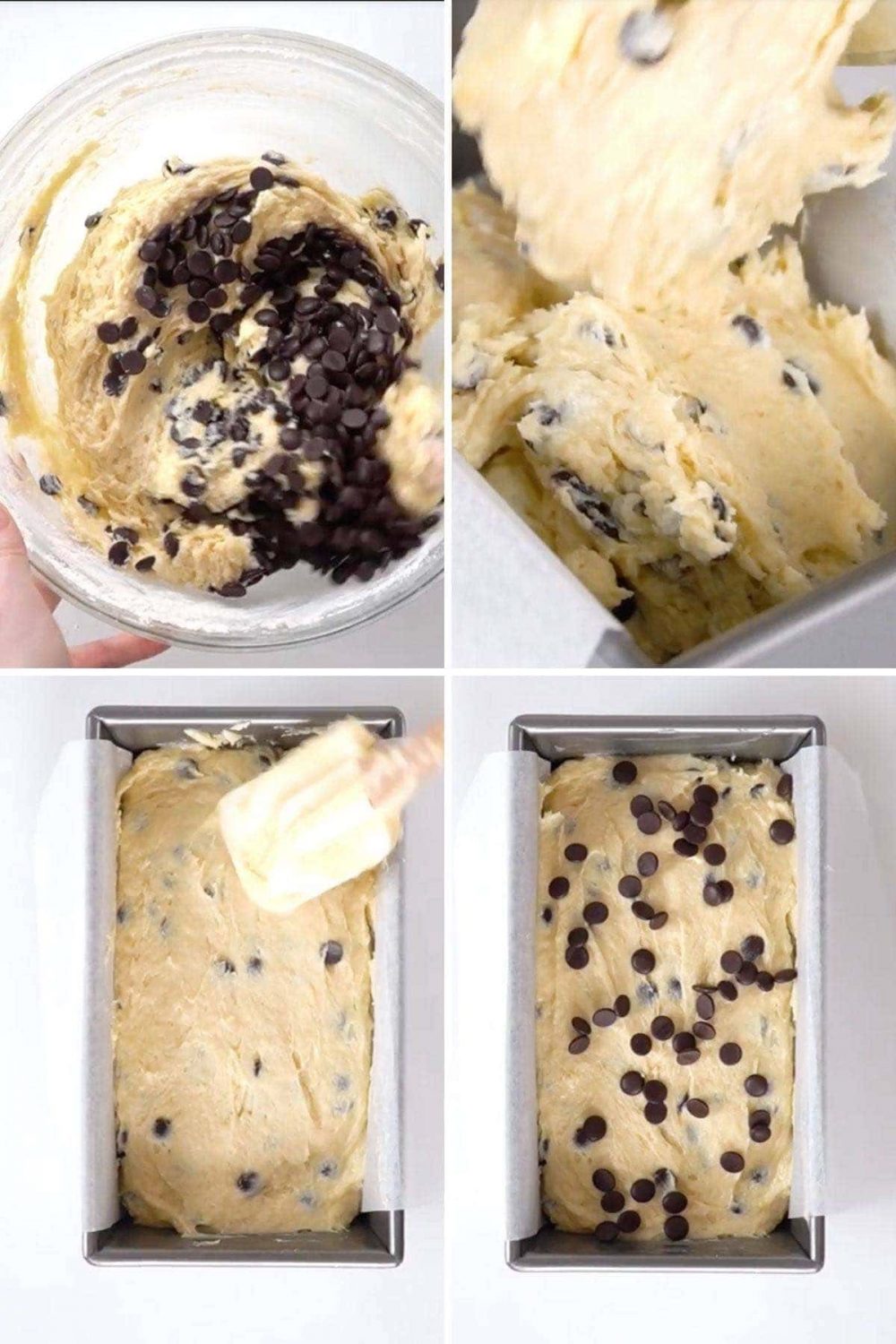 Tips for Crafting Chocolate Chip Pound Cake
Coat the chocolate chips in all-purpose flour before adding them to the batter to prevent them from sinking to the bottom of the cake.
Grease your pan with a combination of butter and flour to ensure easy removal. You can also use any bundt pan, but you'll need to double the batch.
Verify that the cake is thoroughly baked by inserting a toothpick; if it emerges clean without crumbs, the cake is ready.
Allow your cake to cool for a few minutes before attempting to remove it from the pan. You may need to use a knife to gently loosen the edges of the cake first.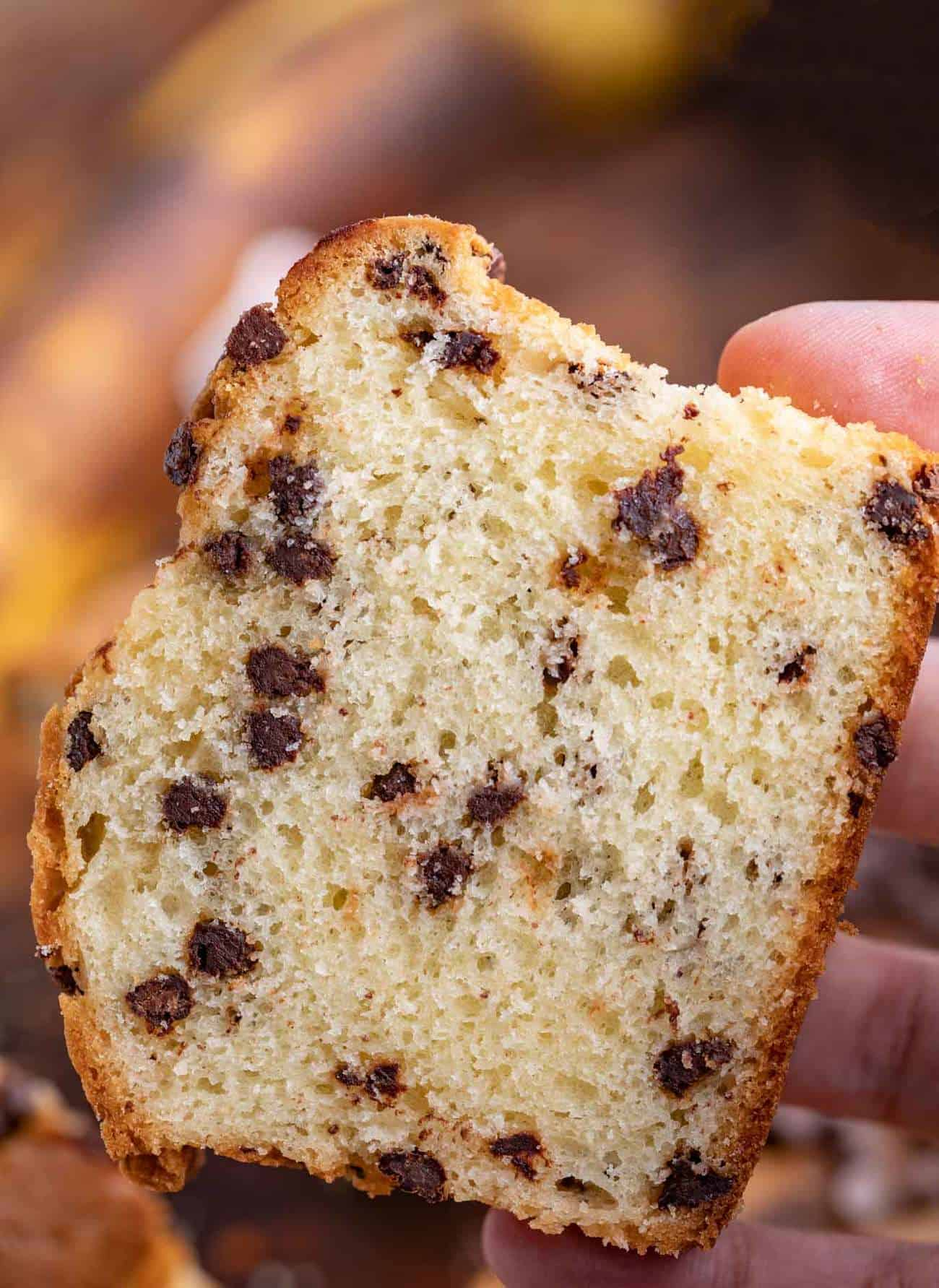 How to Store Chocolate Chip Pound Cake
Serve: Once it's cooled enough to remove from the pan, slice it and serve while warm. Pair it with butter, peanut butter, or your favorite preserves.
Store: This pound cake retains its freshness on the counter for 3-4 days. Either store it in an airtight container or wrap each slice in plastic wrap to prevent it from becoming stale. Refrigeration isn't recommended, as it can hasten staleness.
Freeze: If you prefer to prepare in advance, this pound cake can be frozen for up to 3 months. For optimal results, wrap the cake securely in plastic wrap, followed by aluminum foil.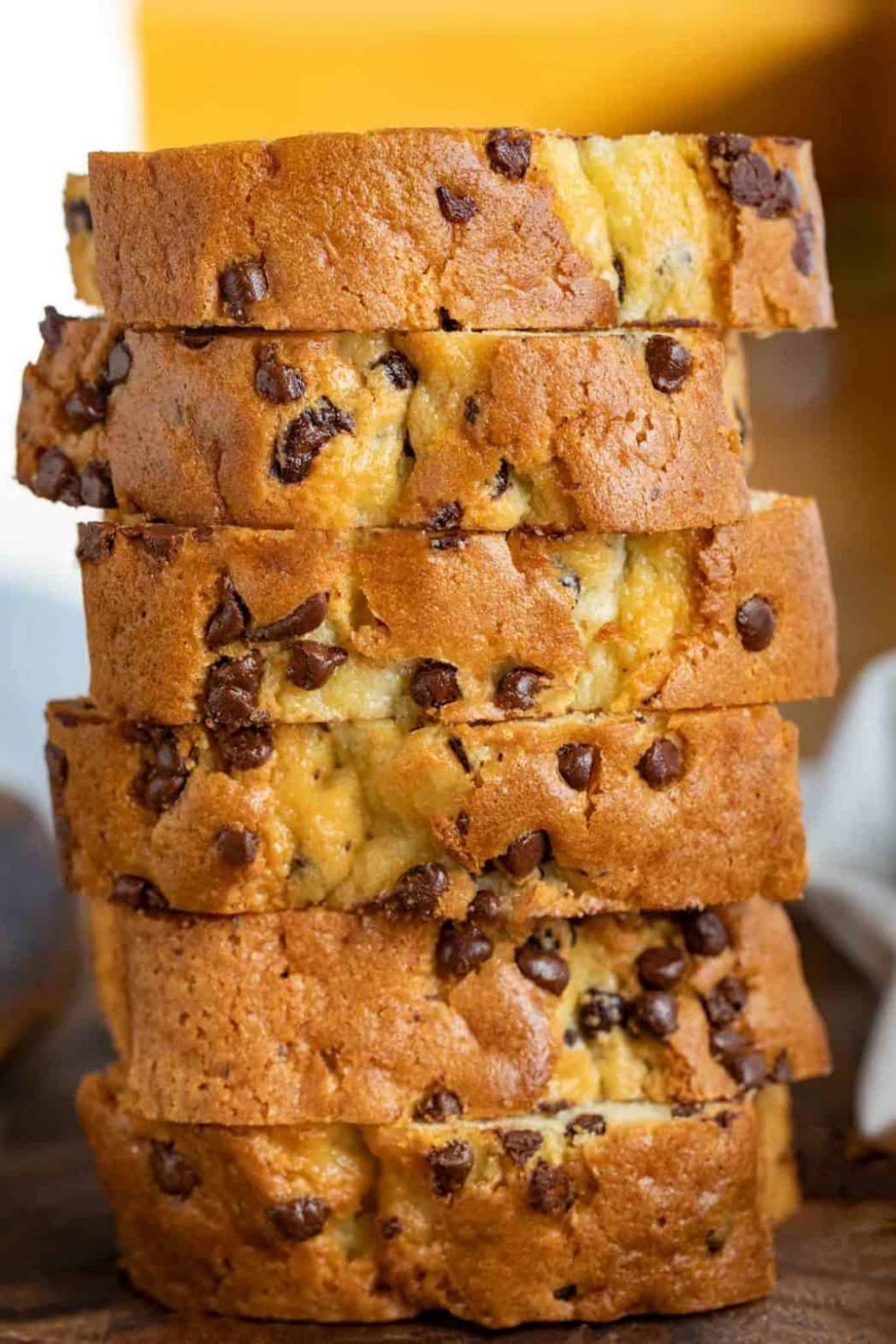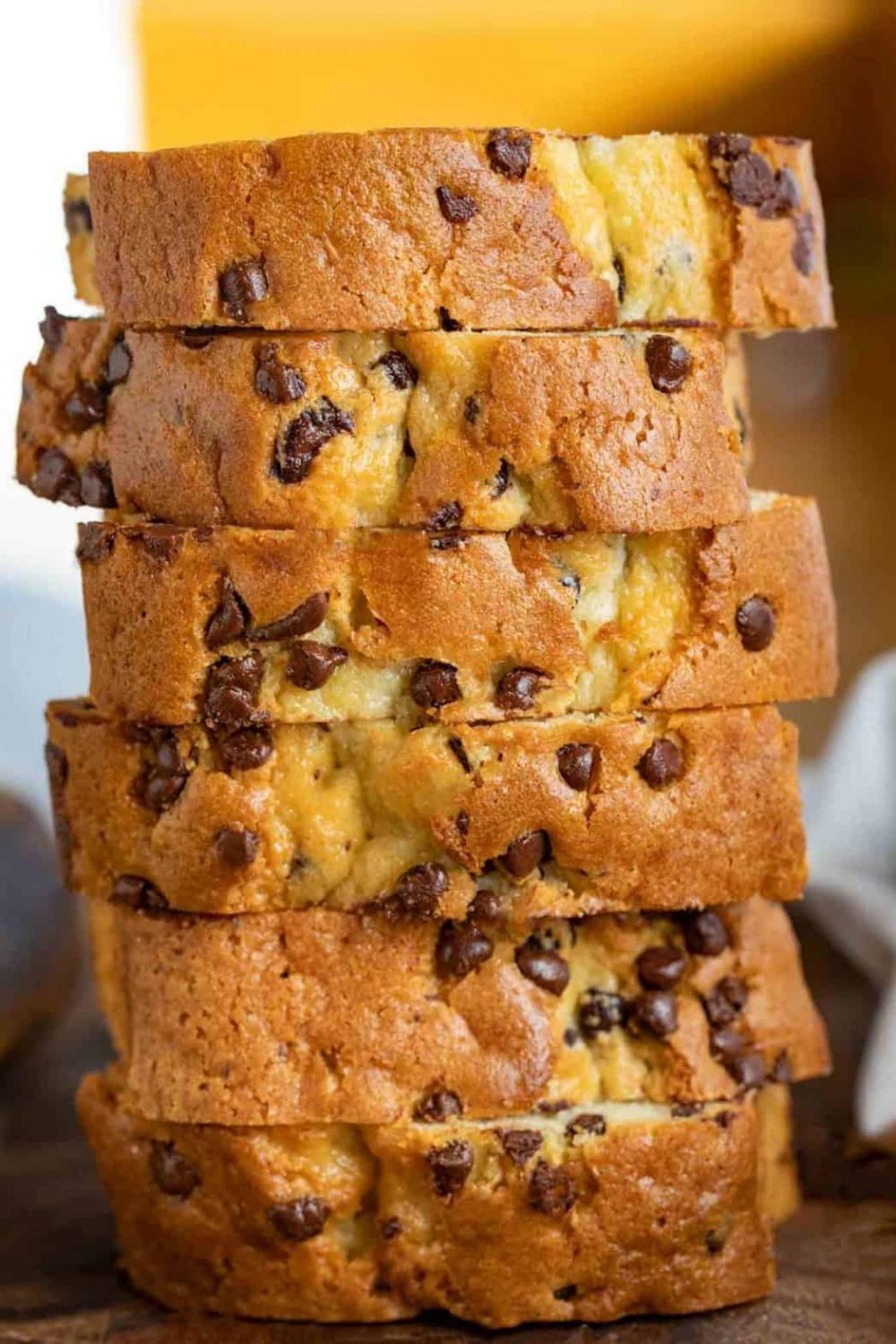 Ingredients:
12 tablespoons unsalted butter
1 cup sugar
1 tablespoon vanilla extract
4 large eggs
1/4 cup whole milk
2 cups all-purpose flour
1 teaspoon baking powder
1/4 teaspoon salt
1 1/2 cups mini semi-sweet chocolate chips
Instructions:
Preheat your oven to 350 degrees and thoroughly grease and flour an 8×4 inch loaf pan.
In a stand mixer fitted with the paddle attachment, combine the butter and sugar. Cream them together until the mixture is light and fluffy, which should take about 2-3 minutes.
Add the vanilla extract, eggs, and milk to the mixture, ensuring they are fully combined.
Gradually incorporate the flour, baking powder, and salt, mixing until just combined. Then, gently fold in most of the chocolate chips, reserving a handful.
Pour the batter into the prepared loaf pan, and sprinkle the remaining chocolate chips on top.
Bake for 55-60 minutes, until the cake is golden and a toothpick inserted into the center comes out clean.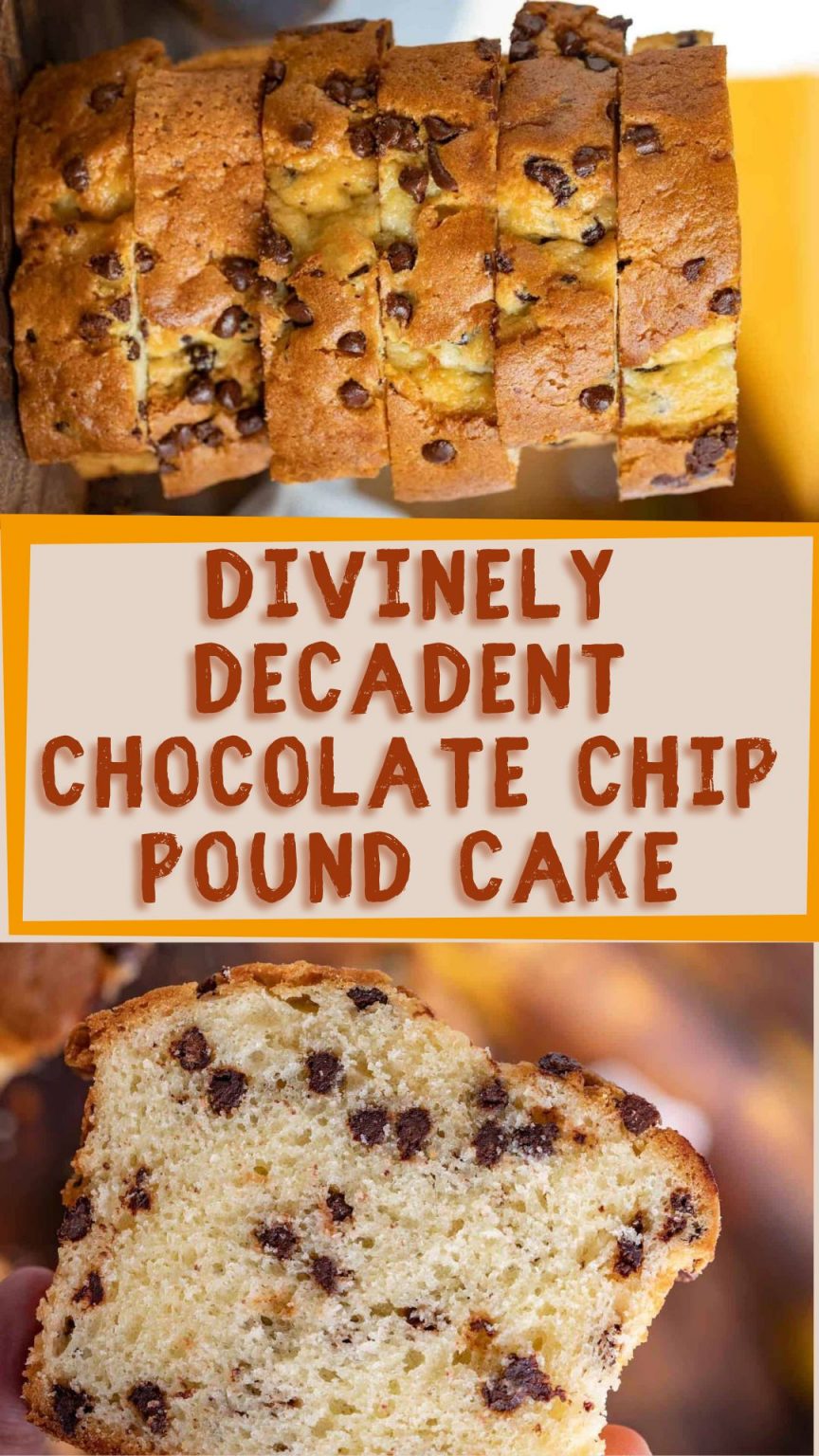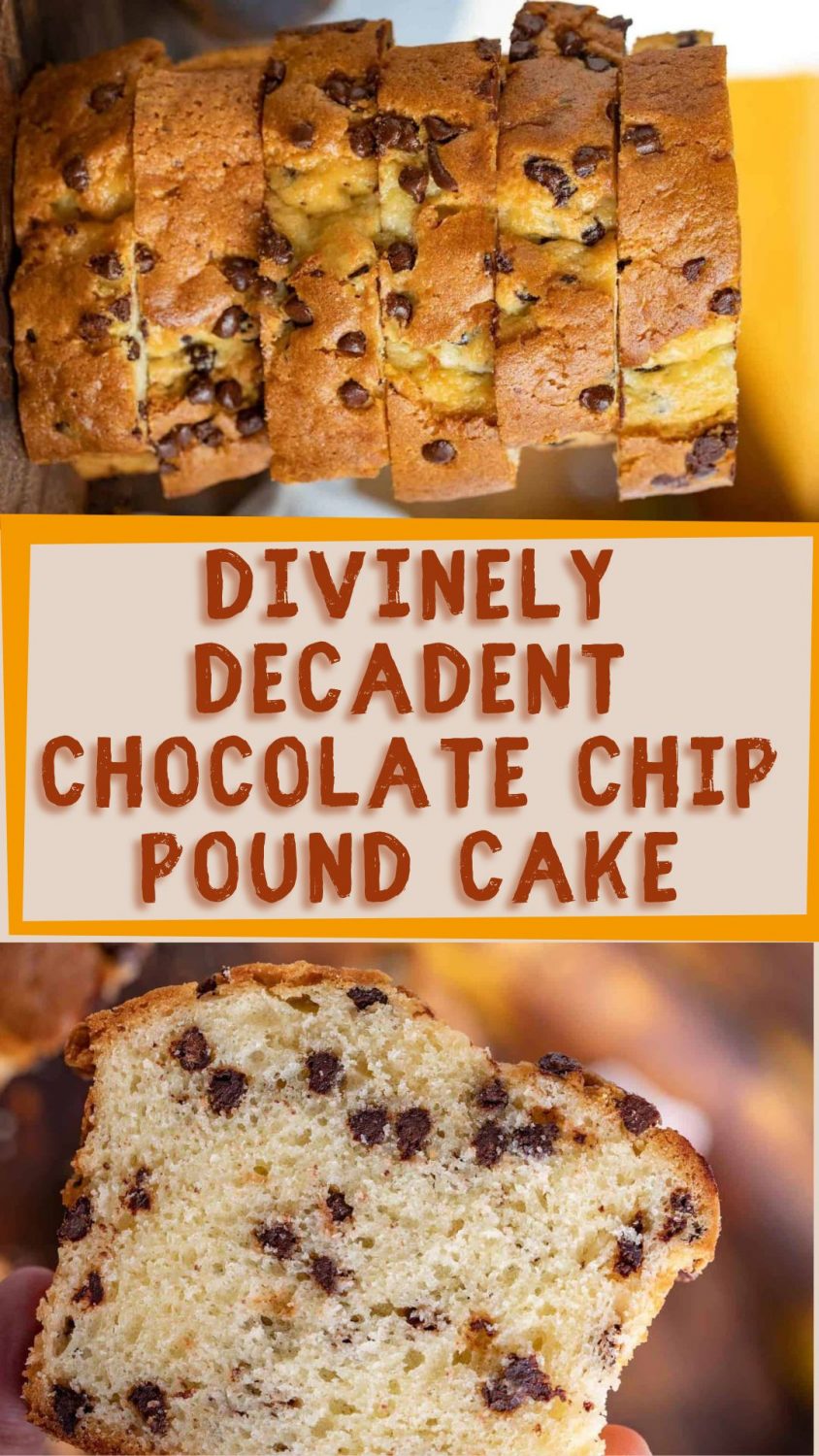 Indulge in the decadence of Chocolate Chip Pound Cake, a harmonious fusion of moist, buttery pound cake and the sweetness of chocolate chips. In just an hour, you can savor this delightful treat. Whether you choose to start your day with a slice and a cup of coffee or impress your dinner guests, this cake will never disappoint. It's the perfect accompaniment for an array of toppings or a standalone delight. Enjoy!