Made with simple ingredients like ground beef, macaroni pasta, and creamy soups, this casserole is a perfect weeknight meal that will have your family asking for seconds. With the option to freeze ahead and customize with your favorite veggies and herbs, this dish is a winner for busy families who crave home-cooked goodness.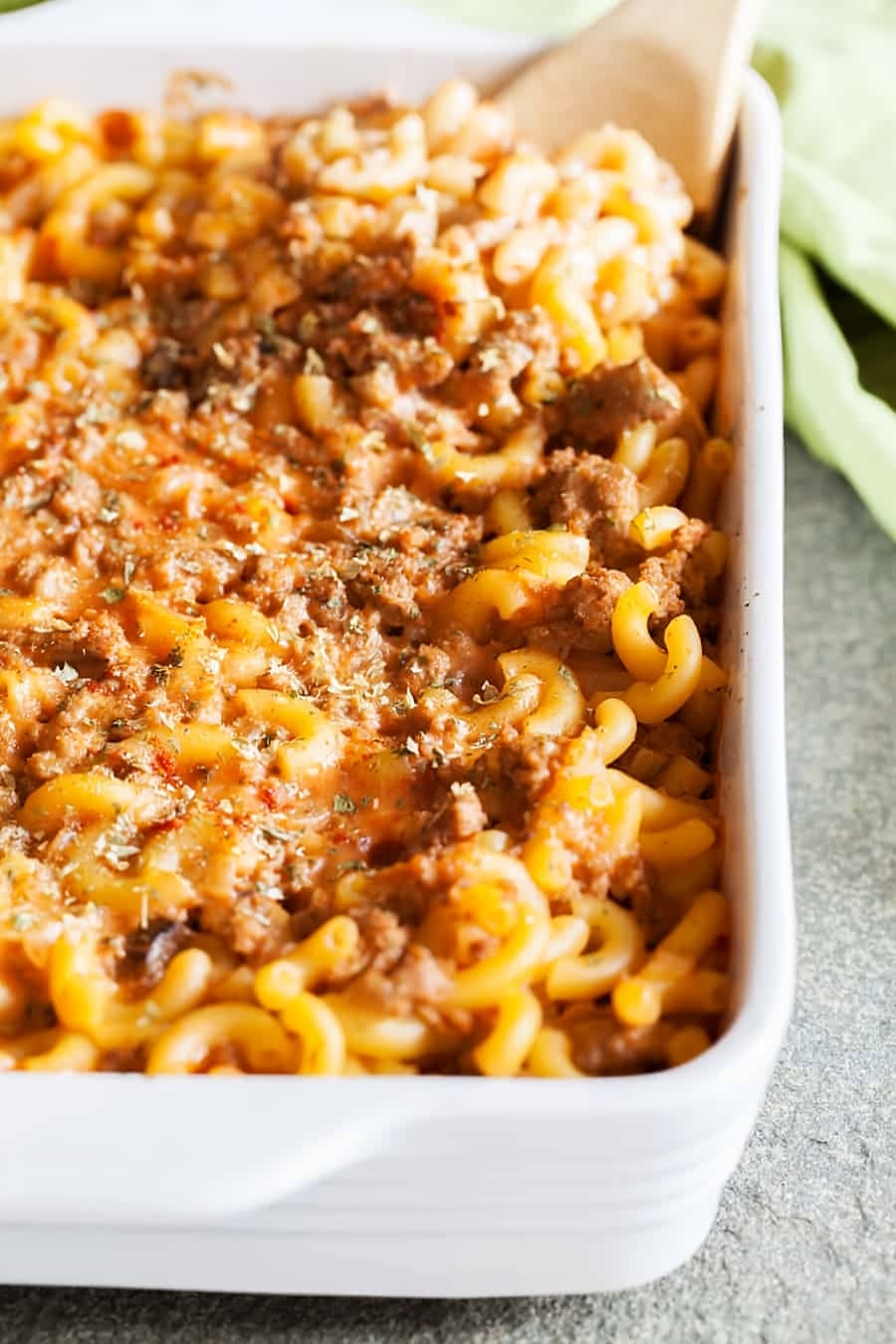 Hamburger Casserole, also known as Hamburger Hotdish in the Midwest, is a classic comfort food that brings families together. This Creamy Beefy Mac Casserole is a delicious twist on the traditional recipe, with a creamy and flavorful sauce that coats tender macaroni pasta and seasoned ground beef. It's a perfect dish for busy weeknights when you want a hot dinner on the table quickly without sacrificing quality time with your loved ones. This casserole is seriously adaptable and can be customized to suit your family's tastes, making it a hit even with picky eaters. Plus, it's freezer-friendly, allowing you to make it ahead of time for those hectic days when you need a meal in a pinch. Serve it with some breadsticks for a saucy and satisfying meal that will warm your heart and your taste buds.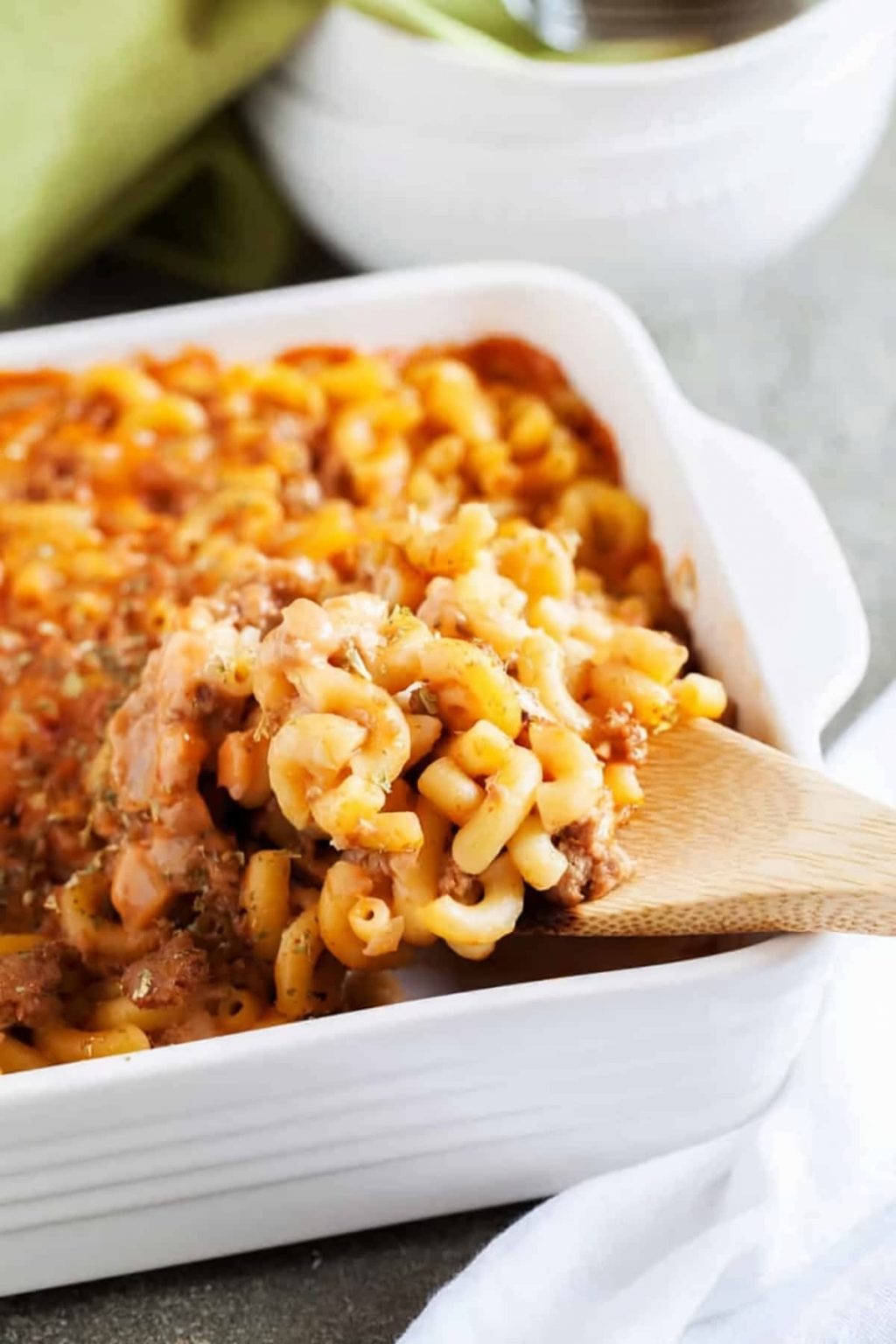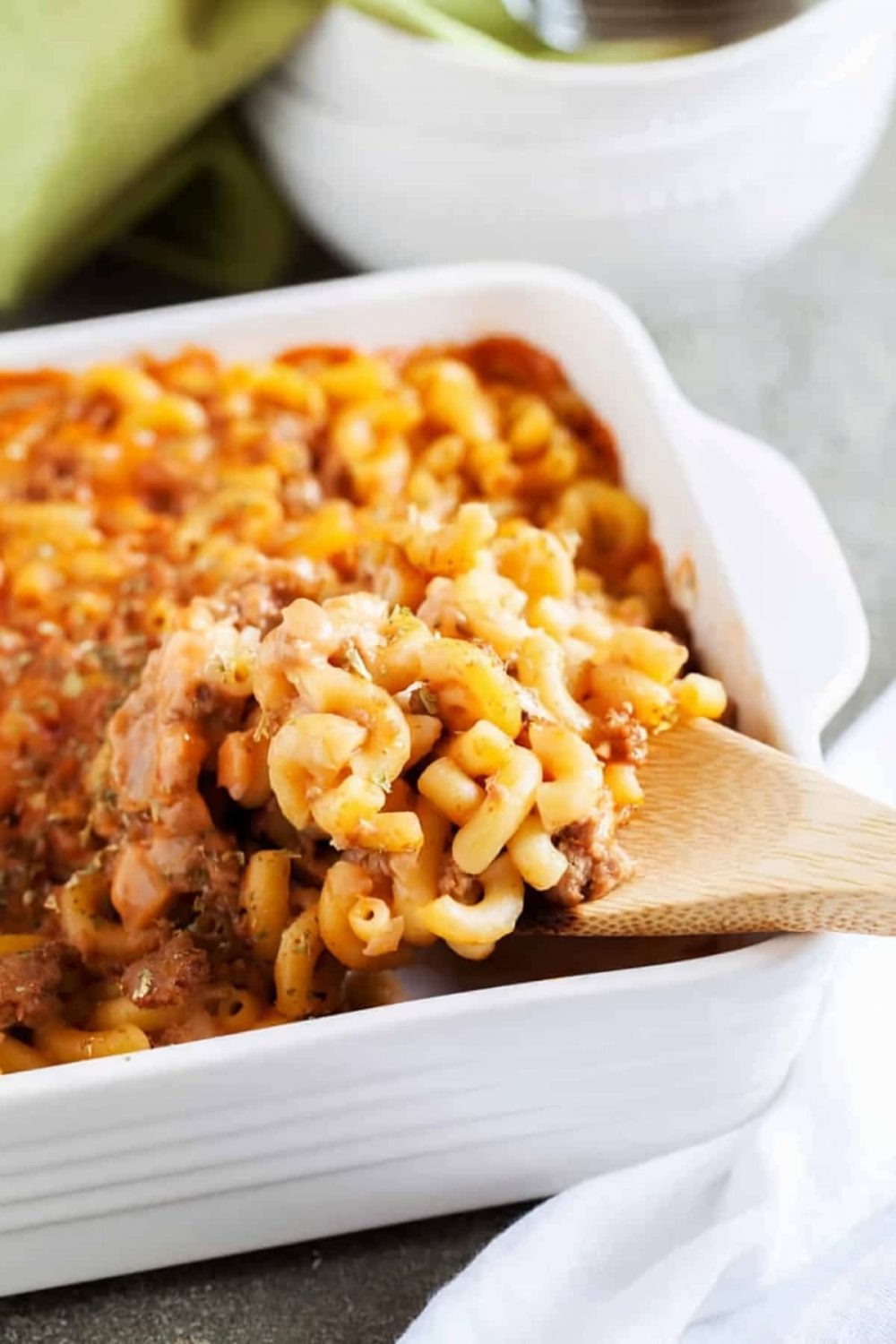 List of Ingredients:
½ pound macaroni pasta (or use your favorite)
1 tablespoon olive oil
1 pound ground beef
1 large onion, chopped
½ teaspoon paprika
Salt and black pepper, to taste
1 cup whole milk
1 can cream of mushroom soup
1 can tomato soup
½ teaspoon dried parsley (optional)
Instructions:
Cook the pasta according to package directions, minus two minutes. Drain and return to pot away from heat. Set aside.
In a large skillet over medium heat, heat the olive oil until shimmering. Add the chopped onion and cook until softened and translucent. Add the ground beef and cook thoroughly, breaking up the meat into crumbles with a wooden spoon. If the meat is fatty, drain it now.
Pour the cooked beef and onion mixture over the cooked pasta in the pot.
Stir in the cream of mushroom soup, tomato soup, and milk. Season with salt and black pepper to taste.
Transfer the mixture to a prepared baking pan and sprinkle with paprika and dried parsley, if using.
Bake the casserole in a preheated oven at 350°F for 25 to 30 minutes, or until bubbly and golden on top.
Serve hot with your favorite bread or breadsticks for a saucy and satisfying meal.
Note:
To freeze the casserole, you can either bake it in a disposable foil pan or line the casserole dish with foil before filling. Freeze it for about 2 hours to set, then wrap tightly with plastic wrap or place in a large freezer-safe plastic storage bag, and label it.
When ready to bake, thaw it overnight in the refrigerator or bake it covered for about 15 minutes at 350°F if frozen. If thawed, remove the plastic wrap, uncover the top of the casserole, and bake as directed.
Enjoy the creamy, beefy, and comforting flavors of this delicious Creamy Beefy Mac Casserole, perfect for a cozy family dinner or potluck gathering. With its make-ahead and customizable options, it's a recipe that will become a staple in your home cooking repertoire.