Loaded with meat, veggies, soup, and topped with crispy tater tots, this Midwest-inspired hotdish will satisfy your cravings and keep you coming back for more. Perfect for feeding a crowd or making ahead, this freezer-friendly casserole is a family favorite that will become a regular in your meal rotation.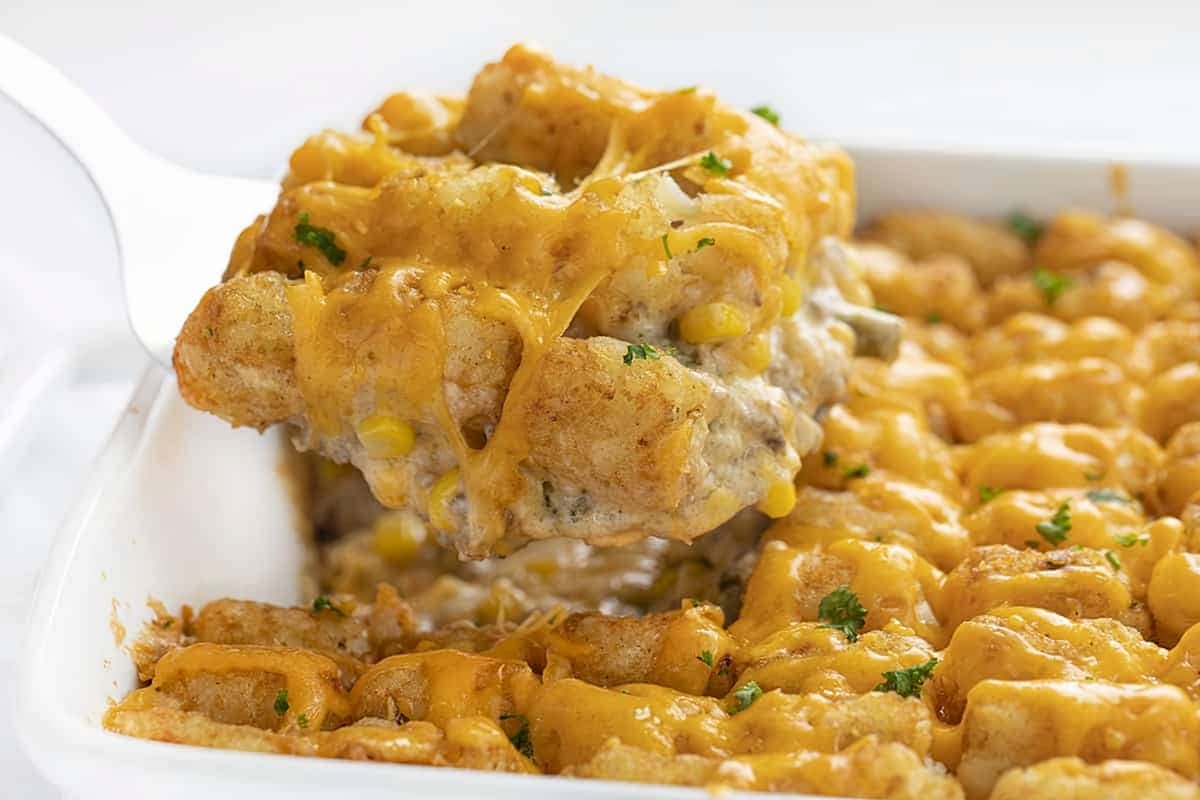 Cheesy Tater Tot Delight, also known as Tater Tot Hotdish or Tater Tot Casserole in some regions, is a classic Midwest comfort food that brings together ground beef, canned vegetables, creamy soups, and gooey cheese, all topped with golden brown tater tots.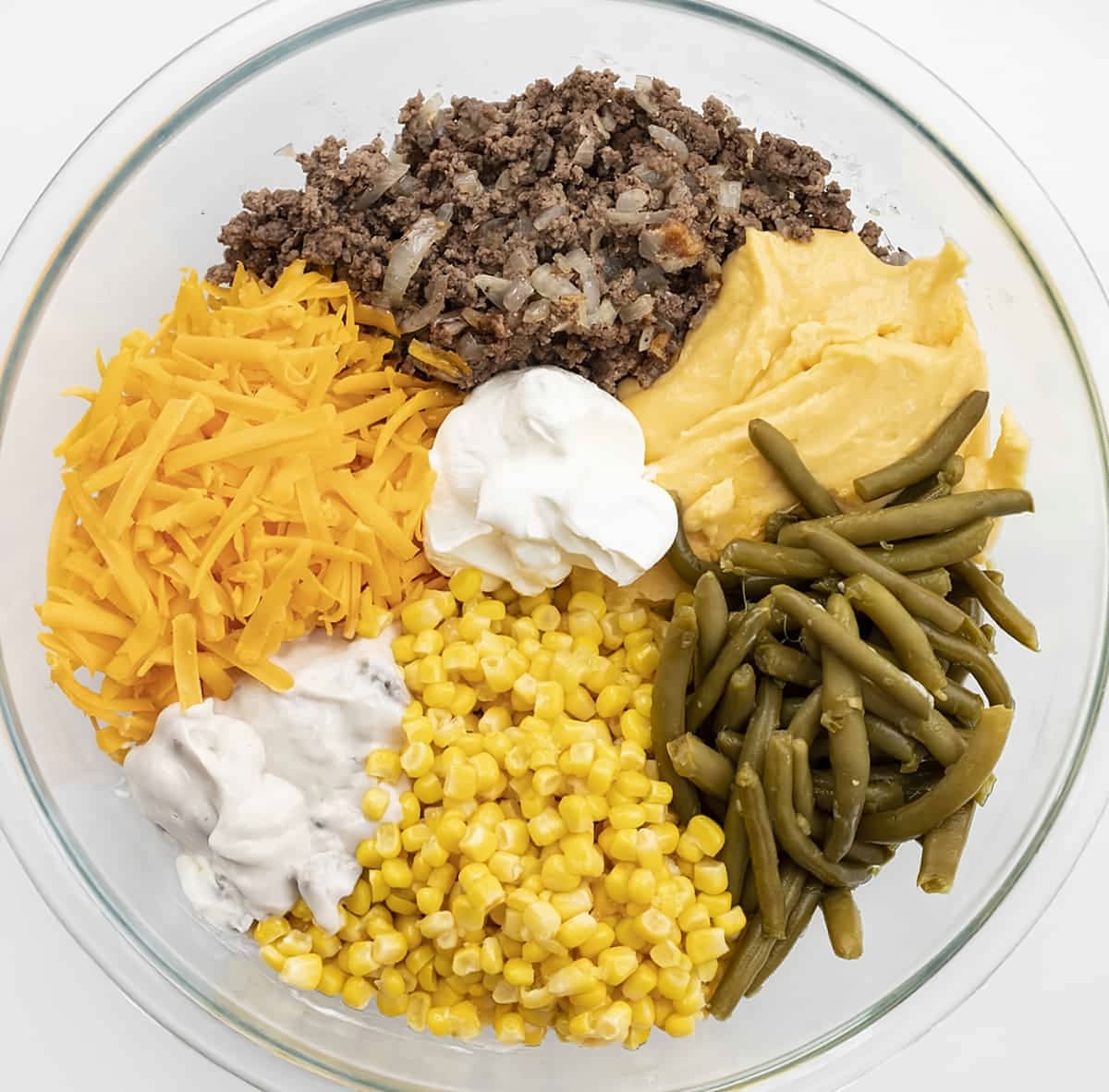 This easy-to-make casserole is perfect for busy weeknight dinners or potluck gatherings, and it's sure to please kids and adults alike. Make it ahead of time and freeze for a convenient make-ahead meal option. With simple ingredients and minimal prep, this Cheesy Tater Tot Delight is a satisfying and flavorful dish that will warm your heart and please your taste buds.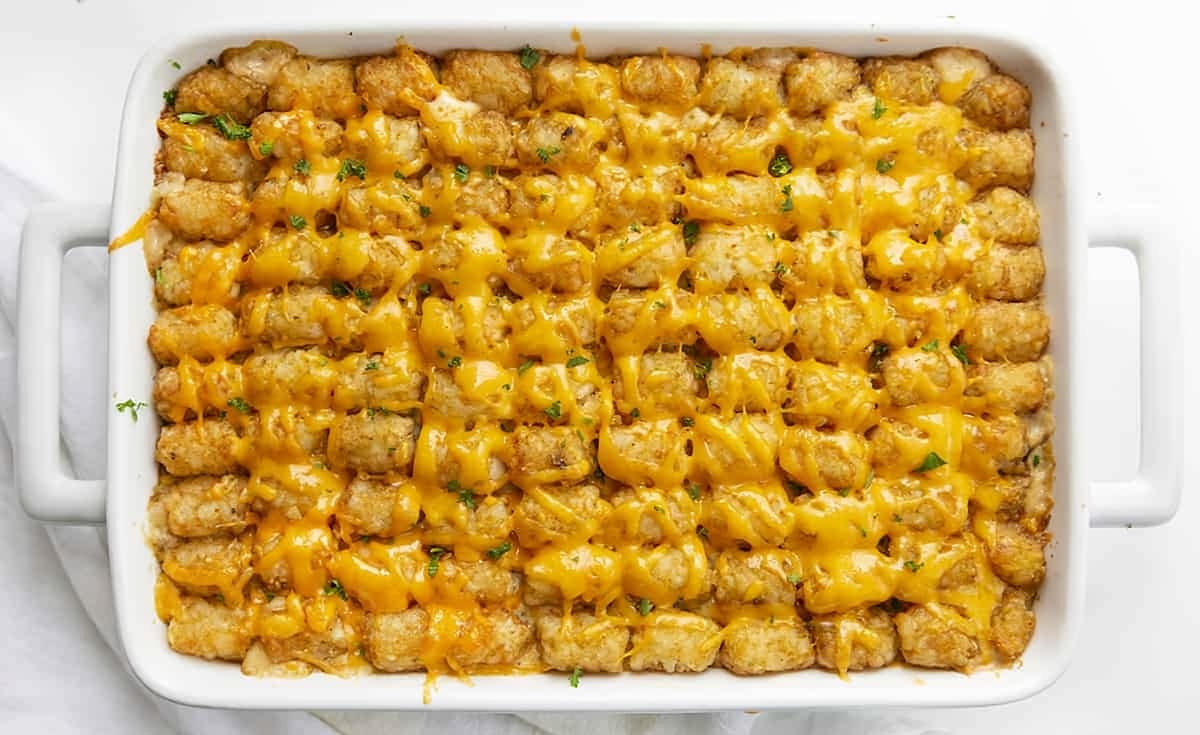 Ingredients & Substitutions:
32 ounces frozen tater tots
1 pound lean ground beef (substitute with ground turkey or chicken)
1/2 white onion, diced
1/2 teaspoon garlic powder
1/2 teaspoon kosher salt
1/2 teaspoon black pepper
2 teaspoons Worcestershire sauce
1/3 cup (77 g) sour cream
1 can (10 ounces) condensed cheddar cheese soup
1 can (10 ounces) cream of mushroom or chicken soup
1 can (15.25 ounces) corn, drained
1 can (14.5 ounces) green beans, drained
2 cups (226 g) shredded cheddar cheese, divided
Instructions:
Preheat your oven to 350°F. Grease a 9×13-inch baking dish with non-stick cooking spray and set aside.
In a large skillet, brown the ground beef along with the diced onion, garlic powder, salt, pepper, and Worcestershire sauce until the beef is no longer pink. Drain any excess grease if necessary.
In a large bowl, mix together the cooked beef mixture with sour cream, both cans of soup, drained corn, green beans, and 1 cup of shredded cheese.
Spread the beef and soup mixture evenly into the prepared baking dish. Top with a layer of frozen tater tots.
Bake in the preheated oven for 50 minutes, or until the tater tots are golden brown and the casserole is bubbling.
Sprinkle the remaining cup of shredded cheese over the top of the hotdish and bake for an additional 5 minutes, or until the cheese is melted and bubbly.
Serve hot and enjoy the gooey, savory, and crispy deliciousness of this Cheesy Tater Tot Delight!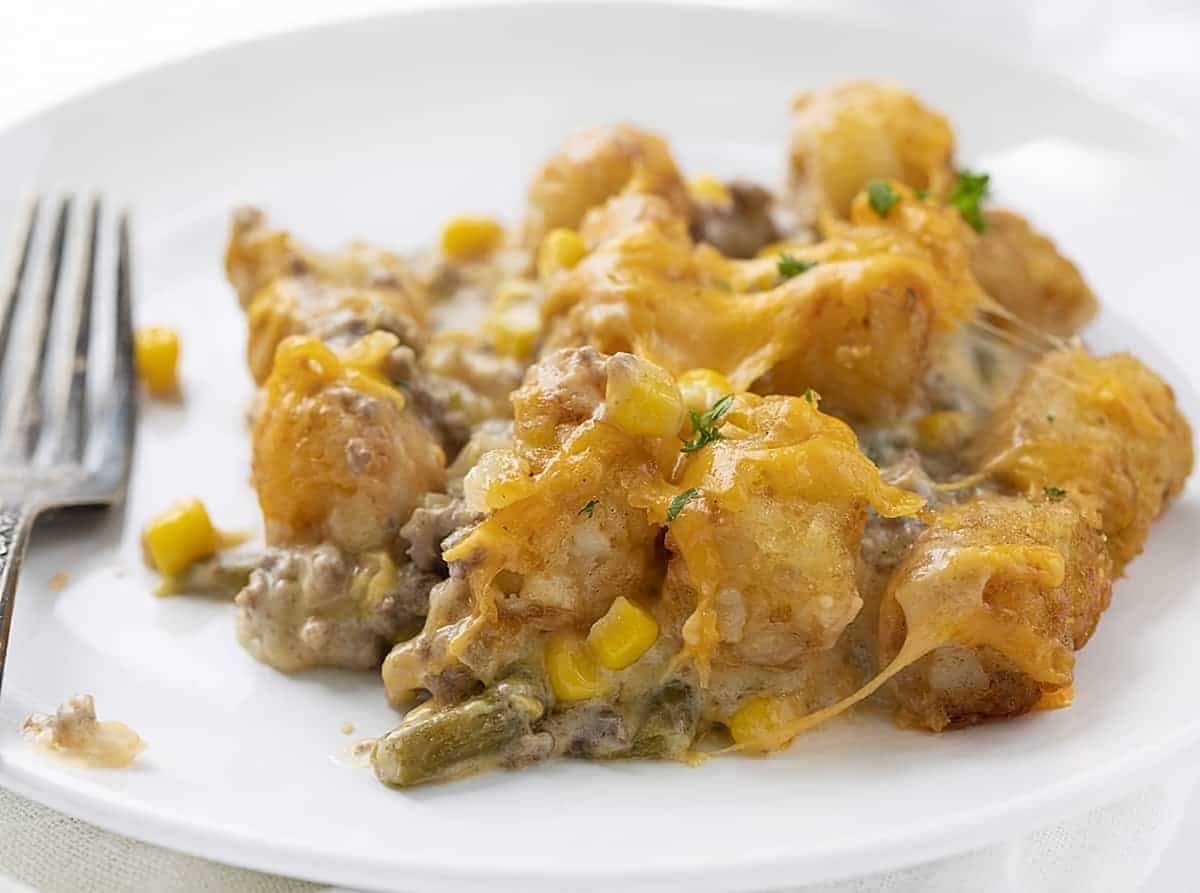 Note:
This casserole can also be made ahead of time and frozen for up to 3 months. Simply cover the unbaked casserole with plastic wrap and aluminum foil, and label and date it before freezing. When ready to bake, thaw the casserole overnight in the refrigerator and bake following the original instructions. Add the extra shredded cheese during the last five minutes of baking for an extra cheesy and gooey topping.
Storing:
Leftovers can be stored in the refrigerator for 3 to 4 days. Allow the hotdish to cool.