Juicy, flavorful, spicy and very tasty – and that's not all there is to say about these tomatoes. Just cook them and try them!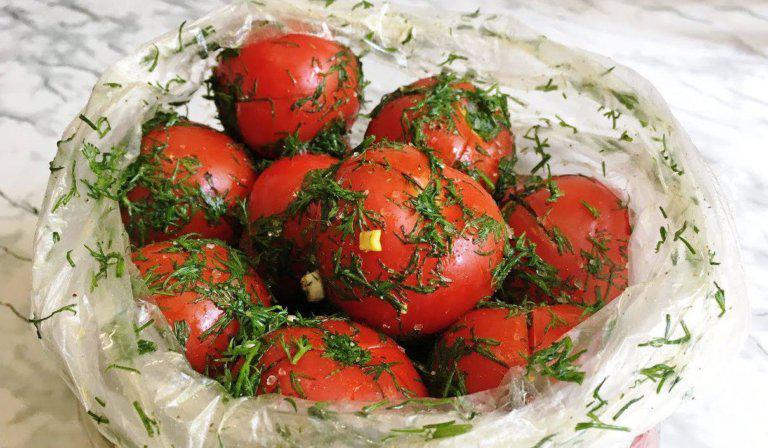 Ingredients:
Tomatoes small or medium, 1 kg;
garlic, 5 cloves;
dill, big bundle;
salt, 1 tbsp;
sugar, 0.5 tbsp;
black or red ground pepper (or mix), 1 tsp.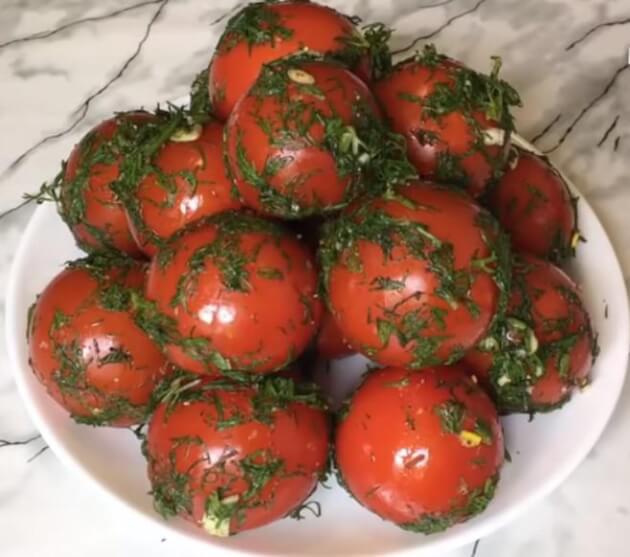 Instructions
Wash and dry the tomatoes, make a cross-shaped incision on the bottom, where the stalk is located.
Finely chop garlic and dill.
Place tomatoes, garlic, dill, salt, sugar and pepper in a plastic bag.
Shake the bag without tying it too tightly.
Put the bag with the tomatoes on the table at room temperature for a few hours, but it will be even tastier if you leave them like this for a day.
Put the bag in a container beforehand, so that the liquid from the bag, if it leaks, does not run onto the table.
Such tomatoes are great with barbecues, other meat and fish dishes, very tasty with mashed potatoes.
Tip: After a day of marinating, put the tomatoes in a glass jar or other container and store them under a lid in the refrigerator – so they can lie for a long time.