Indulge in the ultimate party food with these piled-high skillet chicken nachos! Also known as Restaurant Style Nachos, there's nothing quite like recreating the flavors of your favorite restaurant at home.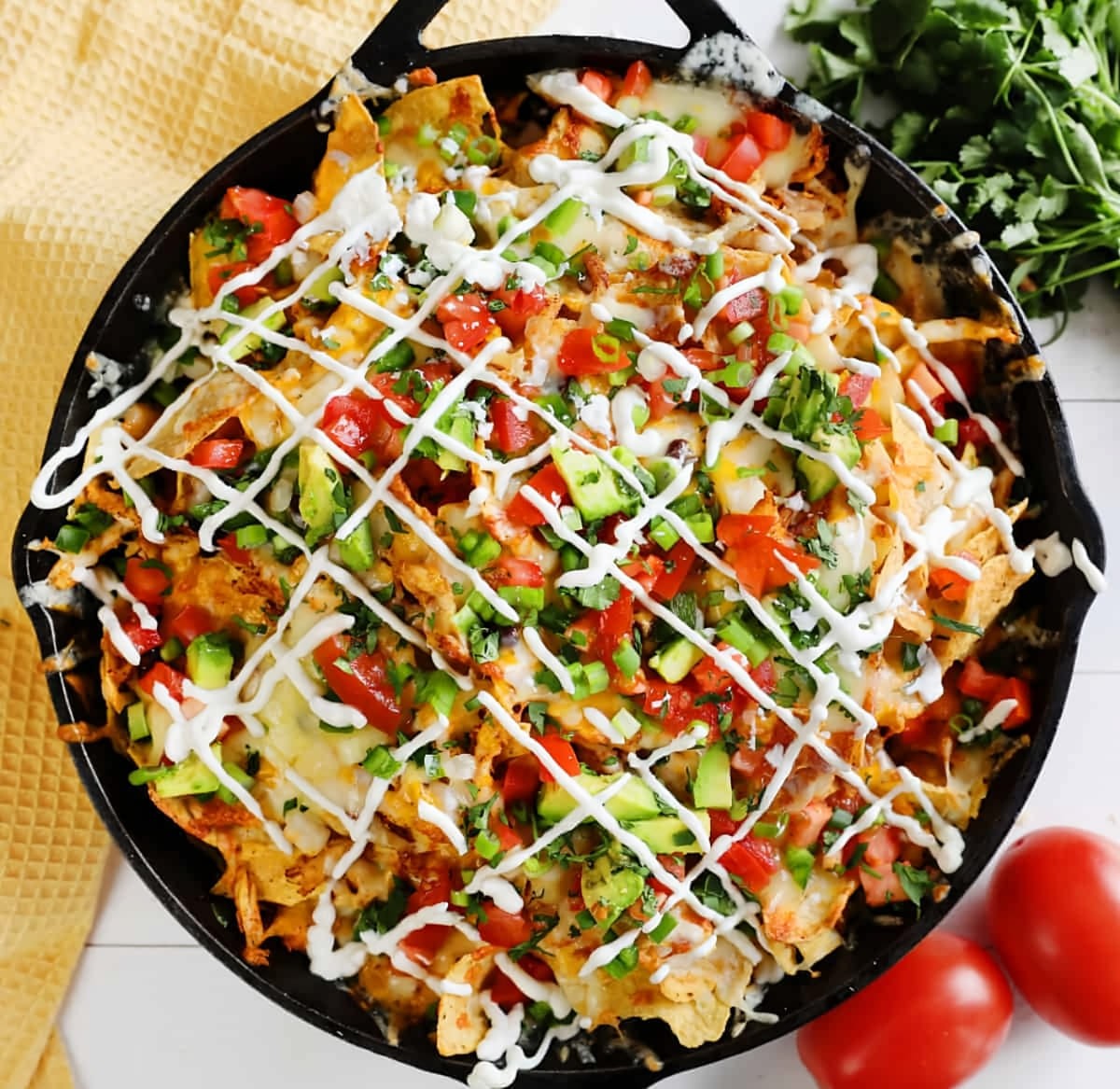 Easy and Delicious Chicken Nachos
If you're a fan of chicken nachos like I am, you'll love this recipe. We enjoy them frequently, often using whatever ingredients we have on hand. What sets these nachos apart is the skillet method, which not only keeps all the toppings intact but also retains heat better than a sheet pan, ensuring your nachos stay warm and perfect.
Tips for Effortless Assembly
To make the assembly process even smoother, follow these tips:
Pre-bake and cool the chicken.
Dice all your ingredients ahead of time.
Have salsa, sour cream, plates, and napkins ready, as everyone will want to dig in as soon as the nachos are done!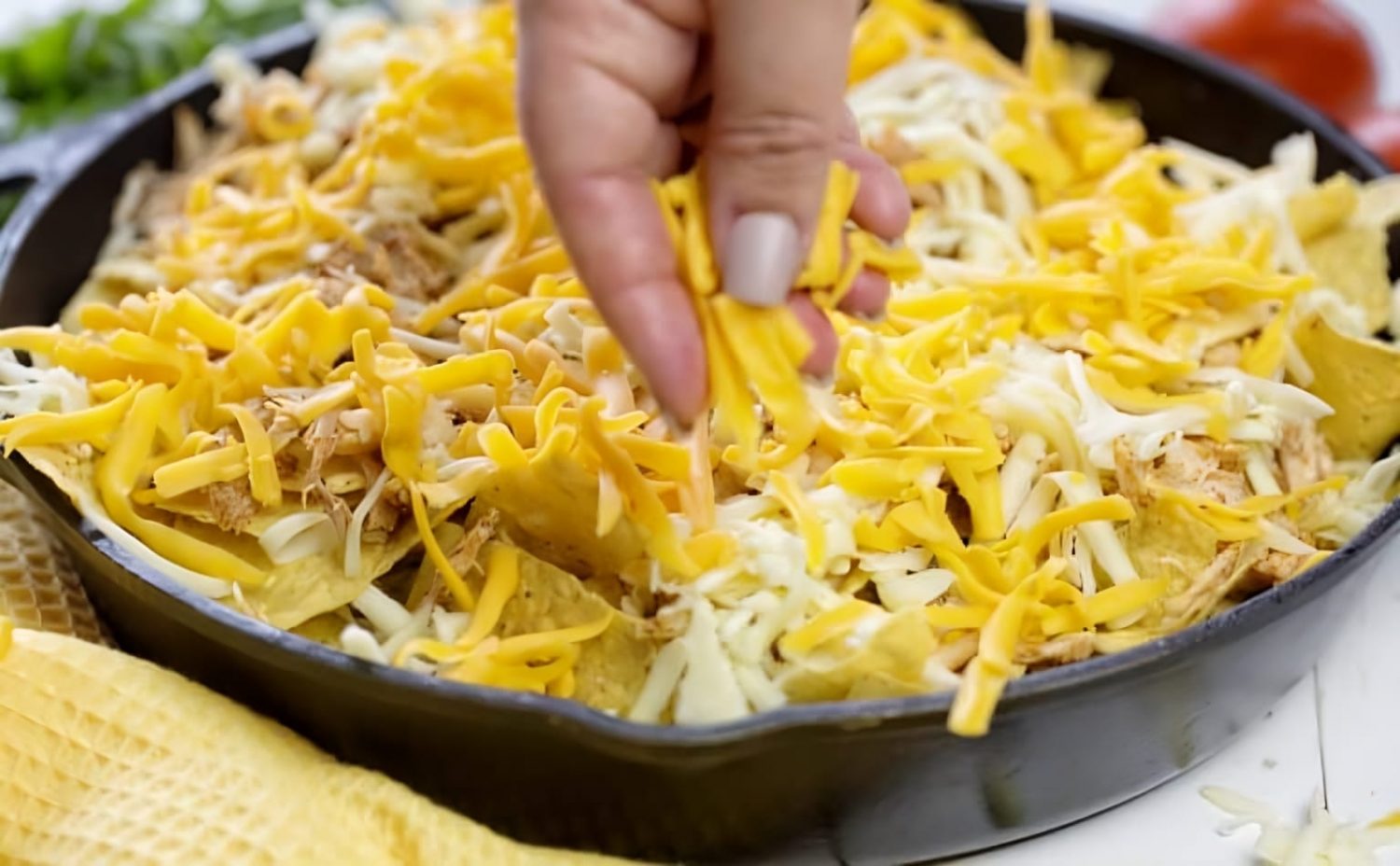 Ingredients for Chicken Nachos
While the possibilities for this dish are endless, the following recipe is one that we keep coming back to. I've chosen to use a Homemade Taco Seasoning, but you can certainly use store-bought if you prefer.
Chips: Look for sturdy chips that won't easily break under the weight of the delicious toppings. I highly recommend using salted Black Bean Tortilla Chips for an extra burst of flavor.
Cheese: I love the combination of cheddar and Monterey Jack cheeses for their melty goodness and contrasting colors. Feel free to experiment with your favorite cheeses, such as spicy varieties or higher-end options like gruyere.
Chicken: A rotisserie chicken is perfect for this recipe, but you can also use leftover chicken. If you're baking the chicken, place it on a parchment-lined baking sheet, drizzle with oil, and season with salt and pepper. Bake at 400°F for 22-25 minutes, then let it rest before shredding.
Beans: To avoid soggy chips, be sure to drain and rinse the black beans before using them in this recipe.
Onion: We opted for raw onion to add texture, but if you prefer cooked onion, sauté it in a skillet with a little butter or oil for about 6 minutes until translucent. Remove the onions from the skillet, wipe it clean, and proceed with building your chicken nachos.
Jalapeno: Adjust the amount of jalapeno based on your preferred level of heat and the spiciness of the jalapenos available. During winter months, when store-bought jalapenos are less flavorful, I tend to use more. In the summer, when fresh garden jalapenos are abundant, I can get away with using just one.
Tomato: I've scaled back the amount of tomato in this recipe, but feel free to use more if you're a tomato lover like me. I enjoy using a variety of tomatoes based on what's in season, and Roma tomatoes with fewer seeds are a great option. Cherry tomatoes, quartered, also work well.
Cilantro: Cilantro can be a polarizing herb, but we love it for the burst of flavor it adds. Finely dice some cilantro and sprinkle it over the nachos to take the dish to the next level.
Sour Cream: Transfer sour cream into a squeeze bottle for easy drizzling. This ensures that every chip gets a bit of sour cream, and it also adds a visually appealing touch.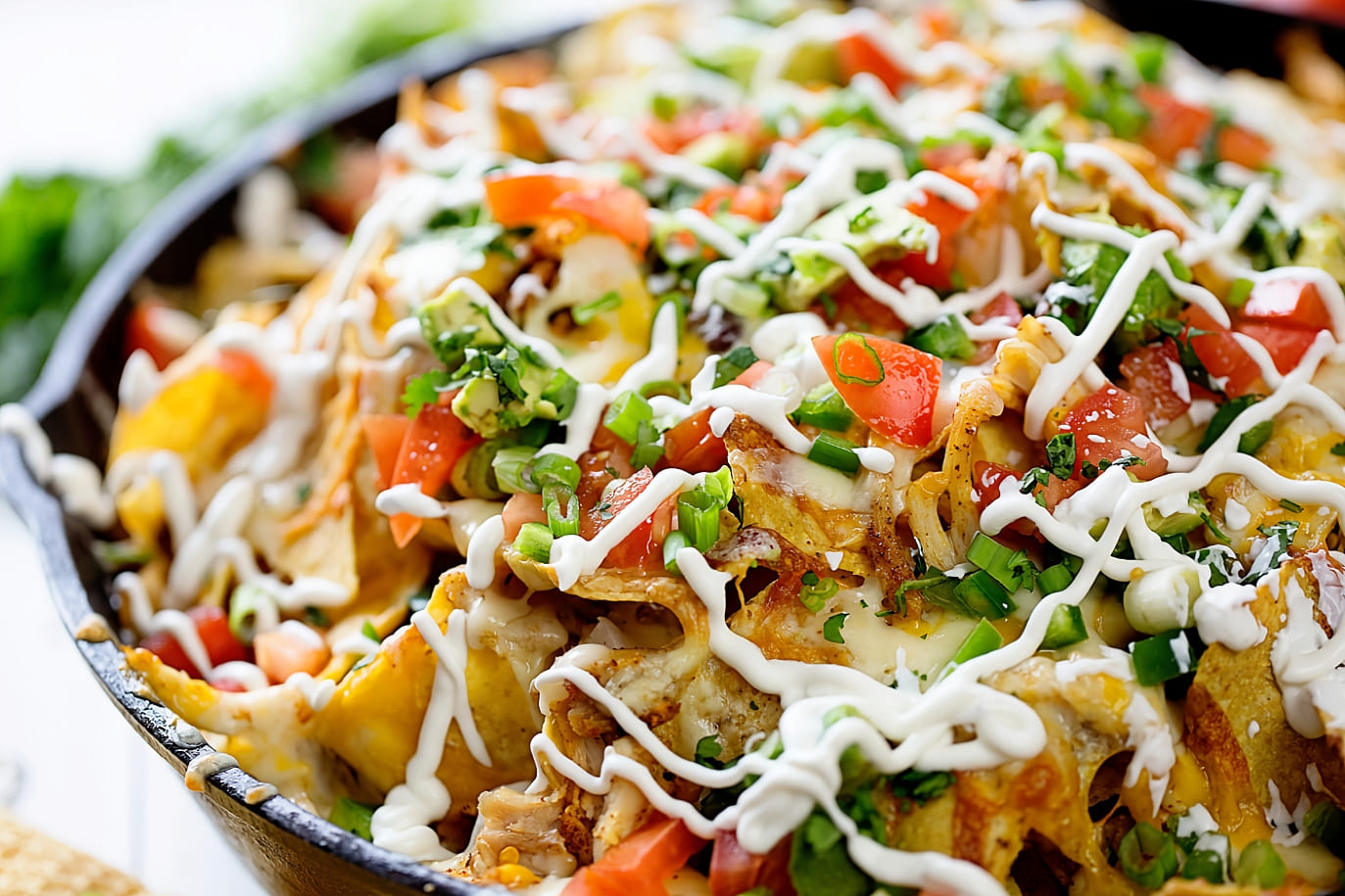 Optional Ingredients for Chicken Nachos
Feel free to add any of these optional ingredients to customize your chicken nachos:
Corn
Garlic
Olives
Scallions
Refried Beans
Guacamole
Shredded Chicken Nachos
Shredded chicken is perfect for skillet nachos, but diced chicken works well too. If you prefer diced chicken, simply chop the cooked and cooled chicken into small cubes (about 1/2 inch) and distribute it evenly over the nachos. This ensures that every chip gets a delicious combination of chicken and cheese in every bite.
To shred the chicken, start with a baked or rotisserie chicken. Allow it to cool until it's easy to handle, then tear the meat into bite-sized pieces. I personally prefer smaller chicken pieces to make them easier to eat, but you can adjust the size to your liking.
Now, let's move on to the recipe!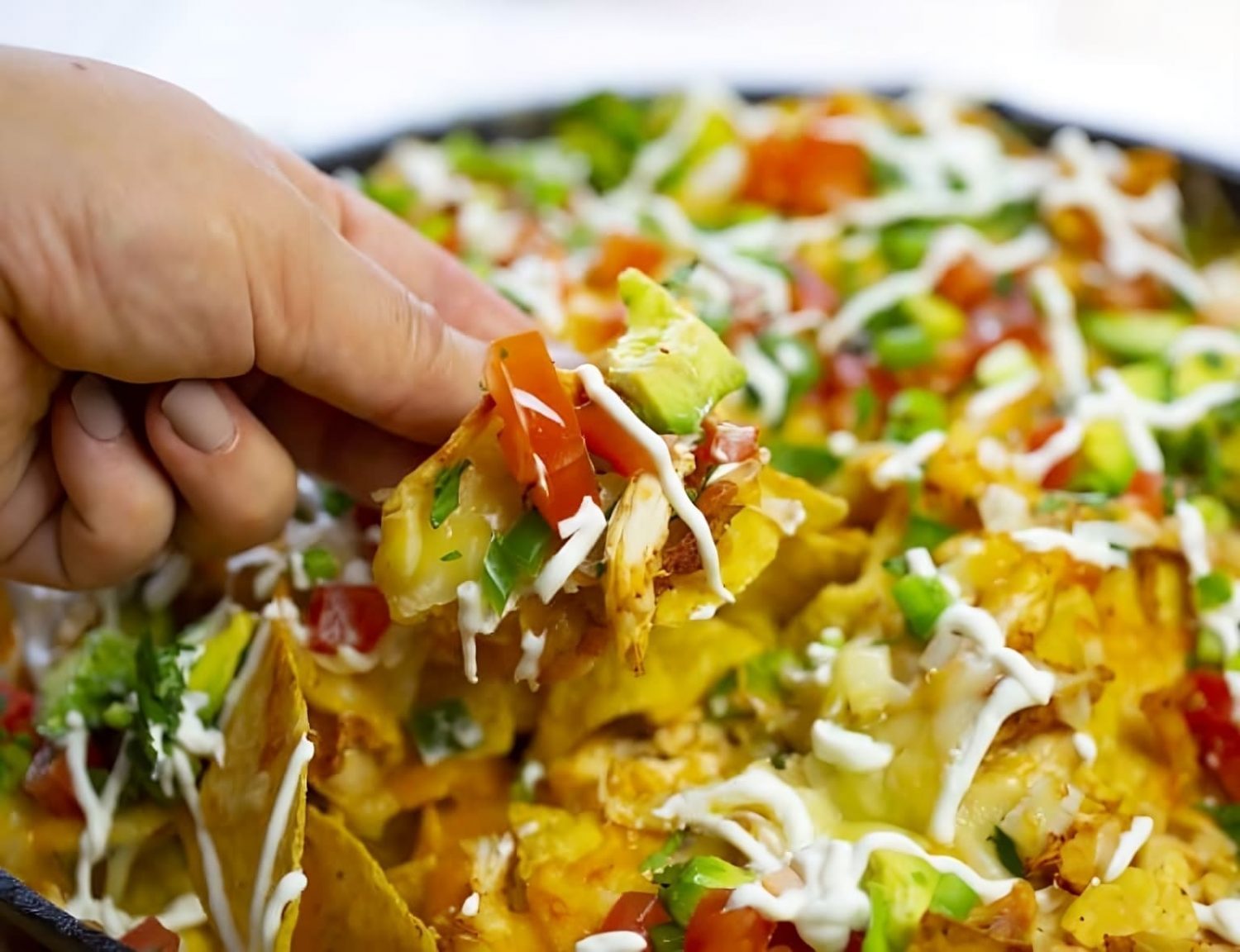 Ingredients:
3 cups shredded rotisserie chicken
1 tablespoon taco seasoning
1 large bag tortilla chips
2 cups shredded mild cheddar cheese (113 g)
2 cups shredded Monterey Jack cheese (113 g)
1/2 cup drained black beans (86 g)
1 small onion, diced and cooked
Toppings:
1/2 avocado, diced
1 large tomato, diced
1/4 cup sliced scallions
1/4 cup chopped cilantro
1/2 cup diced jalapenos
Sour cream, for drizzling
Instructions:
Preheat the oven to 425°F (220°C).
In a medium bowl, combine the shredded chicken and taco seasoning, ensuring the chicken is evenly coated.
Spread one-third of the tortilla chips evenly across a skillet or oven-safe dish. Top with one-third of the seasoned chicken, one-third of the cheddar cheese, one-third of the Monterey Jack cheese, one-third of the black beans, and one-third of the cooked onions. Repeat this layering process twice more with the remaining ingredients.
Bake the nachos in the preheated oven for 10-12 minutes, or until the cheese is melted and bubbly.
Remove the skillet from the oven and top the nachos with diced tomato, avocado, sliced scallions, chopped cilantro, diced jalapenos, and a drizzle of sour cream.
Serve the skillet chicken nachos immediately, while they're still hot and gooey. Enjoy!
Feel free to adjust the toppings and quantities based on your preferences. These skillet chicken nachos are perfect for sharing at parties or enjoying as a satisfying meal. Get ready to dig in and savor the deliciousness of homemade restaurant-style nachos!