Very flavorful, very tender and pleasant cake with fresh strawberries. You can also use frozen berries and not only strawberries.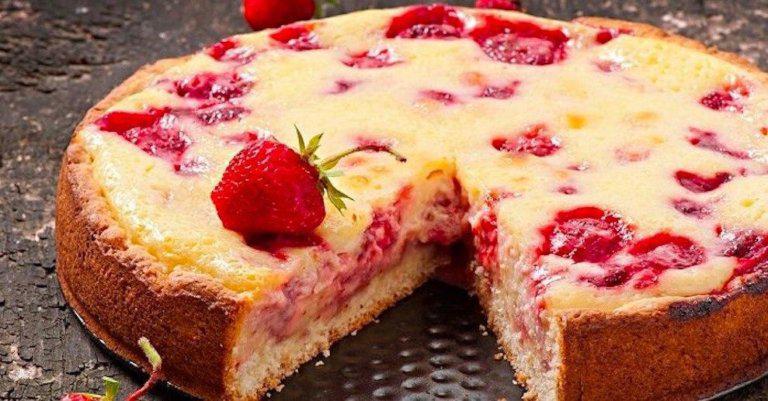 Ingredients:
Eggs, 2 pcs;
pinch of salt;
kefir, 1 cup;
sugar, 170 grams;
flour, 1.5 cup;
butter, 50 gr;
soda, 1 tsp;
strawberries, 300 g.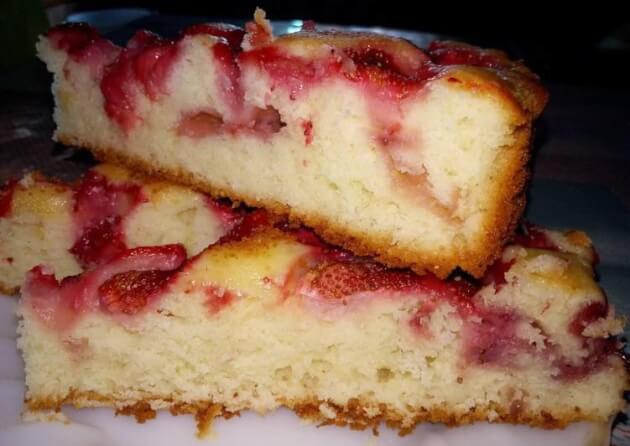 Instructions
Melt butter any way you like and cool it.
Combine the eggs with the salt and beat until a thick and fluffy mass.
Add sugar in batches and beat well until a firm mass. This process should take at least 7 minutes.
Tip: all products must be at room temperature.
Add the kefir, pour in the butter and beat on low speed.
Sift the flour, mix with baking soda and in portions enter into the mass, gently knead the dough. The dough should be as thick as sour cream.
Layer the form with parchment.
Wash and dry strawberries with paper towels, then lay them out on the bottom of the forms.
Pour the dough over the berries.
Preheat the oven to 180 degrees and bake for 1 hour. Check the readiness of the pie with a skewer.
Cool the pie in the form, then only take out and serve.