Very tender cake with classic custard. It is made with simple products.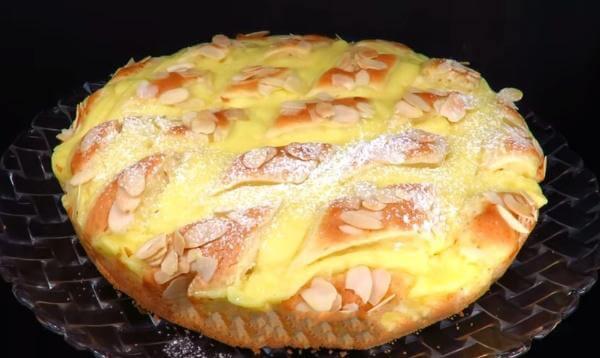 To make the cake you will need the following ingredients:
flour, 280 g;
sugar, 150 g;
eggs, 3 pcs;
vanilla to taste;
a pinch of salt;
baking powder, 15 g;
Vegetable oil, 150 g;
Fat sour cream, 50 g.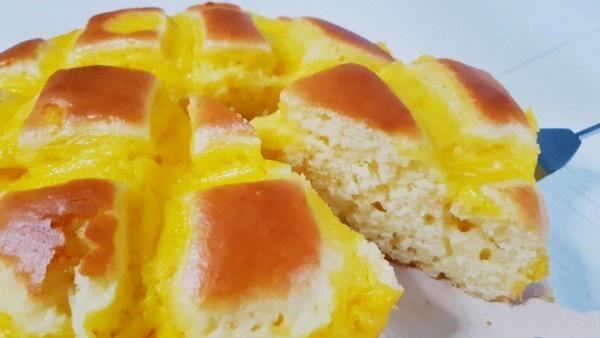 To make the custard you need:
egg, 1 pc;
milk, 250 ml;
corn starch, 20 gr;
sugar, 60 gr;
butter, 25 gr;
lemon juice, 1 tbsp;
lemon zest;
pinch of salt.
To decorate the cake, use almond petals, chopped nuts, powder, grated chocolate, etc.
Instructions
Combine all the ingredients except the butter and make a thick custard. Add vanilla or vanilla sugar to taste and as desired. Cool until lukewarm and mix in the butter, leave to cool.
For the dough, mix the eggs with the sugar and salt, vanilla and beat for 4 minutes to a fluffy mass.
Add sour cream and vegetable oil and mix.
Combine the flour with baking powder, sift and add in batches to the dough, mix well with a mixer.
Form lined with parchment and pour the batter.
Put the cream into a bag, cut off a corner and pour it in strips over the dough, pressing it a little.
Preheat the oven to 180 degrees and bake for about 40 minutes. Check the readiness with a skewer.