Juicy brats wrapped in crispy bacon, grilled to perfection, and topped with a rich and creamy beer cheese sauce. These Bacon Wrapped Brats with Beer Cheese Sauce are the ultimate handheld food for your backyard gatherings or tailgating parties. The combination of smoky bacon, savory brats, and cheesy beer sauce will leave your taste buds begging for more!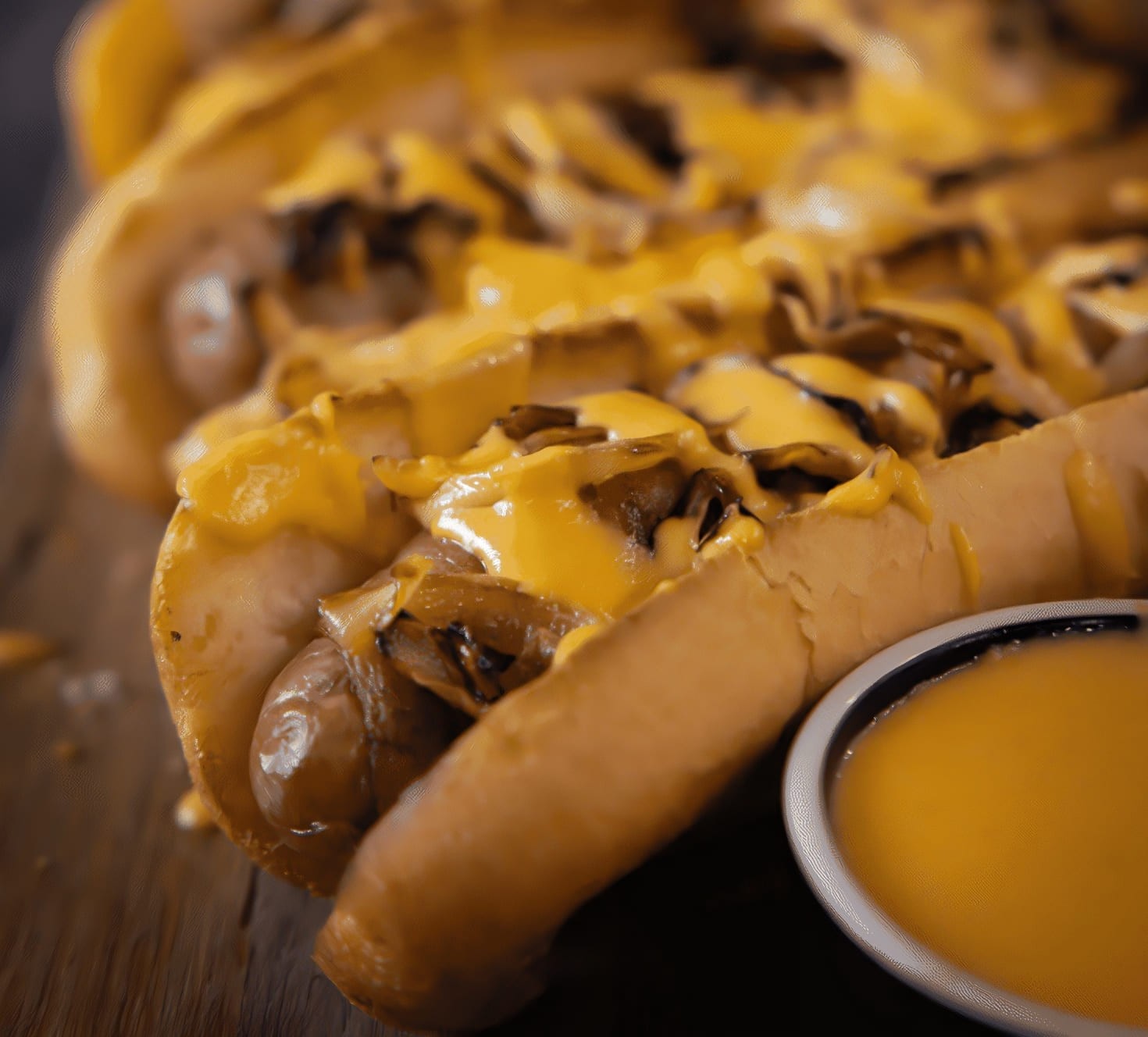 This recipe takes traditional uncooked bratwursts and elevates them to a whole new level by wrapping them in bacon and smothering them with a homemade beer cheese sauce.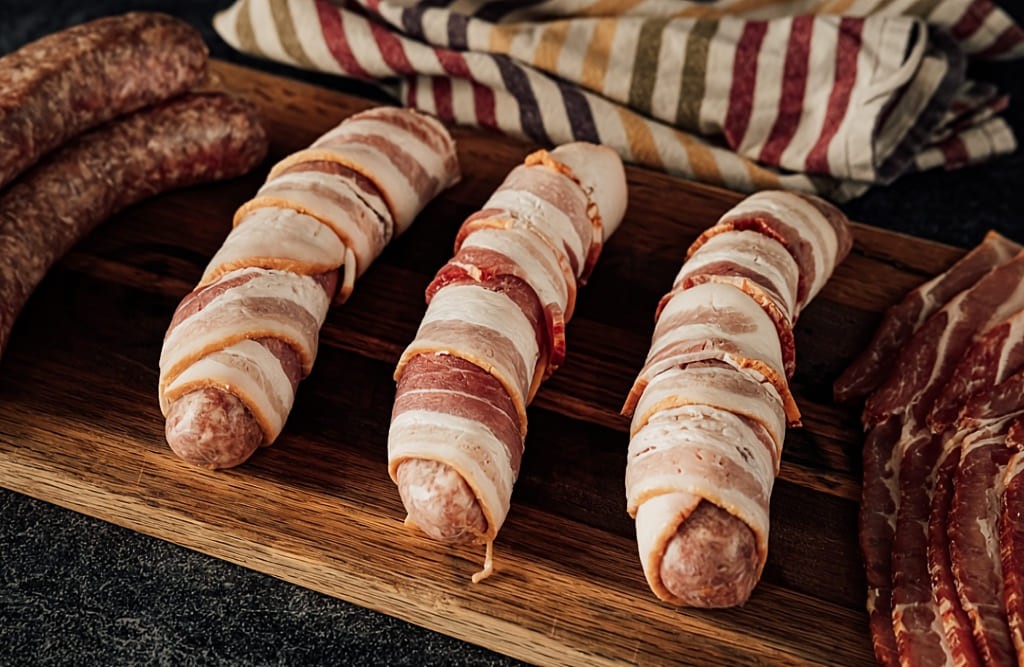 The brats are grilled to perfection, resulting in a juicy and flavorful bite, while the bacon adds a crispy and smoky crunch. The beer cheese sauce is the star of the show, with its creamy texture and rich flavor that perfectly complements the brats and bacon.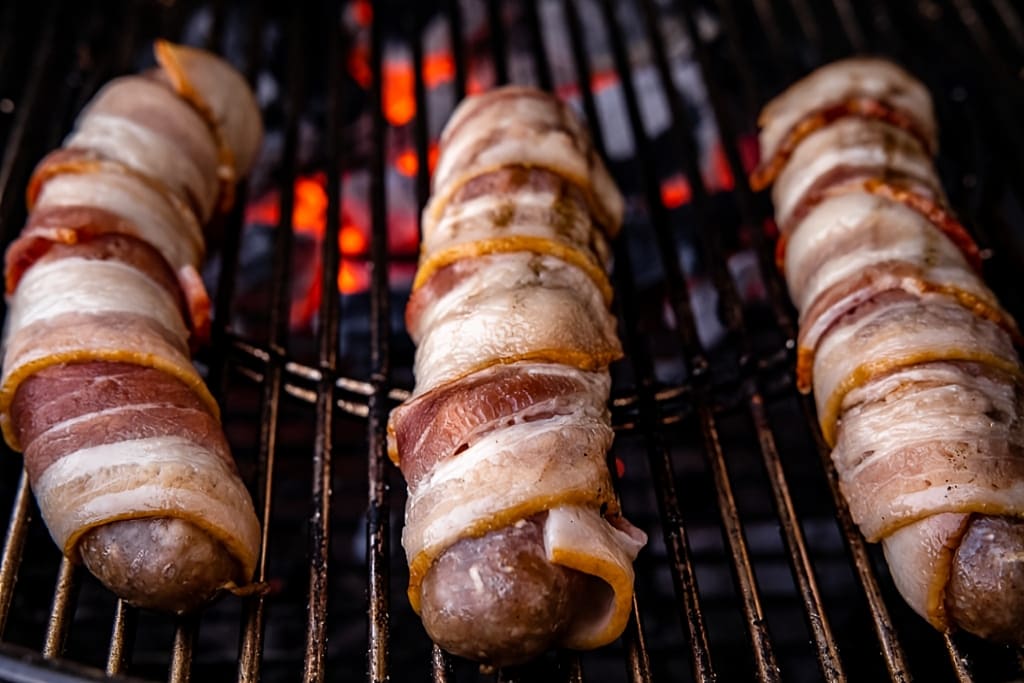 Whether you're hosting a backyard BBQ or cheering on your favorite team at a tailgating party, these Bacon Wrapped Brats with Beer Cheese Sauce are sure to impress your guests.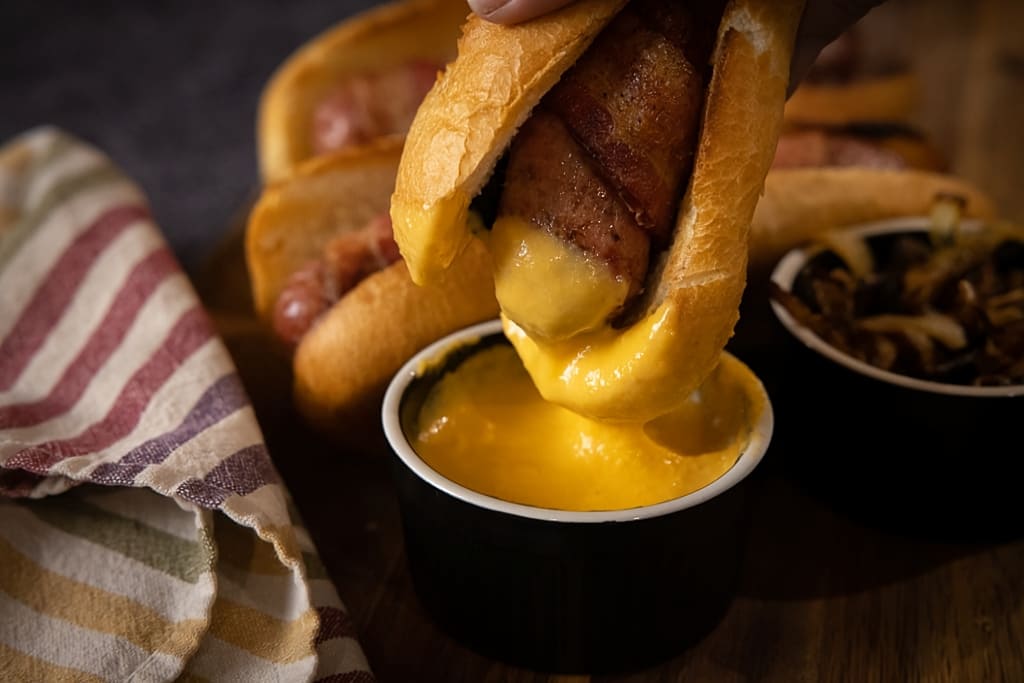 Ingredients:
6 bratwursts
12 slices bacon
Beer Cheese Sauce:
3 tablespoons salted butter
3 tablespoons all-purpose flour
3/4 cup whole milk
3/4 cup beer (preferably an ale)
1 teaspoon Dijon mustard
1/2 teaspoon garlic powder
1/4 teaspoon salt
1/4 teaspoon cayenne pepper (less if you want the sauce to be mild)
3 cups extra sharp cheddar cheese
Instructions:
Preheat your grill to 400-450 degrees F for indirect grilling.
Wrap each bratwurst with two strips of bacon, tucking the ends of the bacon or securing with toothpicks to prevent unraveling on the grill.
Cook the bacon-wrapped brats on indirect heat for 10-15 minutes, turning frequently, until the internal temperature of the bratwursts reaches 165 degrees F.
Meanwhile, in a medium skillet over medium heat, melt the butter and whisk in the flour until a thick paste forms.
Pour in the milk and whisk constantly, breaking up any clumps, until the mixture comes to a boil.
Stir in the beer, whisking constantly, until the sauce is smooth.
Reduce the heat to low and stir in the Dijon mustard, salt, cayenne pepper, and garlic powder.
Add the cheese to the sauce in batches, stirring slowly until the cheese is entirely melted and the sauce is creamy and smooth.
Toast the buns on the grill sliced side down for 1-2 minutes until they are crisp.
Assemble the bacon wrapped bratwursts in the toasty buns and drizzle with the warm beer cheese sauce.
Keep the sauce warming in the skillet during serving to prevent the cheese from getting hard.
Enjoy your unique and delicious Bacon Wrapped Brats with Beer Cheese Sauce, and don't forget to customize with additional toppings like chopped white onions, pickle relish, and whole grain mustard for added crunch and flavor!