Experience the ultimate fall indulgence with this delightful Pumpkin Crisp recipe. With its irresistible double crisp layers and a luscious pumpkin filling, it's the perfect treat to celebrate the flavors of the season. If you're a fan of fruit crisps, don't miss out on our Best Apple Crisp recipe either!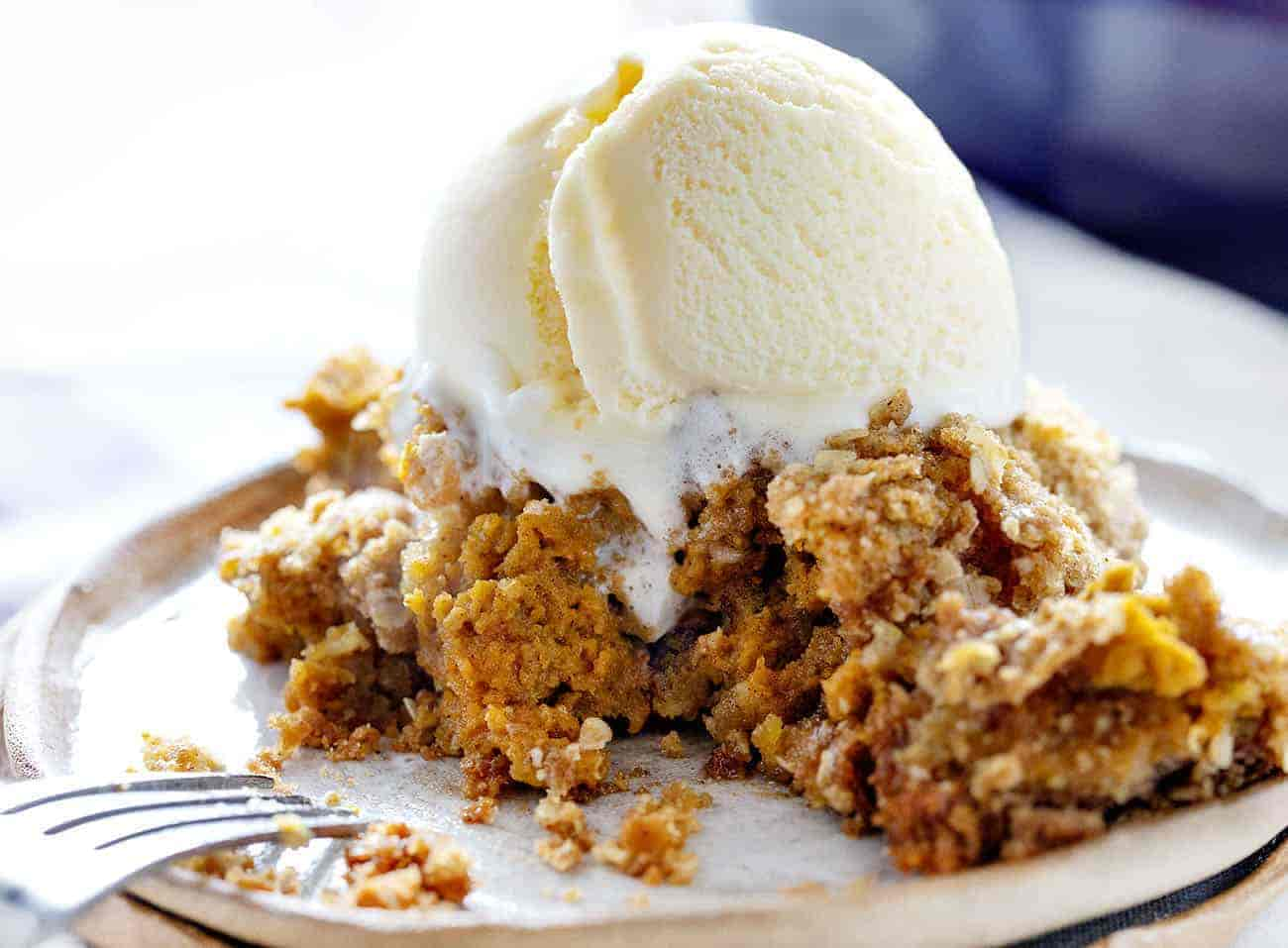 The Epitome of Deliciousness
Introducing the Great Pumpkin Crisp, a dessert so incredible that it deserves its own spotlight! Initially, I had my doubts and reservations about trying this Pumpkin Crisp, unsure whether it would win me over. However, to my pleasant surprise, I didn't just like it—I absolutely loved it! To elevate its greatness, I incorporated my secret double crisp technique from my beloved Apple Crisp recipe.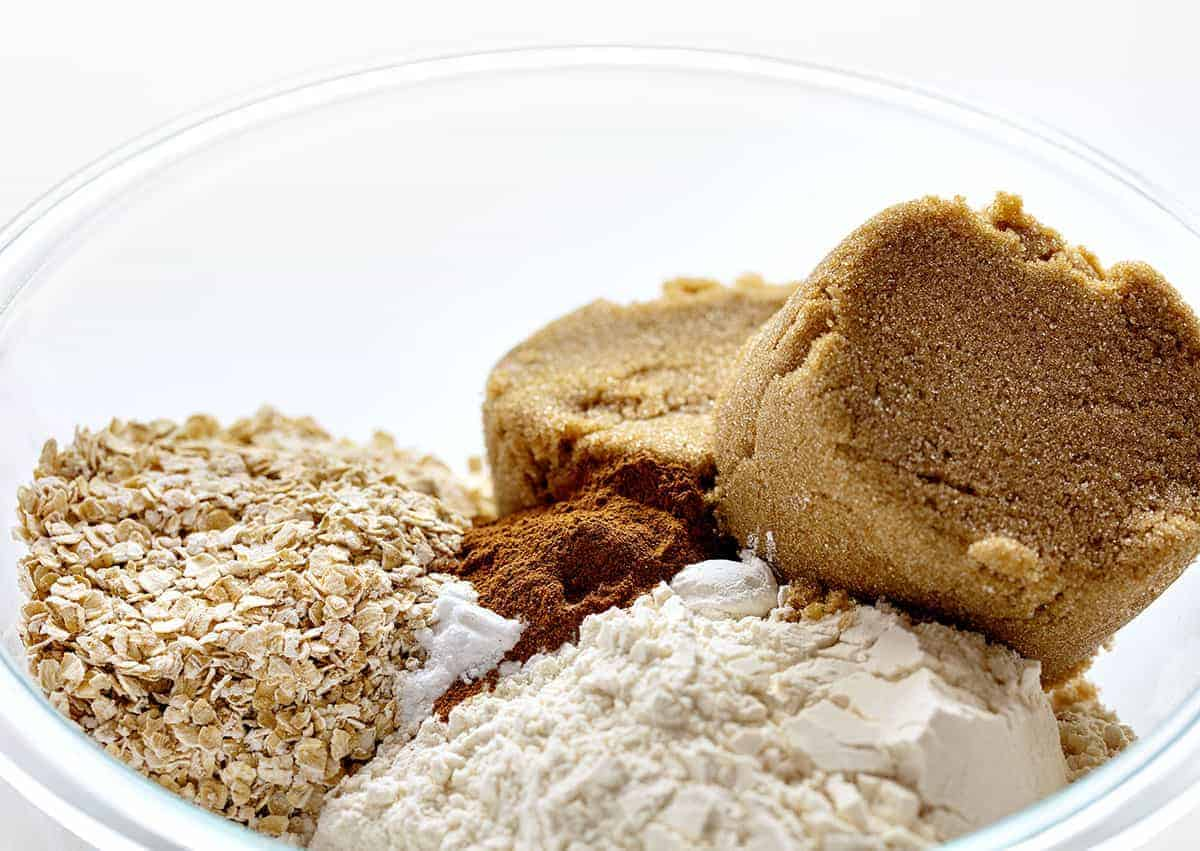 Pumpkin Crisp Ingredients
To create this mouthwatering Pumpkin Crisp, ensure you use pure pumpkin, also known as pumpkin puree, and not pumpkin pie filling. The pure pumpkin should be the cooked and mashed flesh without any added seasoning, flavorings, or sugar. We'll be adding our own delightful blend of spices and sweetness to the filling.
For the perfect balance of flavor, I recommend using a combination of granulated sugar and light brown sugar. While many recipes stick to using only granulated sugar or a mix of granulated and brown sugar, the all-brown sugar approach enhances the depth of flavors in this crisp. You can also opt for dark brown sugar if you prefer.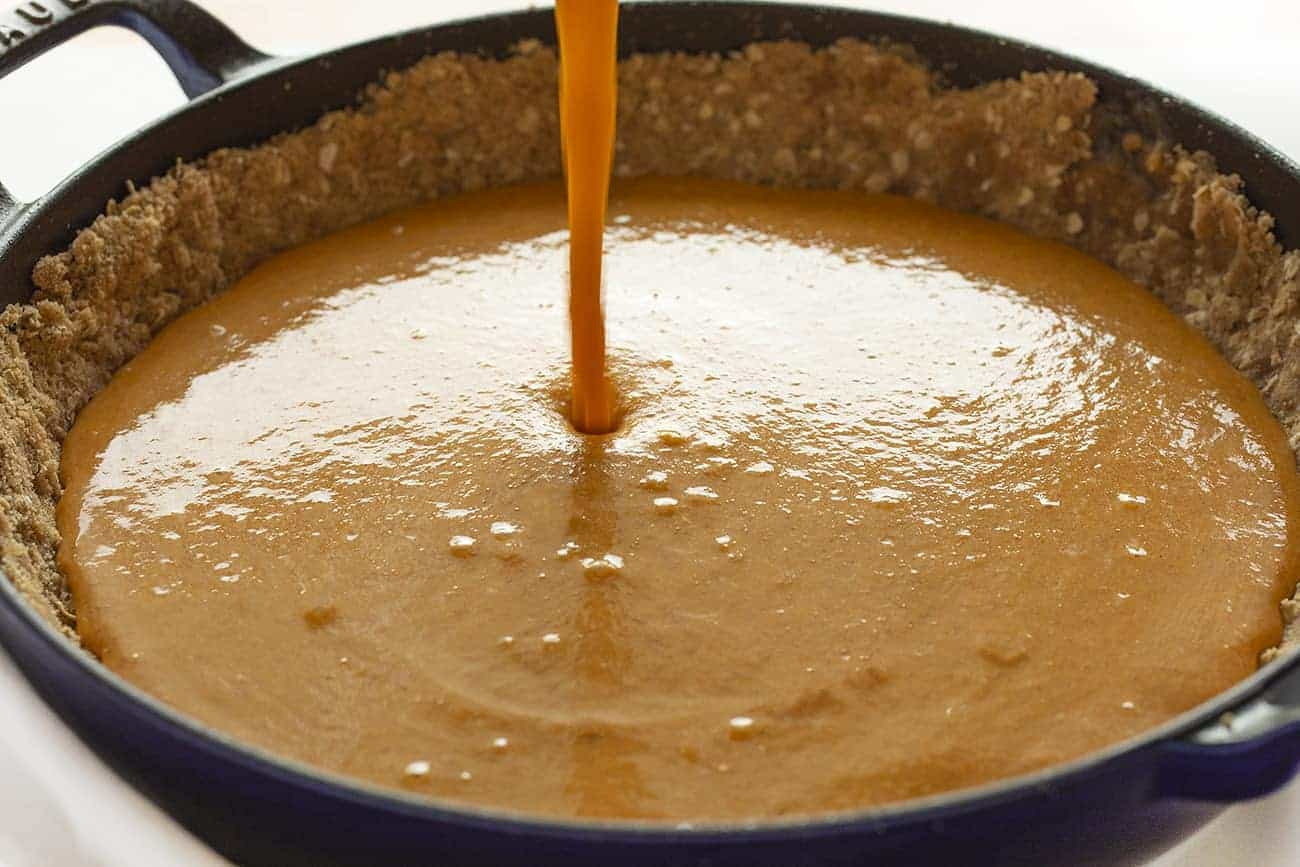 Choose quick oats for the crisp topping, or if you desire more texture, rolled oats can work as well.
For that signature pumpkin spice aroma and taste, you can either use store-bought pumpkin pie spice or easily make your own homemade version for this recipe!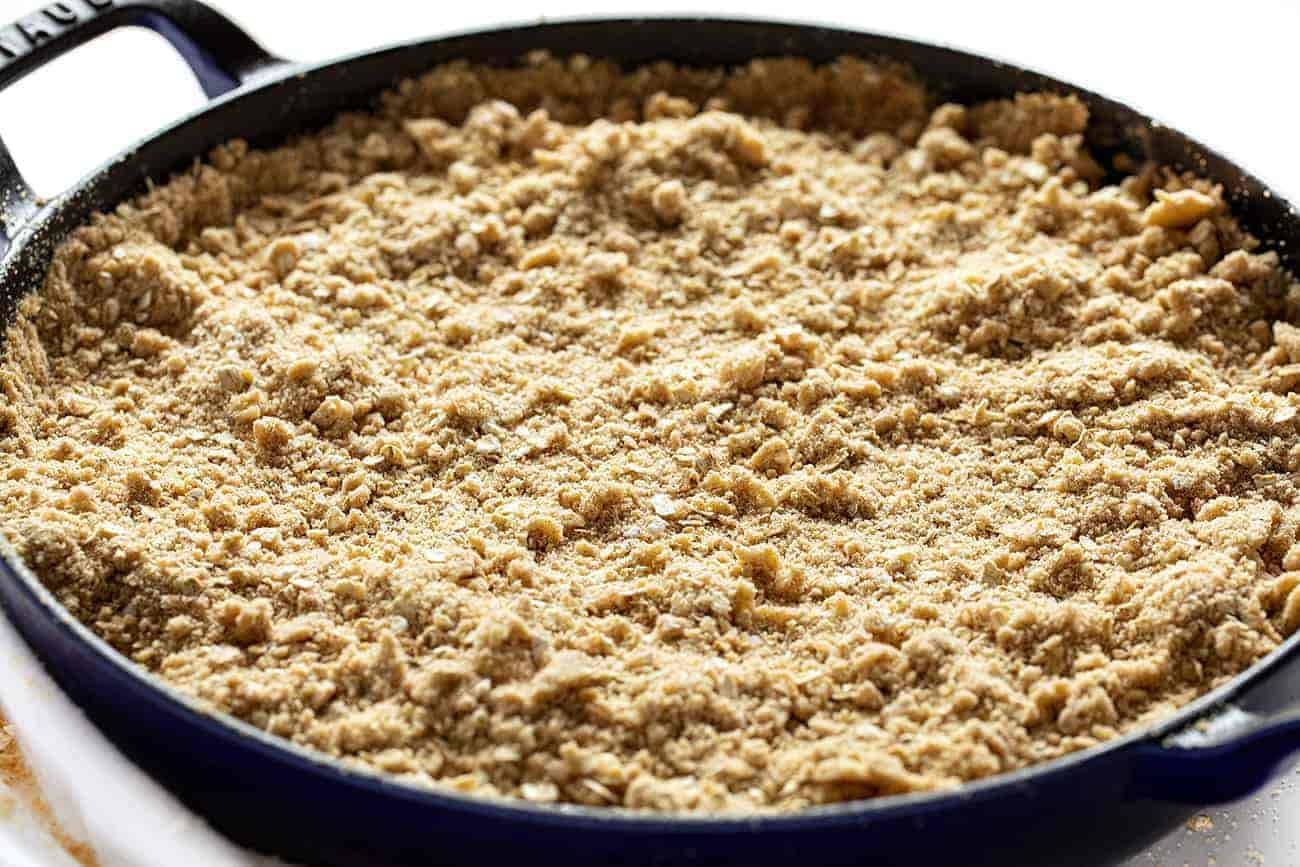 Tips for Achieving Perfection
What sets this recipe apart is that the oat mixture is used both at the top and bottom layers of the crisp. The incredible thing is that the texture and taste of this layer can be varied depending on the baking time.
Baking at 375°F for 35 minutes will result in a slightly gooey and caramelized bottom oat layer, while the top layer achieves a perfect crispiness.
For a crispy texture throughout, bake for 45 minutes at 375°F. The top layer will appear darker, but if you prefer a lighter crisp top, you can cover it with foil after 35 minutes of baking.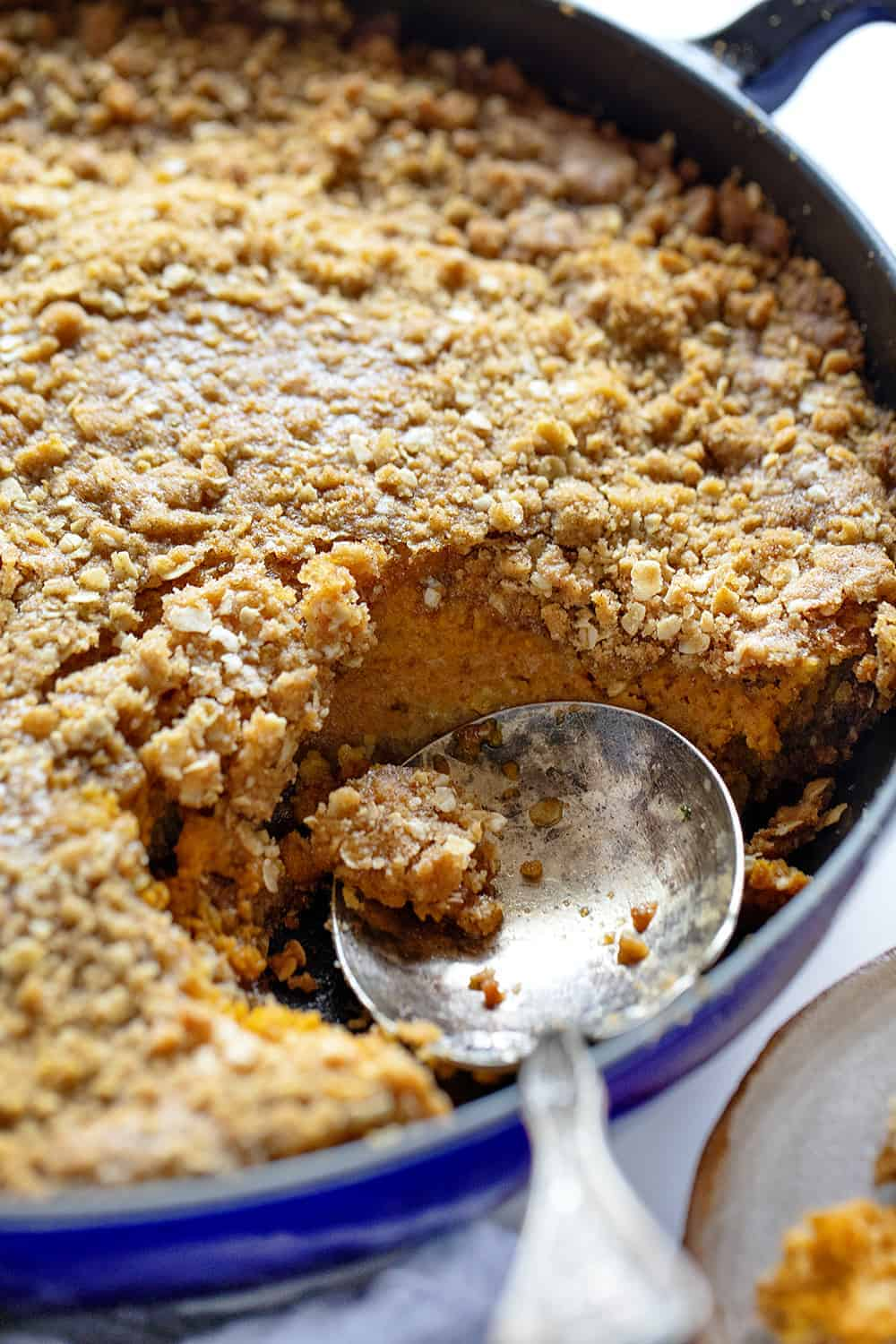 Serving the Pumpkin Crisp
The debate continues over whether to serve Pumpkin Crisp warm or cold. Some prefer it warm, while others find it more enjoyable when chilled. Personally, I found it delightful both ways. It can be savored plain, or you can elevate it further by adding a dollop of ice cream or whipped cream on top.
Storing Your Pumpkin Crisp
Once the crisp has completely cooled, if you have any leftovers, cover it with plastic wrap or aluminum foil and store it in the refrigerator for up to 5 days. To maintain its crispy texture when reheating, place individual portions in the air fryer or oven for approximately 10 minutes.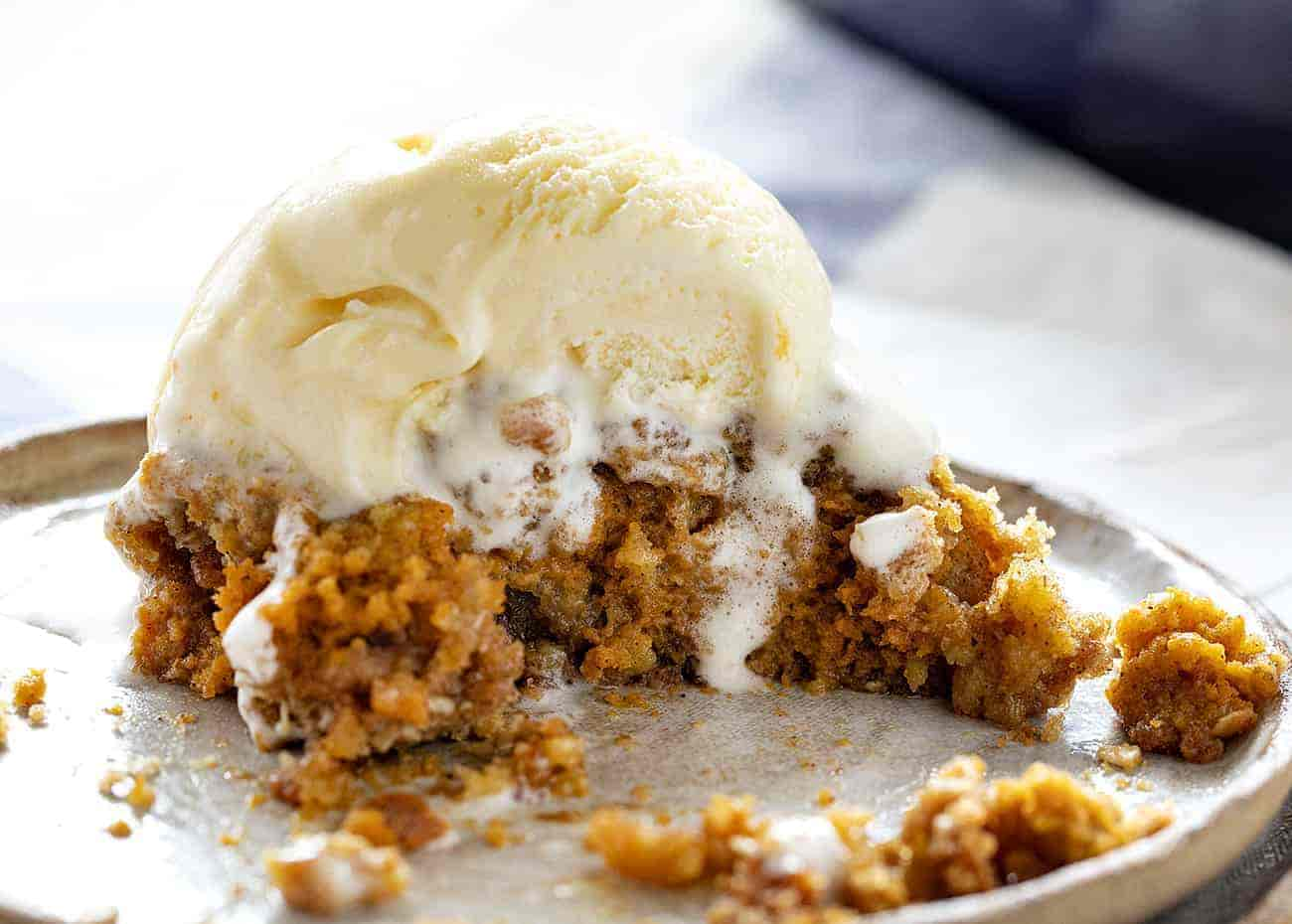 Ingredients:
Crisp Mixture
2 cups (180 g) quick-cooking oats
2 cups (250 g) all-purpose flour
1 cup (200 g) light brown sugar, packed
½ teaspoon baking powder
½ teaspoon baking soda
2 teaspoons pumpkin pie spice
1 cup (2 sticks / 227 g) unsalted butter, cold and cubed
Pumpkin Mixture
3 large eggs, at room temperature
1 cup (200 g) granulated sugar
1 can (15 ounces) pure pumpkin
1 cup (240 g) heavy cream
2 teaspoons pumpkin pie spice
1 teaspoon vanilla extract
½ teaspoon kosher salt
Instructions:
Preheat the oven to 375°F. Lightly grease a 12-inch oven-safe skillet with nonstick cooking spray and set it aside.
Crisp Mixture:
In a mixing bowl, combine the oats, flour, light brown sugar, baking powder, baking soda, and pumpkin pie spice. Mix well.
Add the cold, cubed butter to the bowl. Using your hands or a fork, incorporate the butter into the dry ingredients until the mixture resembles coarse crumbs. Ensure that the butter is evenly distributed and no larger than pea-sized.
Take 4 cups of the crisp mixture and spread it evenly over the bottom of the prepared skillet. Press it down to create a firm layer. Set aside the remaining crisp mixture for later use.
Pumpkin Mixture:
In a separate large bowl, whisk together the eggs and granulated sugar until well combined.
Add the pure pumpkin, heavy cream, pumpkin pie spice, vanilla extract, and kosher salt to the bowl. Whisk until all the ingredients are smoothly blended.
Pour the pumpkin mixture over the layer of crisp in the skillet, ensuring even distribution.
Sprinkle the reserved crisp mixture over the top of the pumpkin layer, creating a generous and even layer of crisp.
Place the skillet in the preheated oven and bake uncovered for 35-45 minutes, or until the crisp turns golden brown and the pumpkin layer is set. The baking time may vary depending on your desired crispness.
Once baked, remove the Pumpkin Crisp from the oven and let it cool slightly. Serve warm or refrigerate until chilled. Enjoy it plain or serve with whipped cream or ice cream for an extra touch of indulgence.
Notes:
If you don't have a skillet, a 9×13-inch baking pan can be used as an alternative.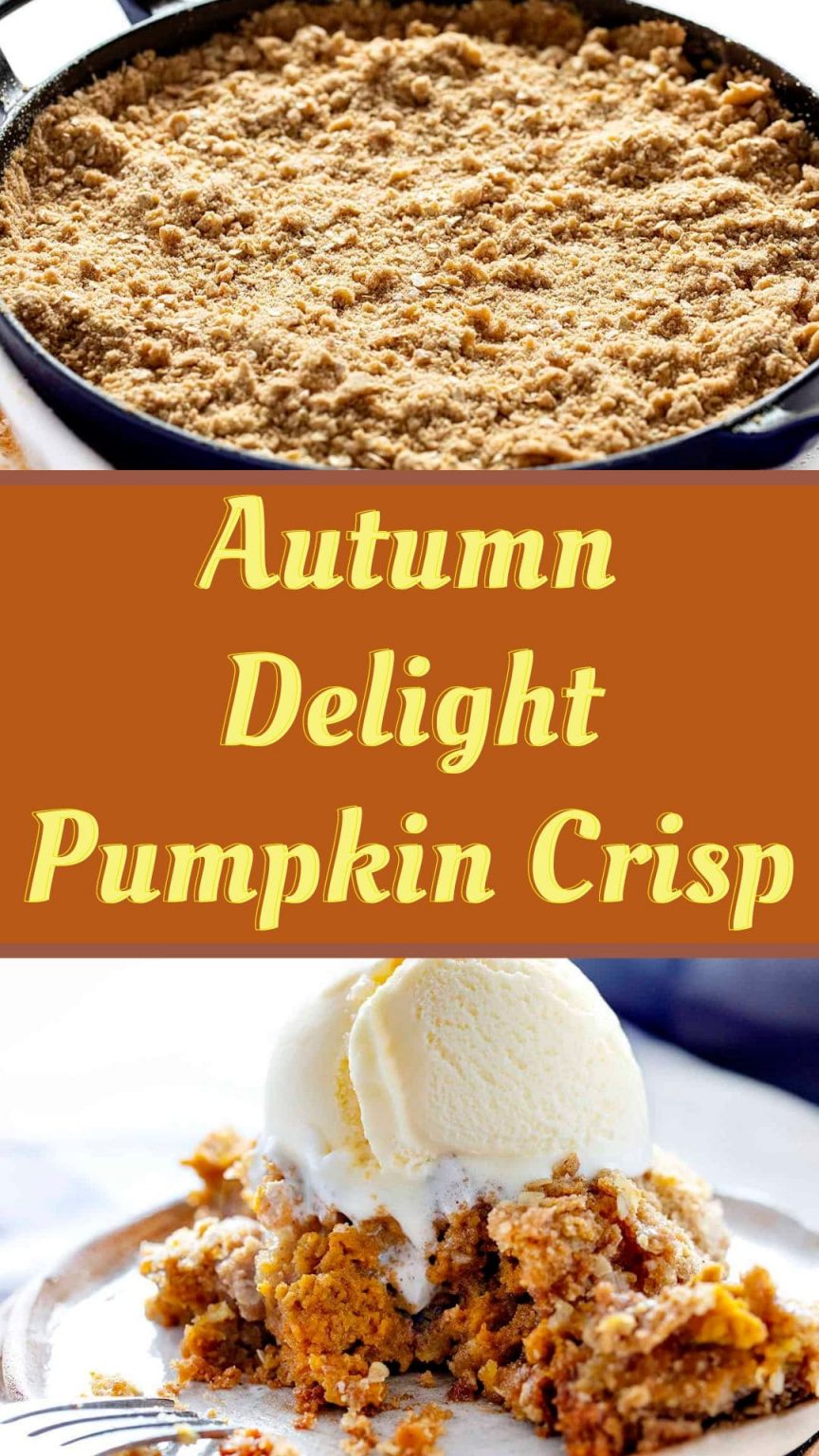 Now, savor the delectable flavors of this Autumn Delight Crisp, celebrating the essence of fall with every bite. Whether you enjoy it warm or cold, this Pumpkin Crisp is sure to become a seasonal favorite. Store any leftovers in the refrigerator and reheat individual portions for a delightful treat in the days to come.