Introducing Gruyere Scalloped Potatoes, a dish that is sure to delight any crowd! Thinly sliced Yukon gold potatoes are layered with loads of glorious gruyere cheese, covered in crispy bacon and sprinkled with fresh thyme. Cheesy scalloped potatoes are a classic family favorite, but why not kick it up a notch by experimenting with new cheeses and flavors? When I saw Gruyere on sale at the grocery store, I knew I had to try it in this recipe, and boy am I glad I did! The combination of gruyere, bacon, and thyme is truly magical.
To ensure uniform slices of potatoes, use a mandolin with a "thin slice" blade. It's essential to slice the potatoes right onto the cutting board to prevent them from separating, making it easier to line them up in the pan. Once you finish with one potato, carefully pick it up and set it in the skillet, keeping all the slices together. Once the potatoes are nestled into the pan, press down gently on each slice to fan them out and allow the cheese to cover every inch.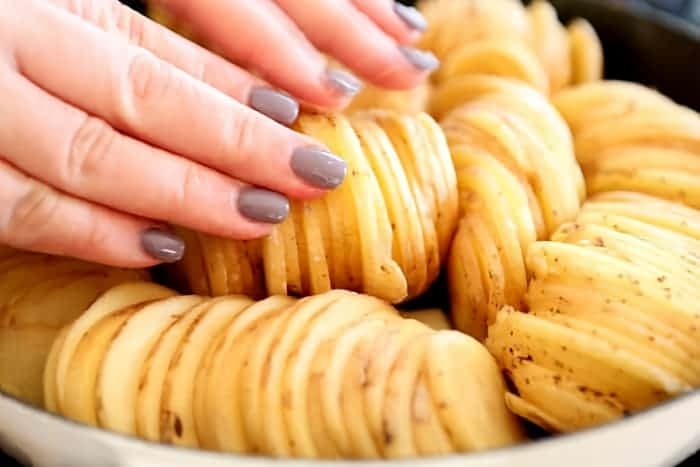 Looking to mix things up? You can substitute the Gruyere cheese with your favorite flavor. We've used cheddar, sharp cheddar, and Colby jack cheese, all with delicious results! If you're short on time, this dish can also be made in a slow cooker.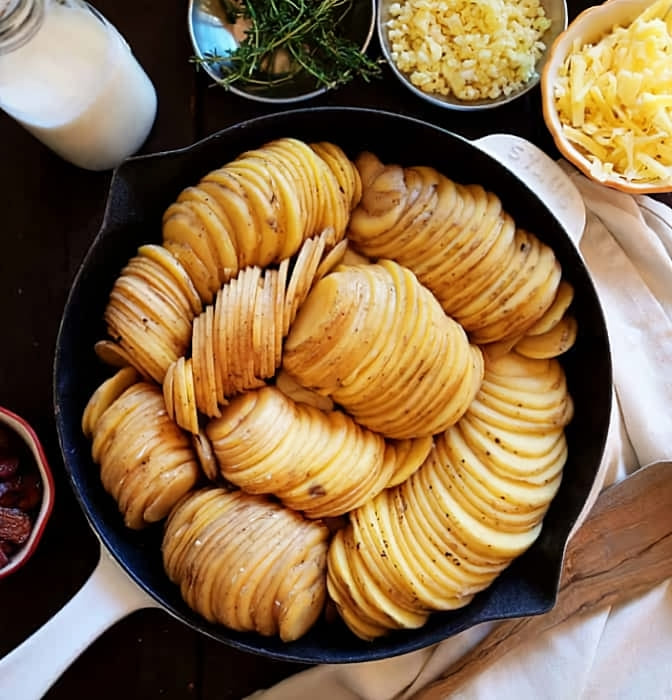 Simply layer the potatoes in an overlapping pattern, season with salt and pepper, thyme, and Gruyere cheese, then pour whipping cream over the top. Cover and cook on high heat for 4-5 hours, or until the potatoes are tender.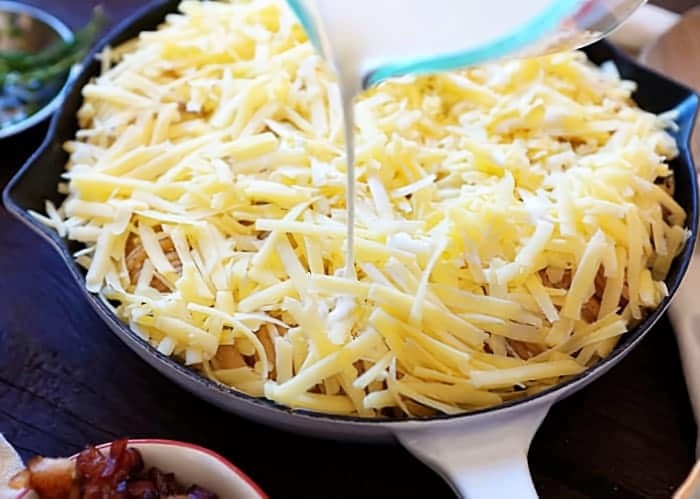 If you're a fan of ham, try replacing the bacon in this recipe with diced ham. It's about 3 cups of diced ham, and it's a great way to switch things up.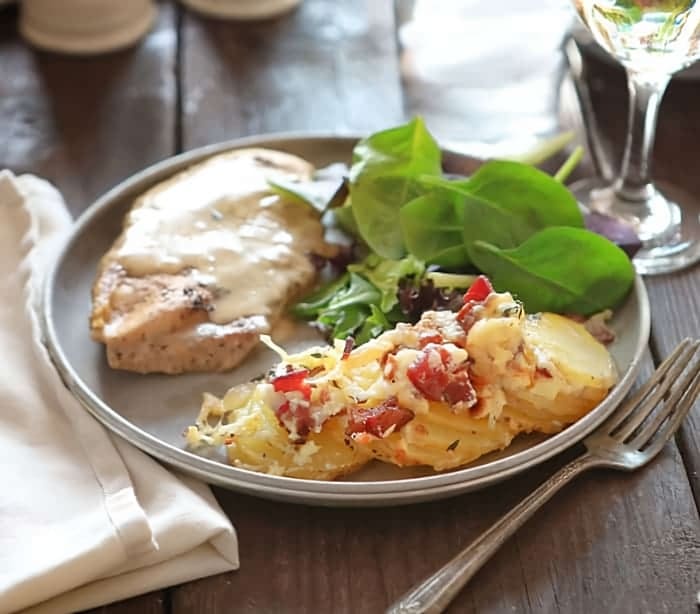 For an 8-inch pan, it's essential to place a piece of aluminum foil under the pan or at the bottom of the oven to catch any liquid that spills over the sides. This will not be an issue with a 9-inch skillet.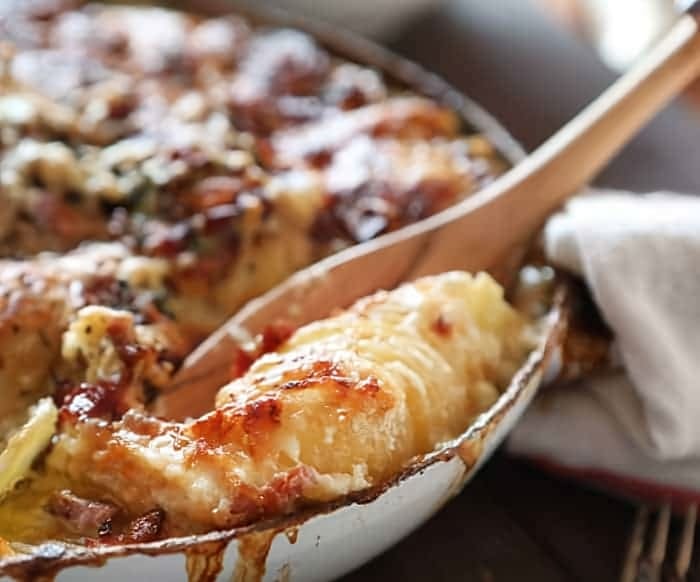 Here are the ingredients you'll need:
1 pound bacon, cooked and roughly chopped
3 pounds Yukon gold potatoes, rinsed and thinly sliced
4 cloves garlic, minced
4 tbsp. butter, thinly sliced
2 tsp. salt
2 tsp. pepper
4 sprigs fresh thyme, divided
2 1/2 cups (10 ounces) Gruyere cheese, shredded, divided
1 1/2 cups (298g) whipping cream
To make this delicious dish, follow these instructions:
Preheat oven to 375°F.
Cook bacon until crispy. Once cooled, chop into small pieces.
Slice potatoes using a mandolin for uniformity. Slice the potatoes right onto the cutting board. Set aside.
Layer butter at the bottom of a cast iron pan (I used an 8-inch Staub pan).
Carefully set the potato slices on top of the butter.
Remove thyme leaves from the stem. Use half on potatoes, reserve remaining for on top after done cooking.
Top with minced garlic, salt, pepper, 2 cups of cheese (reserve 1/2 cup of cheese for later), and chopped bacon.
Pour cream over the top of the dish.
Cover with foil and bake for 35 minutes.
Remove dish from oven and remove foil. Add the final 1/2 cup of cheese and return to oven. Bake for an additional 30-40 minutes or until potatoes are tender and the top is golden brown.
Remove from oven and add remaining thyme. Serve immediately.